Frijoles a la Charra (or charro beans) are a nice change from refried beans. These beans help to make a delicious soup that is inexpensive to make. What's more, you can make these ahead of time, and the flavor will only get better. This copycat version of Pappasito's charro beans soup is made with pinto beans and bacon in a rich tomato-based sauce flavored with onions, garlic, cilantro, cumin, and chili powder.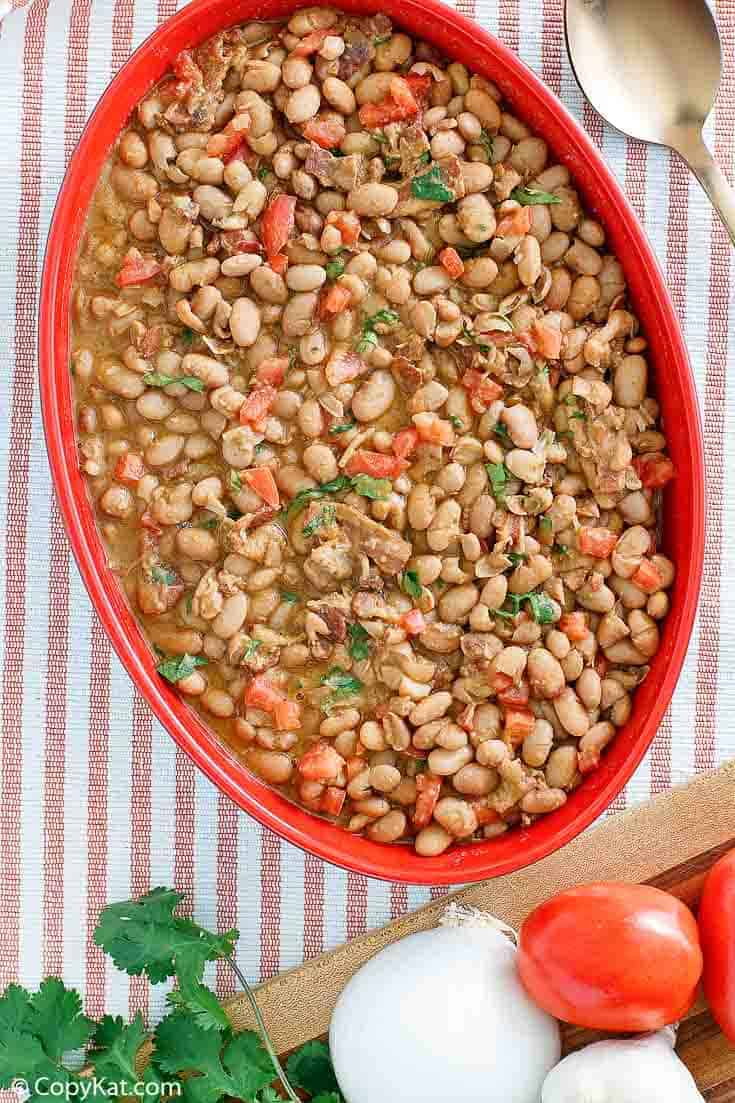 What Are Charro Beans?
Charro beans (frijoles charro) are also known as cowboy beans from the Mexican cowboys who dined on them. Over time, they became a traditional Mexican side dish that is made by cooking dried pinto beans long and slowly in a broth full of amazing flavors.
These flavors come from other ingredients, which can include onion, garlic, tomatoes, peppers, and meat (usually bacon, but ham, sausage, and chorizo can also be used).
Drunken Beans (frijoles borrachos) is an interesting variation on charro beans. This is basically the same recipe with some Mexican beer added (Borracho means drunk in English). Pork rinds may also be used to change the flavor up a little bit more.
In Mexico, steakhouses will bring this bean soup to your table before your meat course – you don't even have to ask for it. The soup all by itself is a hearty dish to warm you on a cold winter day.
Ingredients for Charro Beans
These beans can be made inexpensively, and are a great addition to any meal. This is what you need to make charro beans:
Dried Pinto Beans
Water
Bacon
Onions
Garlic
Cilantro
Cumin
Chili Powder
Salt
Tomatoes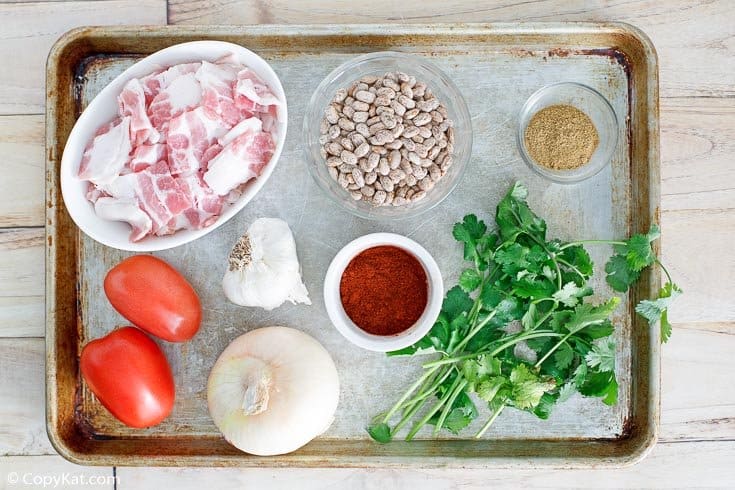 What Are Roma Tomatoes?
This recipe calls for Roma tomatoes. A Roma tomato is meaty and egg-shaped with thick walls. It is bright red in color, has few seeds, and is about three inches long.
This tomato is not juicy and is not meant for slicing into salads. The flesh is thicker and drier than other tomatoes so it can cook down into a thick sauce that intensifies the tomato's already rich flavor.
It's a tomato that's great for canning, making pasta sauces, and tomato pastes.
How to Make Charro Beans
Soak the pinto beans in water overnight.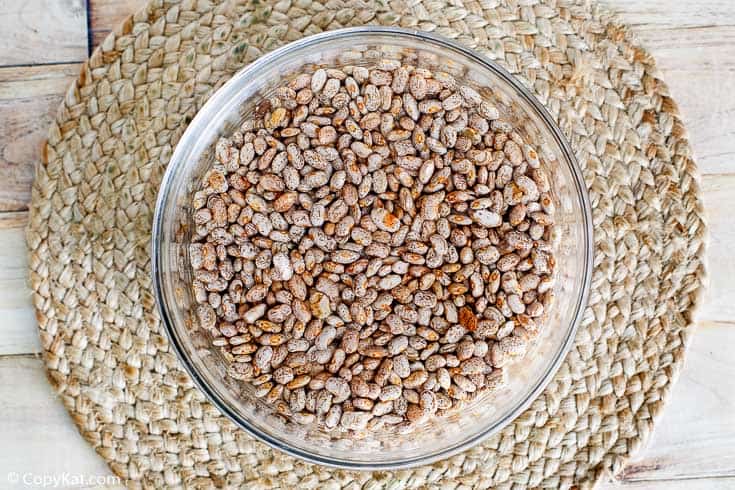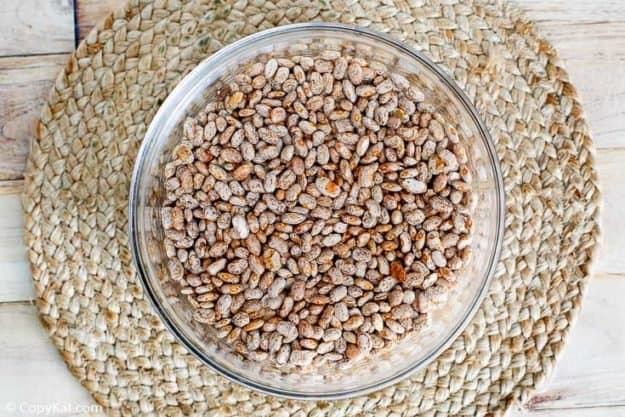 Cook the bacon, onions, and garlic.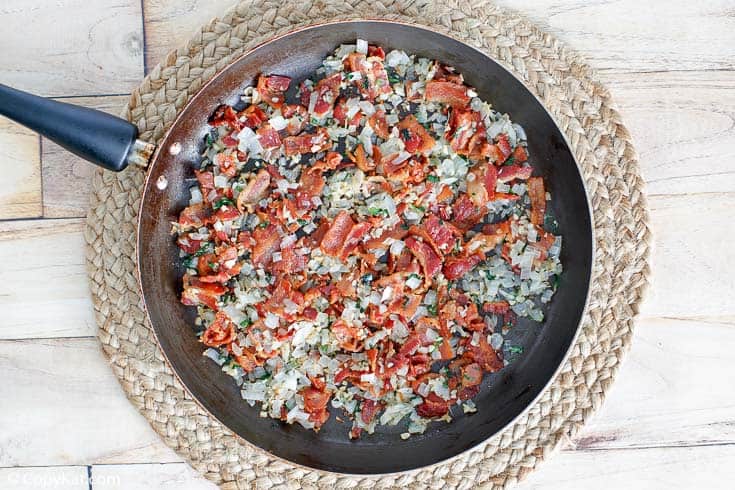 Combine soaked beans, bacon, onion, garlic, and seasonings.
Simmer until the beans are soft and heated through.
Add tomatoes. Serve and enjoy!
These beans taste even better the second day.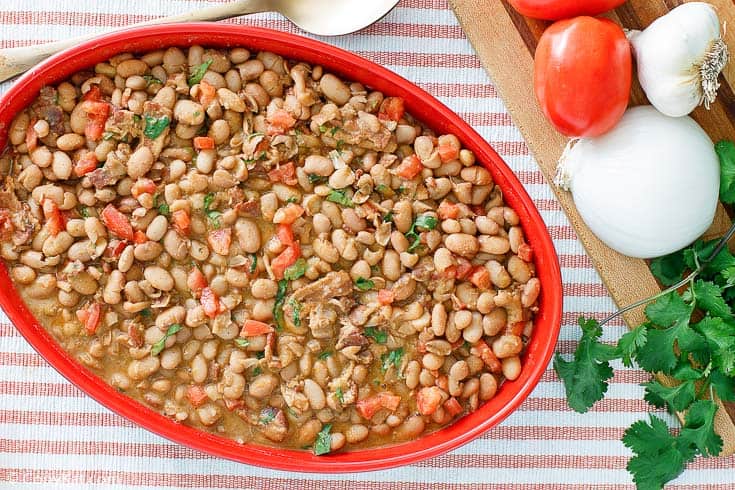 Recipe Variations
You can add extra bacon, smoked sausage, or chunks of ham.
Add a little pico de gallo when eating them.
Omit the bacon if you want to enjoy the beans vegetarian style.
Can You Freeze Charro Beans?
Yes, you can freeze charro beans. I love to make extra bean soup to store in the freezer. Charro beans taste even better when you reheat them. Plus, this soup is really handy for when you don't feel like cooking. Just defrost, reheat, and serve with warm tortillas.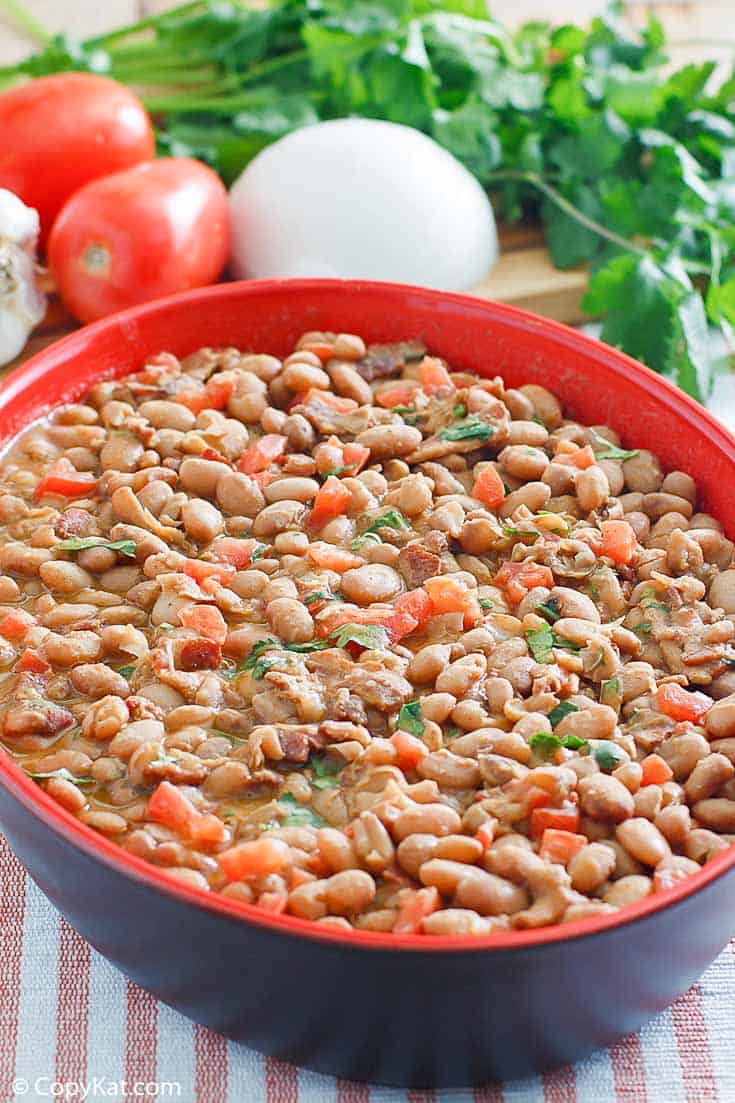 Love Beans? Try These Recipes
More Mexican Favorites
Check out all the tasty budget meals and Mexican food recipes.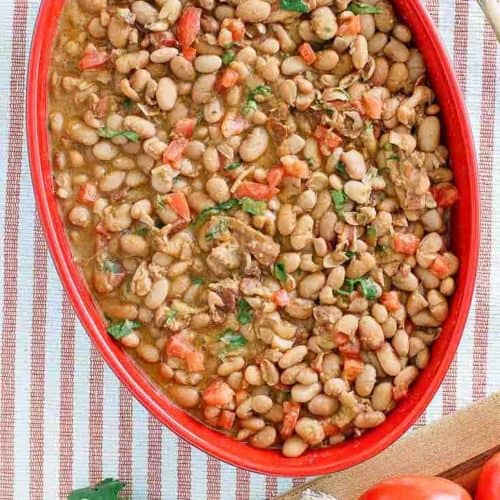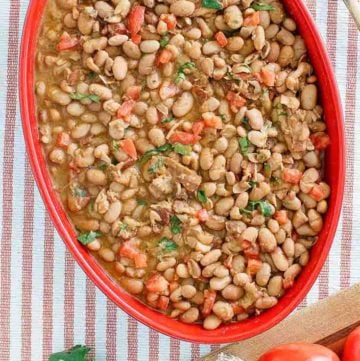 Ingredients
1 1/2

pounds

pinto beans

uncooked

1

gallon

cold water

3/4

pound

bacon

cut into 1 inch cubes

1/2

cup

chopped garlic

4

tablespoon

cilantro

plus more for garnish

1

cup

chopped white onions

1

tablespoon

Cumin

1

tablespoon

Chili Powder

1/2

gallon

cold water

1 1/2

tablespoons

salt

2

cups

chopped Roma tomatoes
Instructions
Soak the beans in 1 gallon of cold water for 8 hours. Drain when ready to use. 

In a large (2-gallon) heavy pot, cook the bacon cubes until well done – the bacon should not be undercooked. 

Add the onions, 1/2 cup of garlic, and cilantro, to the hot bacon and cook until the onions are transparent. 

Add the beans, cumin, and chili powder. Stir well and add 1/2 gallon of cold water. Set heat to medium-low, add the salt, and stir well. 

Cook the beans slowly until they are tender (approximately 1 hour). Stir constantly to avoid burning the bottom of the pan.

Add the tomatoes, 1 tablespoon of garlic, extra cilantro for garnish, and serve.
Nutrition
Calories:
328
kcal
|
Carbohydrates:
28
g
|
Protein:
14
g
|
Fat:
17
g
|
Saturated Fat:
5
g
|
Cholesterol:
28
mg
|
Sodium:
1646
mg
|
Potassium:
587
mg
|
Fiber:
8
g
|
Sugar:
1
g
|
Vitamin A:
465
IU
|
Vitamin C:
6.9
mg
|
Calcium:
94
mg
|
Iron:
2.8
mg