Walking the streets of Manhattan you see the Sabrett's pushcarts everywhere. While these may not be in your town, you can make their special onions in sauce topping for hot dogs with this copycat recipe.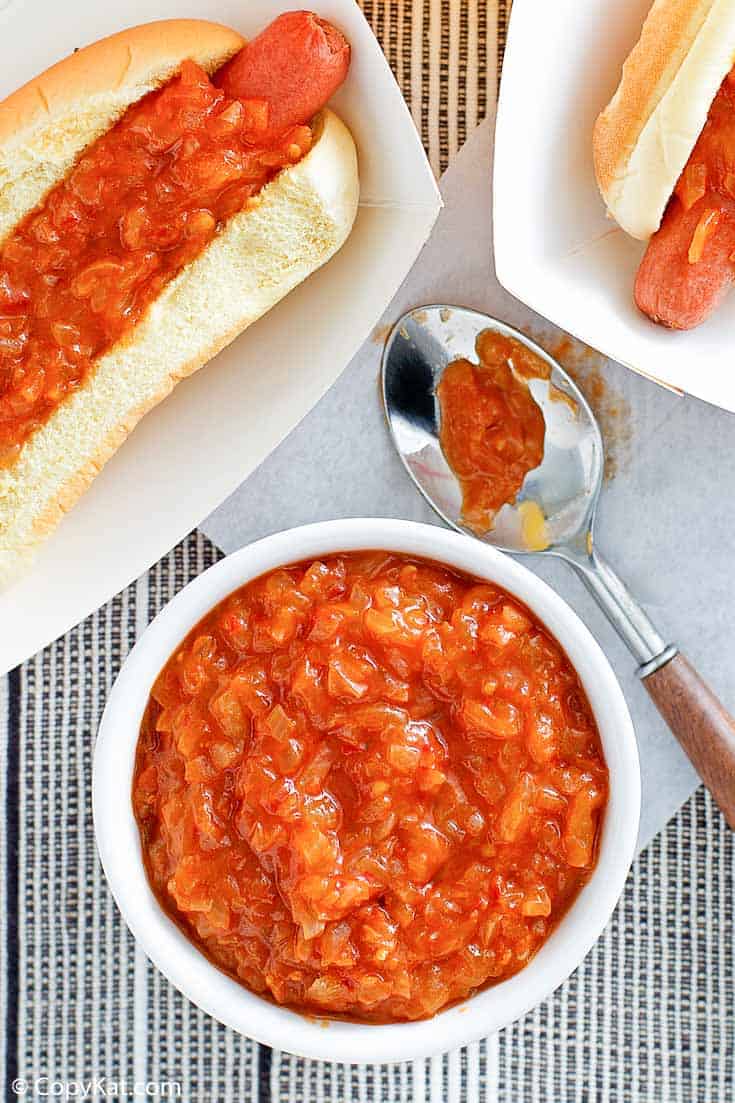 This post contains affiliate links. As an Amazon Associate, I earn from qualifying purchases.
Sabrett's Onion Sauce Hot Dog Topping
Walking the streets of Manhattan, you see the Sabrett's pushcarts everywhere. While these may not be in your town, you can make Sabrett's special onions in sauce topping for hot dogs with this copycat Sabrett onion sauce recipe.
Sabrett's hot dog onions in sauce have a delightful tang, rich tomato flavor, a little sweetness, and a slight kick of heat. It's a delicious hot dog topping, everyone loves those New York hot dog onions. You can buy this onion sauce in a jar, but it will never taste as good! Pre-made is never as good as homemade, don't you agree?
Sabrett's hot dogs are known as New York City's number one hot dogs. Whenever you order one from a vendor cart under the distinctive blue and yellow umbrella, you will enjoy a wonderfully tasting all-beef hot dog contained in an all-natural casing. NYC just wouldn't be the same without Sabrett! Plus, if you so desire, you can even have your own colorful Sabrett umbrella!
Discover the unique taste of this onion sauce for hot dogs that New Yorkers enjoy so much.
Recipe Ingredients
Here's a list of what you need to make this hot dog topping:
Olive Oil
Onions
Water
Tomato Paste
Corn Syrup
Cornstarch
Salt
Red Pepper Flakes
Vinegar – White distilled, apple cider, or white wine vinegar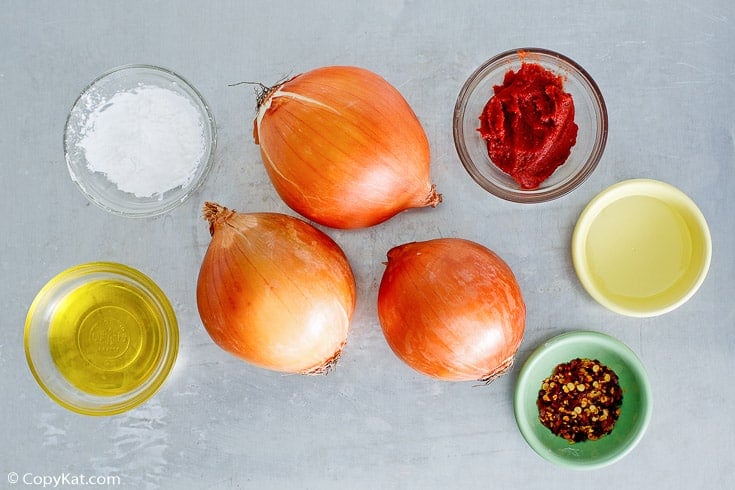 How to Make Sabrett's Hot Dog Onions
Here are the simple steps for making this New York style onion sauce:
Chop and saute onions in a large skillet over medium high heat with a pinch of salt.
Add water, tomato paste, corn syrup, cornstarch, and salt to the pan. Stir to combine.
Bring the mixture to a boil then reduce the heat and simmer for 45 minutes.
Add vinegar and simmer for an additional 30 to 45 minutes until the liquid is reduced and thickened.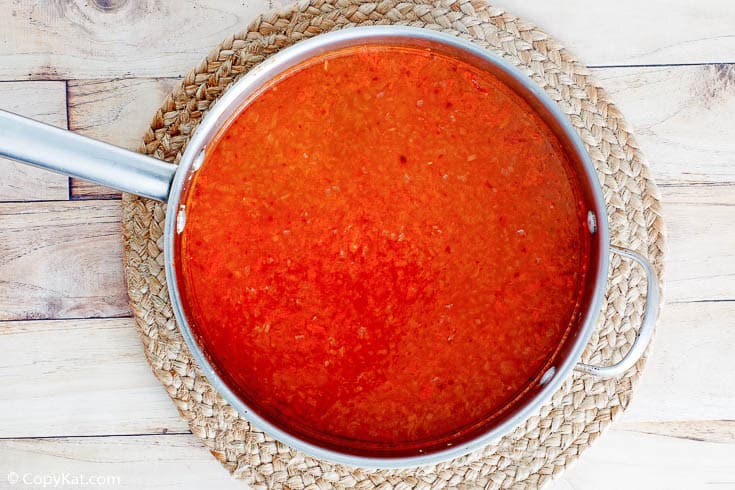 Enjoy this delicious hot dog topping without having to get it on a pushcart in New York.
Best Hot Dog Toppings
Hot dogs are a perfect food. They don't cost much and are nearly impossible to mess up. Everyone has their own idea about what they want on their hot dog. In fact, there are probably more foods that go well with hot dogs than foods that you would never put on hot dogs. Here are some of the most popular toppings and hot dog condiments:
Mustard – Mustard is a classic topping. Go with good ol' yellow ballpark mustard, spicy brown mustard, or Dijon mustard.
Ketchup – With its rich tomato taste, this is among the most popular hot dog toppings, especially when combined with mustard.
Cheese – Cheese is a no-brainer. For something different, dress your dog up Seattle-style with cream cheese, but, honestly, any kind of cheese is going to taste good on a hot dog.
Onions – Onions are another popular addition to hot dogs. They can be diced and served raw, but also sliced, fried, and caramelized. And, of course, there are Sabrett onions.
Coleslaw – Coleslaw has become an American side dish staple. Coleslaw often accompanies hamburgers, sandwiches, and, of course, hot dogs.
Sauerkraut – This fermented cabbage dish is popular on hot dogs because of its characteristically tangy and zesty flavor.
Relish – Add a little sweetness with relish, a condiment made from pickled diced vegetables or fruit. Cucumbers and vinegar are the most common ingredients found in relish.
Chili – Chili is a hot dog topping that must be cooked instead of simply cut or pickled. It can be made from beans, meat, or a combination. Chili dogs turn a regular dog into something special.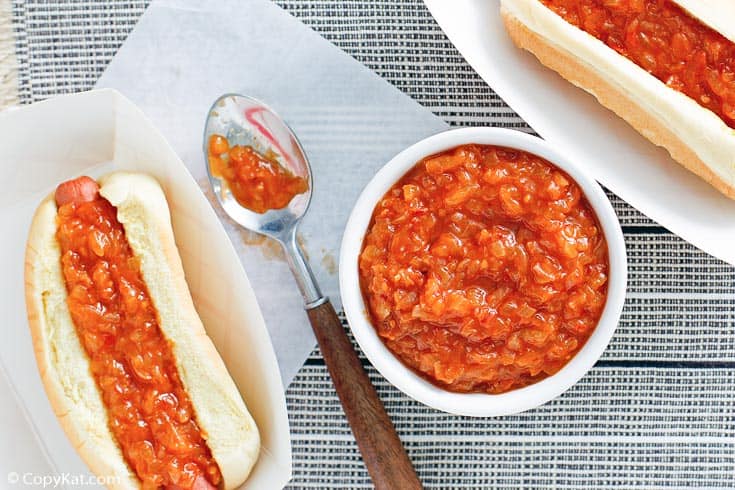 Other Uses For This Onion Sauce
There are more ways you can use this tasty sauce. Try it over grilled chicken or pulled pork. Use it on burgers or sandwiches. It's also a great baked potato topping.
How to Store and Reheat Leftover Sabrett Hot Dog Sauce
Want to enjoy this hot dog onions recipe later? Be sure to store any leftover portions in an airtight container and store them in your refrigerator for up to five days. You can freeze these in an airtight container and store them in your freezer for up to three months.
To reheat, I recommend placing the hot dog sauce in a small pot and heating it on low until the sauce has been heated through.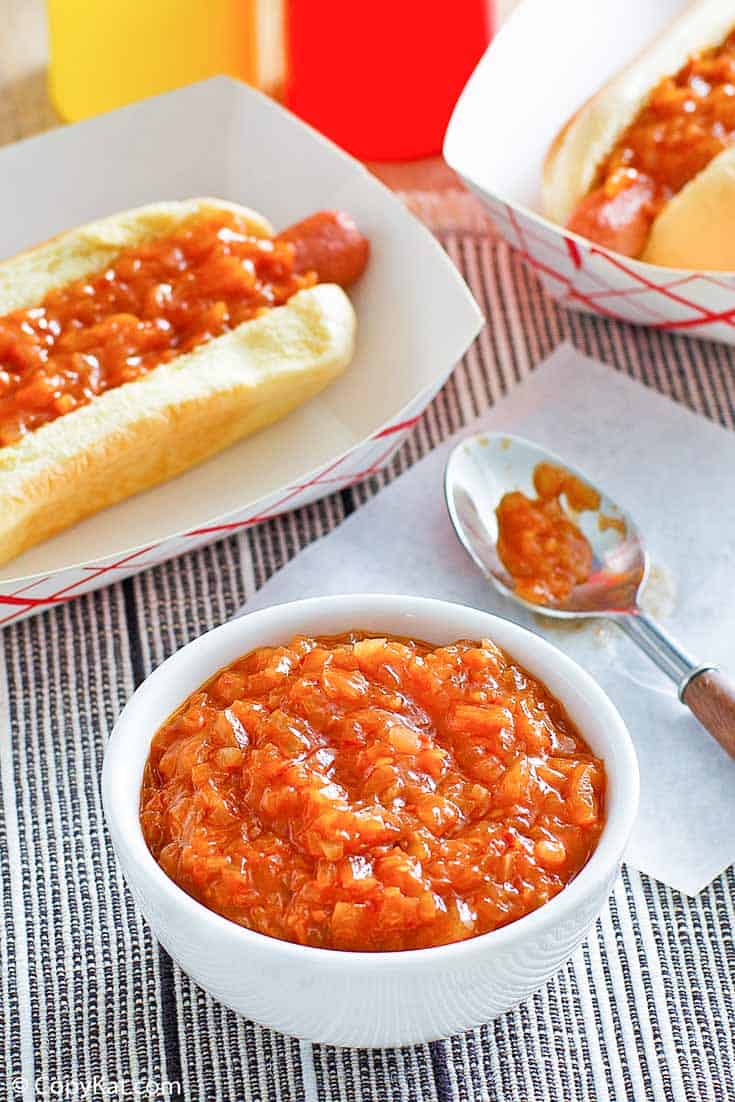 Love hot dogs? Try these recipes!
More Onion Recipes
Be sure to check out the best copycat recipes and restaurant sauces.
Thanks to CarolynTLyons for sharing this recipe.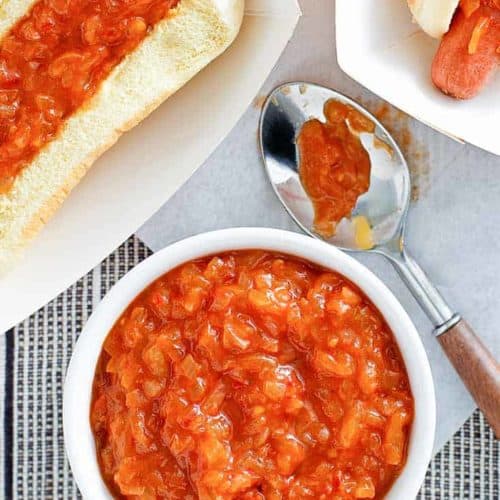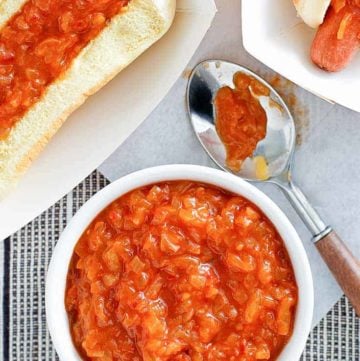 Sabrett Onions in Sauce
Make this New York City classic hotdog topping at home and enjoy delicious New York street food whenever you want. Warm your bun, put in your dog, squirt on some mustard, and add these onions. Yummy!
Print
Pin
Rate
Add to Collection
Go to Collections
Ingredients
1 1/2

teaspoons

Olive oil

2

cups

Onions, sliced thin and chopped

3

cups

Water

2

tablespoons

Tomato Paste

2

teaspoons

Corn Syrup

1

tablespoon

Cornstarch

1/2

teaspoon

Salt

1

teaspoon

Red pepper flakes

1/4

cup

Vinegar
Instructions
Heat the oil in a large saucepan over medium heat. Sauté the sliced onions in oil for 5 minutes, until the onions are soft but not brown.

Add 3 cups of water, corn syrup, corn starch, tomato paste, salt, and pepper flakes and stir. Bring to a boil, then lower the heat and simmer for 45 minutes.

Add vinegar. Continue to simmer for an additional 30 to 45 minutes or until most of the liquid has reduced and the onion sauce is thick.
Nutrition
Calories:
23
kcal
|
Carbohydrates:
5
g
|
Protein:
0
g
|
Fat:
0
g
|
Saturated Fat:
0
g
|
Cholesterol:
0
mg
|
Sodium:
147
mg
|
Potassium:
83
mg
|
Fiber:
0
g
|
Sugar:
3
g
|
Vitamin A:
110
IU
|
Vitamin C:
3.1
mg
|
Calcium:
9
mg
|
Iron:
0.2
mg