This Truffle Macaroni and Cheese Bacon Hot Dog was inspired by a recent trip to Disney Hollywood Studios. I have friends that are Disney fanatics. Vacationing is often spent at Disney parks and on their cruises. They have a way of knowing where the good food is as Disney. This hot dog was amazing, and here is my recreation of this dish.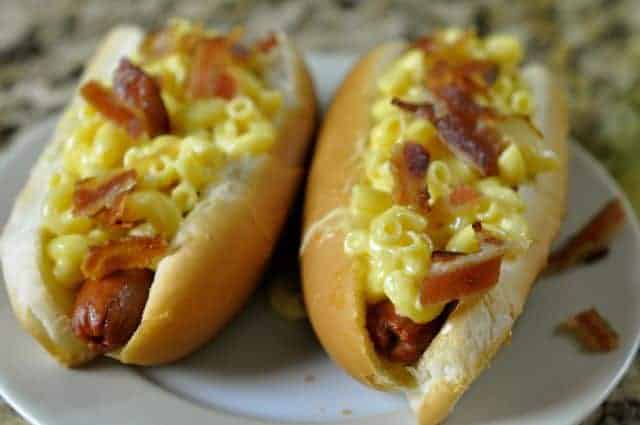 I am using truffle oil in this recipe. Truffle oil can be purchased in some specialty stores and grocery store spice departments. I buy mine at Costco. I think that Costco's brand is well priced, it runs under $15.00 dollars a bottle.
Truffle oil has many uses. You can drizzle in a pan and cook a steak in it, drizzle over potatoes, or if you are cooking mushrooms it is a great addition to add to the mushrooms for a little extra flavor. Now, if you don't have truffle oil, or can't find it, you can still make this recipe. You will get the fun of putting macaroni and cheese on top of a hot dog.
If you have never tried truffle oil before it adds a unique mushroom-like flavor. I don't know how to describe it. It is like a really earthy mushroom, but better. Truffles are rare and insanely expensive. So typically for us mere mortals, truffle oil is a great way to capture this flavor without having to pay the price of a real truffle. I do suggest that you buy your truffle oil from a reputable brand, as some companies sell fake truffle oil.
For this recipe, I went ahead and baked my bacon. I find this easy to do, it doesn't make a mess, and you can always save that bacon grease for some Cracker Barrel Green Beans. I like to cook my bacon to where it is pretty crispy for these hot dogs, I think it adds a nice touch to them, no one likes soggy bacon, well almost no one.
Want to know how to cook hot dogs instead of boiling them? Make Air Fryer Hot Dogs or Baked Hot Dogs in the Oven. Grilled hot dogs also have a nice smoky flavor.
Love hot dogs and macaroni and cheese? Take a look at these recipes:
Ingredients
8

ounces

macaroni

8

ounces

American cheese

4

ounces

half and half

1/2

teaspoon

truffle oil

8

slices

bacon

cooked crisp

8

hot

dogs

8

hot dog buns
Instructions
Cook pasta according to package directions.

In a small pot heat together American cheese, and half and half, stir continually until sauce a smooth and creamy texture. Add truffle oil into macaroni and cheese, blend oil into the cheese sauce.

When pasta is done pour pasta into the cheese sauce, coat pasta with cheese sauce. Cook or warm hot dogs. Place hot dogs into buns, and then spoon a couple of tablespoons of macaroni and cheese over hot dogs. Add crumbled bacon on top of macaroni and cheese.
Nutrition
Calories:
443
kcal
|
Carbohydrates:
44
g
|
Protein:
16
g
|
Fat:
21
g
|
Saturated Fat:
9
g
|
Cholesterol:
48
mg
|
Sodium:
846
mg
|
Potassium:
216
mg
|
Fiber:
1
g
|
Sugar:
4
g
|
Vitamin A:
325
IU
|
Vitamin C:
0.7
mg
|
Calcium:
391
mg
|
Iron:
2.1
mg