Homemade Chicken nuggets, who doesn't love them? Crispy, crunchy, bite-sized pieces of chicken that you can dunk into anything your heart desires makes chicken nuggets unique. Does the thought of commercial chicken nuggets scare you? Make your own.


Chicken nuggets, who doesn't love them? Crispy, crunchy, bite-sized pieces of chicken that you can dunk into anything your heart desires make chicken nuggets unique. If the thought of commercial chicken nuggets scares you because of what's in them, why not make your own?
This copycat homemade chicken nuggets recipe is perfect if you have kids who love chicken nuggets and you want them to eat healthier.
Homemade chicken nuggets are made with no preservatives or fillers
Normally I like to duplicate a restaurant's particular recipe. However, after doing some reading on the ingredients in commercial chicken nuggets, I have decided to show you how to make homemade chicken nuggets.
These nuggets contain no meat slurries, no processed meat, no preservatives, no meat glue, etc. After all, who wants to eat this stuff? When you make chicken nuggets at home, you know what goes in them.
Made from chicken breast only!
Your made-from-scratch nuggets will simply contain good chicken breast that hasn't been processed or adulterated in any way. For this homemade chicken nugget recipe, I am using organic chicken breasts.
Yes, one of the advantages of cooking at home is that you can use organic meat that comes from animals that have been raised without hormones and antibiotics.
Can be made ahead of time, frozen, and reheated later.
You can make up a large batch of these chicken nuggets, and freeze them. Then when you and your family need a meal in a hurry, bake them up, or pop them in the microwave.
Assuming you are reheating from the frozen state, I would suggest that you place them in the oven for about 15-18 minutes at 350 degrees.
How to freeze cooked chicken nuggets
Prepare the recipe as written, allow the nuggets to cool, and then place them on a baking sheet lined with parchment paper in a single layer. Allow them to freeze solid, then package up into another container. Use as you need them.
What type of oil to fry chicken nuggets in?
When cooking the chicken nuggets, I'm using peanut oil; I like it best for frying. My second choice would be Crisco shortening, but you can use other vegetable oils. If you want to go organic, you could choose Spectrum brand organic shortening. I like peanut oil because it handles high heat well, and you can filter and reuse it.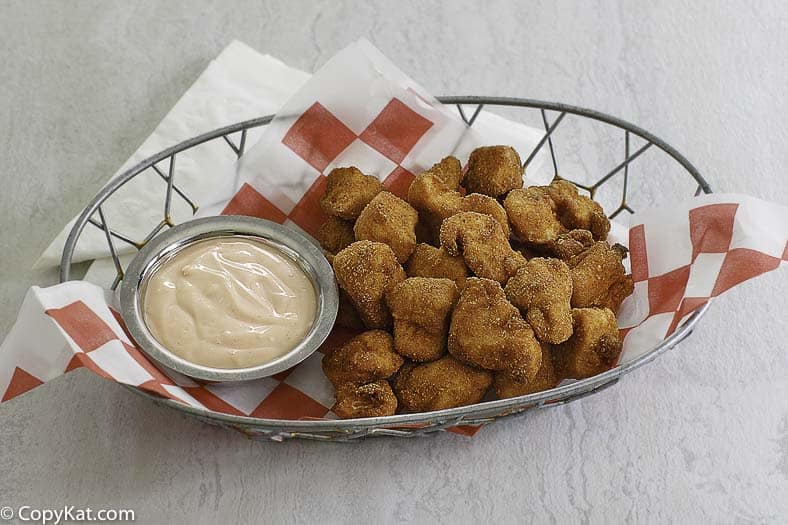 Dipping sauces for chicken nuggets
Ingredients
1

pound

chicken breast

1 1/2

cup

flour

1

teaspoon

salt

1/2

teaspoon

black pepper

1

1/2

cup milk

1

egg

2

cups

Panko bread crumbs (optional)
Instructions
Cut chicken breasts into bite-sized pieces. in a shallow dish blend together flour, salt, and black pepper.

In another small dish add milk, and beat 1 egg into the milk until well you have a uniform mixture.

Place Panko bread crumbs into another shallow dish. Dredge chicken into the seasoned flour, shake off excess flour, then dip chicken into the milk and egg wash. Dredge chicken with Panko breadcrumbs. (Optional if you can not find Panko breadcrumbs, you can dredge the chicken nuggets back into the seasoned flour.). 

Place chicken nuggets onto a wrack and let rest a couple of minutes before frying. Heat oil to 350 degrees. When the oil is hot fry several pieces at once, do not overcrowd the pan and let the chicken nuggets touch while cooking. You will need to cook these in a couple of batches. Drain chicken nuggets on a wire rack.
Nutrition
Calories:
434
kcal
|
Carbohydrates:
57
g
|
Protein:
34
g
|
Fat:
6
g
|
Saturated Fat:
1
g
|
Cholesterol:
113
mg
|
Sodium:
949
mg
|
Potassium:
543
mg
|
Fiber:
2
g
|
Sugar:
2
g
|
Vitamin A:
95
IU
|
Vitamin C:
1.3
mg
|
Calcium:
74
mg
|
Iron:
4.2
mg