Potato pancakes have to be one of the best ways you can prepare potatoes. They are perfectly seasoned with salt, pepper, and onion, and then fried to a perfect golden brown. You can serve these with applesauce and sour cream for a wonderful side dish or meatless main dish.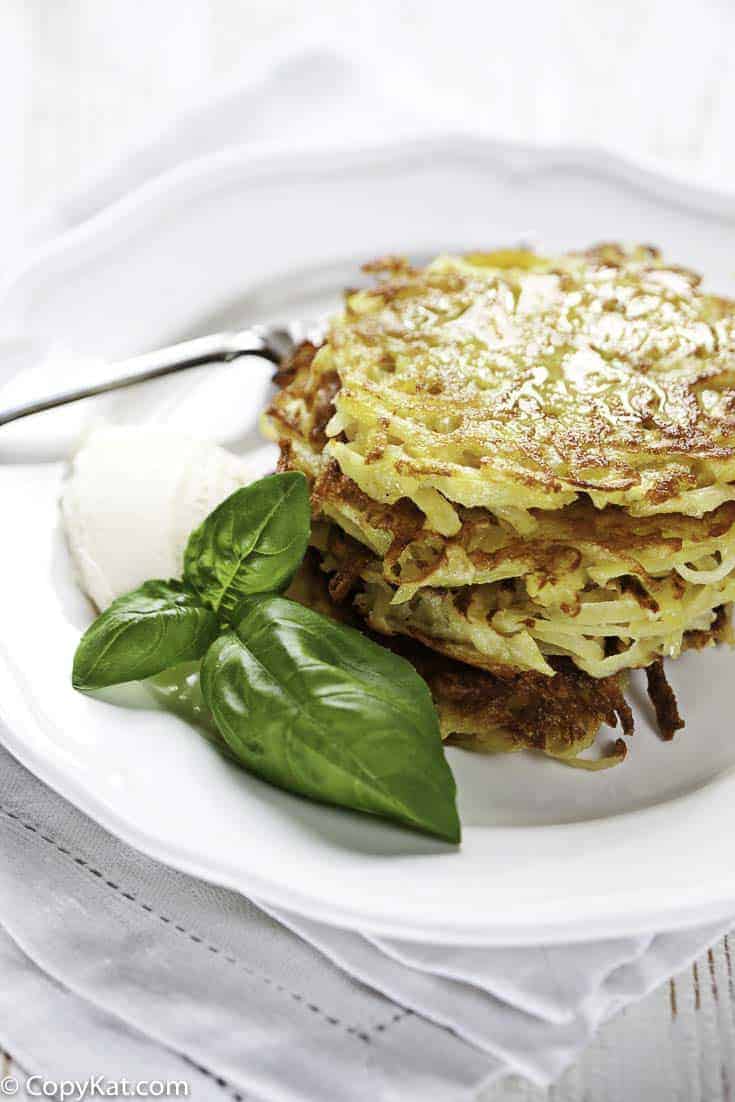 Growing up I knew it was a special meal when my Mom would make these potato pancakes. I can't begin to tell you why I find these so delicious. I personally love hash browns, but these are so much better than hash browns.
Perkins restaurant has similar potato pancakes. But you don't have to go to Perkins because you can easily make them at home.
These famous pancakes have their origin in Eastern Europe. Many countries in Eastern Europe have their own variations of this classic dish.
These potato pancakes are Polish style and are served with sour cream or applesauce. You can also serve them with meat sauce.
Czech potato pancakes are most often made with bread crumbs and seasoned with garlic.
Latkes are also a popular type of potato pancake. They are made during Hanukkah to help celebrate the holiday.
It doesn't really matter which culture you come from, I think you will find potato pancakes to be very tasty.
I like to make mine with either Yukon Gold potatoes or Russet. I have made these with sweet potatoes, but I am a traditionalist when it comes to my potato pancakes.
For this recipe, I like to use white onions because I find them sweeter than the yellow variety. I don't bother chopping the onion either. I simply grate the onion. This saves me a little time in the preparation and grated onion works very well.
If you love potatoes, try these:
Here are a few vegetable side dishes to serve along with potatoes:
Be sure to check out more of my easy side dishes and vegetarian recipes.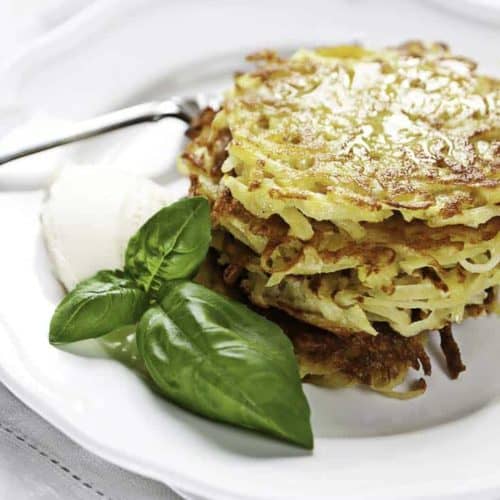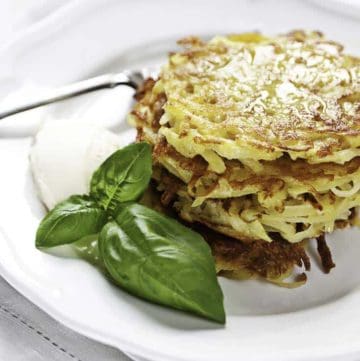 Ingredients
2

pounds

potatoes

1/2

large

onion

2

large

eggs

1/4

cup

flour

1

teaspoon

salt

1/2

teaspoon

pepper

vegetable oil

1/4

cup

sour cream

1/4

cup

apple sauce
Instructions
Peel potatoes and then grate them. Place grated potatoes into a bowl filled with water. Grate onion and also place into a bowl with the potatoes. Soak the potatoes for about 5 minutes or so. Mix together flour and egg in a large bowl until well blended. Season flour mixture with black pepper and salt. Drain water from potatoes and squeeze potatoes dry with your hands.

Stir together flour mixture and potatoes until you have a uniform consistency. Heat a skillet to 350 degrees add a couple of teaspoons of oil. Make pancakes by taking about 1/4 cup of potato pancake mix and patting it out into the pan, cook until browned on one side, flip over, and then brown on the other side. This should take 4 to 5 minutes on each side. Serve with sour cream and applesauce.
Nutrition
Calories:
268
kcal
|
Carbohydrates:
38
g
|
Protein:
10
g
|
Fat:
9
g
|
Saturated Fat:
5
g
|
Cholesterol:
100
mg
|
Sodium:
652
mg
|
Potassium:
1030
mg
|
Fiber:
6
g
|
Sugar:
2
g
|
Vitamin A:
225
IU
|
Vitamin C:
27.2
mg
|
Calcium:
102
mg
|
Iron:
8.2
mg