Boston Market Creamed Spinach is a CopyKat Recipe Original. With this dish, you might even win over a few people to spinach. Some of us have grown up not liking spinach. Canned spinach has never been terribly appealing. I love Boston Market Creamed Spinach. Boston Market Creamed Spinach is a wonderfully creamy, and savory dish.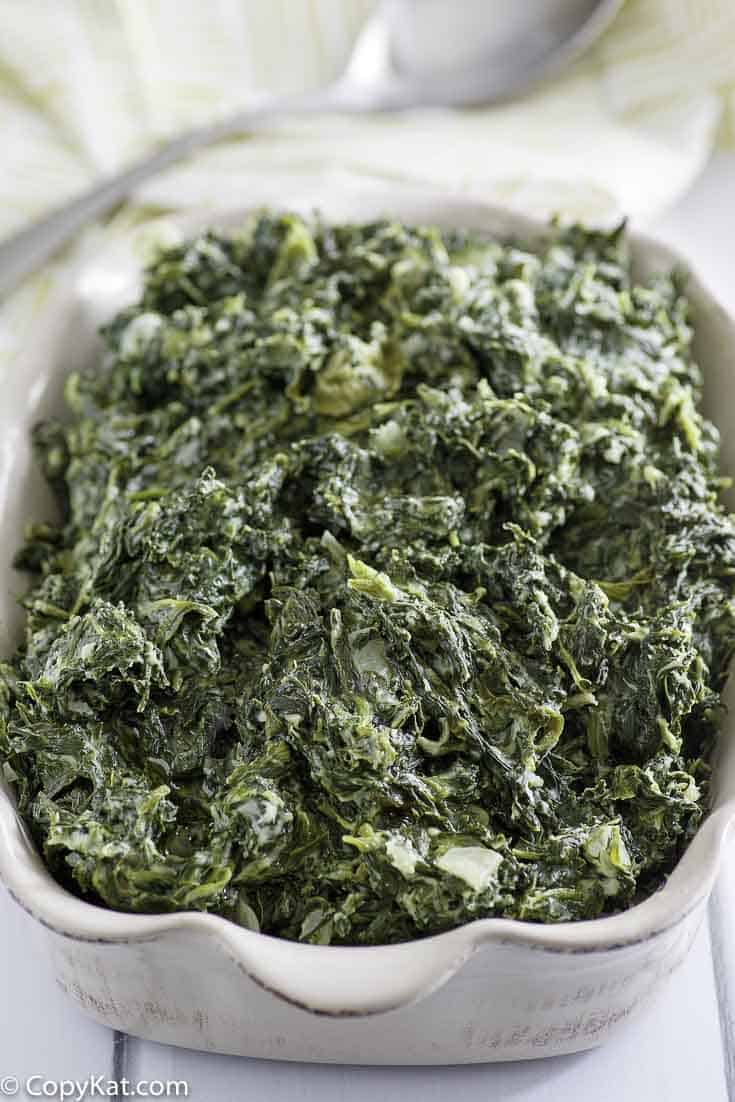 Making Boston Market Creamed Spinach at home
Some of us have grown up not liking spinach, and it must be said that canned spinach has never been terribly appealing. However, I love Boston Market Creamed Spinach. It's so wonderfully creamy and savory that you might even win over a few people to spinach.
About Boston Market
Boston Market set out to create awesome rotisserie meals. In fact, Boston Market began with just three items – fire, a spit, and chicken. These days you can swing by Boston Market for a complete home-made- style family meal or a little extra something to complete your home dining. As they say, at Boston Market, dinner is always ready. They serve real food made by hand.
Take Popeye's Advice and Eat More Spinach
It really is true – studies have found that consuming nitrates from vegetables like spinach can really give you strong muscles just like Popeye's. Apart from muscles, spinach is good for your brain. Spinach has substances called phytochemicals that research has shown can prevent or delay cognitive decline in people. To read more about the many health benefits of spinach, click here.
Variations on my Recipe – Thanks to all my readers who sent in ideas.
For a gluten-free creamed spinach, substitute the flour for about half the amount of cornstarch, mix together 1 tablespoon of cornstarch to 3 tablespoons of water.
If you have someone who is lactose intolerant, you can use soy milk instead of regular whole milk.
Make a low-fat version using low-fat yogurt and low-fat milk.
To sneak in some extra veggies, add some finely chopped carrots and celery.
You can add some garlic if you desire.
Add a little cream cheese to makes it even more creamy and luscious.
If you don't have any sour cream on hand, you can use 1/4 cup Greek yogurt and 1/4 cup cream cheese.
Can't Get Enough of Boston Market? Here are some more great copykat Boston Market recipes.
Boston Market Sweet Potato Casserole
Boston Market Macaroni and Cheese
Boston Market Garlic Dill Wedges
Boston Market Squash Casserole
Boston Market Cornbread
Boston Market Meatloaf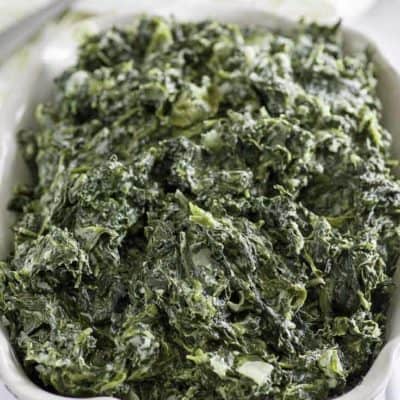 Ingredients
20

ounces

spinach

chopped, frozen, drained

1/2

cup

Sour Cream

1

teaspoon

Salt

2

tablespoon

Butter

2

tablespoon

chopped onion

1/4

cup

Water
White Sauce
3

tablespoon

Butter

4

tablespoon

Flour

1/4

teaspoon

Salt

1

cup

Whole Milk
Instructions
Prepare the white sauce using a medium-low setting melt butter in a saucepan add flour and 1/4 teaspoon of salt until creamed together. Add milk a little at a time on medium heat. Constantly stir with a whisk until mixture becomes thick and smooth. Place butter in a 2-quart saucepan on medium heat, add onions.

Cook until the onions are transparent. Place spinach and add water to pan, lower the heat and place lid on pan. Stir several times until the spinach is almost completely cooked. Add 1 teaspoon of salt. When spinach is almost done add white sauce and sour cream, stir well and simmer until completely blended.
Recipe Tips for the Cook
Want to make this creamed spinach extra creamy? Add two or three tablespoons of cream cheese to the sauce!
You can use a couple of paper towels to help you squeeze out some of the excess water in the frozen spinach.
To make this extra savory, consider adding a tablespoon or two of blue cheese into the sauce!
Nutrition
Calories:
186
kcal
|
Carbohydrates:
10
g
|
Protein:
5
g
|
Fat:
14
g
|
Saturated Fat:
9
g
|
Cholesterol:
39
mg
|
Sodium:
676
mg
|
Potassium:
608
mg
|
Fiber:
2
g
|
Sugar:
3
g
|
Vitamin A:
9340
IU
|
Vitamin C:
27
mg
|
Calcium:
162
mg
|
Iron:
2.8
mg