Who doesn't love roasted red potatoes? This is the perfect side dish it is so easy to make, in fact, you will be calling them easy roasted red potatoes in no time.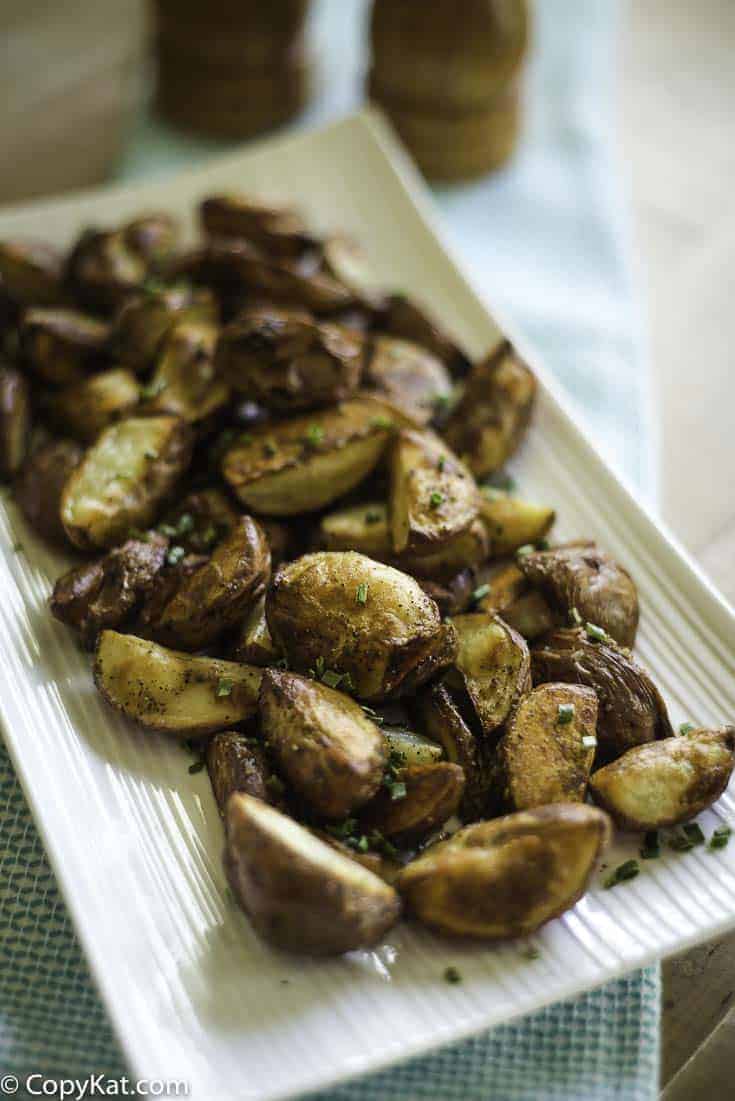 About Red Potatoes
If you are only familiar with large white potatoes, check out the potato section in your local grocery store and look for the distinctive red skin of red potatoes. Red potatoes are typically small to medium-sized and round or a little oblong in shape. When cooked, their texture is moist, smooth, and creamy.
They are best used for roasting or mashing, or in soups and stews. Some people even boil these potatoes, let them cool and then add them to salads. Red potatoes are sometimes sold as "new potatoes," because they're often harvested before they have grown to full size.
Red potatoes are sometimes sold as "new potatoes," because they're often harvested before they have grown to full size.
How to Make Roasted Red Potatoes
Hands down this is one of the easiest side dishes you can make. This potato recipe is so easy it is soon to find its way in your recipe box!
You will want to wash your potatoes and cut them lengthwise. I often toss all of the cut potatoes in a bowl. I drizzle oil over the potatoes and then season them liberally with kosher salt, freshly ground black pepper, and other seasonings like garlic powder, paprika, or whatever sounds good.
I put the potatoes cut side down on the pan, and toss the potatoes into the oven and cook them until they are golden brown.
What type of oil should you use?
People always ask me what type of oil to use. For this recipe, I think vegetable oil works well. Honestly, if I'm baking something, or I'm using something with a lot of aromatic ingredients, I'm simply going to use the least expensive neutral tasting oil I have on hand.
I don't think you get great value out of using more costly extra virgin olive oil when you cook a dish. Heating extra virgin olive oil tends to cook out the wonderful flavors of the oil. So I will use vegetable oil – canola, soybean, sunflower, or whatever I have on hand.
One Useful tip for baking red potatoes in the oven
Do you need the potatoes cooked more quickly? Cut them into smaller pieces. The smaller the size of the pieces, the less time it will take to cook the potatoes. So if I'm in a hurry and need to prepare them quickly, I will cut them up smaller.
So, get cooking with this easy-to-make recipe, and soon you'll be enjoying these potatoes with your next dinner. You can also try these other roasted potato recipes.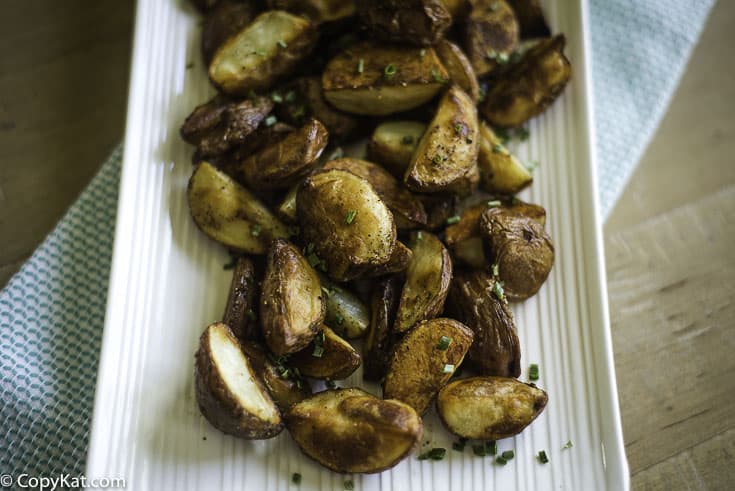 More Potato Recipes
Delicious Vegetable Side Dishes
Get more recipes for sides at restaurants and family favorite recipes.
Ingredients
2

pounds

red potatoes

2

to

3 tablespoons vegetable oil

1

teaspoon

salt

1/2

teaspoon

black pepper (optional)

1

tablespoon

chopped fresh parsley (optional)
Instructions
Preheat oven to 425 degrees. Wash, and cut potatoes into quarters. Place potatoes in a large bowl and coat with vegetable oil. Stir potatoes to coat them with oil.

When transferring the potatoes to a sheet pan or baking sheet, place potatoes in a single layer. Sprinkle salt and pepper. if desired.

Bake for 30 to 40 minutes or until the potatoes are browned and crisp, they should be a nice golden brown color. You may want to flip the potatoes once during cooking so all sides brown evenly. If desired just before serving you can add fresh parsley.
Nutrition
Calories:
81
kcal
|
Carbohydrates:
18
g
|
Protein:
2
g
|
Fat:
0
g
|
Saturated Fat:
0
g
|
Cholesterol:
0
mg
|
Sodium:
311
mg
|
Potassium:
515
mg
|
Fiber:
1
g
|
Sugar:
1
g
|
Vitamin A:
10
IU
|
Vitamin C:
9.7
mg
|
Calcium:
11
mg
|
Iron:
0.8
mg