Parsley Potatoes is simple cooking at its best. This recipe has just a few ingredients: potatoes, onions, salt, parsley, and butter, that's just five ingredients, and it doesn't get much easier than this.



Parsley Potatoes is a favorite of mine. I ate these as a child, both my Mom and Grandmother Eynard made these wonderful buttery potatoes.
My family is from the Midwest, Jefferson City, Missouri to be exact. Many members of my family had farms or lived on them for large portions of their lives. So their food tends to be simple, but tasty. My Grandmother Eynard was a simple cook. If you opened her spice cabinet, it wasn't overflowing, it had the essentials and not much more, but her food, well I still think about it. This was one of my favorite dishes she made, it is tasty, and filling, and what she would do with the leftovers, oh my.
The next day, if there were any of these parsley potatoes left, would get turned into simple potato soup. She would simply add milk to the leftover parsley potatoes, heat, and season. I don't know why these parsley potatoes were so good, but when I start feeling nostalgic I like to make these. You can also serve the leftovers as fried potatoes if you just saute the leftover potatoes until they are browned and crispy.
Do you love potato recipes? Check out some of my favorite side dish potato recipes
Twice Baked Potatoes Recipe – Learn to Cook Series
Lyonnaise Potatoes
Ralph & Kakoo's Twice-Baked Potatoes – you can make these ahead of time and serve later.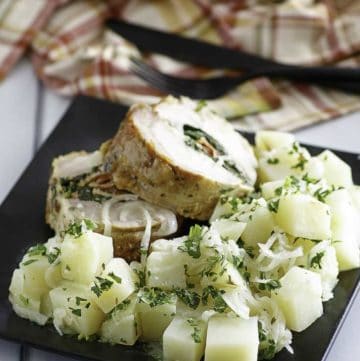 Ingredients
2

pounds

russet potatoes

1/2

cup

sliced onion

1/4

cup

butter

1

teaspoon

parsley

grandmother only had dried in her kitchen

1/2

teaspoon

salt
Instructions
Wash and peel potatoes. Cut potatoes into small bite sized pieces, place in pot. Cover potatoes and onions with water, and place on medium-high heat. Allow potatoes to boil for about 15 minutes.

Check to see potatoes are done by pricking with a fork, if the fork goes through the potatoes, they are done. Drain potatoes in a colander. Place 1/4 cup of butter into the pot that you just boiled the potatoes in, and add dried parsley.

Stir until the butter has melted, add cooked potatoes and onions to the melted butter, and stir to blend the parsley butter over the potatoes. Season with salt.
Recipe Tips for the Cook
Turn these leftover potatoes into soup by placing leftovers into a pot, and adding just enough milk to cover the potatoes.
Need your potatoes done more quickly? Cut them into smaller pieces, they will cook faster that way.
Want some variety? Add some thinly sliced green onions with the parsley for an extra layer of flavor.
Nutrition
Calories:
144
kcal
|
Carbohydrates:
21
g
|
Protein:
2
g
|
Fat:
5
g
|
Saturated Fat:
3
g
|
Cholesterol:
15
mg
|
Sodium:
202
mg
|
Potassium:
487
mg
|
Fiber:
1
g
|
Sugar:
1
g
|
Vitamin A:
175
IU
|
Vitamin C:
7.2
mg
|
Calcium:
19
mg
|
Iron:
1
mg