Quick and easy pan-fried potatoes make an ideal side dish for a hearty breakfast or brunch. They also make an excellent dinner side. It doesn't get much easier than this! Three ingredients – potatoes, butter, onions – plus salt and pepper, and you're good to go. You'll make the best fried potatoes every time.
Do You Have to Boil the Potatoes First?
Some recipes for crispy breakfast taters or pan-fried potatoes take way longer to prepare than necessary. You're first instructed to parboil the potatoes, then slice them up and fry them. This is not only unnecessary, but it's also annoying, especially if you're feeling lazy or rushed. You really don't need to pre-cook the potatoes; you just need to slice 'em thin and choose the best fats or oils.
With copykat's easy recipe, you simply cover the potatoes and allow the trapped heat to cook them.
What Is the Best Type of Potato to Use?
You will find recipes calling for all kinds of potatoes, but russets make the best fried potatoes. Why? One of the primary features that make fried potatoes so yummy is the crispy crust you get while the potatoes are searing in the skillet. Russet potatoes are just better for crisping.
Yukon gold and red potatoes both taste great when cooked in a skillet, and you can certainly use them if desired. However, they won't stay as crisp as russets.
Can I Add Herbs and Spices?
Yes, you can use any herbs or spices that appeal to you – garlic powder, chili powder, paprika, cumin, taco seasoning, coriander – in any combination. However, don't add them too soon – dried herbs and spices will burn very easily. Toss them in your pan during the last two minutes of cooking.
Fresh herbs are different. If you use heartier stemmed herbs, like thyme or rosemary, it's good to add them at the start of the cooking process. Herbs such as parsley, chives, or basil, should be added at the last minute to prevent them from being wilted and sad.
Onions, bell peppers, and garlic add great flavor to these skillet-fried potatoes.
How Do You Keep Fried Potatoes Crispy?
While the potatoes are cooking under their cover, there's enough fat in the pan to begin the browning process. Make sure the potatoes are golden-brown on the bottom before you flip them or move them around. Flip them and kick the heat up to medium-high and get their other sides dark golden-brown. Some pieces will probably brown faster than others because of your stove's hot spots, so move them around with tongs as necessary.
What's the Best Skillet for Fried Potatoes?
A cast-iron skillet works really well because it's so good at retaining heat, but you can use a nonstick pan if you want. What you do need is a pan with a really good–fitting lid – one that will keep the steam in instead of letting it leak out.
If you're frying in a cast-iron skillet, allow it plenty of time to heat up – the potatoes should sizzle when they hit the pan. A 10-inch pan will fit one pound of potatoes in one snug layer, but a 12-inch pan is even better because it gives you some extra surface area to work with.
Ingredients
Here's what you need:
Butter
Potatoes
White onion
Salt
Ground black pepper
How to Make Fried Potatoes
Cut the potatoes into slices.
Rinse potatoes in a colander and shake off the excess water.
In a large skillet, melt the butter and layer the potatoes into the skillet.
Sprinkle with salt and pepper.

Cook covered over medium heat for about 8 minutes.
Add onions and cook uncovered for about 10 minutes, flipping over once or twice so the potatoes brown evenly.
Cook until the potatoes are tender and browned.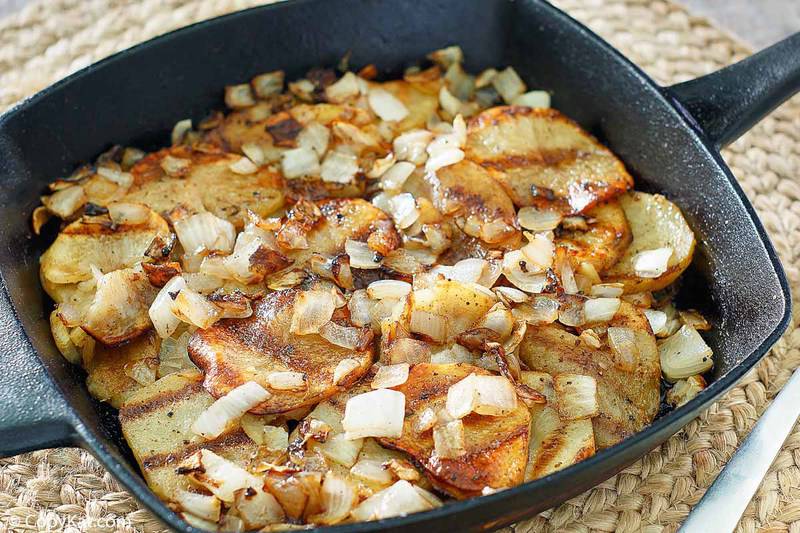 Love potatoes? Try these recipes
Favorite Side Dish Recipes
Be sure to check out more of my easy side dish recipes and the best comfort food to make for your family.