Rocky Road candy is perfect for gift giving during the holidays. This is an easy chocolate candy recipe that you can put together in no time at all. It's truly one of the easiest fudge-like treats that you can make! Only three ingredients – chocolate, marshmallows, and nuts. I usually choose walnuts or pecans, but you can use whatever nuts you like best (or happen to have on hand). And, if you want a real treat, serve your candy up with vanilla ice cream for a luscious dessert!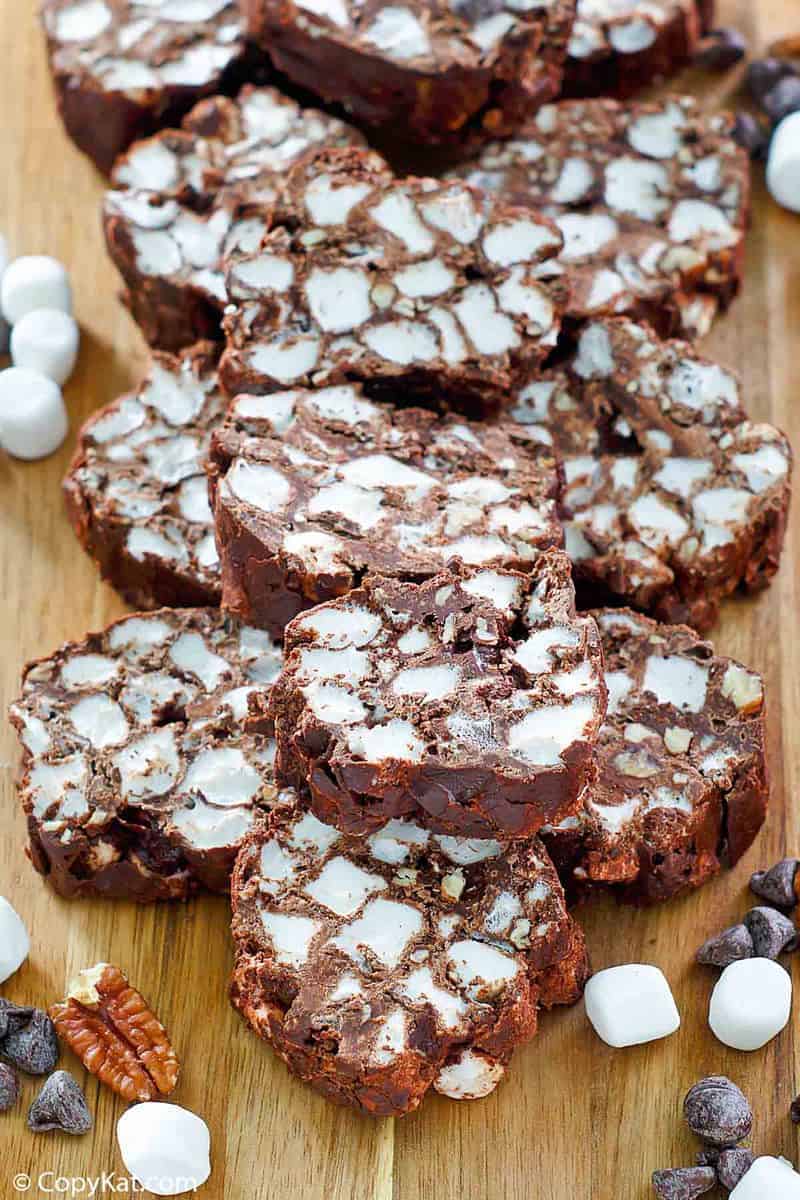 Are you a fan of sweet and salty? This recipe is also terrific with salted peanuts. If you need a nut-free candy recipe, you can get the same salty crunch by using pretzel pieces.
If you need a quick recipe, this no-bake Rocky Road candy recipe doesn't need you to turn on the oven, making it simple to keep a batch on hand to spread some holiday cheer when your friends and relatives pop over. Or wrapped in a seasonal gift box, these candy bites make the perfect hostess gift. They are also ideal for adding to Easter baskets.
Was the Rocky Road in Australia or America?
The earliest mention of the Rocky Road appears in 1853 during the Australian gold rush. Legend has it that Rocky Road was created to sell cookies that had spoiled during the long voyage from Europe. Once on Australian dry land, the spoiled cookies were combined with chocolate and nuts to disguise the not-so-tasty flavor.
According to the American story, Rocky Road Ice Cream was created in California in 1929 by William Dreyer. He cut up some walnuts and marshmallows and added them to chocolate ice cream. In reality, he was copying his partner's candy concoction. After the 1929 stock market crash, the two named the flavor Rocky Road – "To give folks something to smile about in the midst of the Great Depression."
How to Make Rocky Road Candy Bars – the More Complicated Way
(To make bars that are completely coated in chocolate, you will need bar-sized candy molds.)
Melt the chocolate and spoon halfway into each mold, coating the sides with a thin layer. Allow to cool a little, so the chocolate doesn't melt the marshmallows.


Sprinkle the mini marshmallows and chopped nuts over the cooled chocolate. Fill up the mold with more chocolate to cover them as completely as possible.


Place the molds in the refrigerator until the chocolate is firm and unmold onto paper towels.
Ingredients
Here's a list of what you need:
Semi-sweet chocolate chips – stay away from the candy melts, chocolate tastes best.
Miniature marshmallows
Chopped nuts, pecans recommended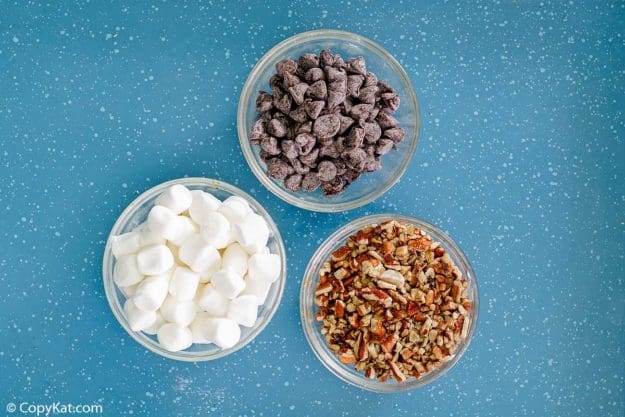 How to Make Rocky Road Candy
Melt the chocolate chips slowly in a double boiler or in the microwave.

Add marshmallows and pecans. Stir to combine.

Scoop the mixture onto waxed paper and roll it into a log.
Refrigerate for two hours.
Remove waxed paper and slice into ½-inch pieces.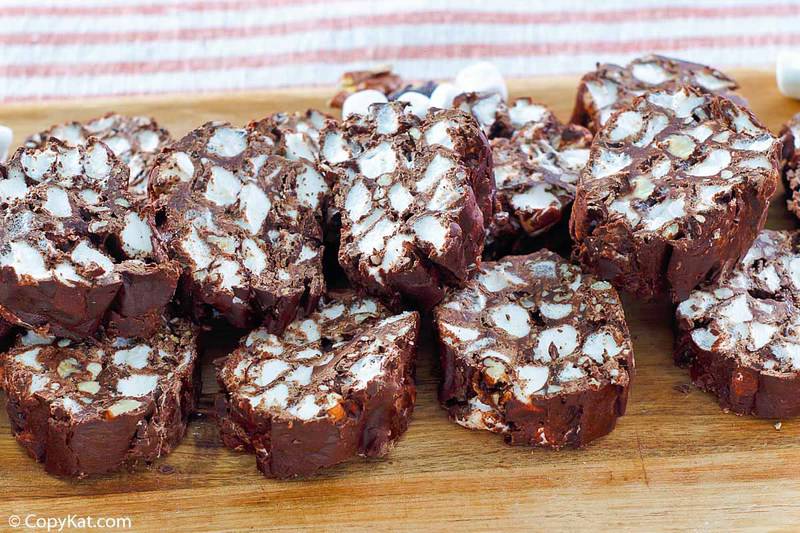 Do you love homemade candy? Try these recipes!
Favorite Christmas Desserts
Be sure to check out more of my easy candy recipes and the best Christmas recipes to make for your holiday celebration.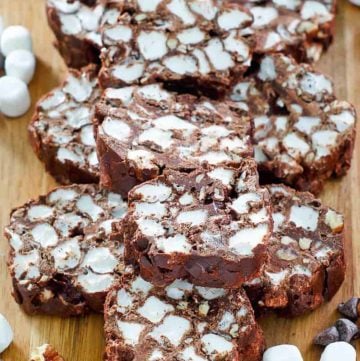 Ingredients
12

ounces

semi-sweet chocolate chips

4

cups

marshmallows

(miniatures)

1/3

cups

chopped nuts
Instructions
Melt chocolate slowly in a double boiler or in the microwave. Add marshmallows and pecans. Scoop onto waxed paper. Roll into a log. Chill 2 hours. Slice into 1/2 inch pieces.
Nutrition
Calories:
132
kcal
|
Carbohydrates:
17
g
|
Protein:
1
g
|
Fat:
6
g
|
Saturated Fat:
3
g
|
Cholesterol:
0
mg
|
Sodium:
11
mg
|
Potassium:
87
mg
|
Fiber:
1
g
|
Sugar:
12
g
|
Vitamin A:
5
IU
|
Calcium:
10
mg
|
Iron:
1
mg