The Cheesecake Factory Red Velvet Cheesecake has been a long-requested recipe for CopyKat.com. I am proud to add this recipe to the blog.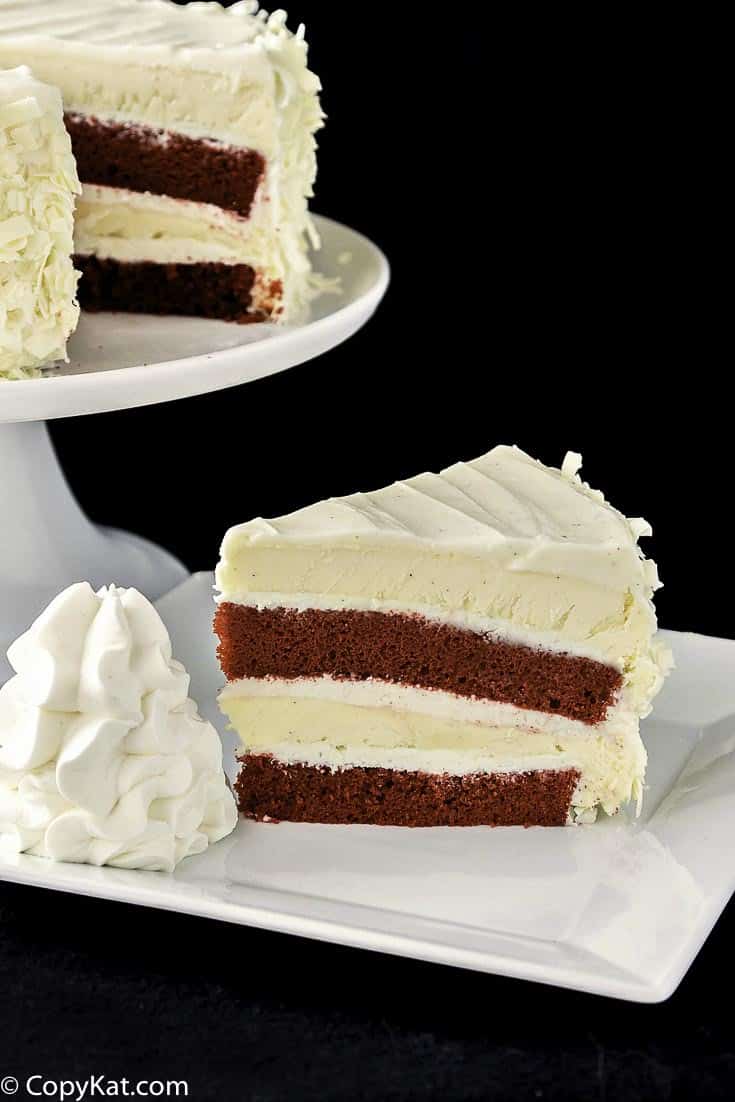 This post contains affiliate links. As an Amazon Associate, I earn from qualifying purchases.
Moist layers of Red Velvet Cake and our Original Cheesecake covered with our special Cheesecake Factory cream cheese frosting. One bite of this delectable dessert and you will be amazed at the flavor combination. Rich chocolate cake and the creamy cheesecake is a combination that was made in heaven.
Many recipes online that are copycat versions miss the fact that this cheesecake layer is actually in here twice, not just once. Now to make this happen you may need to purchase a kitchen scale so you equally measure out the cheesecake batter evenly. I personally love my Escali Kitchen Scale. I used this one in cooking school. It is super easy to use and can take a lot of use.
This is not a difficult recipe to make, but it does require some planning and some time. Read through all the ingredients and instructions to find out how to make Cheesecake Factory Red Velvet Cheesecake.
Be sure to prepare ahead and get ready to wow your guests with this gorgeous, red and white, showstopping cheesecake. It's a perfect dessert for the holidays and Valentine's Day.
Since the contrast between the red cake and pale cheesecake is so striking, it will look best if each layer is the same thickness. If you don't own a kitchen scale, consider getting one so you can weigh the batters to divide them exactly in half.
For example, the cheesecake batter weighed 39 ounces, so I knew needed 19.5 ounces of batter in each pan. Your batter will most likely weigh the same as mine, but weigh it just to make sure.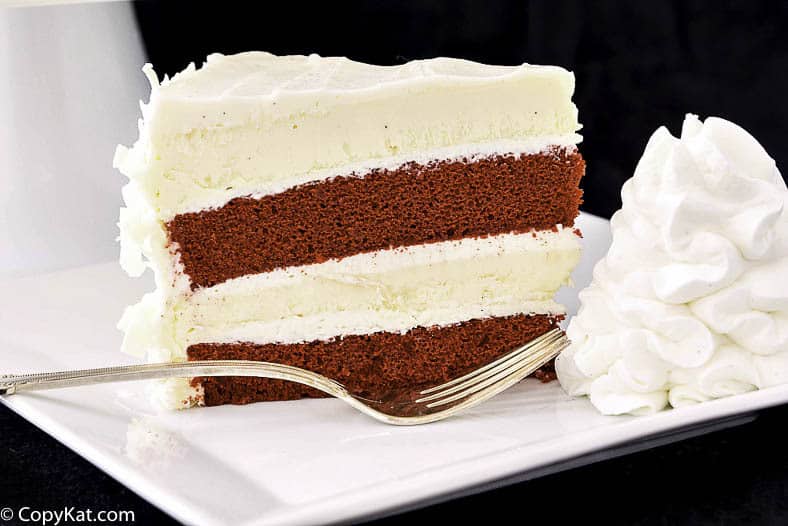 Do you love The Cheesecake Factory? Be sure to check out these copycat recipes
Popular Cheesecake Recipes
Take a look at more of my easy dessert recipes and the best casual dining restaurant copycat recipes.
This recipe is from Jenni Field, her blog is the Pastry Chef Online, be sure to check out her recipes over at her blog.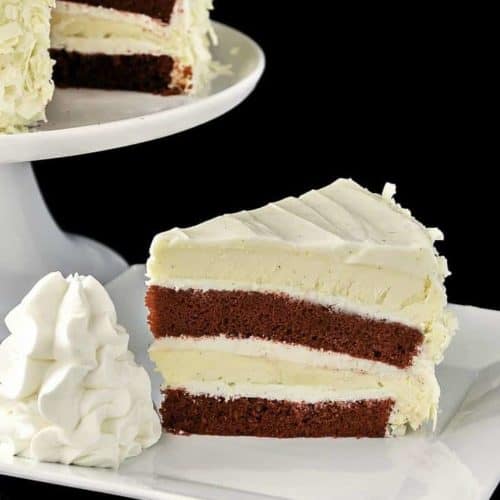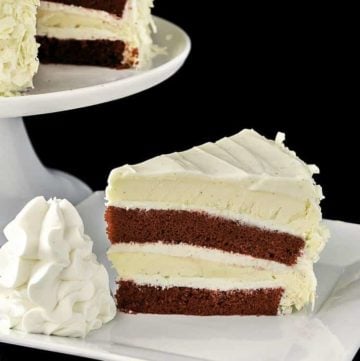 Ingredients
Cake Ingredients
15.25

ounces

Duncan Hines Red Velvet Cake Mix

3/4

cup

water

1/4

cup

sour cream

1/2

cup

mayonnaise

3

eggs

1

egg yolk

1/4

teaspoon

kosher salt

1/4

teaspoon

vanilla extract
Cheesecake Ingredients
24

ounes

cream cheese

softened

3/4

cup

granulated sugar

1 1/2

teaspoons

teaspoons vanilla paste or extract

1/4

teaspoon

kosher salt

3

eggs, at room temperature

large

1/4

cup

heavy cream

at room temperature

1

tablespoon

flour or cornstarch
For Cream Cheese Frosting
12

ounces

cream cheese

softened

4

ounces

unsalted butter

softened

Heavy

pinch

kosher salt

1

teaspoon

vanilla paste or extract

20

oz

powdered sugar

5 cups

3-4

Tablespoons

heavy cream

1

to

1 1/2 4 oz bars of real white chocolate (not candy coating)
Instructions
Cake Instructions
To Make the Cake Preheat oven to 350F. Spray 2 9" cake pans with pan spray. Line the bottoms with rounds of parchment and spray again. Set aside. In a large bowl, combine the cake mix, water, sour cream, mayonnaise, eggs, and yolk, salt, and vanilla. Using a hand mixer, mix on low speed for about 30 seconds. Scrape the bowl. Increase speed to medium and beat for 2 minutes. Divide the batter evenly between the two pans and bake in the center of the oven for 22-25 minutes, or until the tops spring back when lightly pressed, and the cakes are just starting to pull away from the sides of the pan. Allow to cool in pans for 15 minutes and then invert onto cooling racks. Invert again, so cakes cool right-side up. Note, the cakes will dome quite a bit. Once cool, use a large serrated knife to slice off the entire cake dome as evenly as you can. You should have two even discs of cake approximately 3⁄4" thick. Wrap well and refrigerate.
Cheesecake Instructions
For the Cheesecake Place racks in the upper and lower thirds of the oven. Put a rimmed baking sheet on each rack. Preheat the oven to 300F. Spray 2 9" cake pans with pan spray. Line the bottoms with rounds of parchment and spray again. Don't skip the parchment, because you'll be turning these out once chilled.

Set aside. Bring 2 quarts of water to a boil. Put the cream cheese in a large bowl. Using a hand mixer, beat on medium-low speed until smooth. Add sugar, vanilla, and salt, and continue to beat until well combined and smooth. Scrape the bowl as necessary. Add the eggs, one at a time, beating well after each addition and scraping the bowl as needed. Whisk the cream and flour together, so there are no lumps. Beat this mixture evenly into the rest. Pour half of the batter into each prepared pan and smooth the tops. Pull out the top rack, place one of the cheesecakes into the rimmed baking sheet and then pour in boiling water to come up to the level of the batter, about 3⁄4". Carefully slide the rack back in. Repeat with the other pan on the lower rack. Bake 20 minutes. Carefully rotate each pan and then continue to bake an additional 10 minutes.

Turn the heat off, open the oven door for a few seconds to let some heat escape, and then close the oven door. Allow cakes to remain in the cooling oven an additional 30 minutes. Crack oven door open and let sit for 30 more minutes. Remove to racks and run a thin spatula around the inside of each pan to make sure the cakes have released from the sides. Cool completely, and then chill in the refrigerator for at least 4 hours or overnight. When cooled, turn cheesecakes out onto parchment-lined lined racks. Place lined rack on top of the pan, invert both and give a firm rap on the counter. The cheesecake should release from the pan with no problem. If you do have issues, set the bottom of the pan in warm water for 15 seconds and try again. Freeze the cheesecakes and then wrap well. Leave in the freezer until ready to assemble.
Cream Cheese Frosting
For the Cream Cheese Frosting In a large bowl, use a hand mixer to beat the cream cheese and butter together until smooth. Add the salt and vanilla and continue to beat until smooth and creamy. Slowly beat in the powdered sugar, scraping the bowl as necessary. Beat in the cream, a bit at a time, until you have a nice spreading consistency.
To assemble
To Assemble and Decorate It is easiest to assemble the cake on the stand or platter you'll be serving it on, so make sure it is a good 12" in diameter and is nice and flat. Using a vegetable peeler, shave the sides of the bars of white chocolate to make curls. Catch them on a piece of parchment or a plate and refrigerate until needed. Place a tablespoon of frosting in the center of your platter and then press one of the cake rounds down into it, making sure to center the cake. Spread 3⁄4 cup of frosting evenly over the cake layer. Place one of the frozen cheesecake rounds onto the frosting and press down lightly. Frost with an additional 3⁄4 cup of frosting. Place the other cake round on top of the frosting and press down gently. Top with another 3⁄4 cup of frosting and then finish with the last frozen round of cheesecake. Scrape the rest of the frosting out onto the top of the cake. Spread it out into an even layer and then spread the excess that extends over the edge of the cake thinly around the sides. Use an offset spatula to make a simple zigzag design in the frosting on the top of the cake. Press the white chocolate curls liberally around the sides of the cake. Leave in the refrigerator for at least 4 hours before slicing and serving with a signature tall swirl of whipped cream.
Nutrition
Calories:
714
kcal
|
Carbohydrates:
89
g
|
Protein:
7
g
|
Fat:
38
g
|
Saturated Fat:
16
g
|
Cholesterol:
170
mg
|
Sodium:
595
mg
|
Potassium:
205
mg
|
Fiber:
0
g
|
Sugar:
75
g
|
Vitamin A:
950
IU
|
Calcium:
116
mg
|
Iron:
2.2
mg