This Cheesecake Factory cheesecake is super creamy, dense, and full of flavor. You are going to be amazed at how delicious this cheesecake will taste. This recipe contains a nut and vanilla wafer crust that was sold at Sam's.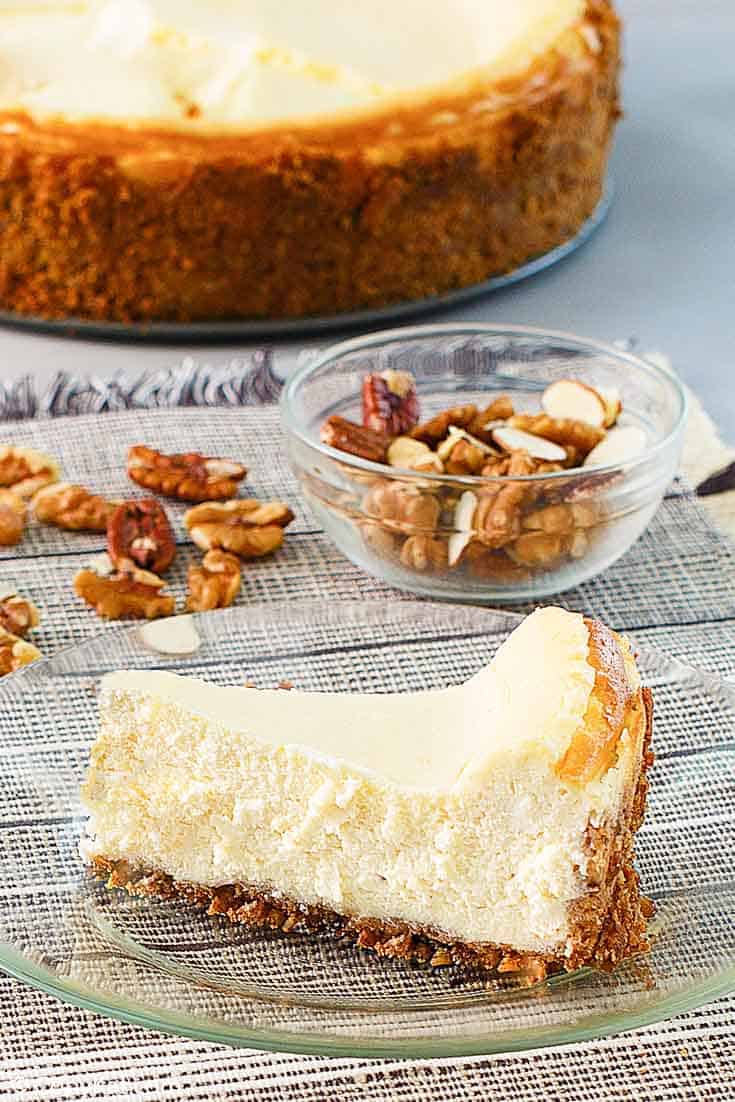 This post contains affiliate links. As an Amazon Associate, I earn from qualifying purchases.
Best Cheesecake for Dessert
Nothing is as rich and decadent as a slice of cheesecake. And let's be honest, no one does cheesecake better than the Cheesecake Factory! But who wants to spend up to 8 bucks for just one slice of cake? The next time you get the craving for something sinfully delicious, skip the restaurant and give this Cheesecake Factory cheesecake recipe a try at home!
Your server will put your beautiful wedge of cheesecake in a convenient little box that you can take home. Amazing – you can always have your cake and eat it too!
However, even if you're only getting a couple of slices to go, these extravagant desserts add up in price. At about $8-12 per slice depending on what kind of cheesecake you choose, these heavenly creations deserve an occasion that lives up to the expense.
However, you can make a divine Cheesecake Factory Cheesecake at home. Not only will it satisfy your tastebuds, but it will also be a lot cheaper. So, save a visit to The Cheesecake Factory for that exceptional celebration.
What makes this cheesecake so good?
The crust for the Cheesecake Factory original cheesecake is made with a combination of pecans, almonds, walnuts, chopped vanilla wafers, and butter.
The crust pairs perfectly with the richness of the cream cheese filling, which includes no less than five eggs, a generous amount of sour cream, and is nicely flavored with vanilla and lemon juice.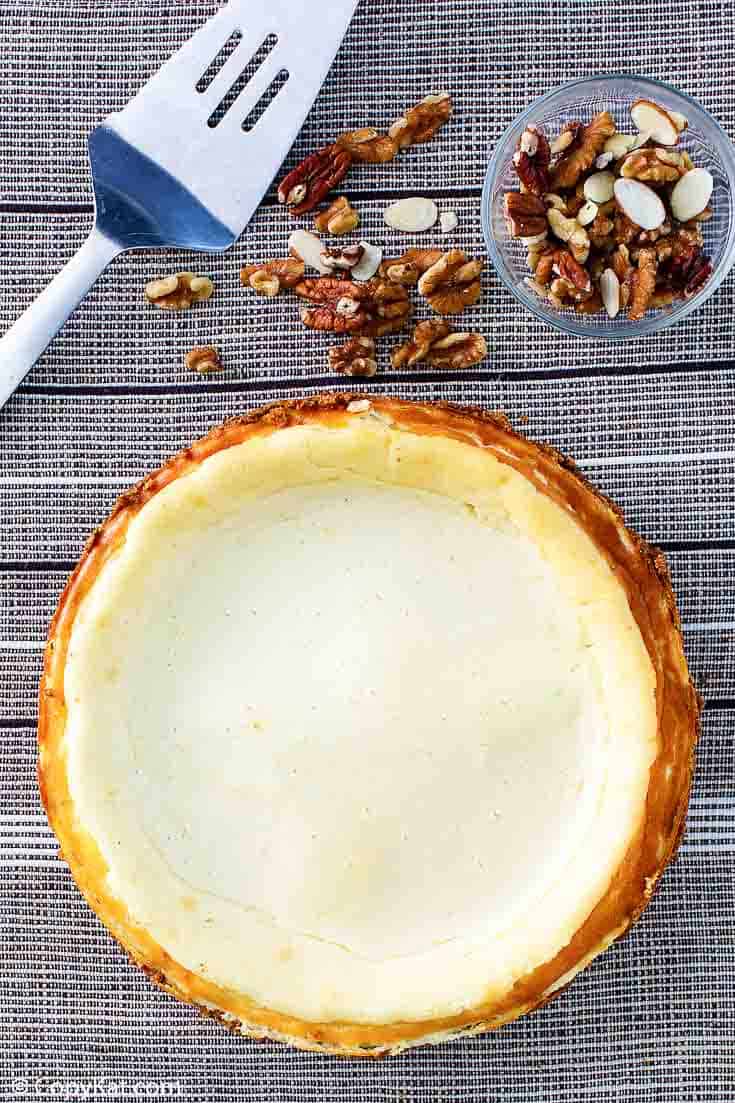 Equipment Needed
It isn't too difficult to make a baked cheesecake, but baking one that really stands out requires not just the right basic cheesecake recipe but the correct equipment and techniques to use as well. Before giving this original cheesecake recipe a try, get prepared.
This cheesecake is baked in a springform pan. Springform refers to the construction style of this pan that features sides that can be removed from the base. If you're baking a delicate cake, like a cheesecake, that's when the springform pan really shines.
After the cake is cool enough, you remove the sides from the pan leaving the cake still sitting on the pan's base. Slicing and serving your cake is easy, and you don't have to worry about breaking your perfect creation in the process of transferring it to a serving plate.
Many people like to use a water bath with a springform pan when baking a cheesecake. A water bath will prevent your cheesecake from browning around the edges, falling in the center when cooling, and cracking. Learn how to use a water bath and prevent leaks from your springform pan.
There are some alternatives if you don't have a springform pan, but a springform pan is the best way to go for baking a cheesecake.
Ingredients
What you need to make the cheesecake
Pecans
Almonds
Walnuts
Vanilla Wafers
Butter
Cream Cheese
Sugar
Large eggs
Sour Cream
Flour
Vanilla extract
Lemon Juice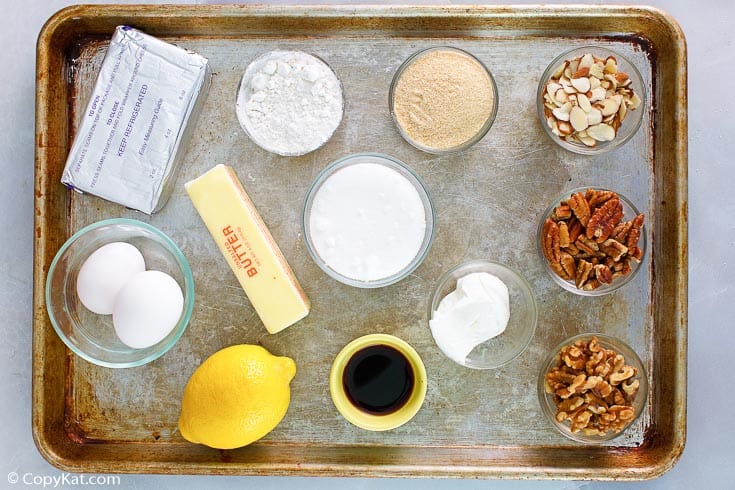 How to Make Cheesecake Factory Cheesecake
The first step is to make the delicious nutty crust.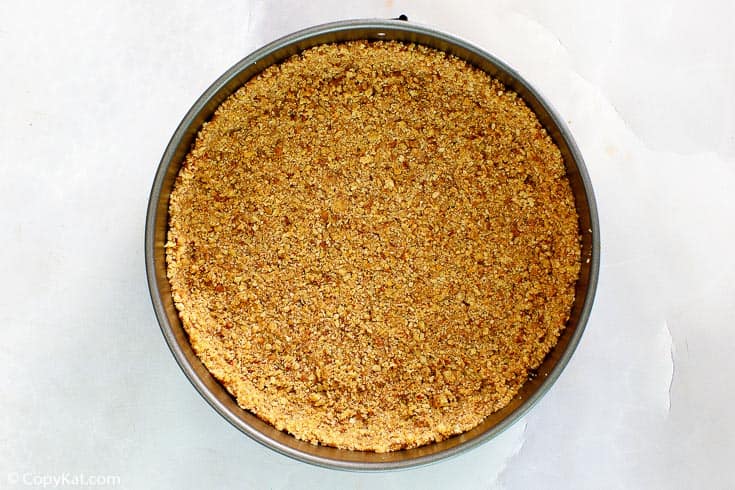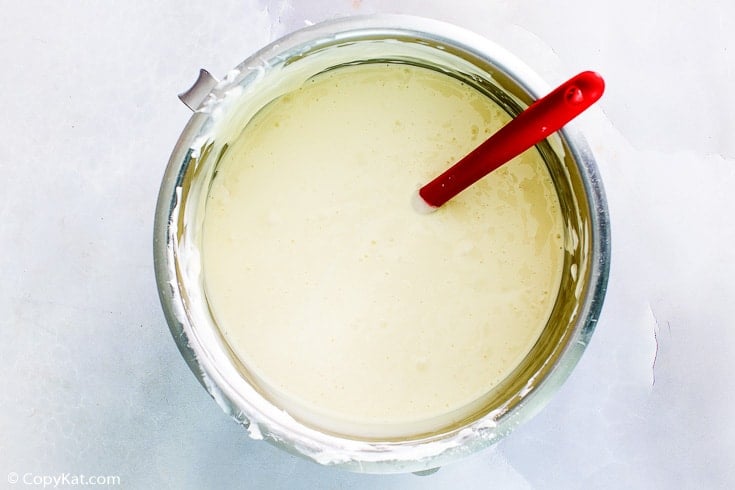 Pour the cheesecake batter over the crust and bake until done.
Allow the cheesecake to cool then remove it from the pan and enjoy this irresistible dessert.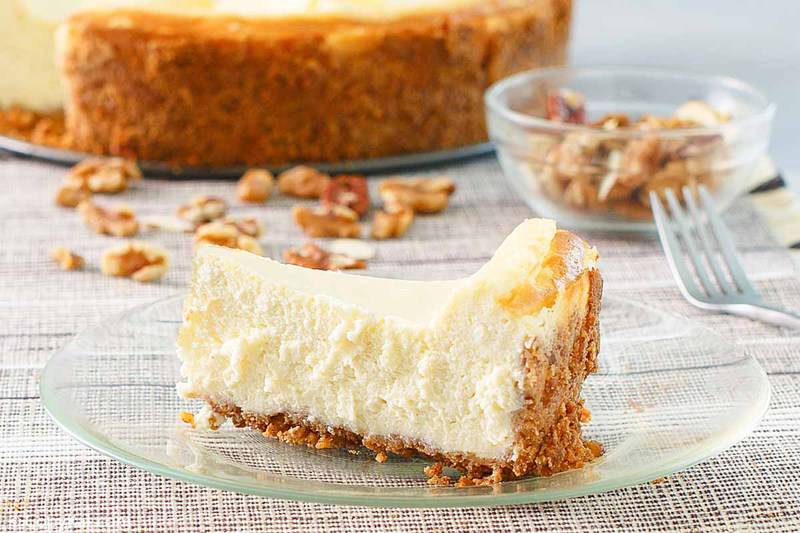 Tips for Making the Best Copycat Cheesecake Factory Cheesecake
You Have to Use the Right Pan
Homemade cheesecake is delicate, and if you want yours to end up looking as wonderful as it tastes, you will need to use a springform pan.
There are two different pieces to a springform pan; a flat base and a removable upper ring that locks into place. The removable upper ring comes off after the cheesecake cools to allow you to cut and serve slices easily.
You can find springform pans in any cooking store or online. Opt for a good quality springform pan because cheaper pans tend to have problems holding a tight seal and may leak.
A 10-inch springform pan works well for this recipe.
Use a Water Bath
For the creamiest consistency, it is best always to bake your cheesecake using a water bath.
You can create a water bath, sometimes referred to as a bain-marie, with items you probably already have at home.
Start by laying a clean dishtowel on the bottom of a roasting pan that is large enough to hold your springform pan easily. The dishtowel will prevent the cake pan from slipping as well as raise it off the bottom to keep it cooler.
Next, wrap the outside of the filled springform pan in plastic wrap and then a layer of tinfoil.
Place it into the prepared roasting pan.
Pour water into the roasting pan until it is halfway up the side of the springform pan. Be careful not to splash any water on top of the cheesecake.
Know When to Remove the Cheesecake from the Oven
The only thing worse than a dried-out cheesecake is one that is raw in the middle. This Cheesecake Factory cheesecake recipe calls for an hour and 15 minutes of baking time. Still, since ovens differ, you may want to start checking your cheesecake at around the hour mark.
To tell whether the cheesecake set, look at the top. You want to see a bit of moisture at the center of the cake's surface with the rest of the top dry.
Give the pan a little shake. The cake should wobble slightly.
Remember, it is critical to turn the oven off, crack the door a little, and let the cheesecake sit in the oven until the top is completely dry.
Tips for Serving and Storing Homemade Cheesecake
Let the cheesecake cool to room temperature then pop in the fridge overnight before serving.
Cheesecakes can pick up odors from your fridge, so always store it covered.
You can freeze cheesecake wrapped in tinfoil for up to a month.
Fresh or macerated fruit is an excellent topping for a slice of this basic cheesecake recipe.
With over thirty different kinds of cheesecakes at the Cheesecake Factory, it's no wonder that many people have fun picking their favorites. And, there are always new kinds of this decadent dessert to sample on National Cheesecake Day.
However, you can make a cheesecake that tastes just as delicious as The Cheesecake Factory Cheesecake.
Cheesecake lends itself to many different toppings, so let me know what your favorites are.
Love cheesecake? Try these recipes!
Great Pie Recipes
Take a look at all the great copycat desserts and copycat cakes to make.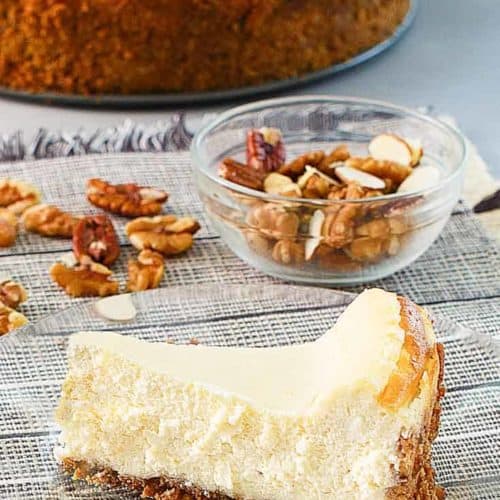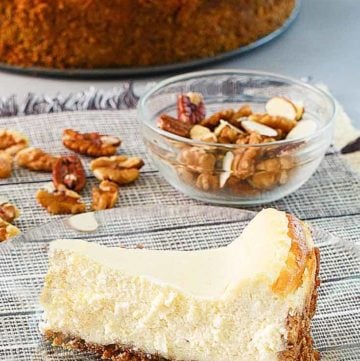 Ingredients
Crust
1/4

cup

finely chopped pecans

1/4

cup

finely chopped almonds

1/4

cup

finely chopped walnuts

3/4

cup

finely chopped vanilla wafers

2

tablespoons

melted butter
Cheesecake Filling
1 1/2

pounds

cream cheese

1 1/3

cups

sugar

5

eggs

16

ounces

sour cream

1/4

cup

flour

2

teaspoons

vanilla

2

teaspoons

lemon juice
Instructions
Cheesecake Crust
Blend all the nuts and chopped vanilla wafers into the melted butter and press the mixture into a buttered springform pan. Line the mixture about 1 1/2" up the sides of the pan and set aside.
Cheesecake Filling
Keep your mixer on the low setting throughout the mixing process.

Beat the cream cheese until light and fluffy. Add the sugar a little at a time and continue beating until the mixture is creamy. Add one egg at a time and beat after each egg. 

When the eggs have been mixed into the cream cheese, add the flour, lemon juice, and vanilla and mix well. Lastly, add the sour cream and beat well.


Pour the cream cheese mixture into the springform pan. Place on the top rack in the middle of a 325 degree preheated oven and bake for 1 hour and 15 minutes. When the baking is finished. Turn off the oven. Prop open the oven door and let the cheesecake sit in the oven for 1 hour. 

Remove the cheesecake from the oven and let it cool enough to put into the refrigerator for 24 hours. A cheesecake should be allowed to season in order for the flavor to ripen and become enriched. The wait will be worth it!
Nutrition
Calories:
364
kcal
|
Carbohydrates:
25
g
|
Protein:
6
g
|
Fat:
27
g
|
Saturated Fat:
13
g
|
Cholesterol:
116
mg
|
Sodium:
212
mg
|
Potassium:
152
mg
|
Fiber:
0
g
|
Sugar:
20
g
|
Vitamin A:
865
IU
|
Vitamin C:
0.5
mg
|
Calcium:
89
mg
|
Iron:
0.7
mg