The Cheesecake Factory Chicken Piccata has to be one of my favorite ways to enjoy this classic dish. Unlike other chicken piccata dishes, this one contains mushrooms and has a creamy sauce that is hard to beat. Soon you can be recreating this dish just they prepare this recipe in the restaurant.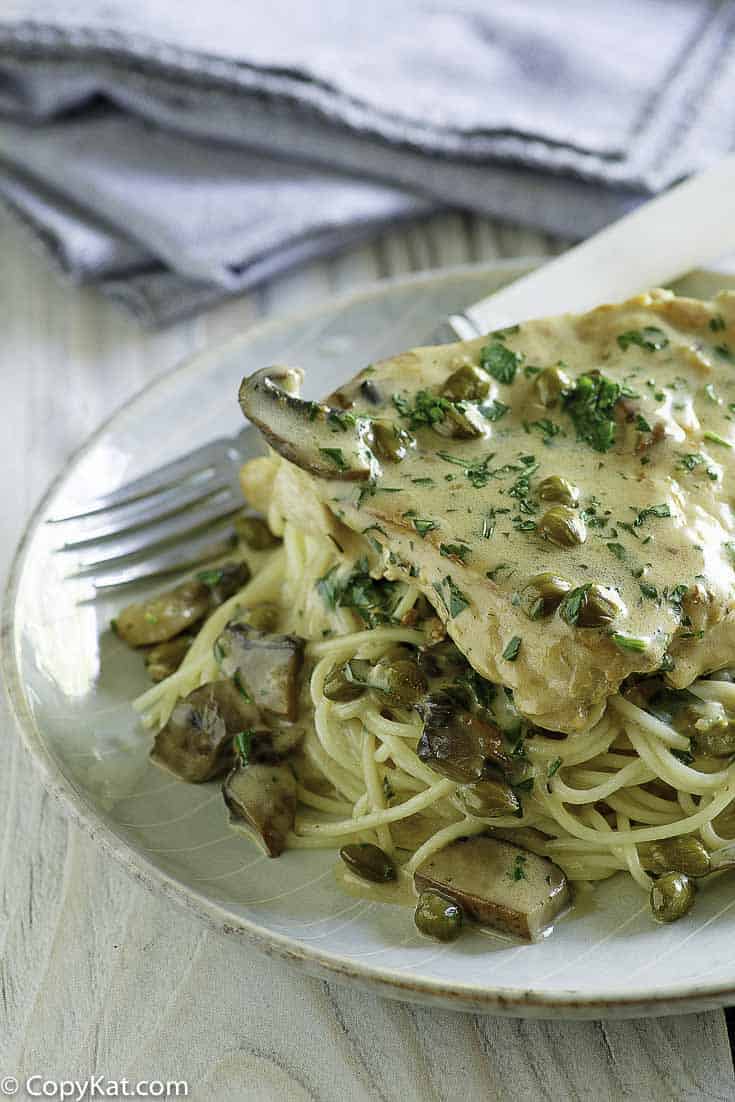 Cheesecake Factory Pasta with Chicken Piccata
Don't you love dinners that you can make with chicken breasts? For me, this Cheesecake Factory Chicken Piccata is a go-to staple for a weeknight meal – it means you can have dinner on the table in a flash. Who doesn't want to have a great tasting meal without a lot of time and effort?
Even a picky eater will clean up his or her plate and this will decide you to add this recipe to your dinner rotation. Dining at The Cheesecake Factory is perfect for a special night out, and one of my favorite dishes is The Cheesecake Factory Chicken Piccata.
It's unlike chicken piccata choices at other restaurants because it contains mushrooms. It also has a rich, creamy sauce that is hard to beat. You can recreate this dish just like they prepare it in the restaurant. If you've had chicken piccata at The Cheesecake Factory, you'll be so excited to try making this!
Alternatives in making the Piccata Sauce recipe
Most chicken piccata recipes do not have mushrooms, which is one reason you will love this copycat take on The Cheesecake Factory Chicken Piccata. I prefer baby portobello mushrooms in this dish because they offer a little more flavor than your traditional white button mushrooms.
This recipe also calls for a dry white wine. If you don't have any dry white wine on hand, you can use dry vermouth which works well as a substitute. If you are not an alcohol drinker, you could substitute chicken broth – your piccata won't taste quite as good, but chicken broth will do nicely.
What makes this Chicken Piccata recipe so good?
One of the key ingredients that make this dish stand out is the capers. I love capers, and I use them in my copycat tartar sauce recipe. Capers are a type of juniper berry and add a pleasing pop of flavor that reminds me of a tart salty pickle. (You can use capers to add a little zest to all kinds of dishes.) Some fresh lemons and fresh parsley also make this chicken piccata dish special.
How much chicken should you use?
It's so easy to prepare this copykat chicken breast recipe at home. This dish calls for 1 to 1-1/2 pounds of chicken breasts. This could be 3 smaller breasts or 2 larger ones.
You need to slice each chicken breast horizontally and then pound it out thin. This helps your cooking time to be very short.
Quite a few of my readers say that they doubled the sauce, so if you like more sauce with your pasta that is a choice. This is a winner recipe all around – super quick and easy and a totally awesome flavor. I would love to hear
back on how your family enjoyed your chicken piccata.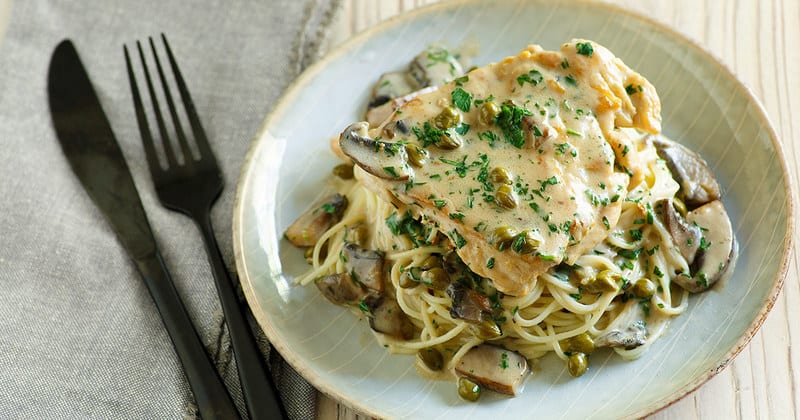 Looking for more Copycat Cheesecake Factory Recipes? Try these
Love chicken recipes? Check out these great chicken dinner recipes
Take a look at more of my easy chicken recipes and the best homemade Italian food.
Ingredients
1 1/2

pounds

chicken breast

1/2

teaspoon

salt

1/2

teaspoon

ground black pepper

1

tablespoon

butter

1

tablespoon

oil

8

ounces

portobello mushrooms

sliced

2

teaspoons

butter

1/4

teaspoon

salt

1/4

cup

butter

1/4

cup

dry white wine

1

tablespoon

lemon juice

1

tablespoon

capers

2

tablespoons

heavy cream

2

teaspoons

fresh chopped parsley

Serve

with

cooked angel hair pasta or other type of pasta
Instructions
Slice chicken breasts in half, they should be about 3/8 to 1/2 inch thick after cutting. Place the chicken breast between plastic wrap and pound thin with a meat pounder. Pound chicken carefully until it reaches about 1/4 inch thick. Season chicken breast with salt and pepper. Heat a skillet over medium heat and add 1 tablespoon of butter and 1 tablespoon of vegetable oil.

Cook chicken breast until brown on both sides, remove from the pan. Reduce the heat slightly and mushrooms, 1 tablespoon butter, and a sprinkle of salt. Saute the mushrooms until they just begin to brown. Remove the mushrooms from the pan. Add dry white wine to the pan, and scrape the browned bits off the pan with a wooden spoon. Add butter and lemon juice to the pan, and stir in capers and add heavy cream. Raise heat until the the mixture begins to bubble. Return mushrooms and chicken to the pan. Stir in fresh parsley and serve immediately. Serve with cooked angel hair pasta or other pasta of your choice.
Nutrition
Calories:
422
kcal
|
Carbohydrates:
3
g
|
Protein:
37
g
|
Fat:
27
g
|
Saturated Fat:
13
g
|
Cholesterol:
162
mg
|
Sodium:
841
mg
|
Potassium:
846
mg
|
Fiber:
0
g
|
Sugar:
1
g
|
Vitamin A:
665
IU
|
Vitamin C:
3.5
mg
|
Calcium:
17
mg
|
Iron:
0.8
mg