If you haven't heard about Piada, it is a new Italian restaurant that is making its way into your communities. If you like Chipotle, you are going to love Piada. Their chicken tenders are an essential ingredient in many of their recipes, and I am going to show you how to recreate their chicken tenders at home.
Piada is a new restaurant in the Houston area. They are in other areas as well, so be on the lookout. They are an upscale fast food restaurant. Everything is made fresh before you. They do salads, Piada, soups, and desserts. Piada is an Italian sandwich you hold in your hands and eat. Are they good? Oh yes. I will also say their soups are some of the best soups around.
What makes their chicken tenders so good? Fresh ingredients make all of the difference. Fresh chicken tenders, buttermilk, and the perfect amount of seasoning make these delicious chicken tenders you can enjoy in a sandwich, or even on top of a salad, heck you might want to enjoy these on their own.
These chicken tenders are fried, so you are going to need vegetable oil for this recipe. People always ask what type of oil should they fry with? I honestly think peanut oil is the best for me, I have a fryer that I can filter the oil and use it again. I have also fried chicken with vegetable oil and even shortening, and it has all worked well. I think when you fry it is most important to have the oil at the right temperature. If you don't have one, you can get a thermometer. Or you may want to invest in a fryer. These are easier to use.
I hope you give these a try. If you happen to be an area where there is a Piada, be sure to go in there as well. They have fantastic food.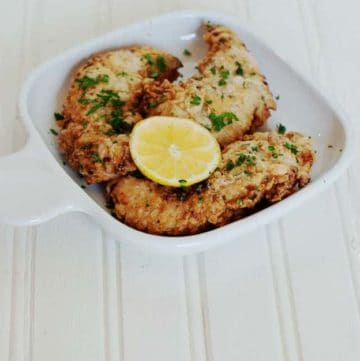 Ingredients
1

pound

chicken tenders

2

cups

buttermilk

1

cup

cake flour

1/2

cup

corn starch

1

1/2

teaspoons salt

1/2

teaspoon

ground black pepper

1

tablespoon

fresh parsley

vegetable oil

for frying
Instructions
Place chicken tenders into either a gallon sized zip top bag, or a plastic container. Add buttermilk to the chicken tenders. Allow the chicken tenders to marinate for about 1 hour before using. Preheat oil to 350 degrees. Make the batter of the chicken by combining, the cake flour, cornstarch, salt, pepper, and fresh parsley. Stir to combine well.

Batter chicken by removing from buttermilk, shake the chicken gently, then dredge through the flour, shake off the excess flour. I like to place my chicken on a wire rack for about 2 minutes before cooking, this helps to make sure the coating will stay on the chicken. Place chicken into the oil and cook until light and golden brown. This should take between 3 to 5 minutes. Do not over crowd your fryer.
Nutrition
Calories:
495
kcal
|
Carbohydrates:
43
g
|
Protein:
31
g
|
Fat:
21
g
|
Saturated Fat:
14
g
|
Cholesterol:
85
mg
|
Sodium:
357
mg
|
Potassium:
612
mg
|
Fiber:
0
g
|
Sugar:
5
g
|
Vitamin A:
315
IU
|
Vitamin C:
2.7
mg
|
Calcium:
148
mg
|
Iron:
0.8
mg