Long John Silvers Chicken Planks are known for their crispness and golden brown batter if you are familiar with their fish batter. Why not try their famous chicken strips when you prepare this copycat Long John Silver's chicken at home? When you make this copycat recipe at home, there is no need to rush out to your nearest Long John Silvers.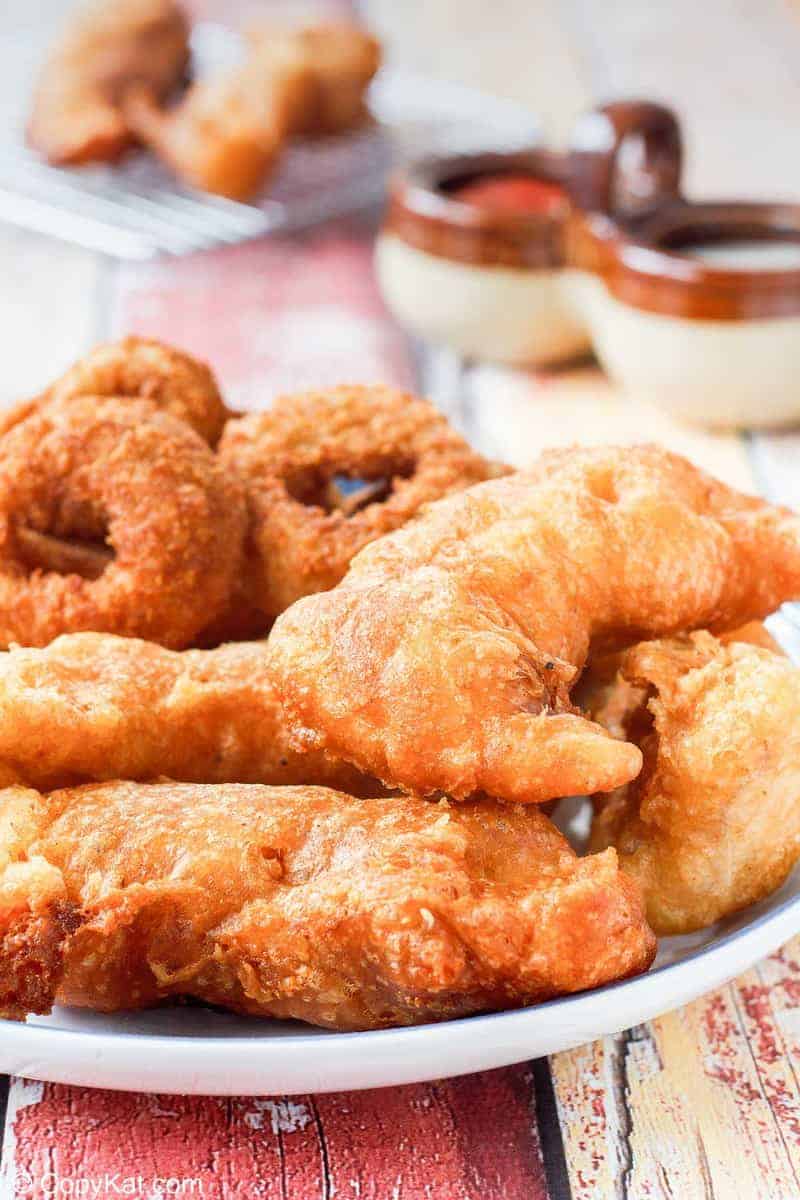 This post contains affiliate links. As an Amazon Associate, I earn from qualifying purchases.
Long John Silver's Chicken
If you enjoy the iconic Long John Silver batter, you will love tender chicken tenderloins when dipped into the batter and fried. The batter is crispy and light, and you will soon want to make a big batch of the Long John Silver chicken planks at home. I have a great copycat recipe for you to try. You will soon want to make a big batch of these copycat chicken strips for dinner.
Long John Silvers Chicken Batter Recipe
If you're looking for the recipe for Long John's Silver's chicken batter, you've come to the right place. I've perfected this copycat batter recipe so you can make these crispy, crunchy fried chicken tenders just like the restaurant.
Ingredients
Here's a list of what you need:
Chicken tenderloins, also known as chicken tenders
All-purpose flour
Cornstarch
Sugar
Salt
Baking powder
Baking soda
Onion salt
Paprika
Ground black pepper
Club soda
Vegetable oil for frying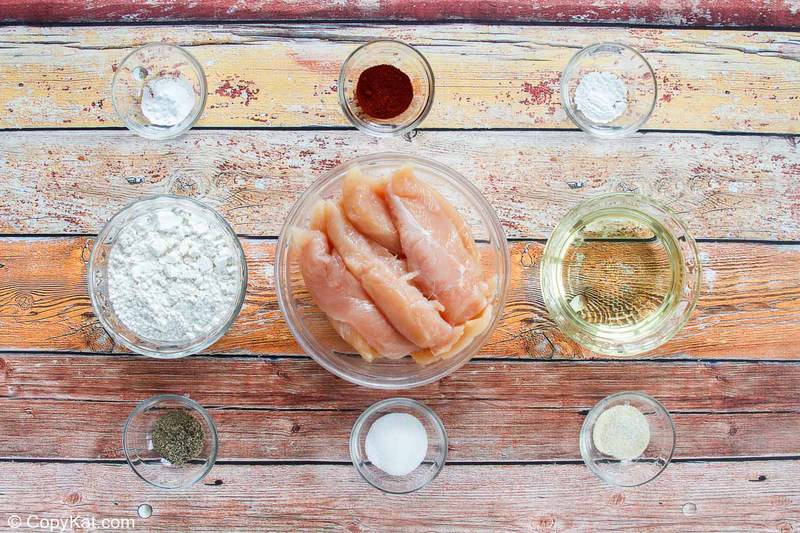 How to Make Long John Silvers Chicken
In a deep-fryer or large, heavy pot, heat vegetable oil to 360°F.
Place flour, cornstarch, sugar, salt, baking powder, baking soda, onion salt, paprika, and ground black pepper in a large mixing bowl. Stir or whisk to combine thoroughly.
Add club soda to dry ingredients and stir to combine..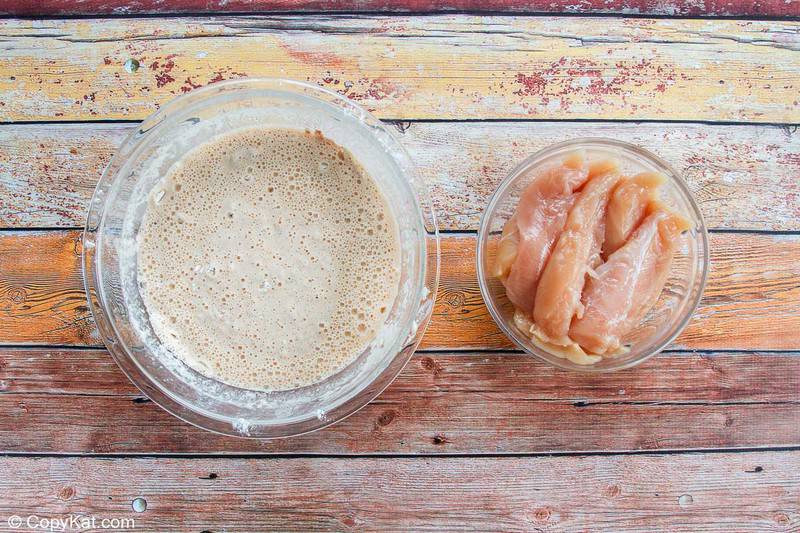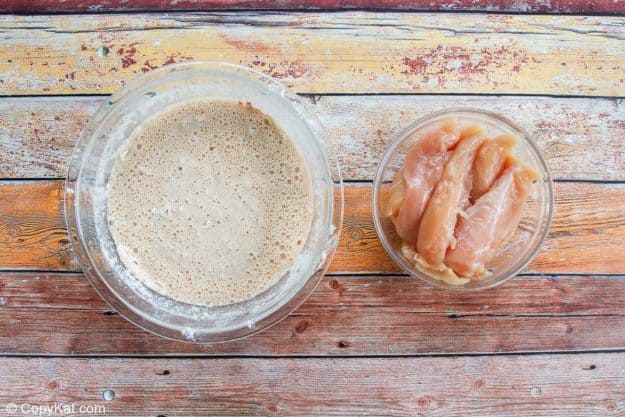 Drop chicken tenders into the batter.
Place battered chicken tenders into the hot oil, a few at once.
Fry for 2 to 3 minutes on each side or until the batter is golden brown and the chicken begins to float to the top of the oil.
Drain fried chicken tenders on a wire rack.
Serve immediately.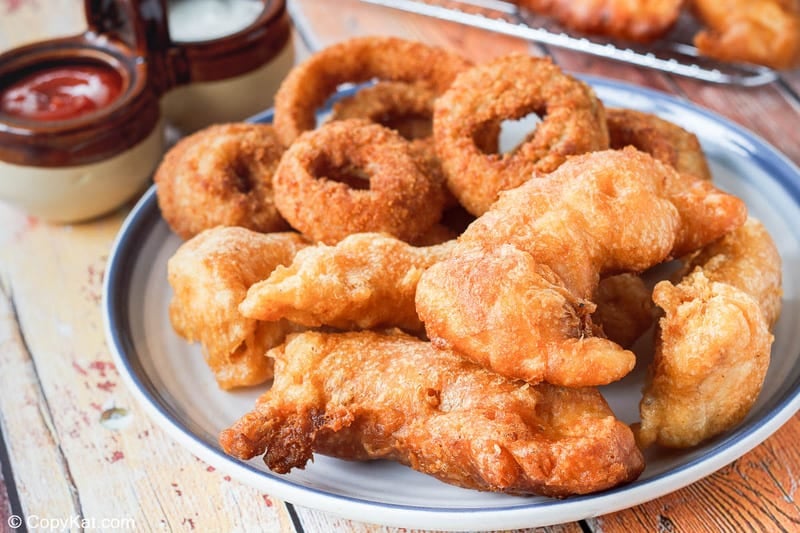 Cooking Equipment and Tips
Use vegetable oil for frying. I think peanut oil would also work well, but it is more expensive.
I used my T-fal FR8000 Oil Filtration Ultimate EZ Clean Easy to Clean 3.5-Liter Fry Basket Stainless Steel Immersion Deep Fryer, 2.6-Pound, Silver. I like it because it regulates the heat very well, and it has a filter so you can reuse the oil.
Make sure the oil gets up to about 360 to 375°F. You must pat the chicken tenders with a paper towel, dunk them into the batter, and allow much of the batter to drip off.
Place the chicken into the frying oil gently and slowly. You want the batter to cook for a moment or two as the chicken is laid into the hot oil. This way, the batter won't stick to the deep fryer basket.
The chicken is done when it begins to float, which takes about 5 to 6 minutes. You must flip the chicken over while cooking so both sides cook evenly.
I know you will enjoy these chicken planks.
What to dunk your chicken strips into?
I love the malt vinegar at the restaurant, but you could dip your chicken into some honey mustard or ranch dressing.
How do you store the leftovers?
Here are a few tips to enjoy these for the next meal.
Allow them to cool to room temperature before you store them, this way the batter won't become soggy.
Use an Airtight Container: Transfer the chicken planks into an airtight container. A sealable plastic or glass container with a lid is ideal.
Separate Layers: If you have multiple chicken planks, consider placing a layer of parchment paper or plastic wrap between them to prevent sticking. This makes it easier to reheat individual pieces later.
Store in the Refrigerator: Place the airtight container with the chicken planks in the refrigerator.
Consume Within a Few Days: Chicken planks are best when consumed within 3-4 days of refrigeration.
What is the best way to reheat the chicken planks?
When you're ready to enjoy the chicken planks again, reheat them in the oven, toaster oven, or air fryer for the best results. This will help maintain their crispy texture. Alternatively, you can use a microwave, but the batter may not be as crisp.
Love fried chicken? Try these recipes!
What to Serve with Fried Chicken
Be sure to check out more of my simple chicken recipes and the best fast food copycat recipes here on CopyKat.com!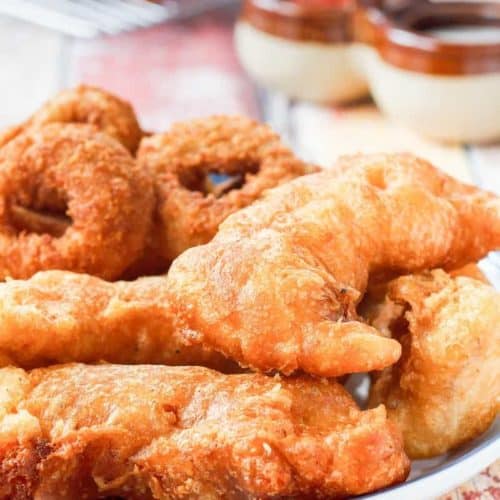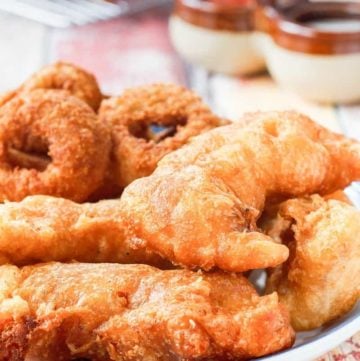 Ingredients
2

pounds

chicken tenders

2

cups

all-purpose flour

1/4

cup

cornstarch

2

teaspoons

sugar

2

teaspoons

salt

1/2

teaspoon

baking powder

1/2

teaspoon

baking soda

1/2

teaspoon

onion salt

1/2

teaspoon

paprika

1/4

teaspoon

ground black pepper

16

ounces

club soda

vegetable oil

for frying
Instructions
If you are not using a fryer, heat up 8 cups of vegetable oil in a heavy pot until the temperature reaches 360 degrees.

Make the batter by combining flour, cornstarch, sugar, salt, baking powder, baking soda, onion salt, paprika, ground black pepper. Stir to combine all dry ingredients. Add club soda to dry ingredients. The batter will foam, continue to stir.

Drop pieces of chicken into the batter. Coat chicken with batter, drop into the hot oil. Fry chicken for 2 to 3 minutes on each side or until the batter is golden and the chicken pieces begin to float to the top of the oil. Drain chicken on a wire rack.
Nutrition
Calories:
428
kcal
|
Carbohydrates:
38
g
|
Protein:
36
g
|
Fat:
13
g
|
Saturated Fat:
8
g
|
Cholesterol:
96
mg
|
Sodium:
1253
mg
|
Potassium:
637
mg
|
Fiber:
1
g
|
Sugar:
1
g
|
Vitamin A:
125
IU
|
Vitamin C:
1.8
mg
|
Calcium:
32
mg
|
Iron:
2.5
mg