I love the Longhorn Steakhouse Parmesan Crusted Chicken. It is a savory chicken breast that is made with an ordinary chicken breast. Who doesn't want to make something special out of a boneless skinless chicken breast?
You may love the Longhorn Steakhouse. Did you know their meat is never frozen, and for me that makes it taste even better? I think this dish is a great weeknight dish. We all often stare at those boneless skinless chicken breasts and wonder what we can transform this versatile cut of meat into for dinner. This is a great dish to make.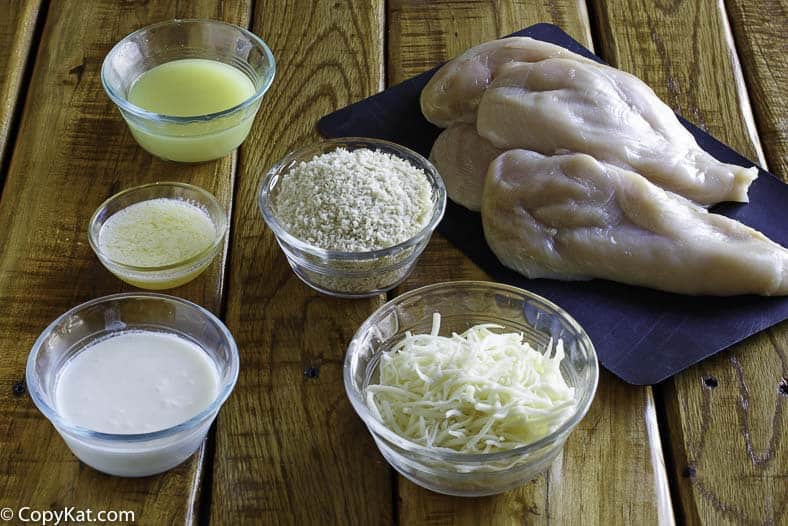 I like to start this recipe out with large chicken breasts and cut them in half horizontally. For me, the large chicken breasts that I get are normally about the size of my palm. If yours are smaller, you could simply pound them out with a mallet. When you pound them out with a mallet they are more even in thickness and it will make them easier to cook. I like to marinate mine with Lea and Perrin's Chicken Marinade (it is in a bottle with a tan and green wrapper). I think this is a great marinade, as it packs in a lot of flavors. If you don't have this on hand, you could use a little Italian dressing, it won't be quite the same, but I think the marinade is critical to the dish.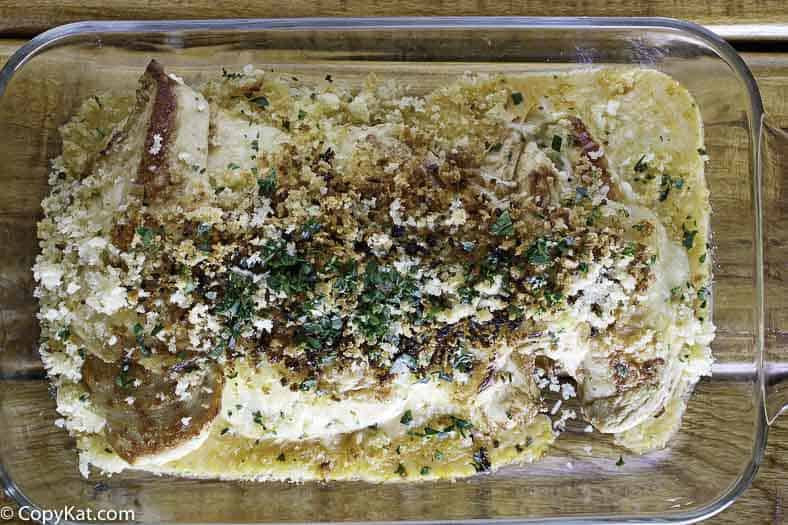 I do one change from the restaurant, I have always noted and love the way the cheese melts in this recipe. You can skip this part. I make a little cheese sauce with some of the cheese blend and the heavy cream. Again, this is my personal copycat recipe, and I just like the way this melts. Longhorn Steakhouse Parmesan Crusted Chicken has a layer of cheese on the top. After the chicken breast is grilled it is topped with the cheese blend, I like to simply put a spoon of the melted cheese, then top it with the grated cheese. This way after it is browned you enjoy a consistent layer of cheese across the top of the chicken. Again, you can skip my addition of the added melted cheese sauce.
I know what you are thinking now, what else can I serve for dinner? I have other menu items from the LongHorn Steakhouse, how about their Mac and Cheese, the Parmesan Crusted Asparagus.

Love Longhorn Steakhouse? Try these Longhorn Steakhouse Copycat Recipes
Longhorn Steakhouse Mushroom Truffle Bisque
Longhorn Steakhouse Parmesan Crusted Chicken
Longhorn Steakhouse Macaroni and Cheese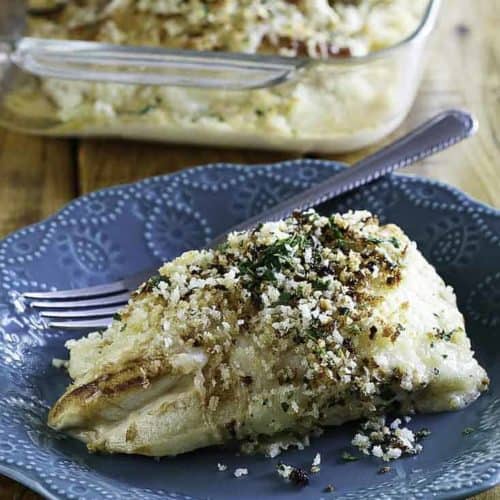 Ingredients
12

ounces

chicken breasts

(2 portions)

1

cup

Lea & Perrin's Chicken Marinade

2

teaspoons

vegetable oil

1/2

cup

Panko bread crumbs

1

tablespoon

melted butter
Cheese Blend
1

ounce

Gruyere cheese

shredded

4

ounces

white Cheddar

shredded

1

tablespoons

Parmesan cheese

shredded

2

ounces

Fontina cheese

shredded
Cheese Sauce
1/2

cup

heavy cream

1/2

cup

cheese blend
Instructions
Slice chicken breasts in half horizontally, and place into a zip top bag and add marinade. The chicken should marinate for at least 30 minutes, it is better if you allow it to marinate longer. I like to let mine marinate overnight when possible.

Heat a large skillet to medium heat. Add a vegetable oil. When the vegetable oil heats up add chicken. Cook the chicken for 6 to 7 minutes on one side, then flip over and cook on the other side for 4 to 5 minutes. The chicken should have a lightly browned outside edge.

While the chicken is cooking toss together the cheeses (Gruyere, white Cheddar, Parmesan, and Fontina). If you desire to make the cheese sauce by heating together the heavy cream and 1/2 cup of the cheese in a small skillet over low heat. Also, add the Panko breadcrumbs to a small bowl and add the melted butter. Toss the Panko breadcrumbs with the melted butter until they are lightly coated with butter.

Set your oven to broil. To assemble the chicken place chicken on an oven safe dish or pan and add about 1 tablespoon of cheese sauce to the chicken, then add shredded cheese blend, then top with buttered Panko Bread Crumbs. Do this for each of the chicken breasts. Place the chicken under the broiler and broil for 3 to 4 minutes or until the cheese begins to brown.
Nutrition
Calories:
573
kcal
|
Carbohydrates:
20
g
|
Protein:
36
g
|
Fat:
38
g
|
Saturated Fat:
21
g
|
Cholesterol:
160
mg
|
Sodium:
1223
mg
|
Potassium:
938
mg
|
Fiber:
0
g
|
Sugar:
7
g
|
Vitamin A:
1085
IU
|
Vitamin C:
10
mg
|
Calcium:
508
mg
|
Iron:
4.5
mg