Love Hunan Chicken? This Chicken Stir Fry recipe is easy to make and tastes just like your favorite take-out restaurant.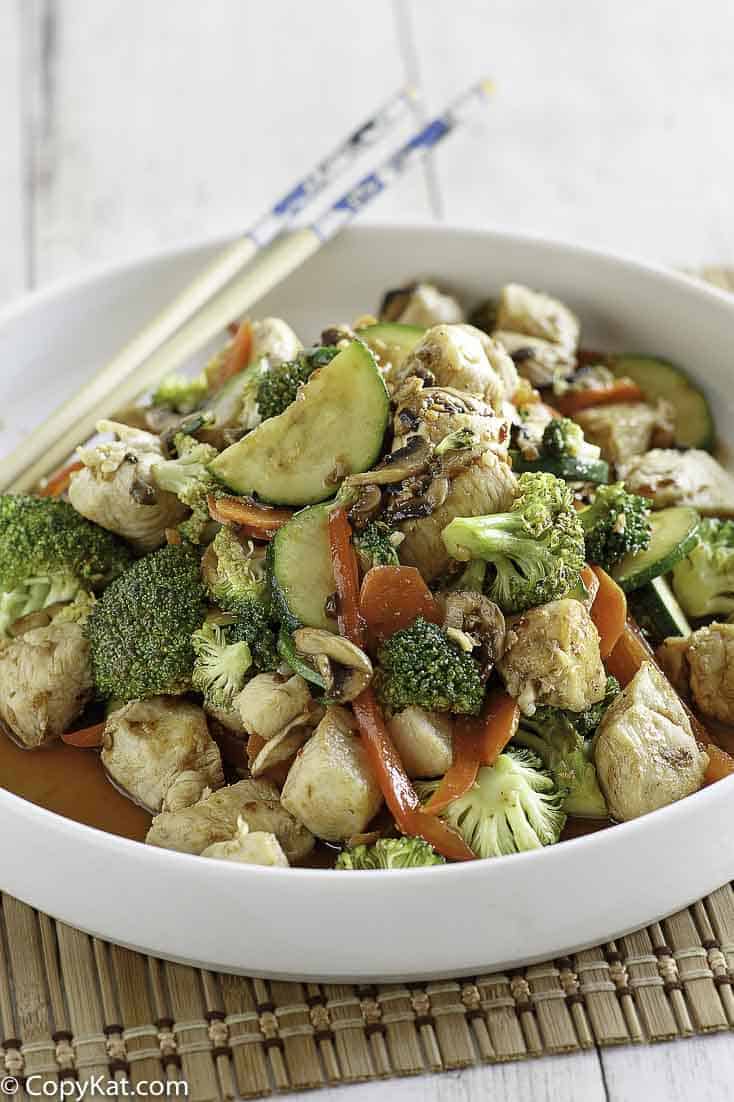 Everyone loves Chinese food, but you may be surprised to know that the average Chinese takeout place only gives you the Americanized versions of popular Chinese dishes. In fact, in China itself there are many different styles of cooking. Chinese chefs have identified eight culinary traditions that are regarded as the very best.
What makes Hunan Style Cuisine Unique?
People in the Hunan region of China can't seem to live without chilies, and no dish is complete without them. In fact, Chairman Mao Zedong, who was born in spice-loving Hunan province, famously said: You can't be a revolutionary if you don't eat chilies. It was reported that Mao loved chilies so much that he even sprinkled some ground up chilies on slices of watermelon.
What is the Difference Between Hunan Chicken and Szechuan Chicken?
Both Hunan chicken and Szechuan chicken are spicy with Hunan generally regarded as being the spicier of the two. There is an old Chinese joke recounted in a cookbook called the Revolutionary Chinese Cookbook (which features Hunan dishes) that goes like this:
The Sichuanese are not afraid of chili heat; No degree of hotness will frighten the people of Guizhou, but those Hunanese are afraid of food that isn't hot.
It doesn't make use of the tongue-numbing Sichuan peppercorns.
Savory dishes aren't as sweet as their Szechuan counterparts.

What this boils down to is that Szechuan diners favor many kinds of spicy-sweet-savory combinations, including garlicy paste and fish-fragrant flavors, while the Hunanese prefer tastes that are bold and savory, chili-hot, and hot and sour. Take your pick – both cuisines are delicious.

The Hallmarks of Hunan Flavor – Chilies

Summers in Hunan province are hot and humid while winters are cool and damp. This helps to explain Hunan cuisine's predilection for chilies – traditional Chinese medicine believes that the heat of a chili expels unhealthy damp humors. There is a popular Chinese saying which goes: Without chilies, you can't eat rice. In Hunan, different varieties of chilies are used in different kinds of ways. Here are a few of them.

Fresh chilies add color and heat to steamed and stir-fried dishes.
Small and pointy dried chilies (gan la jiao) are sliced lengthwise to release their flavor into broths.
Chili flakes (gan jiao mo) are widely used as an all-purpose seasoning.
Vinegar-pickled chilies with salt (duo la jiao) is a hot, salty, and sour concoction that is enjoyed as a relish on steamed fish heads and noodles.

Want to expand your Chinese recipe repertoire? Here are more copycat Chinese food recipes?

Panda Express Fire Cracker Chicken
Chinese Imperial Palace General Tso's Chicken
Mongolian Beef
Easy Hawaiian Chicken Shoyu
Chinese Spare Ribs
Egg Foo Young
Chinese Buffet Seafood Bake
Panda Express Chow Mein
Imperial Palace Egg Drop Soup

Easy Hunan Chicken

You can prepare this easy Chinese hunan style chicken recipe at home. This chicken recipe is packed full of mixed vegetables, chili paste to make for one amazing meal.

Print Pin Rate Add to Collection Go to Collections

Ingredients

Chicken Marinade

1

beaten egg

1

teaspoon

cornstarch

1/4

teaspoon

white pepper

1

pound

chicken breast

cut into bite-sized pieces

Stir Fry Vegetables

2

teaspoons

wok oil

or vegetable oil

1

teaspoon

minced garlic

1

teaspoon

minced ginger

1

small

zucchini

sliced in half and cut into half moons

1

red bell pepper

sliced into thin strips

1

carrot

sliced

10

ounces

mushrooms

sliced

2

cups

broccoli florets

Hunan Chicken Sauce

1

teaspoon

mirin

or rice wine vinegar

2

teaspoons

sambal oelek

or 4 to 5 dried red chilies

2

tablespoons

soy sauce

1/4

cup

chicken broth

2

teaspoons

Chinese cooking wine

or Shaoxing wine or dry Sherry

1

tablespoon

Oyster sauce

2

teaspoons

cornstarch

dissovled in 1/4 cup water

Instructions

Marinade Directions

Prepare marinade by combining egg, 1 teaspoon cornstarch, white pepper, and salt in a medium-sized bowl. Beat egg mixture until well blended. Add 1 pound of bite-sized pieces of chicken into the egg mixture. Stir well, allow the chicken to marinate while you prepare the vegetables.

Sauce Instructions

In a small bowl combine mirin, the Sambal Oelek, soy sauce, chicken broth, Chinese cooking wine, oyster sauce, and the cornstarch slurry. Stir until well combined. When you use the sauce give it a good stir before you pour it into the wok.


Vegetables

Prepare the vegetables by washing them, and cutting them into pieces you will stir-fry. Heat a wok. Add wok oil or plain vegetable oil, when the oil is warm stir the oil around the wok and up the sides of the wok. Add garlic and ginger to the wok stir rapidly, do not allow the garlic and ginger to burn. Drain the chicken and place the chicken into the wok. Cook the chicken by stirring frequently until it has cooked through. Remove the chicken from the pan.

If necessary add additional oil to the wok. Add in the zucchini, red bell pepper slices, carrots, mushrooms, and broccoli. Stir the vegetables frequently when they have cooked through, (the broccoli will be tender), add the chicken and the sauce to the pan. Cook and heat through until the sauce thickens.

Nutrition

Calories:

216

kcal

|

Carbohydrates:

11

g

|

Protein:

28

g

|

Fat:

6

g

|

Saturated Fat:

2

g

|

Cholesterol:

113

mg

|

Sodium:

317

mg

|

Potassium:

857

mg

|

Fiber:

2

g

|

Sugar:

5

g

|

Vitamin A:

3630

IU

|

Vitamin C:

47.7

mg

|

Calcium:

22

mg

|

Iron:

1.2

mg