Go to a Japanese restaurant, and you are bound to enjoy shrimp and vegetables fried in tempura batter. There is nothing better than biting into the crispy texture of tender vegetables. This recipe will have loving how easy it is to make crispy tempura vegetable any night of the week.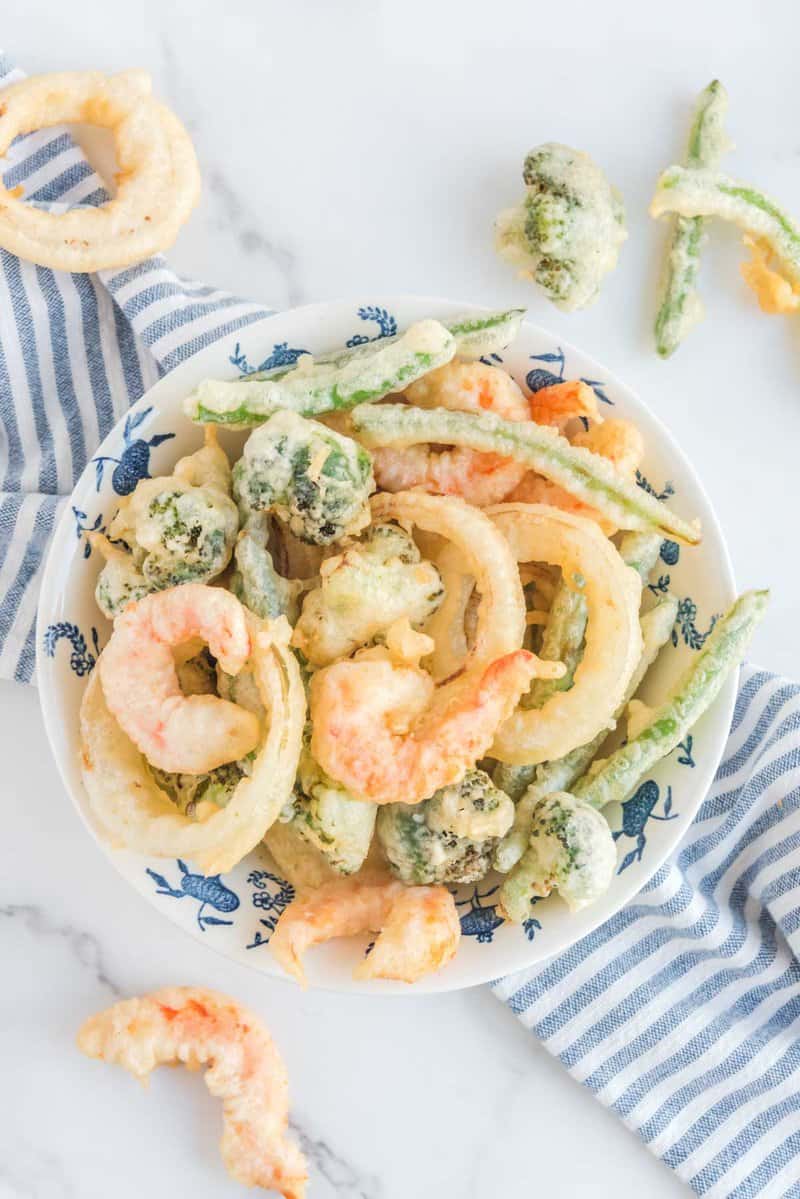 This post contains affiliate links. As an Amazon Associate, I earn from qualifying purchases.
Japanese Tempura
Tempura is most often served in Japanese restaurants. Fresh vegetables like slices of sweet potatoes, zucchini, squash, onions, mushrooms, and more are deep-fried in a crispy batter. If you go to a Japanese restaurant and some Chinese restaurants you are bound to find tempura-inspired items on the menu.
Homemade Tempura Batter
Did you know it's super easy to make tempura? Tempura is a light and crispy batter that is made with flour and often ice water to help it get a very light texture.
You can use specialty flours sold in supermarkets designed for super crispy tempura, those starches include ingredients like potato starch, corn starch, or rice flour. I think regular all-purpose flour will work if you do not stir the batter too much. Stirring that batter too much will result in a batter that isn't as light because the gluten becomes activated with lots of stirring of the batter.
Ingredients for Tempura Batter
All-purpose Flour
Cornstarch
Club Soda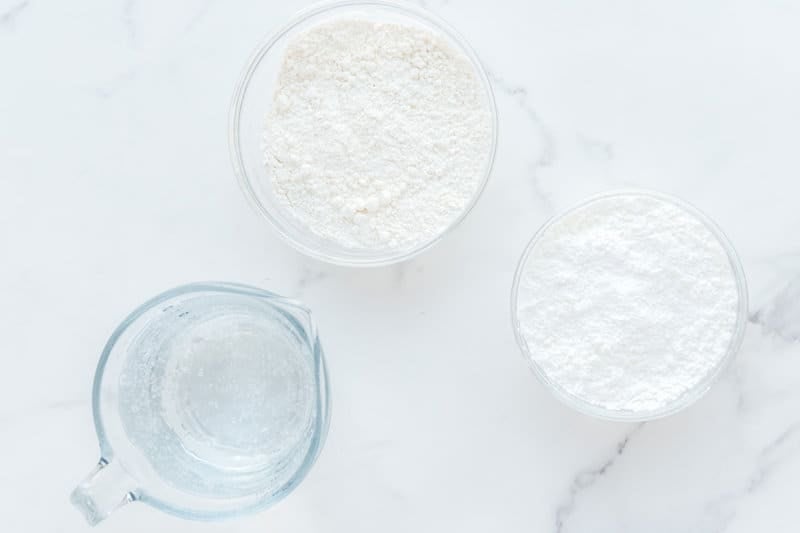 How to Make Tempura Batter
Place the flour and cornstarch in a bowl. Whisk to combine.
Add the club soda.
Stir until just combined. Do not over stir.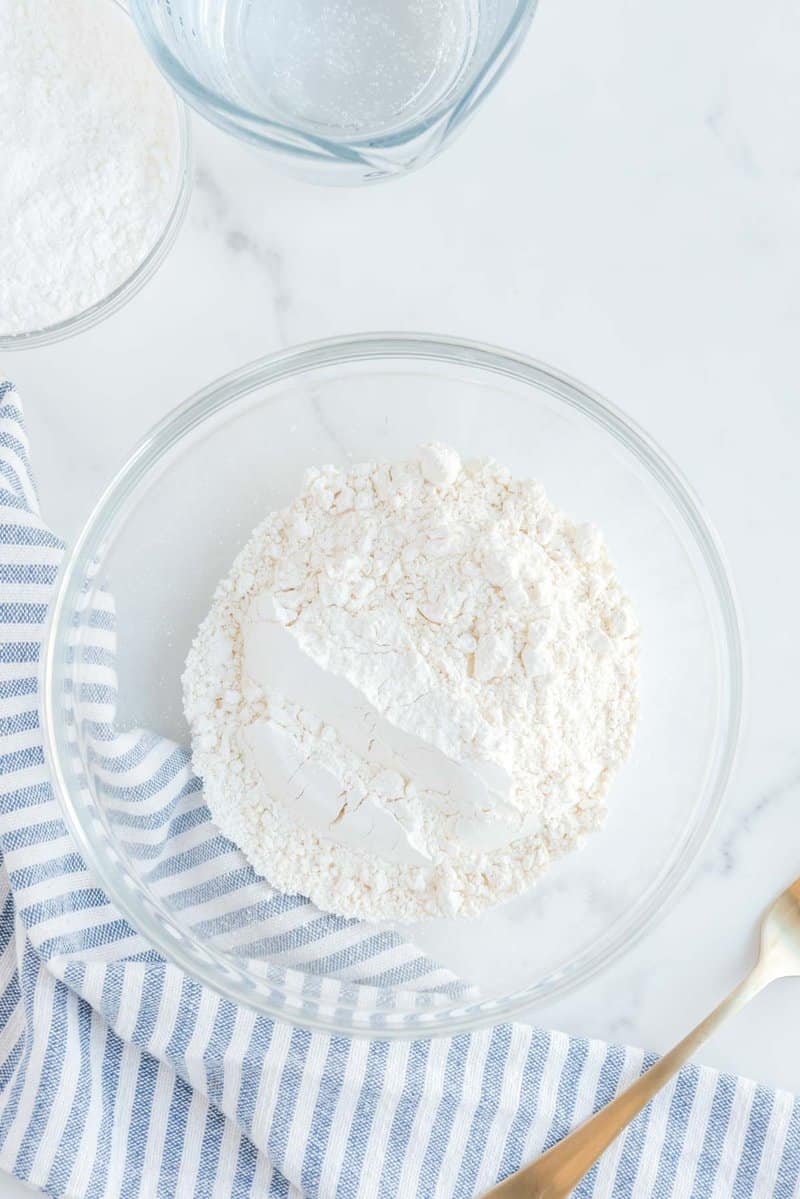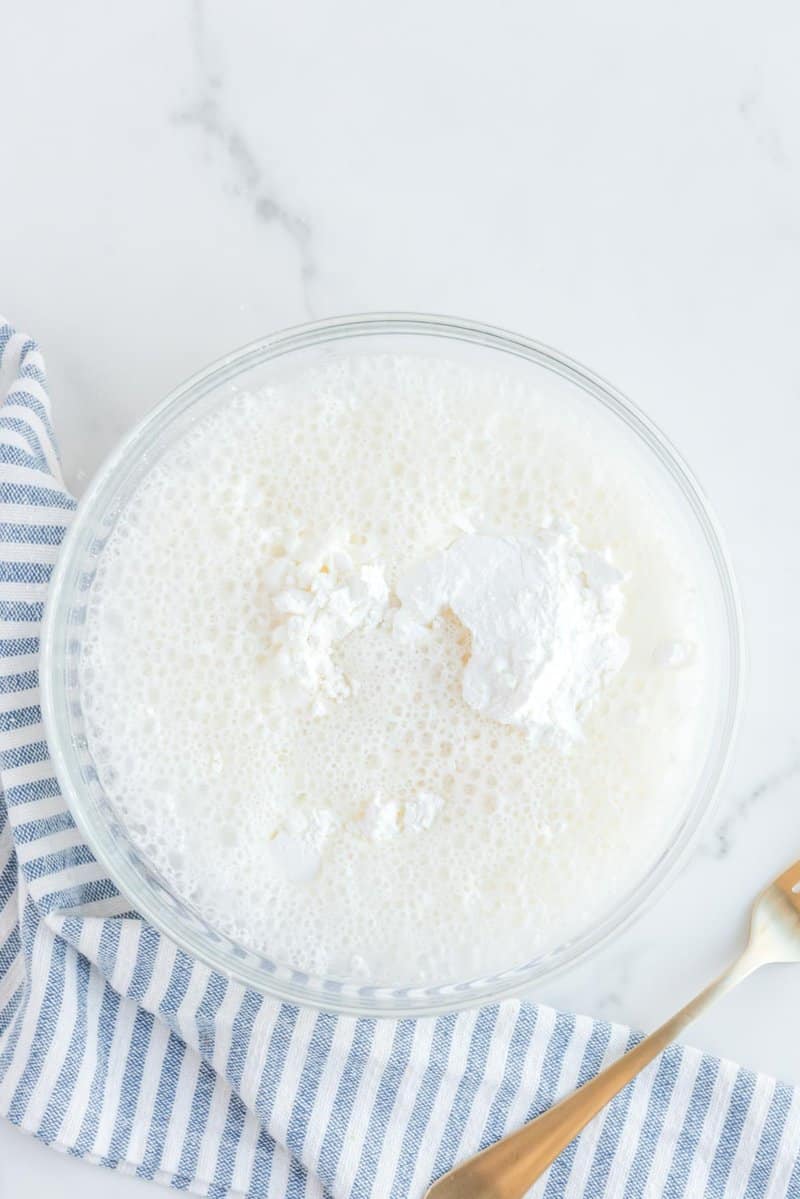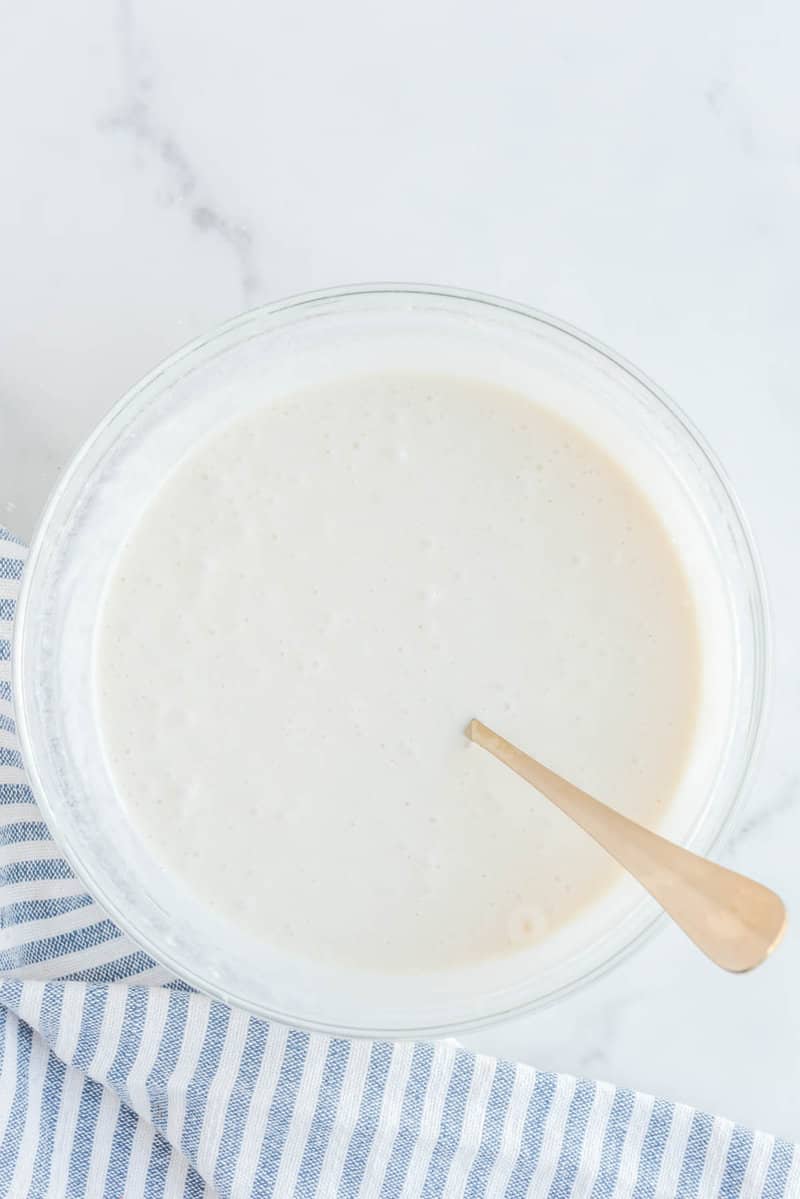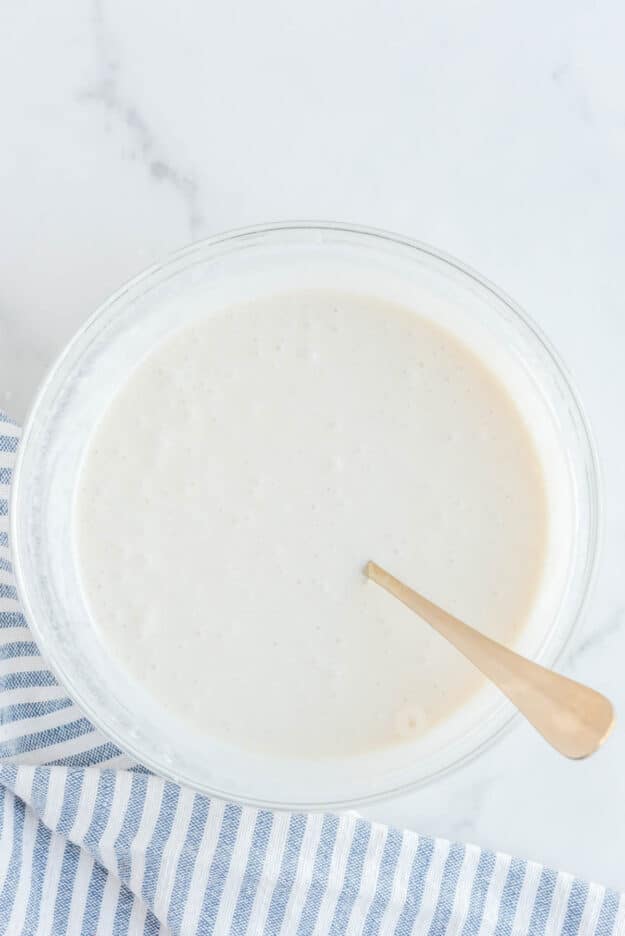 What do you need to deep fry?
Ideally, you should have a small deep fryer. I love my t-Fal deep fryer. It does a great job of keeping the hot oil at the same temperature. It also has a handy strainer to you can strain out the cooked bits, so you can use your oil again.
If you don't have a deep fryer, you can use a deep pot and a thermometer to ensure to keep the oil at the right temperature.
I also recommend using a wire rack to drain what you have just cooked instead of using a paper towel. When you put hot food on paper towels it tends to steam, and you lose the crispy crust you just spent time working on.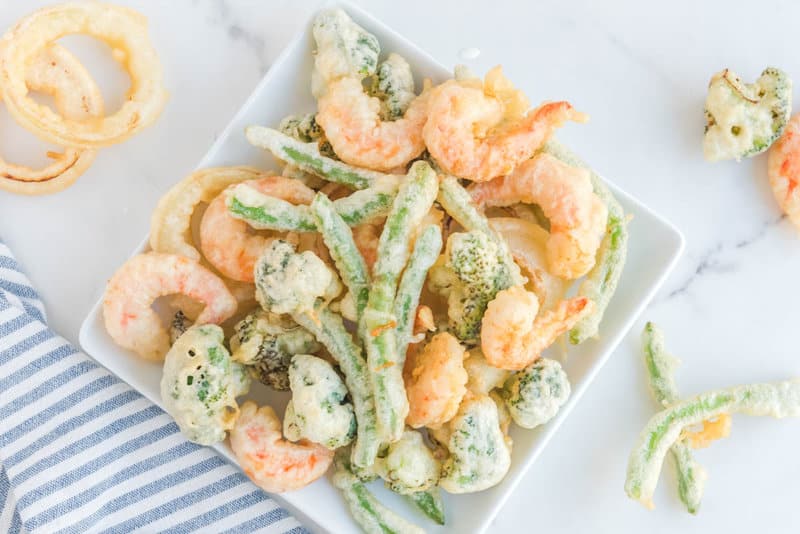 What should you dip into tempura batter?
Root vegetables like sweet potatoes, yams, daikon radish, eggplant, and onions are great candidates for cooking in tempura. Broccoli florets, broccolini, and carrots are also perfect to deep-fat fry with tempura batter.
You can also dip fish, shrimp, and chicken in the batter.
How to Make Japanese Tempura
Heat oil to 350°F in a deep fryer or heavy-bottomed pan.
Dip vegetables, meat, or fish into the batter and let the excess drain off.
Carefully place the tempura-battered food into the hot oil.
Fry until golden brown and done.
Drain the fried tempura on a wire rack over a baking sheet.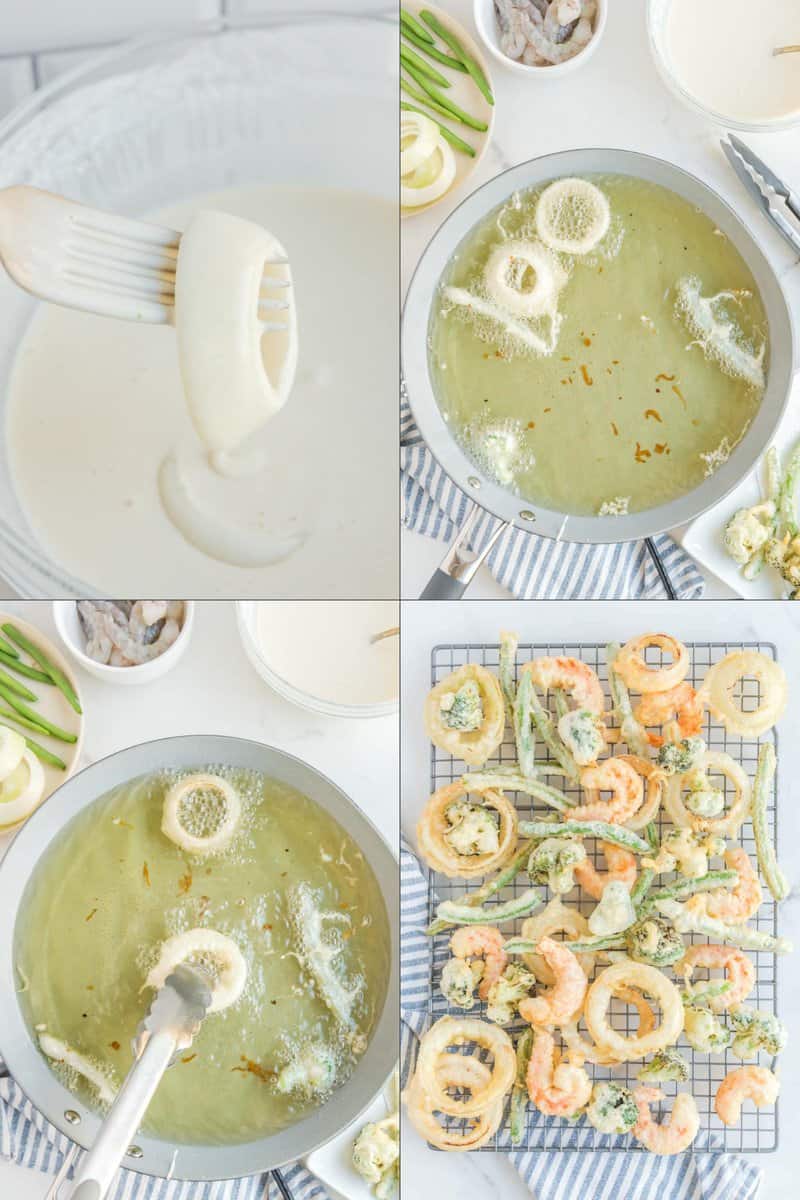 What should you serve tempura vegetables with?
You may want to dip your tempura vegetables into soy sauce, wasabi, or even ponzu sauce. Some people like to create a dipping sauce with equal parts of soy sauce and dry sherry.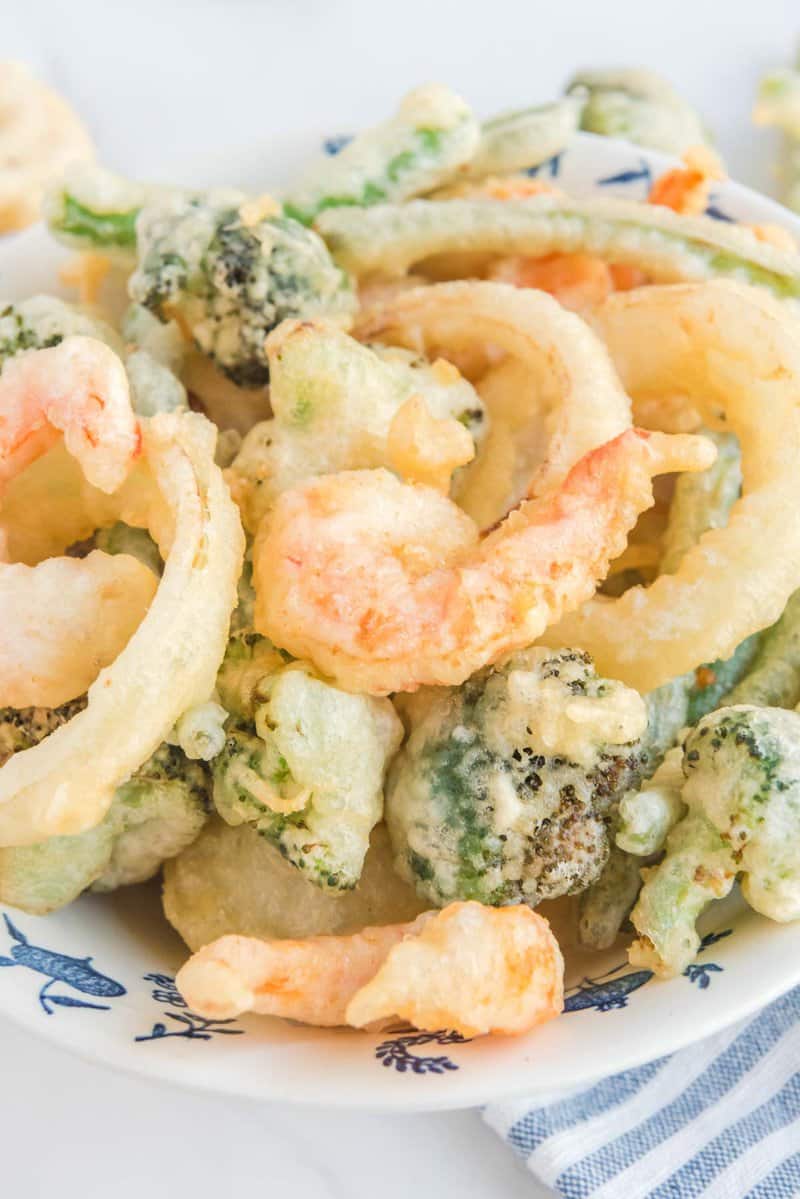 How to store leftover tempura
To store leftover tempura for best results, follow these steps:
Cool down: Allow the tempura to cool completely at room temperature. Do not cover it while it's still warm, as this will trap steam and make the tempura soggy.
Absorb excess oil: Place the cooled tempura on paper towels to absorb any excess oil.
Use an airtight container: Choose an airtight container that is large enough to accommodate the tempura without squashing or overcrowding the pieces.
Layer with parchment paper: Place a sheet of parchment paper or wax paper at the bottom of the container. Arrange the tempura in a single layer, ensuring that the pieces do not touch or overlap. If you have more tempura to store, place another sheet of parchment paper over the first layer and continue to layer the tempura this way.
Seal and refrigerate: Close the airtight container and store it in the refrigerator. Consume the leftover tempura within 1-2 days for the best taste and texture.
How to reheat tempura for the best results
To reheat the tempura and maintain its crispiness:
Preheat your oven to 350°F (175°C).
Place a wire rack on a baking sheet and arrange the tempura on the rack in a single layer.
Heat the tempura for 5-10 minutes or until warmed through and crispy.
Keep an eye on the tempura to avoid overcooking or burning.
Love Japanese food? Try these favorite recipes
Best Chinese Food Recipes
Be sure to check out more of my easy Asian recipes and how to cook guides.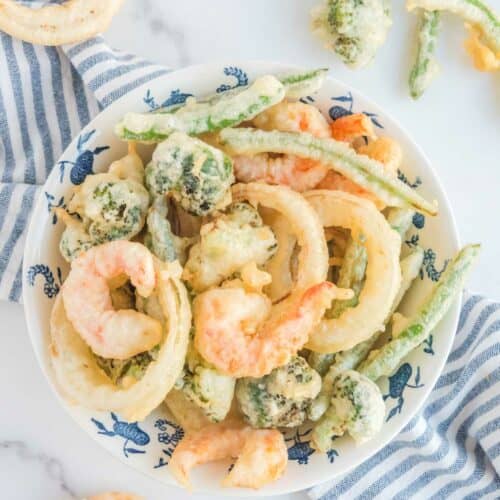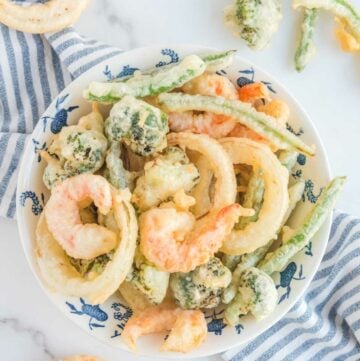 Ingredients
1 2/3

cups

all-purpose flour

1 1/2

cups

cornstarch

2

cups

club soda
Instructions
To make the batter, mix all the ingredients together in a bowl.

To use the batter, heat vegetable oil to 350°F in a deep fryer or heavy-bottomed pot. Dip vegetables, seafood, or anything else you desire into the batter, and deep fry until pale golden brown. Drain the tempura on a wire rack.
Nutrition
Calories:
142
kcal
|
Carbohydrates:
28
g
|
Protein:
2
g
|
Fat:
1
g
|
Saturated Fat:
0
g
|
Cholesterol:
0
mg
|
Sodium:
19
mg
|
Potassium:
40
mg
|
Fiber:
1
g
|
Sugar:
0
g
|
Vitamin A:
105
IU
|
Vitamin C:
1.7
mg
|
Calcium:
39
mg
|
Iron:
1.4
mg