This easy Mongolian Beef recipe rivals take-out food.  My family loved Mongolian Beef, now you can make tasty take-out style Mongolian beef without having to wait for delivery. This recipe is quick to make!
What is Mongolian Beef
Although the name implies that this dish comes from Mongolia, Mongolia beef is a dish typically served in Chinese restaurants. Mongolian beef is one of the meat dishes originating in Taiwan, the place where Mongolian barbecue restaurants first came on to the scene.
However, there is a historical connection with Mongolia. Legend has it that when Genghis Khan's armies camped for the night.  They placed their round iron shields down on the glowing embers of their fires for use as cooking surfaces.  This was the original Mongolian barbecue.
What is Mongolian Beef?
Mongolian beef is a tasty blend of thinly sliced beef (usually flank steak) stir-fried with vegetables in a delicious brown sauce. In Chinese restaurants, it is typically served over steamed rice or crispy fried cellophane noodles.
What Makes Mongolian Beef Sauce so Special?
Mongolian beef sauce is a dark, sweet, and salty sauce. It is usually made with soy sauce, hoisin sauce, and chili peppers.
Hoisin sauce is thick and fragrant and is commonly used in Chinese cooking as an addition to stir-fries, a glaze for meat, and as a dipping sauce. Although regional varieties exist, hoisin sauce usually consists of soybeans, red chilies, fennel seeds, and garlic.
How to Make Mongolian Beef
I find that most people love anything that tastes like Chinese takeout and Mongolian beef is no exception. The sweet flavor of the dark brown sugar mixed with the salty soy sauce and the strong ginger and garlic is incredibly addicting. Then you get to enjoy it over a mountain of steamed rice. This Mongolian Beef is very flavorful and easy to make. You can make this dish in a large frying pan, but for best results use a wok – woks are great for stir-fries.
Tip: To make it easy to cut the steak thinly. You can use shaved beef in this recipe. Shaved beef is easy to prepare by freezing the steak for about 1 hour before slicing.  This will freeze it just enough that slicing it will be just as easy as slicing a vegetable.
Tip: When you slice your beef, slice across the grain (you can see the grain running through the meat in one direction). The grain is essentially the muscle fibers running through the meat. If you cut the beef parallel to the grain, you will get slices with long muscle fibers which makes the meat rubbery and difficult to chew.
Sugar: You can if you want substitute light brown sugar for dark brown if you don't have any dark brown on hand. However, you will sacrifice some taste – the molasses in the dark brown sugar adds to the depth of flavor in this dish.
Looking for more copycat Chinese food recipes?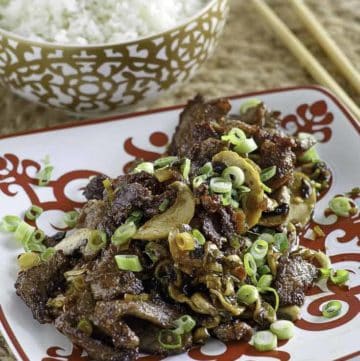 Ingredients
Stir Fry Beef
8

ounces

flank steak

or filet

4

tablespoons

cornstartch

4

tablespoons

wok oil

or vegetable oil

1

teaspoon

minced ginger

2

teaspoon

minced garlic
Mongolian Sauce Ingredients
1/2

cup

soy sauce

1/3

cup

water

1

teaspoon

rice wine vinegar

or Mirin

1/2

cup

brown sugar

1/2

teaspoon

red pepper flakes
Stir Fry Add Ins
10

ounces

white button mushrooms

washed and sliced

1/4

cup

green onion

bottoms (white only)

1/4

cup

green onion tops

green only
Instructions
Stir frying the beef
Slice beef very thin, approximately 1/4 to 3/8 inches thick. Place meat between sheets of plastic wrap and use a meat tenderizer and gently pound meat into uniform pieces. If you are using skirt steak cut the meat diagonally, it will help make the meat more tender.

Place cornstarch in a bowl and dip steak pieces into cornstarch and shake off excess cornstarch. Allow the cornstarch dipped pieces of meat to rest for 5 to 10 minutes so the coating sticks to the meat. While the meat is resting you can continue to prep the remaining ingredients.

In a wok, heat wok oil (vegetable oil is ok to use). Place beef in a single layer in the pan. Saute beef until just done, and the outside begins to crisp. Remove meat from pan. You may need to do this a few pieces at a time.

Once all of the meat has been cooked and removed from the pan, add minced ginger and garlic. Saute ginger and garlic for approximately 60 seconds, the remaining oil should become very fragrant.
Mongolian Beef Sauce
In a small bowl combine soy sauce, water, red pepper flakes, brown sugar, and rice wine vinegar. Stir well. Add the sauce to the pan until the sauce thickens, return meat to pan, and add sliced button mushrooms to the pan.
Finishing the dish
Cook for another 60 seconds or so and chopped green onion white portions only, and add half of the green options. When serving the Mongolian beef add remaining green onion slices to the dish.
Nutrition
Calories:
373
kcal
|
Carbohydrates:
39
g
|
Protein:
17
g
|
Fat:
17
g
|
Saturated Fat:
12
g
|
Cholesterol:
34
mg
|
Sodium:
1669
mg
|
Potassium:
551
mg
|
Fiber:
1
g
|
Sugar:
28
g
|
Vitamin A:
200
IU
|
Vitamin C:
4.3
mg
|
Calcium:
52
mg
|
Iron:
2.3
mg