Shoyu Chicken is one of the best parts of going to a Hawaiian restaurant. Juicy, savory, and sweet this will soon become a favorite chicken recipe! Only taking about 30 minutes to make, it's a perfect weeknight dinner!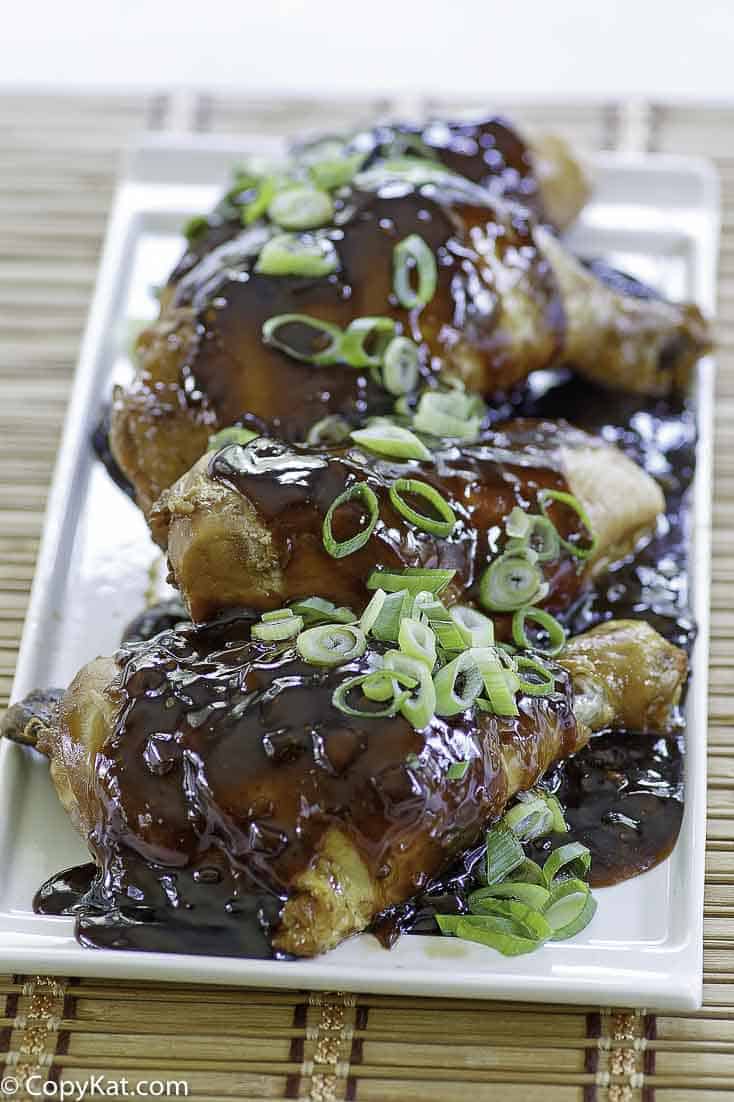 Juicy shoyu chicken is a sweet and salty dish that deliciously illustrates Hawaii's fusion culture. Shoyu is the Japanese word for soy sauce, and it's also the name of a Hawaiian brand.
Chicken shoyu is a favorite island recipe, especially when friends gather for a luau, the Hawaiian version of a potluck. The good news is that you don't have to travel to Hawaii to taste this delicious dish. This is a simple chicken shoyu recipe that's easy to make anywhere that you live, even if it's not on an island!
The secret to this recipe is in the sauce, a blend of soy sauce, onion, garlic, ginger, oregano, pepper, and brown sugar. Fresh garlic and ginger give it some zing.
The taste is rich and the perfect balance between sweet, salty, and tangy. This is the best chicken thigh recipe for completely transforming mundane chicken thighs into something very special.
Shoyu Chicken Recipe Ingredients
Here's a list of what you need:
Soy sauce
Brown sugar
Water
Garlic
White onion
Fresh ginger
Freshly ground black pepper
Dried oregano
Crushed red pepper flakes
Cayenne pepper
Cornstarch
Chicken
Green onions
What to Look For When Purchasing Fresh Ginger
Look for roots that are firm and moist. Don't be concerned if you see a rough-looking dried patch indicating that a section was broken off. Most often recipes only call for a small amount of ginger, so it's ok to break off what you need.
You can store ginger by wrapping it in paper towels and then in plastic and placing it in your refrigerator's crisper. For convenience, many cooks peel and mince some ginger and then freeze it.
Ways to Peel and Mince Fresh Ginger
Fresh ginger is a very versatile ingredient that is used in many dishes from savory ones to sweet. It can be a key ingredient in a main course, a beverage, a dessert, or a salad.
Ginger can even be medicinal – hot ginger tea with honey and lemon (and maybe a spot of brandy) may cure what ails you!
There is more than one way to peel and mince fresh ginger, and you can read about them by clicking here.
Hawaiian Cookbook
If you are interested in a cookbook of Hawaiian recipes, check out Look What's Cooking in Makawao, a selection of cherished historical and modern-day recipes from the people of the Maui town of Makawao.
The book includes fascinating details about recipe authors such as Rose Cambra Freitas. Rose is the only woman from the state of Hawaii to have been inducted into the National Cowgirl Museum Hall of Fame.
The cost of the book is $20 and the proceeds go to the Makawao History Museum.
How to Cook Shoyu Chicken
For this recipe, you can use a whole chicken, but this recipe is also wonderful with chicken thighs, you can use bone-in or boneless chicken thighs. I find it a great way to save on the grocery budget when I cook with chicken thighs.
First you will prepare the sauce, by combining, soy sauce, brown sugar, and the spices together, and you will cook these
After the sauce cooks, you will place the chicken into the sauce, and cook the chicken.
When the chicken is cooked you will remove the chicken, and spoon out any excess fat.
Thicken the sauce with the cornstarch dissolved in water.
Plate the chicken and pour the sauce over the chicken
Be sure to serve this chicken with some rice, you won't want to miss any of the sauce!
Update on a classic recipe!
Any true Hawaiian knows that Shoyu Chicken is made only with the basics, pineapple juice, chicken, and soy sauce. This updated recipe has a touch of red pepper flakes, cayenne, oregano, and a pinch of black pepper.
If you want to go traditional, by all means, leave out the heat. If you want a recipe with a slight bit of nuance, add the spices and herbs for flavor.
Try your hand at preparing chicken shoyu!
The combination of chicken fat and shoyu juices is perfect for sopping up with a big pile of white rice. And, your family will probably want you to make a lot – shoyu chicken tastes even more delicious the next day.
If you make this chicken shoyu recipe, I'd love to know how it turned out. Use the comment section at the bottom of this page.
Love Hawaiian food? Try these recipes!
Favorite Chicken Recipes
Check out more of my recipes for chicken and the best recipes for dinner here on CopyKat!
Ingredients
Shoyu Sauce
1

cup

soy sauce

1

cup

brown sugar

1

cup

water

2

tablespoons

minced garlic

1

cup

chopped white onion

1

tablespoon

minced fresh ginger

2

teaspoons

freshly ground black pepper

½

teaspoon

dried oregano

1

teaspoon

crushed red pepper flakes

½

teaspoon

cayenne pepper

5

tablespoons

cornstarch

dissolve in 5 tablespoons of water
Instructions
Combine all of the sauce ingredients in a large pot EXCEPT the cornstarch. Bring to a boil over high heat. Boil for 30 seconds, stirring constantly.


Reduce to a simmer and add chicken. Cook chicken for 30 to 40 minutes or until the chicken is cooked thoroughly. Remove chicken from pot, and place on a serving dish.

Spoon off any excess fat from the sauce. Bring the sauce to a boil, and allow it to reduce for about 10 minutes.

Add the dissolved cornstarch. Bring the sauce back to a boil, whisking constantly until the sauce thickens.

Return the chicken to the pot and coat well with the sauce. Place the chicken on a serving dish and garnish with green onions.
Notes
Be sure to cook the chicken until it reaches an internal temperature of 165 degrees. Test for the temperature where the chicken is the thickest.
This chicken recipe will work for any chicken part: chicken breasts, boneless skinless thighs, drumsticks, or even chicken wings!
Concerned about the amount of sodium? Use low sodium soy sauce. 
Nutrition
Calories:
211
kcal
|
Carbohydrates:
49
g
|
Protein:
5
g
|
Fat:
1
g
|
Saturated Fat:
1
g
|
Cholesterol:
1
mg
|
Sodium:
2182
mg
|
Potassium:
228
mg
|
Fiber:
2
g
|
Sugar:
38
g
|
Vitamin A:
248
IU
|
Vitamin C:
5
mg
|
Calcium:
61
mg
|
Iron:
2
mg