Looking for another way to serve up chicken breasts that is sure to please everyone? One of my favorite menu items at the Outback Steakhouse has always been their Alice Springs Chicken. What makes their chicken so tasty? Grilled chicken breasts, topped with honey mustard, bacon, and cheese. Try our version of this recipe anytime!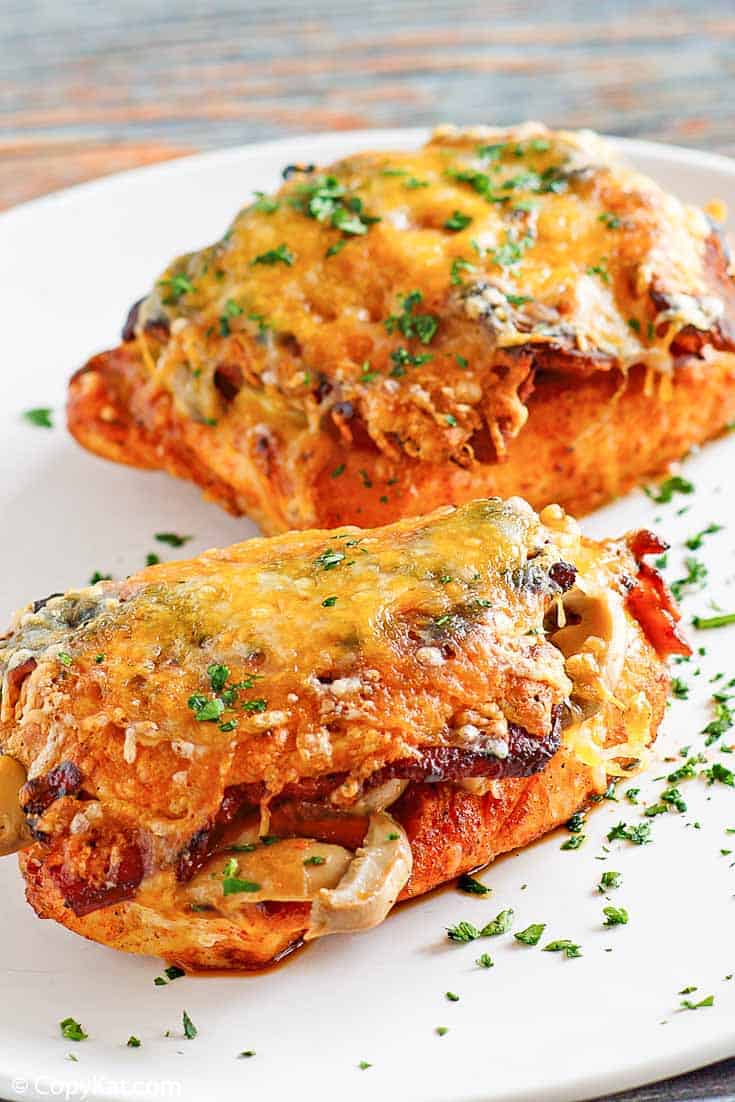 This post contains affiliate links. As an Amazon Associate, I earn from qualifying purchases.
What Makes Alice Springs Chicken The Best
Although Outback Steakhouse has a variety of dishes to choose from, the Outback Steakhouse Alice Springs Chicken is one of their most popular menu items, and it's understandable why!
Alice Springs Chicken combines sweet and savory flavors with a variety of textures to create a delicious and visually appealing dish that is perfect for upgrading any weeknight meal.
Why This Is The Alice Springs Copycat Recipe You Should Try
This is one of my favorite Outback Steakhouse recipes because it tastes just like the restaurant but doesn't require special equipment or too much time in the kitchen.
It's common for copycat recipes to modify the recipe, but this one has all of the classic components that you enjoy when you go to Outback Steakhouse. The dish's delicious aroma always fills my kitchen and makes my mouth water in anticipation of the first bite.
Recipe Ingredients
Here is what you need for this copycat Alice Springs Chicken recipe:
Chicken
Bacon
McCormick Season All
Mushrooms
Colby Jack Cheese
Fresh Parsley
Prepared Mustard
Honey
Light Corn Syrup
Mayonnaise
You can substitute the Colby Jack Cheese with Monterey Jack Cheese or Cheddar Cheese if desired.
How to Make Alice Springs Chicken
In a small bowl, stir together mustard, honey, corn syrup, and mayonnaise until smooth and free from lumps. The corn syrup may be adjusted depending on how sharp the mustard might be, or to your taste.
Rub chicken breast with Seasonal All and marinate for 1 hour.
While the chicken is marinating, fry bacon until crisp and drain.
Heat a large skillet over medium heat with just enough oil to prevent the chicken from sticking to the pan.
Place chicken in the heated pan and cook it on both sides until slightly golden brown and cooked through. Remove chicken from pan.
Spread chicken breasts with honey mustard, cover with a layer of mushrooms, three slices of bacon, and then sprinkle with shredded Colby/Jack cheese (chicken should be covered with shredded cheese).
Bake in a heated oven at 350°F or in a microwave until the cheese melts.
Garnish with parsley.
Serve with honey mustard sauce for dipping. Enjoy!
What To Serve With This Alice Springs Chicken Recipe
This flavorful chicken tastes wonderful with steamed, air-fried, or grilled veggies. Try serving it with Oven Roasted Asparagus or Air Fryer Broccoli. You can also serve it with freshly baked dinner rolls, pasta, or basic wild rice.
Since the chicken is so divine, you don't need your side dishes to be overpowering in flavor. You can always drizzle some of the honey mustard mixture over the rice and veggies, and it tastes phenomenal.
How To Store The Leftover Chicken
Store leftovers in an airtight container. Make sure the chicken is entirely cooled before you store it. Otherwise, moisture might build up and make it soggy. Enjoy it for 3-4 days!
If you would like to freeze it, you can use an airtight container for that method, too! I would suggest eating it within three months to have a pleasant taste and texture when thawed. Thaw it in the refrigerator overnight before you plan to reheat it.
How To Reheat Outback Alice Springs Chicken
The best way to reheat this is definitely in the oven. Heat your oven to 350°F, check on them after 20 minutes, and keep cooking if needed to ensure they reach 165°F internally.
You can also use a microwave if you are short on time, but the oven is suggested since it will taste as fresh as the first time!
Copycat Outback Steakhouse Side Dish Recipes
These sides go great with Alice Springs Chicken:
Love the flavor of the steaks at Outback? Recreate it at home with Outback steak seasoning.
Easy Chicken Recipes
Here's a variety of chicken dishes to make for dinner:
Be sure to check out more copycat Outback Steakhouse recipes and the best chicken recipes too.
Ingredients
Honey Mustard Sauce
1/2

cup

prepared mustard

1/4

cup

honey

1/4

cup

light corn syrup

1/4

cup

mayonnaise
Chicken
1

pound

boneless, skinless chicken breasts

4 portions

1/2

teaspoon

McCormick Season All

6

pieces

bacon

fried crisp and cut in half

1

cup

sliced mushrooms

(canned or in a jar, drained)

3

cups

shredded Colby Jack Cheese

2

teaspoons

chopped parsley
Instructions
Honey Mustard Sauce
Blend ingredients for the honey mustard until smooth and free from lumps. The corn syrup may be adjusted depending on how sharp the mustard might be or to your taste.
Chicken
Rub chicken breasts with Seasonal All and set aside to marinate for 1 hour.

While the chicken is marinating, fry the bacon until crisp and drain it.

Sauté the chicken in a pan over medium heat with just enough oil to prevent sticking.

Cook the chicken on both sides until slightly golden and cooked in the middle but not dry.

Remove the chicken from the pan.

Spread honey mustard on the chicken breasts.

Top each chicken breast with a layer of mushrooms and three slices of bacon

Sprinkle enough shredded Colby-Jack cheese on top to completely cover the chicken.

Pop the chicken in a 350°F heated oven or in a microwave just until the cheese melts.

Sprinkle with parsley and serve with honey mustard sauce.
Nutrition
Calories:
920
kcal
|
Carbohydrates:
37
g
|
Protein:
51
g
|
Fat:
63
g
|
Saturated Fat:
27
g
|
Cholesterol:
189
mg
|
Sodium:
1273
mg
|
Potassium:
528
mg
|
Fiber:
1
g
|
Sugar:
35
g
|
Vitamin A:
965
IU
|
Vitamin C:
1
mg
|
Calcium:
644
mg
|
Iron:
2.2
mg