Embrace the essence of simplicity with this easy Oven Roasted Asparagus recipe! Roasted to perfection on a sheet pan in the oven, the roasting process enhances the natural flavors of asparagus spears. Mix asparagus with your favorite main dish, or put it in a salad. Fresh asparagus is available all year. No need to wait for asparagus season.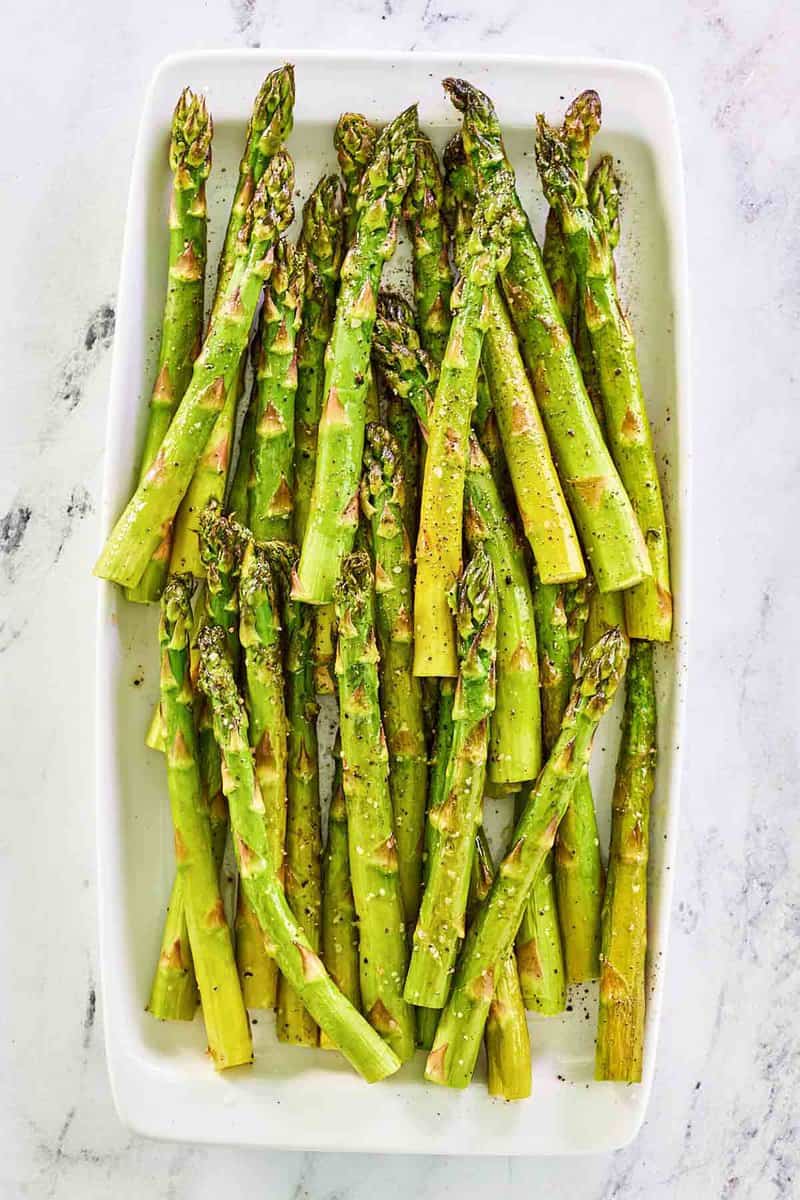 This post contains affiliate links. As an Amazon Associate, I earn from qualifying purchases.
What Makes Oven Roasted Asparagus the Perfect Side Dish?
Asparagus has a reputation for being a 'fancy' vegetable. Maybe it doesn't regularly appear on many dining room tables. If you try this recipe, it will soon be on your dinner table repeatedly. But this easy roasted asparagus recipe may change all that with its no-fuss cooking method.
Beyond being incredibly simple, this recipe is tasty, goes with almost everything, and is darn good for you. So stop fearing asparagus and start discovering how great it can be.
Why You Should Try This Best Roasted Asparagus Recipe
Steamed asparagus is often terrible. It's too easy to overcook, and even when you cook it correctly, it barely has any flavor. But on the other hand, roasting asparagus in the oven transforms the vegetable into something utterly delectable.
The dry heat lightly crisps the exterior, giving it slightly bitterness, while the interior becomes tender with an earthy sweetness. The contrast in flavors and textures makes it a side you will want to enjoy often, and with this baked asparagus recipe, you can.
Oven Roasted Asparagus Ingredients
Only 4 simple ingredients needed to cook asparagus in the oven:
Asparagus washed and trimmed
Vegetable oil
Salt
Freshly ground black pepper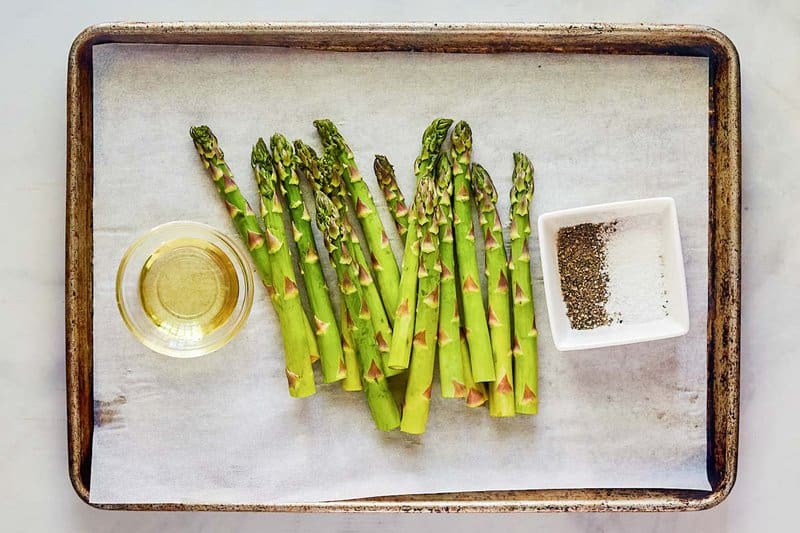 Asparagus Buying Tips
Choosing the right asparagus is so vital for this recipe to work. You want to buy asparagus spears at the grocery store with about the same thickness as your little finger. Skinny stems will burn before the sugars can caramelize, and thick asparagus spears tend to be woody.
Look for fresh asparagus stems without dry, cracked cut-ends. You can help revive dried-out asparagus by trimming the ends and placing them into a glass of water 20 minutes before using. If your asparagus has woody steams, or is very thick, you can always trim off the skins with a vegetable peeler.
How to Make the Best Roasted Asparagus
To prepare roasted asparagus in the oven:
Preheat the oven to 425 degrees Fahrenheit.
Trim the asparagus with a sharp knife while the oven is heated, removing about an inch off the end. Some people like to snap the ends off the asparagus, but this is wasteful unless the stems are older, and cutting them with a knife is better. Don't throw out the ends. You can freeze them and add the scrapes to the pot the next time you make vegetable broth.
Rinse the asparagus spears and dry them with a paper towel.
Lay the asparagus in a single layer on a rimmed baking sheet and drizzle the vegetable oil over the top. Roll the asparagus spears until fully coated in oil, then season with salt and pepper. For ease of cleaning, you can use a sheet of parchment paper.
Bake asparagus for about 15 to 18 minutes or until the tips crisp up and the stalks turn brown.
Serve hot.
If desired, give the asparagus a squeeze of lemon juice just before serving.
For added flavor, sprinkle parmesan cheese over the asparagus before roasting.
What to Serve With Roasted Asparagus
Roasted asparagus is good the way it is, but a drizzle of extra virgin olive oil and a squeeze of fresh lemon juice over the top will make it even better. A light sprinkle of fresh herbs such as basil or parsley is excellent, too.
When it comes to choosing what to enjoy with easy roasted asparagus, there are almost endless possibilities. Here are just a few:
Grilled meat. The sweetness of the roasted asparagus pairs beautifully with the umami of the grilled meats, especially beef. Steak and asparagus is a classic combo. Chicken and pork also pair nicely with it.
Mushroom Risotto. The earthy flavors of the charred asparagus and mushrooms blend well together, while the sweetness from the asparagus adds a layer of flavor.
Fish. The roasted asparagus lightens the taste of fatty fish like salmon.
A fried egg. The richness of the egg yolk transforms the simple asparagus into something much more luxurious. You may want to add a slice of prosciutto or Parma ham for extra flavor.
How to Store Roasted Asparagus Leftovers
It is best to serve the asparagus right after it comes out of the oven, but you can save any leftovers for up to three days in the fridge. Wrap the asparagus spears in paper towels and put them in an airtight container or plastic bag. Oven-roasted asparagus doesn't freeze very well. For best results, do not freeze leftover roasted asparagus.
How to Reheat Roasted Asparagus
The best way to warm up cooked asparagus without turning it into mush is in the oven:
Take the asparagus from the fridge and let it come to room temperature.
Preheat the oven to 350 degrees Fahrenheit.
Spread the asparagus on a baking tray and heat for 5 to 6 minutes. Shake the baking tray halfway through the cooking time.
More Asparagus Recipes
Popular Roasted Vegetable Recipes
Check out more of my easy side dish recipes and the best low carb recipes on CopyKat!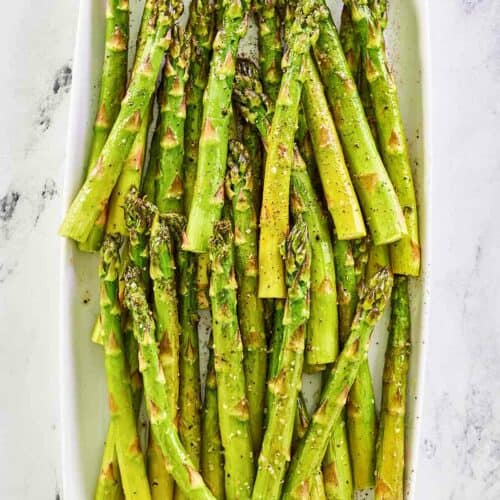 Ingredients
1

pound

asparagus

washed and trimmed

2

tablespoons

vegetable oil

1

teaspoon

salt

1/2

teaspoon

ground black pepper
Instructions
Preheat oven to 425°F.

Place the asparagus on a baking sheet. Drizzle with oil and sprinkle with salt and pepper.

Bake for about 18 minutes, or until the asparagus begins to brown. If the spears are larger you may want to cook them for a few more minutes.
Nutrition
Calories:
83
kcal
|
Carbohydrates:
4
g
|
Protein:
2
g
|
Fat:
7
g
|
Saturated Fat:
5
g
|
Cholesterol:
0
mg
|
Sodium:
583
mg
|
Potassium:
229
mg
|
Fiber:
2
g
|
Sugar:
2
g
|
Vitamin A:
855
IU
|
Vitamin C:
6.4
mg
|
Calcium:
27
mg
|
Iron:
2.4
mg