Roasted cauliflower with coconut oil is a great way to prepare cauliflower. So many of us are looking for low carb or even paleo style eating options. If you have never tried cooking with coconut oil you will is it a great option when preparing your favorite dishes.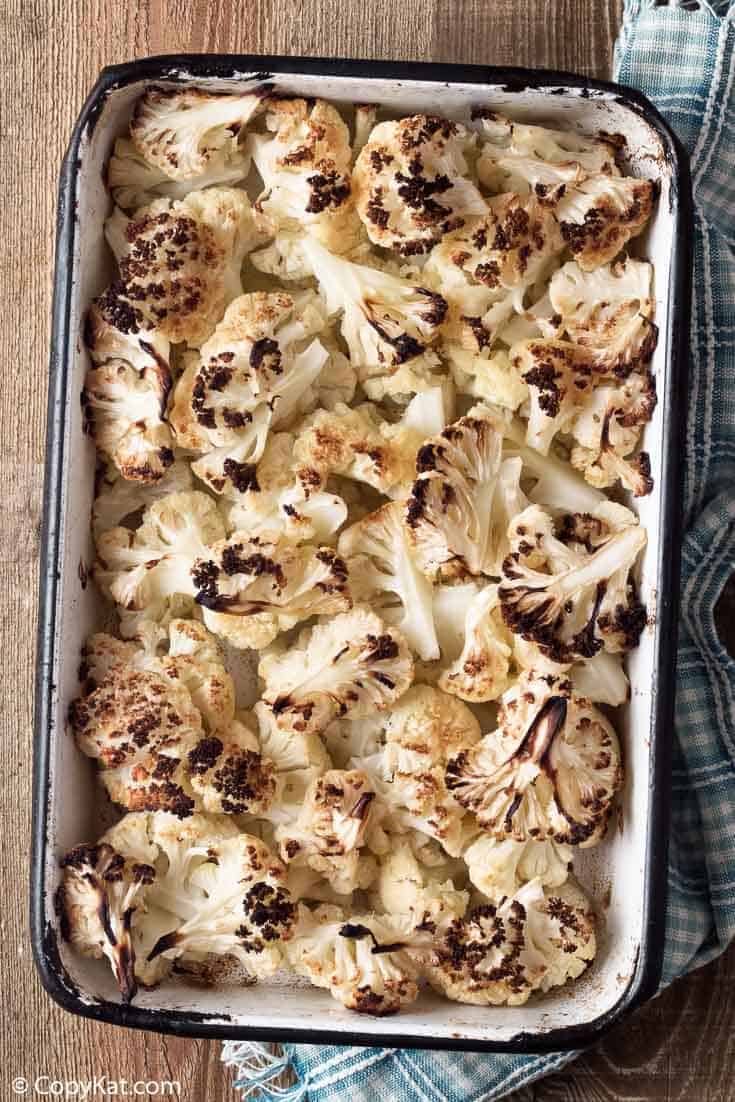 I have been buying coconut oil for a while and using it. You can read about the many benefits of using coconut oil. You might be asking yourself if what you cook still tastes like coconut oil. You can taste a bit of the coconut taste in the food that you cook, but what you do not get is the sweet taste of a coconut macaroon. Coconut oil can be swapped in place of olive oil or another type of vegetable oil.
One of the benefits of coconut oil is that you can cook with it at high temperatures. It is believed to help with weight loss, diabetes, and is even said to help with thyroid functions. You can store it at room temperatures for several months without having to worry if it will go rancid. You can find this at many regular grocery stores, and at most health food stores.
This roasted cauliflower side dish made with coconut oil is easy to do. Did you know you can roast a whole head of cauliflower in about 30 minutes? It is so easy to do. A quick chop, drizzle with oil, and season, then slip it into the oven and you will have roasted cauliflower in no time.
Love Cauliflower? Check out these recipes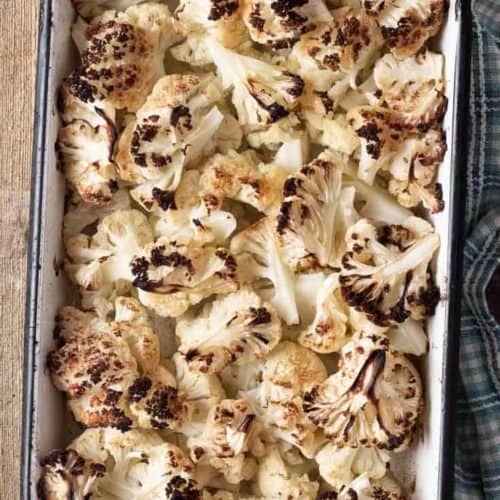 Ingredients
2

pounds

cauliflower

1 head

1

tablespoon

coconut oil

melted

2

teaspoons

garlic

sliced

salt and pepper
Instructions
Preheat oven to 425 degrees. Place chopped cauliflower and sliced garlic into a bowl. Drizzle cauliflower with melted coconut oil and stir to coat the cauliflower with the melted coconut oil. Line a baking sheet with aluminum foil. Place cauliflower onto foil-lined baking sheet. Roast cauliflower for about 25 to 30 minutes. Season to taste with salt and pepper before serving.
Nutrition
Calories:
89
kcal
|
Carbohydrates:
11
g
|
Protein:
4
g
|
Fat:
4
g
|
Saturated Fat:
3
g
|
Cholesterol:
0
mg
|
Sodium:
68
mg
|
Potassium:
678
mg
|
Fiber:
4
g
|
Sugar:
4
g
|
Vitamin C:
109.8
mg
|
Calcium:
53
mg
|
Iron:
1
mg