Twice Baked Cauliflower is the perfect side dish for when you are on a low carb or a keto diet. This delicious and healthy dish is made with cauliflower, bacon, and cheese. It tastes a lot like twice-baked potatoes but without all the carbs. The bacon adds a smoky flavor, while the cheese gives it a creamy texture. So if you're looking for a tasty yet low-carb option, look no further than Twice Baked Cauliflower!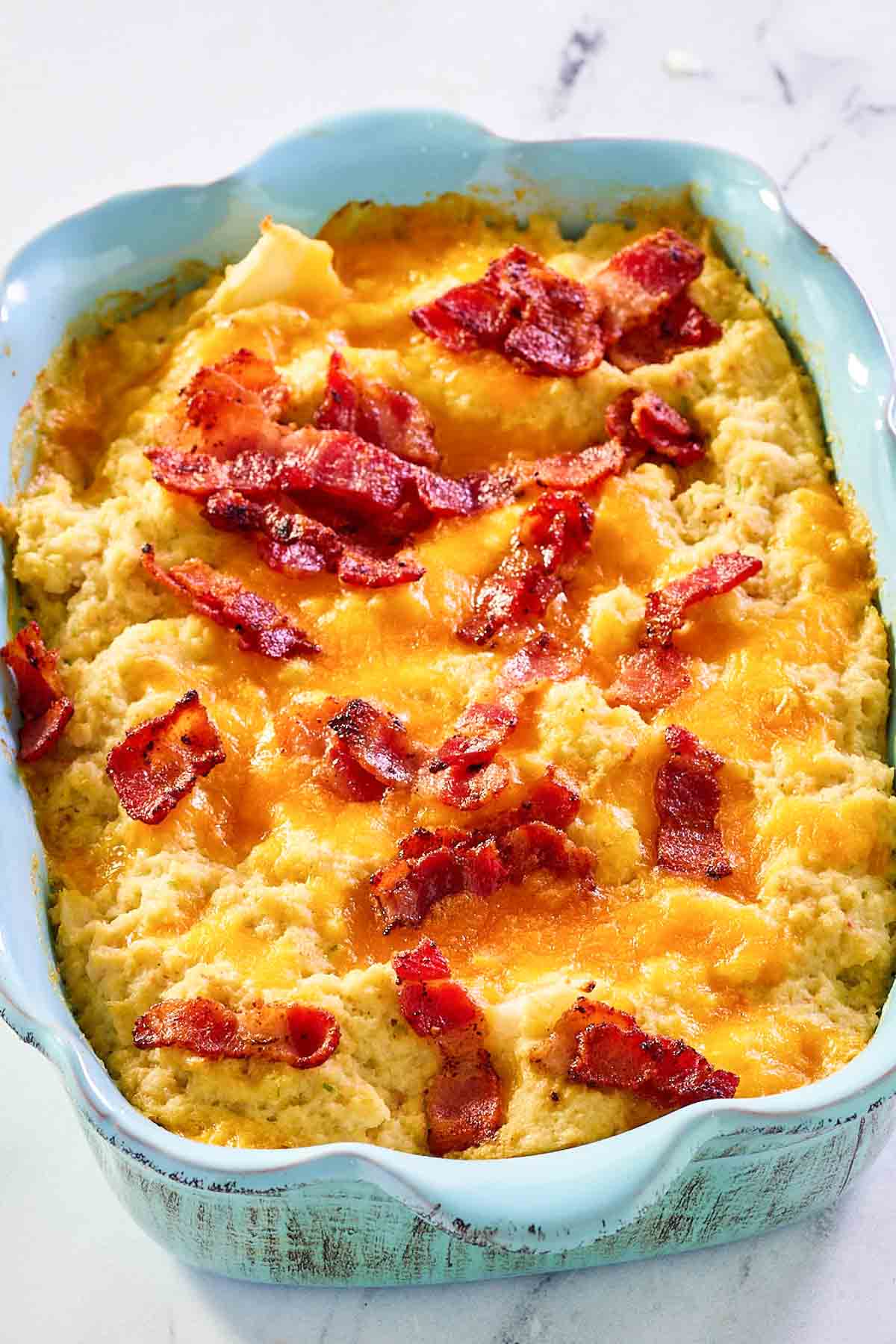 This post contains affiliate links. As an Amazon Associate, I earn from qualifying purchases.
Keto Cauliflower Casserole
I can't tell you how many times I have made this Twice Baked Cauliflower Casserole lately, but it has been more times than I can count. I got the inspiration for this recipe from Kalyn, at Kalyn's Kitchen. She is one amazing low-carb food blogger.
Everyone around me has been on a keto diet, and sometimes you just miss old favorites like mashed potatoes. I am not one for saying something tastes like something else, I want it to taste close. I really think you can turn cauliflower into a good substitute for mashed potatoes when you mix in a few more ingredients.
This cauliflower recipe makes a great side dish for Easter, Thanksgiving, and Christmas. It goes great with ham, turkey, and roast beef.
Twice Baked Cauliflower Ingredients
Here's a list of what you need:
Cauliflower Florets
Butter
Green onions
Cooked bacon
Shredded Cheddar cheese
Sour cream
Cream cheese
For this recipe, I steam the cauliflower. In the video, I show you how to do this with an Instant Pot. You can steam cauliflower in your favorite way. That could be with a steamer or perhaps you will want to dig around in your pantry for the steamer insert that came with your pots and pans set.
If you don't have a steamer you can boil small pieces or chunks of cauliflower in a large pot of boiling salted water. Be sure to drain it well because you don't want the mashed cauliflower to be watery.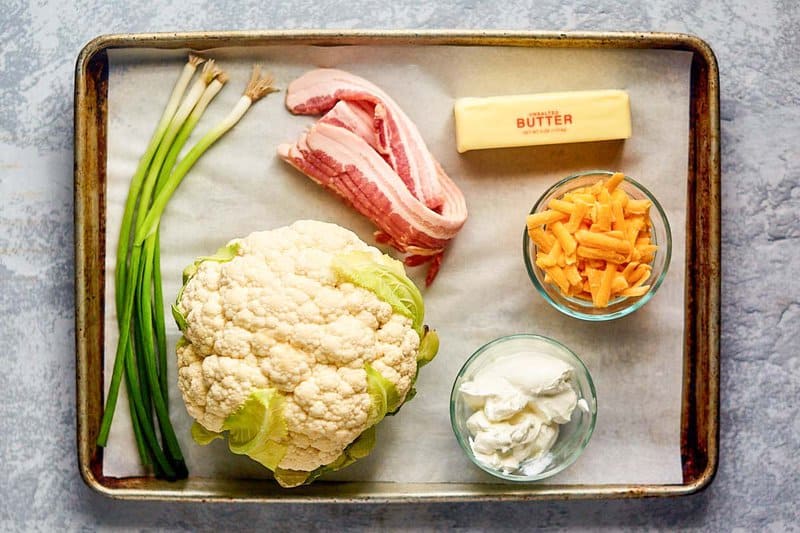 How to Make Cauliflower Creamy
For me, the real secret in this recipe is overcooking the cauliflower. If you overcook it until it is tender and soft, it will have the texture of mashed potatoes without all of the carbs.
So normally I steam vegetables for about 4 to 5 minutes in my pressure cooker. I steam for 7 minutes when I want the cauliflower to be extra smooth and creamy.
How to Make Twice Baked Cauliflower Casserole
Steam cauliflower until soft.
Place cauliflower into a large mixing bowl and add melted butter, sliced green onions, shredded Cheddar cheese, cooked bacon, sour cream, and cream cheese.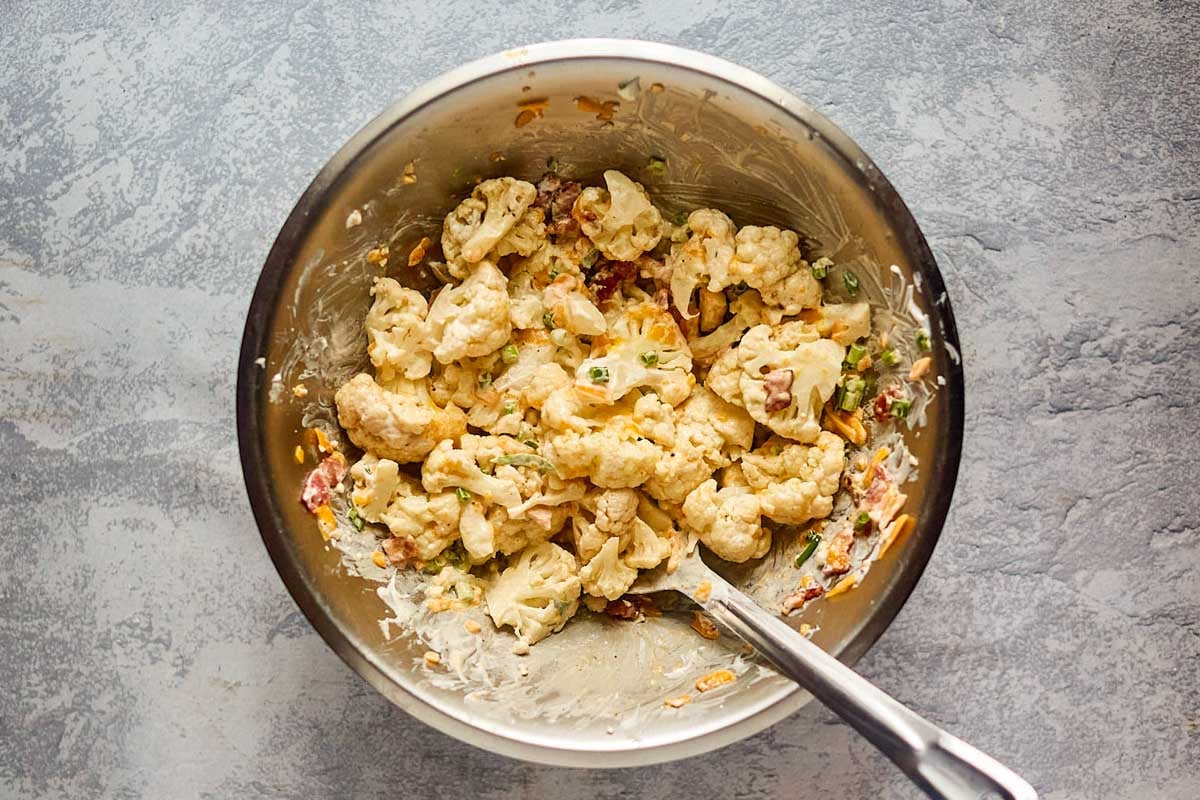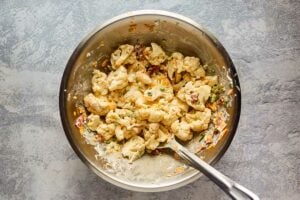 Place the mixture in a blender or food processor.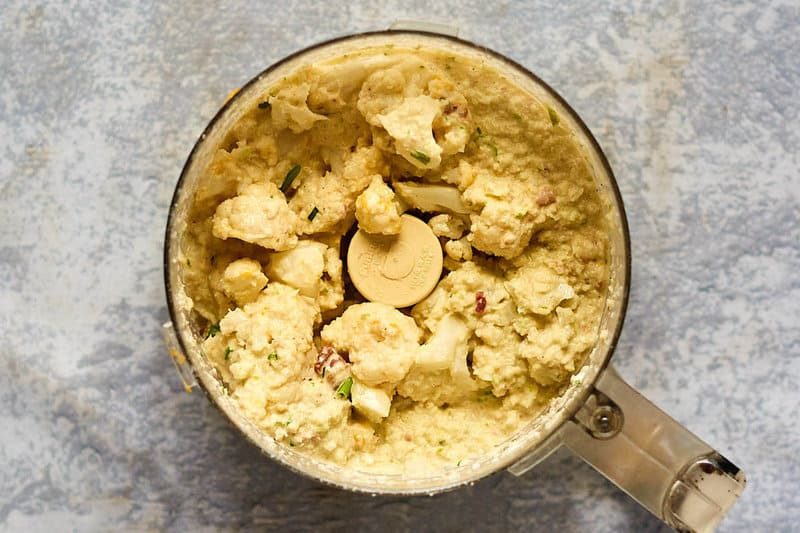 Puree until smooth. Taste and season with salt and black pepper if desired.
Place the cauliflower cheese mixture in a 2-quart casserole dish and sprinkle the top with additional cheese and bacon.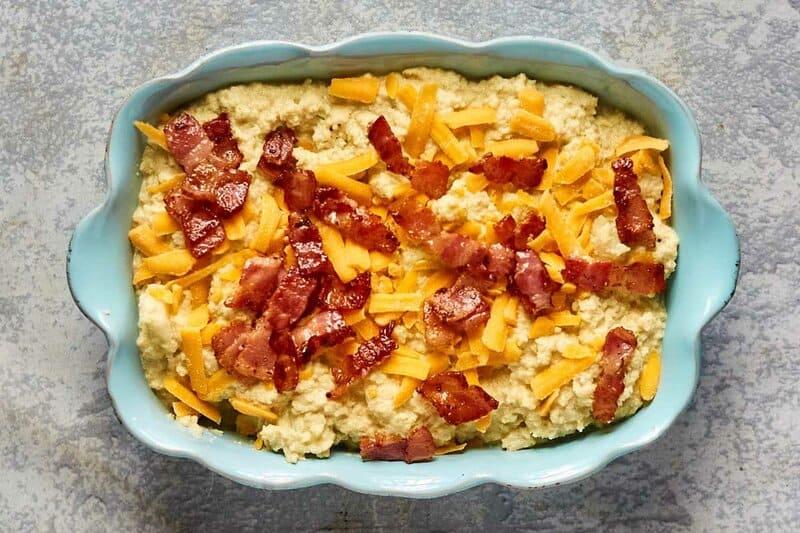 Bake at 350°F for 20 to 25 minutes.
If you don't have a blender or food processor, you can mash the cauliflower mixture with a potato masher.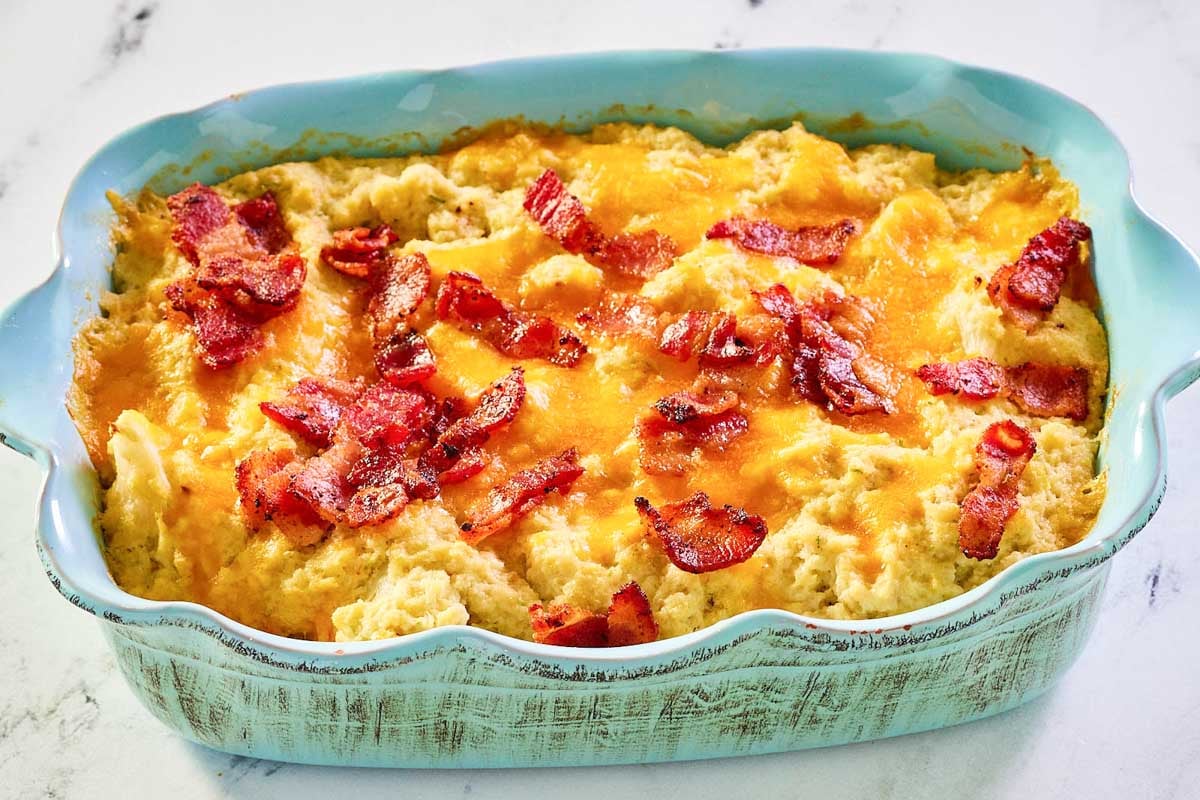 Cauliflower Casserole Keto Variations
Here are some great ways to add or change the flavors of this dish:
Use a variety of cheeses. I love using smoked cheese because it really adds something extra to the dish. Sharp cheddar cheese, Monterey Jack, Pepper Jack, or Parmesan cheese are great ones for this dish.
Add chopped onions or chives.
MIx in different spice and herb blends. A little garlic powder would be great.
What to Serve with Low Carb Cauliflower Casserole?
If you want to have an entire meal that is low carb I suggest pairing this with either a baked chicken or a grilled steak. For vegetables, I like to serve this with some green beans with bacon or some grilled asparagus.
Storing, Freezing and Reheating Baked Cauliflower Casserole
After the casserole has cooled, you can place any leftover amount in an air-tight container it will last in your refrigerator for about a week. Reheat this in a microwave in a microwave-safe dish in 30 seconds increments
If you want to freeze the entire casserole, cook it completely, and then allow it to cool to room temperature. Wrap first in plastic wrap, and then wrap in aluminum foil, and store in your freezer for up to six months.
To reheat from frozen, thaw completely in your refrigerator. Remove plastic wrap and aluminum foil. Cover the keto cauliflower casserole with aluminum foil, and heat for 10 minutes at 350 degrees, then remove the aluminum foil. Then place the casserole back into the oven and continue to heat until the cheese is bubbly.
Favorite Low Carb Recipes
Popular Vegetable Side Dishes
Be sure to check out more of my easy side dish recipes and the best low carb recipes.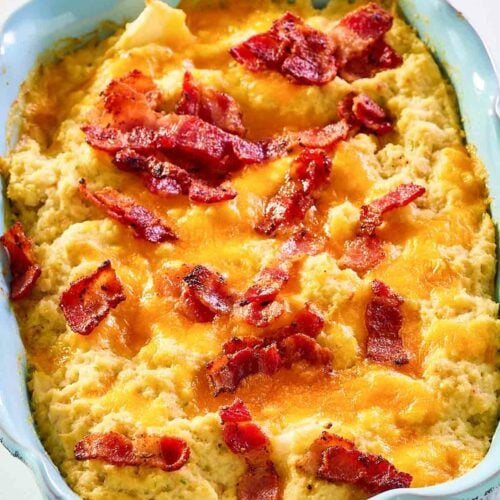 Ingredients
2 1/2

pounds

cauliflower

2

tablespoons

butter

melted

2

tablespoons

sliced green onions

2

cups

shredded cheddar cheese

divided use

1/2

cup

chopped bacon

cooked, divided use

1

cup

sour cream

2

tablespoons

cream cheese

optional
Instructions
Steam the cauliflower until soft. This can be done in an Instant Pot for 7 minutes for super creamy cauliflower or 5 minutes for more texture, followed by a quick release.

Preheat the oven to 350°F.

Place the steamed cauliflower into a large bowl. Add the butter, green onions, 1 cup of shredded cheddar, 1/4 cup of bacon, sour cream, and cream cheese (if desired) and mix with an electric

mixer

until smooth.

Transfer the mixture to a 2-quart casserole dish, top with the remaining cheddar cheese and bacon, and bake for 20 to 25 minutes.
Nutrition
Calories:
252
kcal
|
Carbohydrates:
8
g
|
Protein:
10
g
|
Fat:
20
g
|
Saturated Fat:
12
g
|
Cholesterol:
57
mg
|
Sodium:
292
mg
|
Potassium:
501
mg
|
Fiber:
2
g
|
Sugar:
3
g
|
Vitamin A:
615
IU
|
Vitamin C:
68.9
mg
|
Calcium:
270
mg
|
Iron:
0.8
mg