Magnolia Bakery Banana Pudding is one of the most popular items on the menu. Fluffy vanilla pudding is layered with fresh banana slices and Nilla wafers for a classic dessert. You can make it at home with this easy copycat recipe.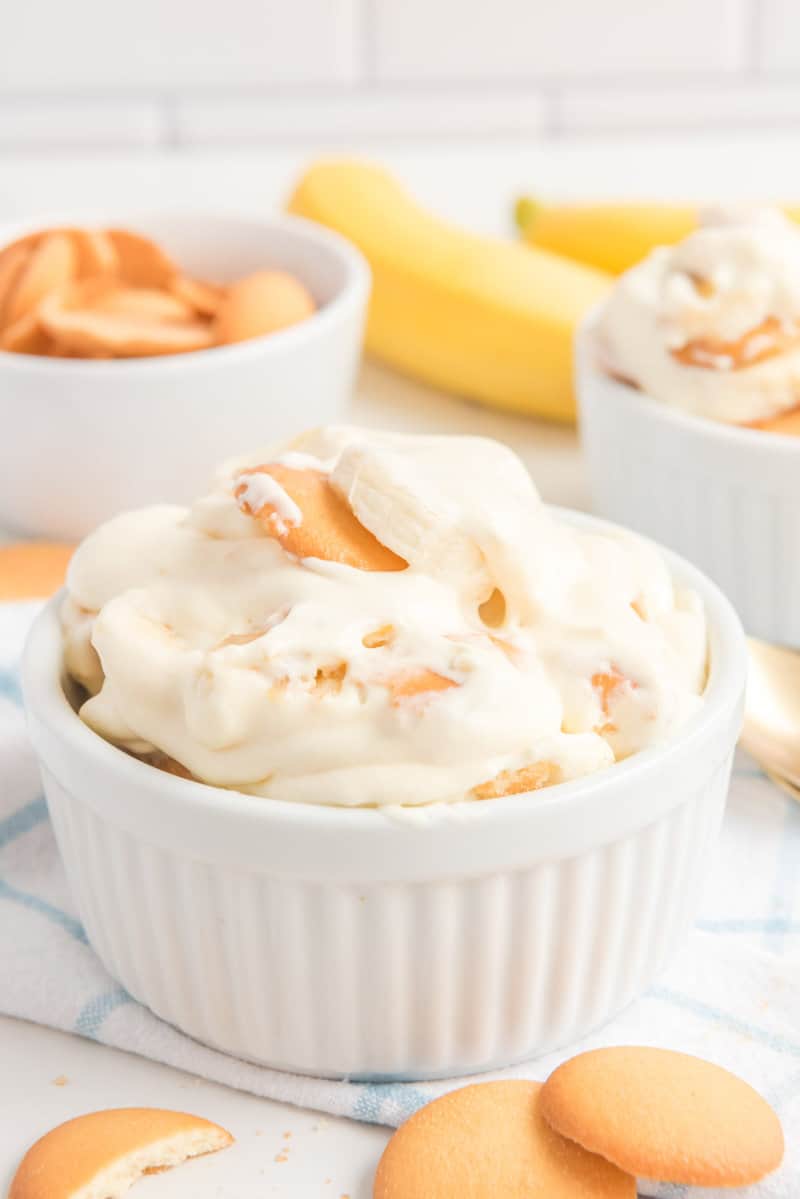 This post contains affiliate links. As an Amazon Associate, I earn from qualifying purchases.
What Makes Magnolia Bakery's Famous Banana Pudding So Good?
Magnolia Bakery in New York City offers a lot of options that can satisfy your sweet tooth, but the store's Banana Pudding is the one that stands out. The rich yet airy banana-flavored pudding, fresh slices of banana, and slightly softened vanilla wafers come together for a simple yet sophisticated dessert.
Why You Should Try This Copycat Magnolia Bakery Banana Pudding Recipe?
Shh, this copycat version of the recipe may even be better than the original. Adding the vanilla extract and the banana extract to the pudding pumps up the intensity of its flavor without ever tasting overpowering.
Some other versions of banana pudding lack condensed milk, but it's necessary for creating the proper consistency and mouthfeel.
Magnolia Bakery Banana Pudding Ingredients
For the vanilla pudding recipe, you'll need:
Condensed milk
Whole milk
Water, cold
Instant vanilla pudding mix
Sea salt
Jell-O Brand Instant Vanilla Pudding is ideal in this recipe, but you can use another brand or even homemade vanilla pudding instead.
For the rest of this copycat Magnolias Bakery Banana Pudding recipe, you'll need:
Heavy whipping cream
Bananas, very ripe
Banana extract
Vanilla extract
Nilla Wafers
Banana extract is the key to the wonderful flavor.
You can use another brand of vanilla-flavored wafers besides Nilla Wafers if you prefer.
How to Make This Famous Banana Pudding
To prepare the vanilla pudding base for Magnolia Bakery Banana Pudding:
Combine the condensed milk, whole milk, and cold water in the bowl of a stand mixer. Mix well at a lower speed with a whisk attachment. If you don't have a stand mixer, use an electric mixer or mix it by hand.
Add the vanilla pudding mix and the sea salt. Continue to mix until it thickens.
Use a rubber spatula to scrape the vanilla pudding mixture into a storage container and place it in the fridge overnight.
To finish preparing the Banana Pudding Magnolia Bakery recipe:
Beat the heavy whipping cream, vanilla extract, and banana extract into stiff peaks. Using a stand or electric mixer for four to five minutes on high speed is quick and easy, but you can whisk by hand if necessary.
Add the chilled vanilla pudding mixture to the whipped cream and mix on medium to combine thoroughly.
Chill the mixture in the fridge for an hour.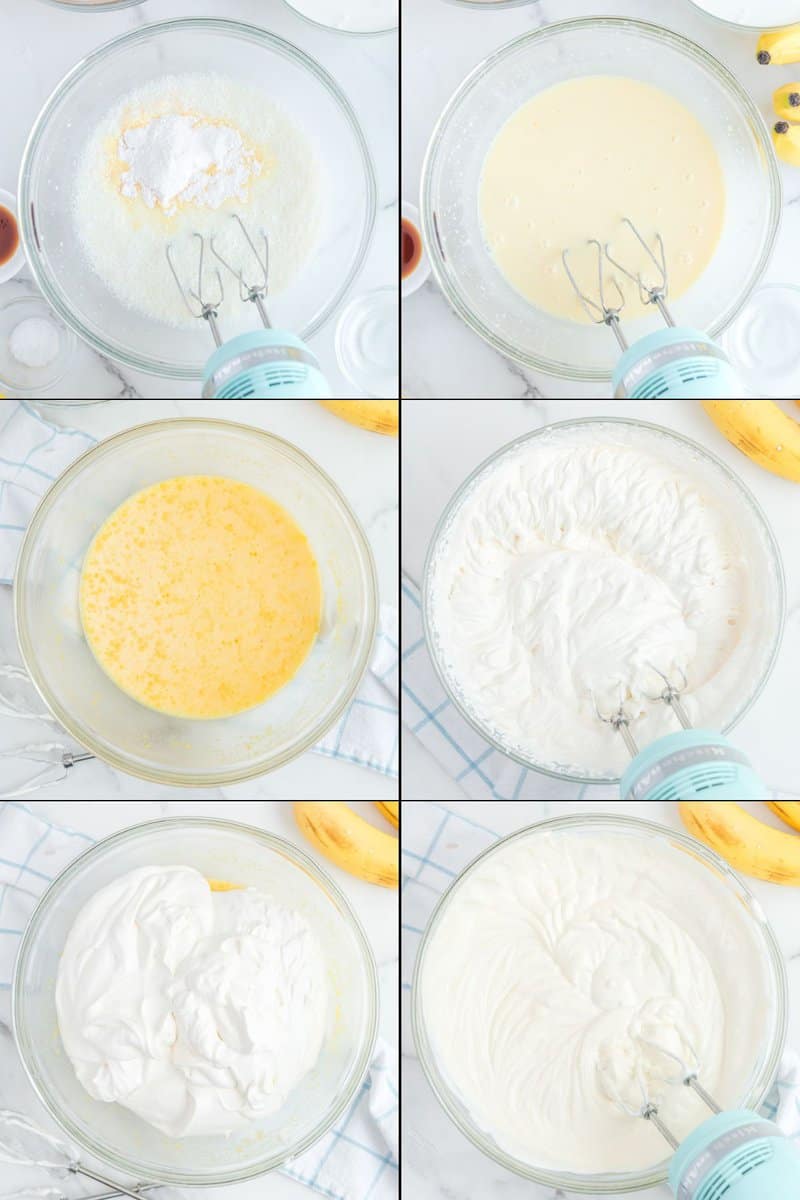 To assemble the Banana Pudding:
Spread a third of the pudding mixture on the bottom of a large flat-bottomed wide glass bowl or trifle bowl.
Place the Nilla Wafers in concentric circles on top of the pudding mixture.
Add a layer of sliced bananas in the same manner on top of the Nilla Wafers.
Repeat the process one more time.
Top with the remaining pudding and garnish with crushed Nilla Wafers and a decorative pattern of sliced bananas.
Cover and chill for at least half an hour before serving.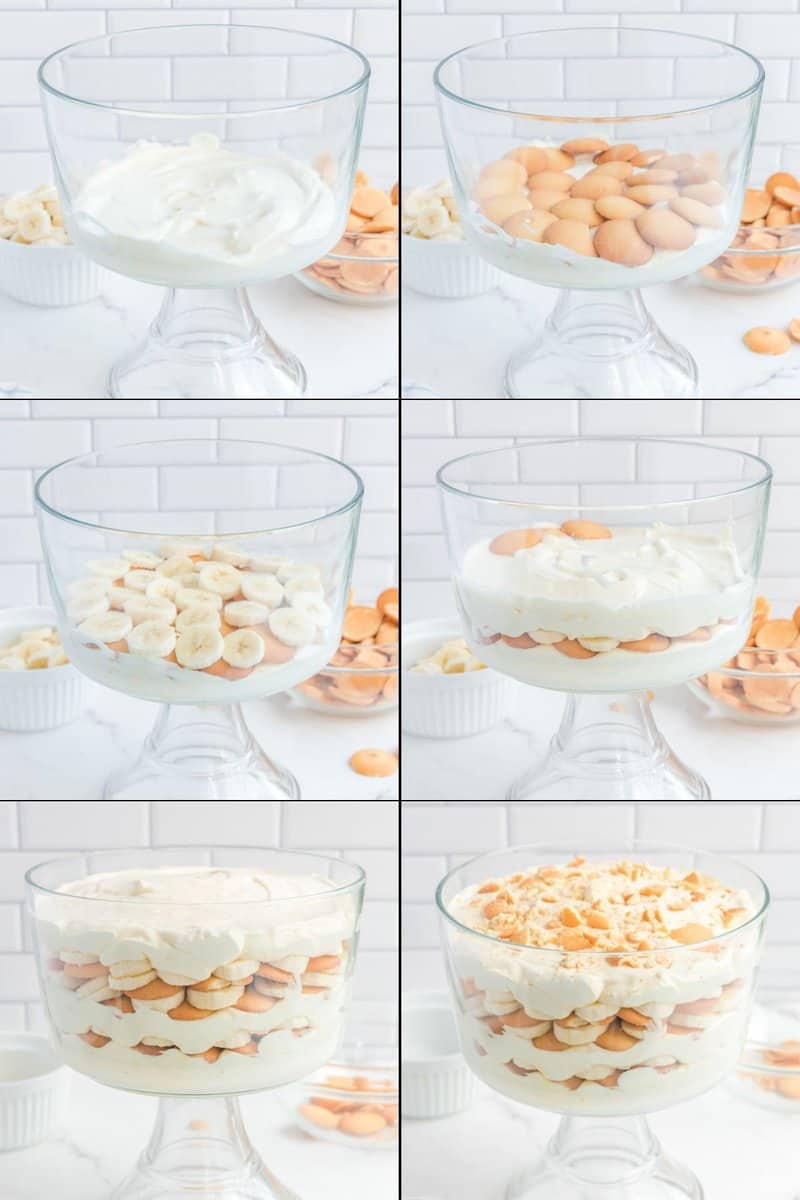 Three Tips for Keeping Bananas From Turning Brown
No one wants to eat brown bananas. Here are three ways to stop them from oxidizing:
Add a teaspoon of lemon juice to a half-cup of water. Toss the sliced banana with the diluted lemon water. Drain before using.
Add two tablespoons of honey to a cup of warm. Whisk to dissolve the honey and toss with the banana slices. Drain well and use as usual.
To prevent cut bananas from browning without changing their flavor, try soaking them in cold club soda for about a minute. Drain before adding to the recipe.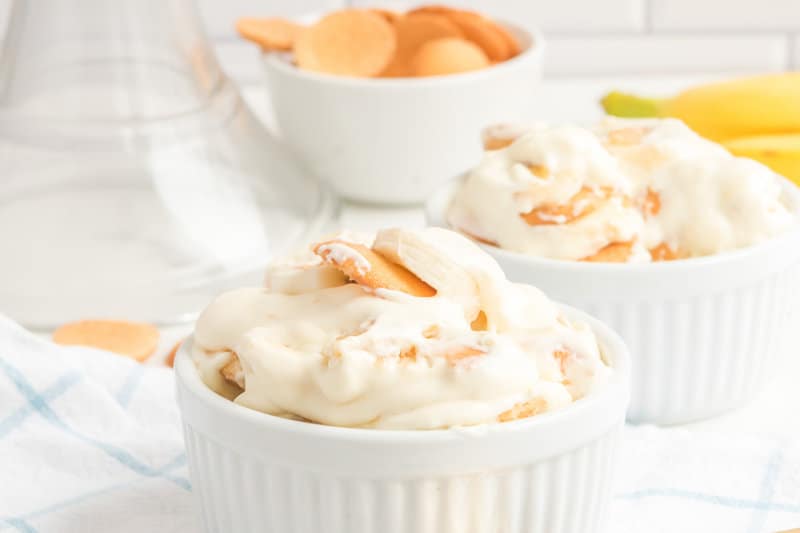 Recipe Variations
The Magnolia Bakery offers several varieties of banana puddings you can enjoy. Why not try a few making your own variations. Here are a few suggestions:
Add some chocolate chips to every layer.
Use shortbread cookies in place of Nilla Wafers.
Garnish with chopped walnuts or hazelnuts.
What to Serve With Banana Pudding?
Surprise your guest by serving this recipe for Magnolia Bakery Banana Pudding rolled into a warm crêpe, on top of a slice of pound cake, or inside a waffle cone.
How to Store the Leftovers?
Keep any extra Banana Pudding covered in the fridge.
How Long Does Homemade Banana Pudding Last?
The pudding will stay fresh for up to five days, but the Nilla Wafer will become very soft. Try to finish Magnolias Bakery Banana Pudding as quickly as possible.
Love Bananas? Try These Recipes
Favorite Copycat Dessert Recipes
Check out more of my easy dessert recipes and the best copycat restaurant recipes on CopyKat!
Ingredients
1

14-ounce can

sweetened condensed milk

½

cup

cold milk

½

cup

cold water

1

3.4 ounce package

vanilla instant pudding mix

½

teaspoon

sea salt

3

cups

heavy whipping cream

5 to 7

ripe bananas

1

teaspoon

banana extract

½

teaspoon

vanilla extract

1

12-ounce box

Nilla Wafers
Instructions
In a large mixing bowl, combine condensed milk, milk, and water using an electric hand or stand mixer. Mix well.

Add pudding mix and sea salt and blend until fluffy combined. The pudding mixture may begin to thicken.

Cover mixture and allow to chill inside the refrigerator overnight.

When chill time is complete, beat heavy whipping cream, banana extract, and vanilla extract in a separate large bowl for 4 to 5 minutes on high speed or until stiff peaks are formed.

Add whipped topping mixture to the pudding mixture and blend using the electric mixture for another minute until fully combined. This will create a light yellow, creamy color. Use a rubber spatula to scrape the edges of the bowl, gathering any excess pudding mixture. Mix well with the spatula before placing it inside the refrigerator for another 30 to 60 minutes to chill again.

After the chill time is complete, it's time to assemble your banana pudding. Use a trifle dish and add about ⅓ of the pudding mixture to the bottom.

Top with Nilla Wafers, covering fully in a circular motion. Top wafers with banana slices. Repeat with another layer of Nilla Wafers and banana slices.

Top layer with another ⅓ of the pudding mixture and repeat the Nilla Wafer and banana layering process.

Top with the remaining pudding, spreading evenly over top.

Add a couple of banana slices and crushed Nilla Wafers for garnishing.
Nutrition
Calories:
414
kcal
|
Carbohydrates:
26
g
|
Protein:
5
g
|
Fat:
34
g
|
Saturated Fat:
21
g
|
Polyunsaturated Fat:
2
g
|
Monounsaturated Fat:
9
g
|
Cholesterol:
106
mg
|
Sodium:
192
mg
|
Potassium:
412
mg
|
Fiber:
2
g
|
Sugar:
18
g
|
Vitamin A:
1412
IU
|
Vitamin C:
7
mg
|
Calcium:
112
mg
|
Iron:
0.3
mg