Marie Callender's Coconut Cream Pie is a delicious dessert perfect for any occasion. This creamy old fashioned pie has a pastry crust and is topped with whipped cream and toasted coconut. Your family is going to love these delicious slices of coconut cream pies that you serve up.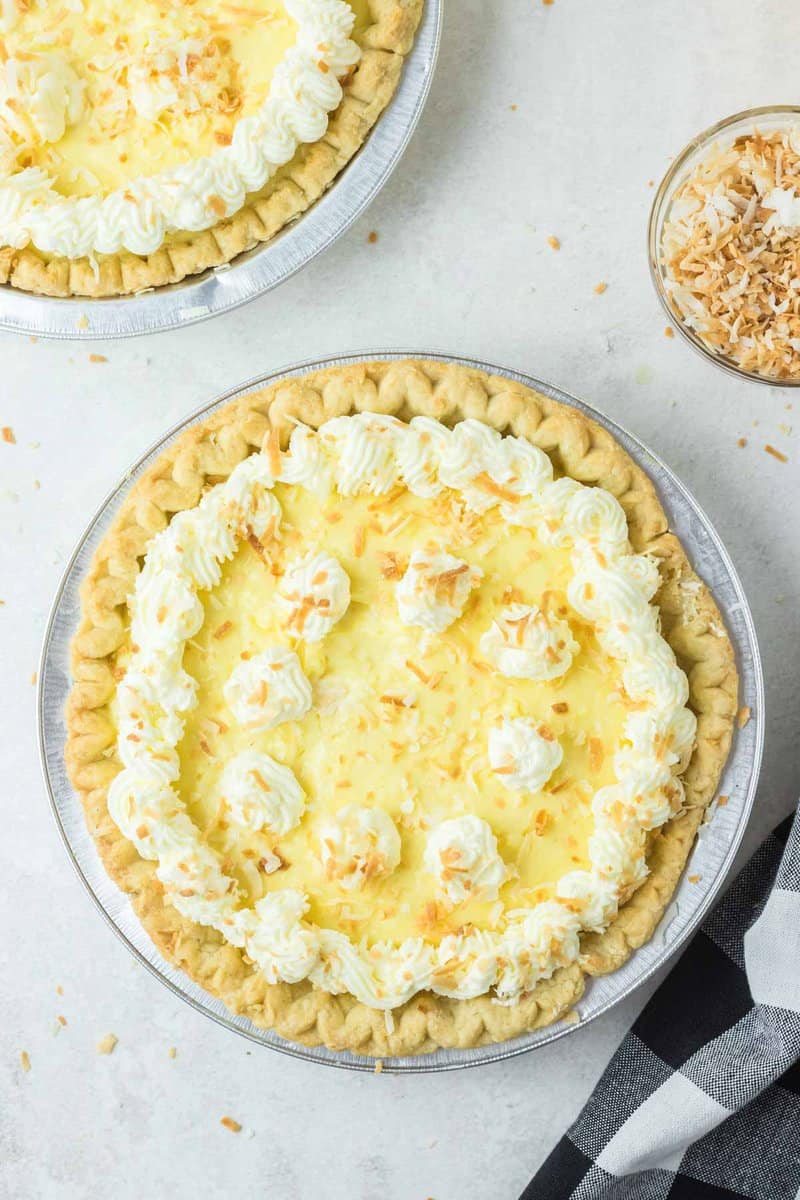 This post contains affiliate links. As an Amazon Associate, I earn from qualifying purchases.
What makes this coconut cream pie the best?
This coconut cream pie is not only easy to make, it is delicious. What makes the pie over the top is the coconut flakes that are sprinkled on top. The golden brown coconut flakes add so much flavor to this pie. If you are not an experienced baker, you can feel comfortable in that this is easy to assemble, and you don't have to worry about a top crust as in so many fruit pies.
Coconut cream pies are the favorite pies of so many of my family members. They are so popular, that we have to serve them with our Thanksgiving dinner. My Mom prefers this pie over Birthday cake on her birthday.
Ingredients
Here's a list of what you need:
Vanilla Pudding Mix (Cook & Serve)
Whole Milk
Vanilla Extract
Coconut Flakes
Cool Whip
Heavy Whipping Cream
Sugar
Pie Shells (Pastry or Graham Cracker Crust)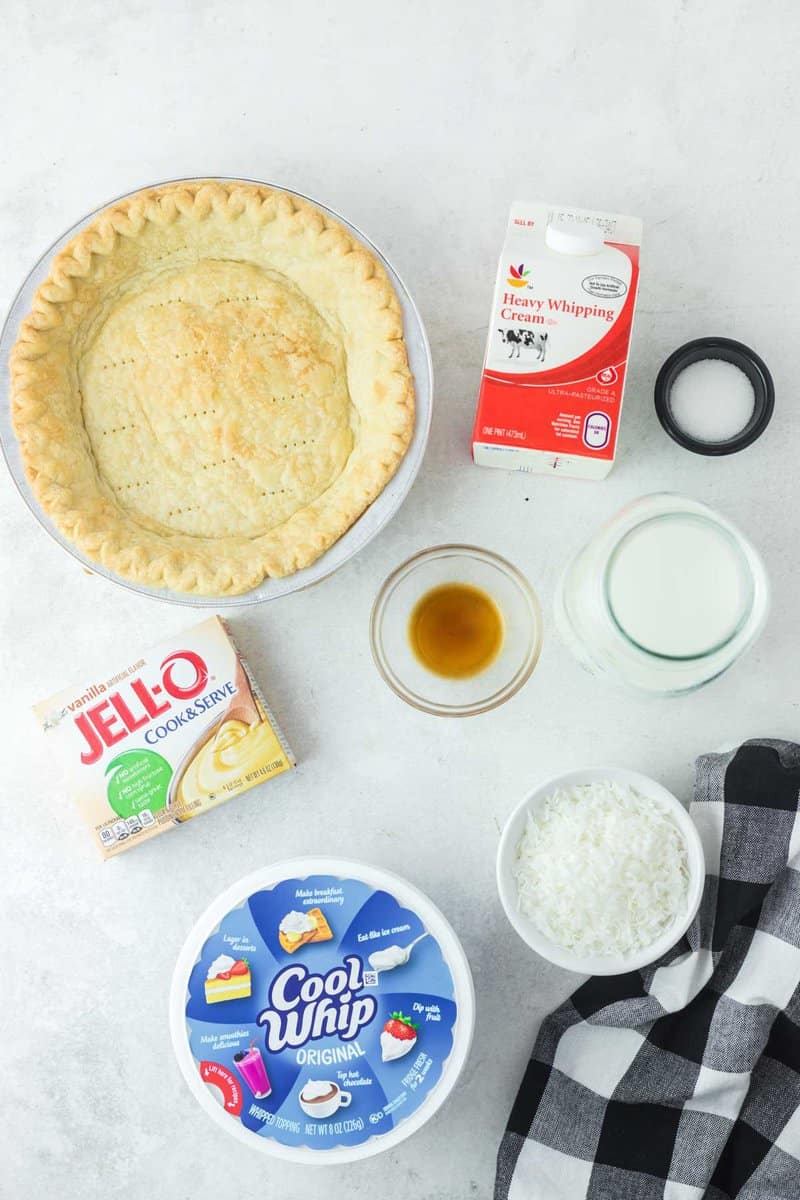 How to Make Marie Callender's Coconut Cream Pie
Here are the simple recipe steps:
Prepare the pudding with milk.
Add vanilla and coconut flakes.
Fold in the Cool Whip with a spatula.
Place the mixture into the pie crusts.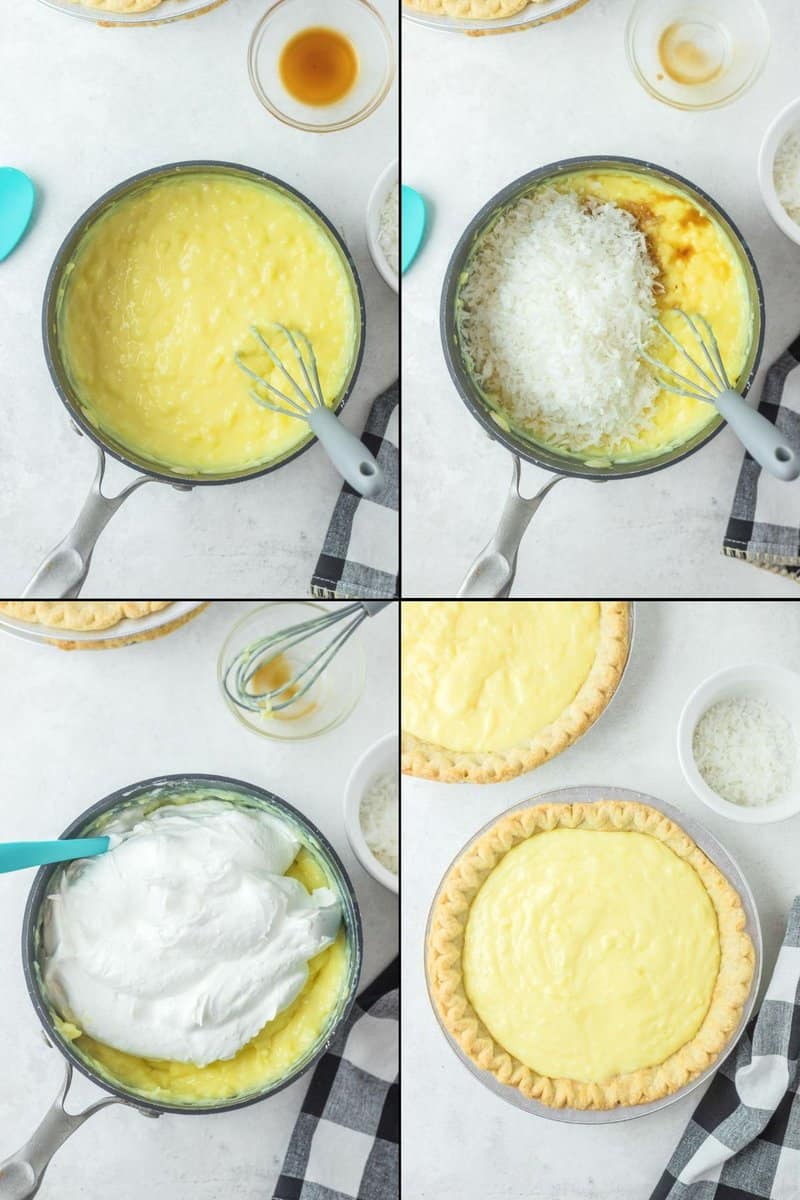 Spread coconut flakes on a baking sheet.
Toast the coconut flakes in a 350°F oven.
Whip the heavy cream and sugar until it has stiff peaks.
Pipe the whipped cream over the pie filling and sprinkle toasted coconut flakes on top.
Refrigerate the pie for at least 4 hours.
Serve and enjoy!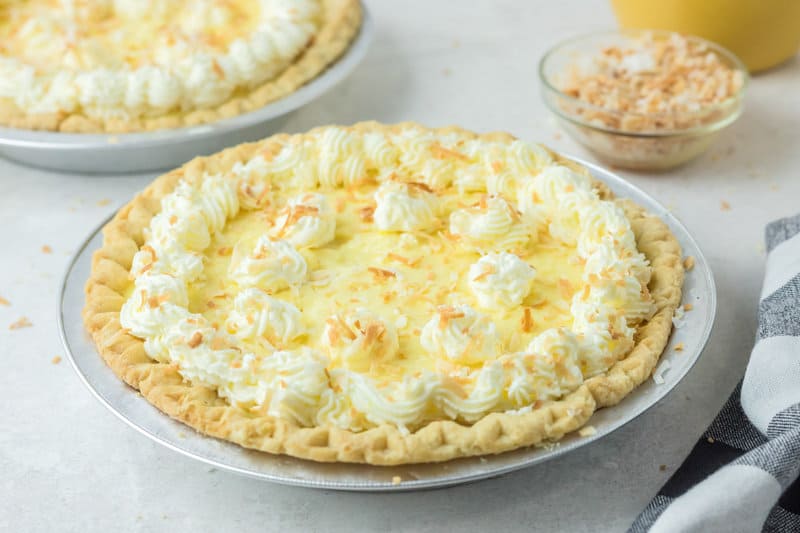 How to Store Coconut Cream Pie
You need to store this coconut cream pie in the fridge. It will last between three to five days. Be sure to cover the pie loosely with plastic wrap so it does not pick up odors and flavors from other items in the refrigerator.
Can You Freeze Marie Callender's Coconut Cream Pie?
Yes, you can freeze a cream pie like this coconut pie. These pies have a very short self-life. I would recommend not assembling the pie before freezing. Cook the pie shell, allow it to cool completely then wrap gently in foil, be sure to cover all of the pie shells. Do not leave any area exposed. Place the wrapped, and cooked pie shell into a freezer-safe bag. Place the pie shell into the freezer.
Prepare the filling, and allow the pudding to cool completely. Place the cream into a freezer bag, and make sure you get out all of the extra air.
When you are ready to serve the pie, you will need to take out the shell and the filling. Place the filling in the refrigerator to thaw. When the filling has thawed completely, fill the pie shells, and then decorate.
What to serve with this Marie Callendar copycat pie recipe
There are so many different things you could serve with this delicious pie. Marie Callender's pies can stand on their own. Here are a few ideas for you.
Homemade peach pie
Homemade apple pie
A lemon pound cake
Coconut Cream Pie variations
Instead of topping the pie with whipped cream, consider using meringue. The meringue topping gives this a lighter taste than the whipped cream topping. You could also consider making these into mini pies, they are perfect for serving at a dinner.
More Marie Callender Pie Recipes
Favorite Pie Recipes
Check out more of my easy pie recipes and the best copycat dessert recipes here on CopyKat!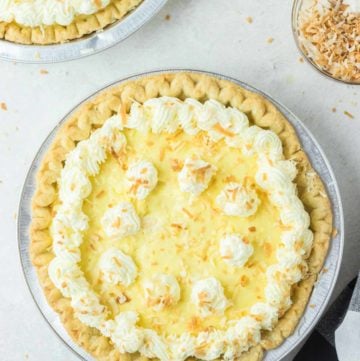 Ingredients
3

cups

whole milk

1

4.6 ounce box

cook & serve vanilla pudding mix

¼

teaspoon

vanilla extract

2

cups

coconut flakes

divided use

1

8 ounce container

Cool Whip

2

baked pie shells

2

cups

heavy cream

2

tablespoons

sugar
Instructions
Heat milk and pudding in a pot over the stovetop on medium-high heat, stirring constantly.

When pudding just begins to bubble, remove it from heat. Stir occasionally as the pudding cools.

About 5 minutes after you remove the pudding from the heat, add ¼ teaspoon vanilla extract and 1½ cups of coconut. Stir to combine.

Toast the remaining ½ cup coconut in the oven at 350°F for about 6 to 8 minutes. When the coconut begins to turn light brown, remove it from the oven.

When pudding has completely cooled, add 5 ounces of Cool Whip and fold or gently stir until the Cool Whip is fully incorporated. You will have some Cool Whip left over.

Pour the filling into the two pie shells. Place pies in the refrigerator as you finish the whipped cream.

Prepare the whipped cream by placing heavy cream and sugar into a chilled bowl.

Beat with an electric

mixer

on high speed until the whipped cream has stiff peaks.

Place the whipped cream into a pipping bag.

Pipe the whipped cream around the edges and then make 8 small dollops of whipped cream in the center of the pie.

Sprinkle toasted coconut on the whipped cream.

Refrigerate the pies until thoroughly chilled, about 4 hours.
Notes
You can use either pastry or graham cracker crust. The crust will need to be baked and cooled before filling.
Nutrition
Calories:
302
kcal
|
Carbohydrates:
17
g
|
Protein:
4
g
|
Fat:
25
g
|
Saturated Fat:
16
g
|
Polyunsaturated Fat:
1
g
|
Monounsaturated Fat:
6
g
|
Cholesterol:
39
mg
|
Sodium:
117
mg
|
Potassium:
175
mg
|
Fiber:
2
g
|
Sugar:
5
g
|
Vitamin A:
512
IU
|
Vitamin C:
1
mg
|
Calcium:
83
mg
|
Iron:
1
mg