Buttermilk pie is a classic many of us have enjoyed. This southern buttermilk pie recipe is for when you don't have a lot on hand, but still, want to make dessert. This is a custard pie that is good both warm out of the oven and later chilled, one thing is for certain, you are going to love this classic southern dessert.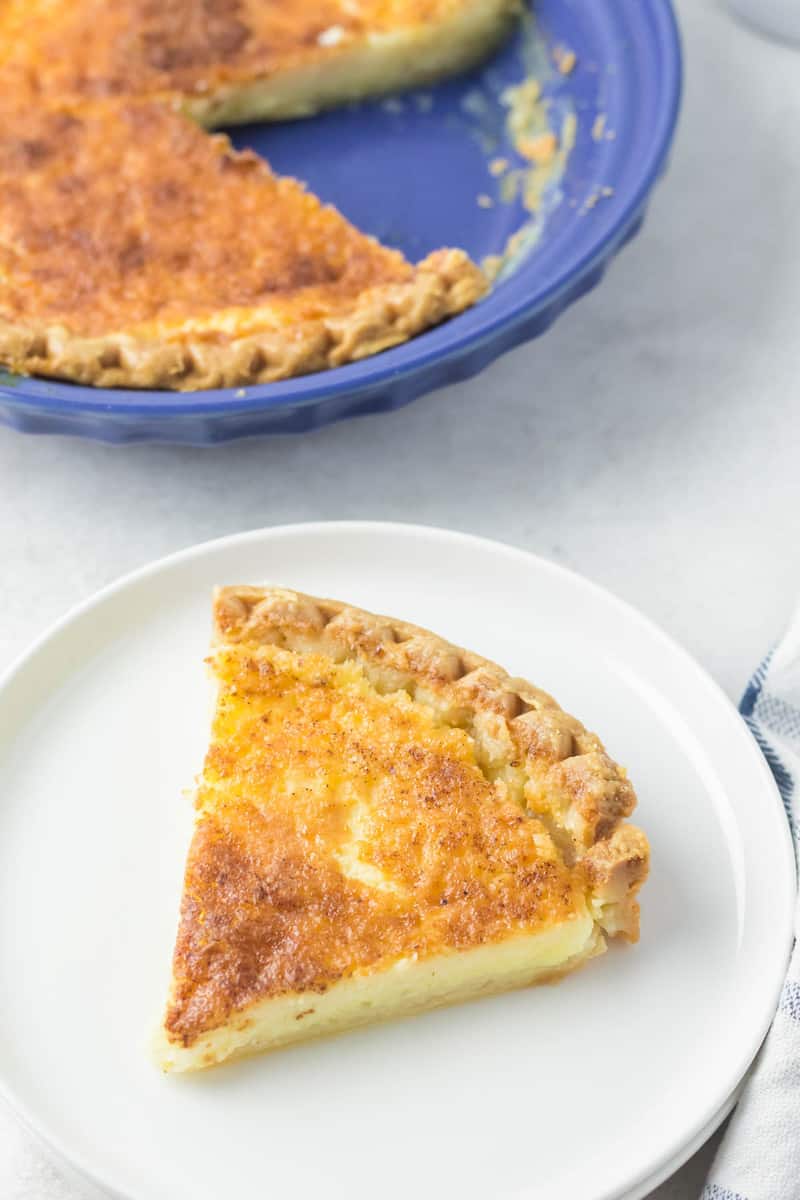 This post contains affiliate links. As an Amazon Associate, I earn from qualifying purchases.
What Is Buttermilk Pie?
Buttermilk pie is a kind of custard pie that uses buttermilk in place of the more common sweet milk.
A lot of people love buttermilk pies. It is a wonderful creamy pie that you don't often see in stores, bakeries, or in restaurants. So if you want one of these old-fashioned pies, you are going to have to prepare one yourself.
Did you know it is super easy to make this pie? If you can measure and stir, you can make this amazing dessert.
What is the difference between chess pie and buttermilk pie?
In one word, cornmeal.
A buttermilk pie filling is made of sugar, butter, eggs, buttermilk, and flour. People add vanilla, lemon zest, and nutmeg for variety.
A chess pie has its origin in New England. Cornmeal was added instead of flour to help the pie stabilize.
Are both pies completely delicious? Yes!
What Does Buttermilk Pie Taste Like?
Don't worry if you don't particularly like the taste of buttermilk on its own; this Classic Buttermilk Pie isn't too tangy, but it isn't overly cloying either. If you ever tried a chess pie and liked the flavor but wished it wasn't so sweet, you will probably love this recipe for buttermilk pie.
What Makes This Recipe So Delicious?
This recipe for buttermilk pie is simple-to-make and is perfect for those times when you want something a bit different than usual. This best buttermilk pie recipe replaces the regular lemon juice and zest with nutmeg and vanilla extract for a more festive flavor.
Enjoy this pie warm for extra comfort or straight from the fridge if you want something more refreshing. Some people love to add a dollop of whipped cream to the pie slices when they serve them. I think this pie is so delicious is really stands on its own.
Buttermilk Pie Ingredients
To make the best buttermilk pie recipe, you'll need:
Large eggs
Sugar
Butter you can use salted or unsalted butter
Salt
All-purpose flour
Buttermilk
Vanilla extract
Nutmeg
Prepared pastry pie shell
Ingredient Notes
A blind-baked flaky pie crust is the classic choice for buttermilk pies, but you can use other types of crusts as well, like pâte sucrée or even a pâte sablée. Use your favorite homemade pie crust recipe, or buy a pie crust mix from the store. You can also make it with a graham cracker crust.
While this recipe calls for cultured buttermilk, you can use real buttermilk for a more authentic old-time flavor.
How To Make Buttermilk Pie
Here are the simple steps for making a buttermilk pie:
Preheat the oven to 350 degrees.
In a large bowl, whisk the eggs until they become foamy and lighten in color slightly.
Add in the sugar and whisk to combine.
In a separate bowl, combine the melted butter, salt, buttermilk, and vanilla extract.
Add the butter mixture to the eggs.
Whisk in the flour and continue mixing until smooth.
Pour the filling into the unbaked pie crust.
Sprinkle the nutmeg on top.
Carefully transfer the pie to the oven and bake on the middle oven rack for 50 minutes.
Turn down the heat to 325 degrees and bake for another 10 minutes or until the filling is set.
Best Buttermilk Pie Recipe Tips
Let all the ingredients come up to room temperature before cooking for the best results.
Using a stand mixer with a balloon whisk attachment saves a lot of arm pain.
Finding the perfect time to take a buttermilk pie out of the oven can be tricky. The edge of the filling near the crust should be firm, but the filling needs to be set in the center but still a little jiggly.
Buttermilk Pie Recipe Easy Troubleshooting
Custard pies are not challenging to make, but they have their own set of unique filling issues that can pop up.
How Do You Keep a Buttermilk Pie From Being Runny?
Weeping is a common problem when making any type of custard pie. It is caused by cooking the pie at either too high of a temperature or for too long.
Since many built-in thermometers on ovens are faulty, it is always good to use a separate oven thermometer to double-check. Another good trick is warming up your crust in the oven for a few minutes before pouring in the filling.
Why Did My Buttermilk Pie Not Set?
Loose custard will ruin a good buttermilk pie, and the culprit is usually taking the pie out of the oven too soon. The times in the recipe are just a guide.
Many factors like the size of the eggs you use or even the weather can significantly affect when the custard sets.
It is also important to remember that the custard will continue to cook when you take it out of the oven and will thicken as it cools, so you don't want to keep the pie in the oven too long.
Knowing exactly when to take out a buttermilk pie from the oven is a skill that will only come with practice.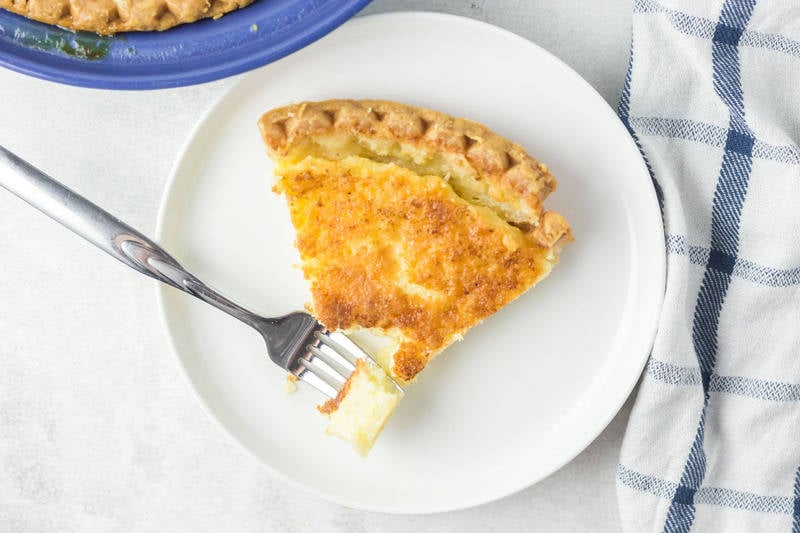 Buttermilk Pie Storage
Allow the buttermilk pie to cool on a wire rack and serve warm. If there are any leftovers, go ahead and let the pie come down to room temperature.
Cover the buttermilk pie loosely with plastic wrap or put it in a pie keeper and place it in the fridge.
How Long Will Buttermilk Pie Last?
A buttermilk pie will keep for up to five days in the fridge.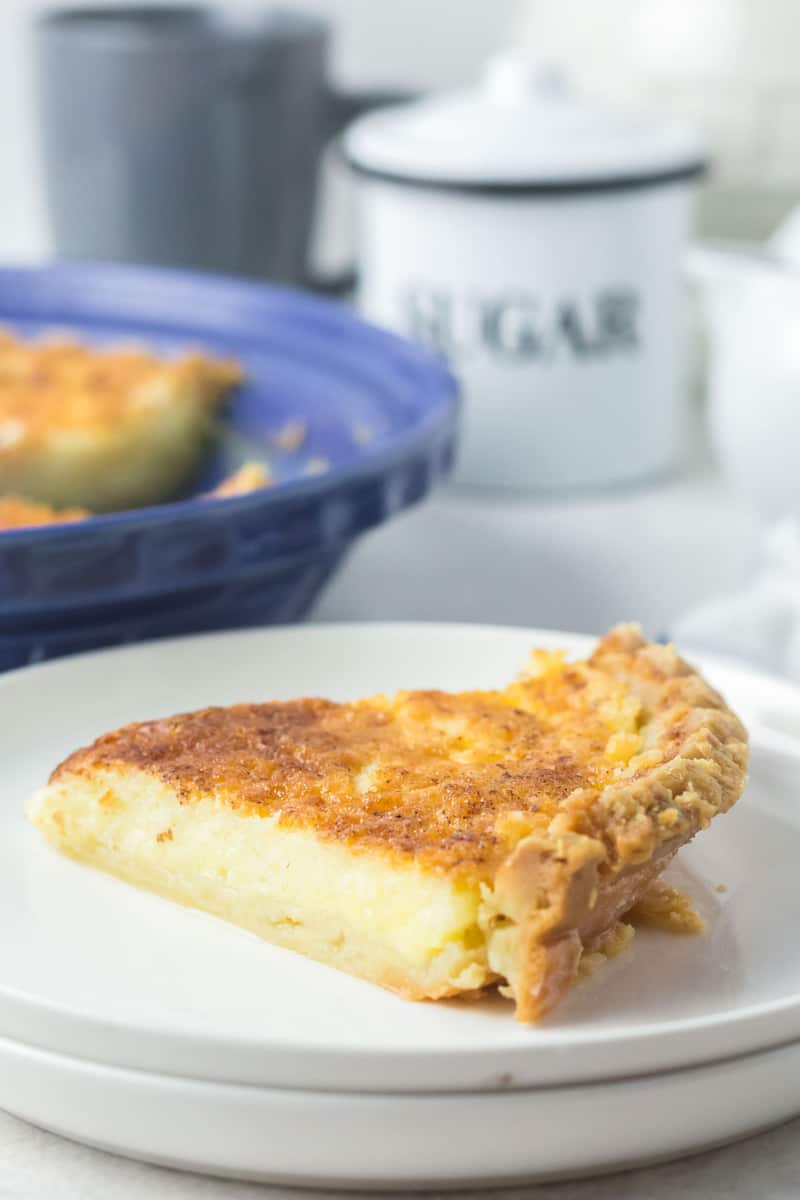 Love Creamy Homemade Pies? Try These Recipes
Popular Recipes with Buttermilk
In case you want ideas for using any leftover buttermilk after making this pie:
Check out more of my easy pie recipes and the best holiday dessert recipes here on CopyKat!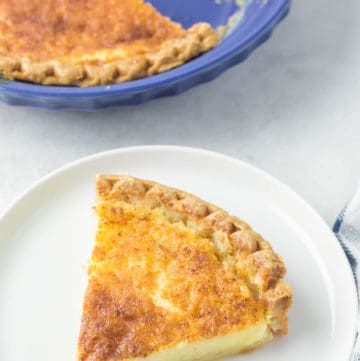 Ingredients
2

eggs

1

cup

sugar

3/4

cup

butter

melted

1/4

teaspoon

salt

1

tablespoon

all-purpose flour

1

cup

buttermilk

2

teaspoons

vanilla extract

1

9-inch

pastry pie shell

1/4

teaspoon

ground nutmeg
Instructions
Preheat the oven to 350°F.

Crack the eggs into a medium bowl and beat well using a whisk or

mixer

.

Gradually add the sugar while continuing to beat.

Add the melted butter, salt, flour, buttermilk, and vanilla extract. Beat until smooth.

Pour the filling into the pie shell, sprinkle with nutmeg.

Bake for 50 minutes.

Reduce the oven temperature to 325°F and bake for an additional 10 minutes. The pie is done when a toothpick inserted in center comes out clean.
Notes
Tips for Making Buttermilk Pie
Have all ingredients at room temperature. So that means to take eggs out about 30 minutes before I need to use them. Baking is better when the temperatures of the ingredients are as close as possible.
I recommend purchasing commercial buttermilk for this recipe. Your results will be more consistent than making homemade buttermilk.
You should store this pie in the refrigerator. Custard pies should always be stored in the refrigerator.
Warm this pie before serving. This pie is best eaten while still warm. 
Nutrition
Calories:
387
kcal
|
Carbohydrates:
37
g
|
Protein:
3
g
|
Fat:
24
g
|
Saturated Fat:
13
g
|
Cholesterol:
89
mg
|
Sodium:
359
mg
|
Potassium:
81
mg
|
Fiber:
0
g
|
Sugar:
26
g
|
Vitamin A:
640
IU
|
Calcium:
50
mg
|
Iron:
0.8
mg