This Southern-style buttermilk pie with humble roots proves you don't need much on hand to make a delicious and satisfying dessert. Whether enjoyed warm fresh out of the oven, or chilled out of the refrigerator later, this creamy, tangy custard pie is a classic for a reason.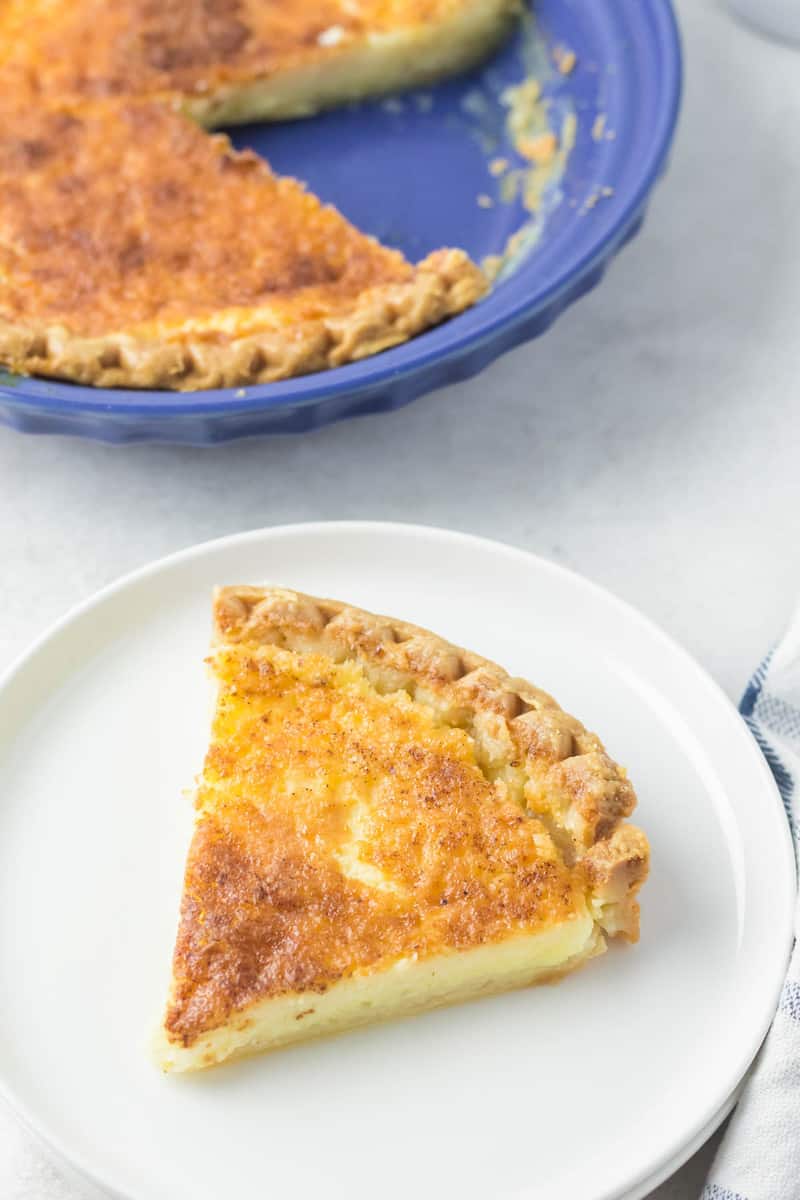 This post contains affiliate links. As an Amazon Associate, I earn from qualifying purchases.
What Is Buttermilk Pie?
Buttermilk pie is a simple, down-home Southern dish with roots that stretch back to early American cuisine. It became especially popular during the Great Depression (along with other "desperation pies" like chess pie) as family cooks looked to make the most of the basic ingredients they could afford or make themselves.
Buttermilk, a common byproduct of homemade butter, is combined with affordable everyday staples and flavorings to create a custard filling baked inside a flaky pie crust.
What Makes Buttermilk Pie So Good?
Desserts don't need to be fancy or high-class to be mouthwateringly delicious. Buttermilk pie's filling offers a satisfying sweetness tempered with the buttermilk tang.
The only way to improve it is to pair it with a flaky, buttery crust. Meanwhile, it offers a smooth creaminess that some prefer to the similar but grainier chess pie.
Why This is the Best Recipe for Buttermilk Pie
As delectable as buttermilk pie may be, you won't often find it in restaurants, bakeries, or grocery stores. That means you'll likely have to make it yourself, and it hardly gets easier than this recipe.
If you can measure and stir, you can make this amazing southern dessert. Plus, almost every ingredient for this easy pie recipe is already likely waiting in your fridge or pantry.
Ingredients
To make the best buttermilk pie recipe, you'll need:
Prepared pastry pie shell
All-purpose flour
Buttermilk
Salted or unsalted butter
Large eggs
Sugar
Salt
Vanilla Extract
Nutmeg
Ingredient Notes and Substitutions
Traditionally, buttermilk pies are made with a flaky pie crust that's been blind-baked first. However, you can use other types of pie dough too, including pâte sucrée or even a pâte sablée.
Give the pie a homestyle feel with your favorite homemade pie crust recipe, or use a store-bought pie crust mix (including vegan and gluten-free options.) You can even shake things up with a crushed Graham cracker crust!
While this recipe calls for cultured buttermilk, you can use real buttermilk for a more authentic old-time flavor. If you don't have buttermilk, you can make a buttermilk substitute by pouring 1 tablespoon of vinegar or lemon juice into a 1-cup measure and filling it with milk.
You can add a teaspoon of lemon zest to the filling to give it a lemony accent.
How To Make Buttermilk Pie
These simple steps for making a buttermilk pie are straightforward enough for even the least experienced bakers to handle:
Preheat the oven to 350 degrees Fahrenheit.
In a large bowl, whisk the eggs until they become foamy and lighten in color slightly.
Add in the sugar and whisk to combine.
In a separate bowl, combine the melted butter, salt, buttermilk, and vanilla extract.
Pour the butter and buttermilk mixture into the eggs and sugar bowl.
Whisk in the flour until smooth.
Pour the filling into the pie crust and sprinkle the top with nutmeg.
Bake for 50 minutes, then reduce the heat to 325 degrees F.
Continue baking until the filling is set and the top has browned, about another 10 minutes.
Recipe Tips
Before starting this recipe, remove all the ingredients from the fridge. Allowing them to come to room temperature will produce a better final product.
Easy Troubleshooting for Buttermilk Pie
This heavenly dish can face a few different issues. Here are some common ones:
How Do You Keep a Buttermilk Pie From Being Runny?
Weeping is a common problem when making any type of custard pie. This is typically caused by cooking the pie for too long or at too high a temperature. Use a dedicated oven thermometer to double-check temperatures, as built-in ones aren't always accurate. Another good trick is warming your crust in the oven for a few minutes before pouring in the filling.
Why Did My Buttermilk Pie Not Set?
Another problem finds others wondering why their buttermilk pie didn't set. The culprit is usually taking the pie out of the oven too soon. It's a skill that comes only with practice.
Many factors like the size of the eggs you use or even the weather can significantly affect when the custard sets.
How to Know When Buttermilk Pie is Done
There are some reliable ways to know when your buttermilk pie is done. The filling should be firm near the crust and only have a slight jiggle close to the center. Remember, the pie will continue to set as it cools outside the oven.
It is also important to remember that the custard will continue to cook when you take it out of the oven and will thicken as it cools, so you don't want to keep the pie in the oven too long.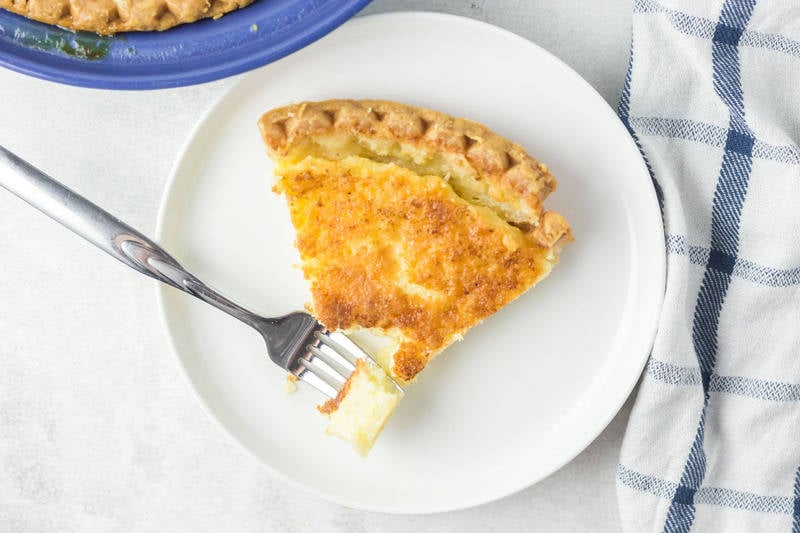 What Goes Well with Buttermilk Pie
While traditional buttermilk pie may have been served on its own out of necessity, you can dress yours up to create an even more desirable dessert. Top or pair the pies with fresh berries (blueberries, strawberries, or raspberries) or berry compote, drizzle it with caramel or chocolate sauce, or add a dollop of whipped cream.
Pie often goes well with ice cream, and this one is certainly no exception. Finally, there's no better way to wash it all down than with a hot cup of coffee or tea.
How to Store
If you've got leftovers, storing your buttermilk pie is simple. Once it's fully cooled to room temperature, cover it loosely in plastic wrap or aluminum foil or place it in a pie keeper. Store it in the refrigerator, where it should be good for up to five days.
Can you freeze the pie? Freezing isn't typically recommended, as the process can degrade the quality of the custard filling.
How to Reheat
Reheating buttermilk pie is as easy as storing it. For best results, heat an oven or toaster oven to 300-325 degrees F and place a slice inside for 5-10 minutes. Microwaves can also work, used in short bursts of 15-30 seconds.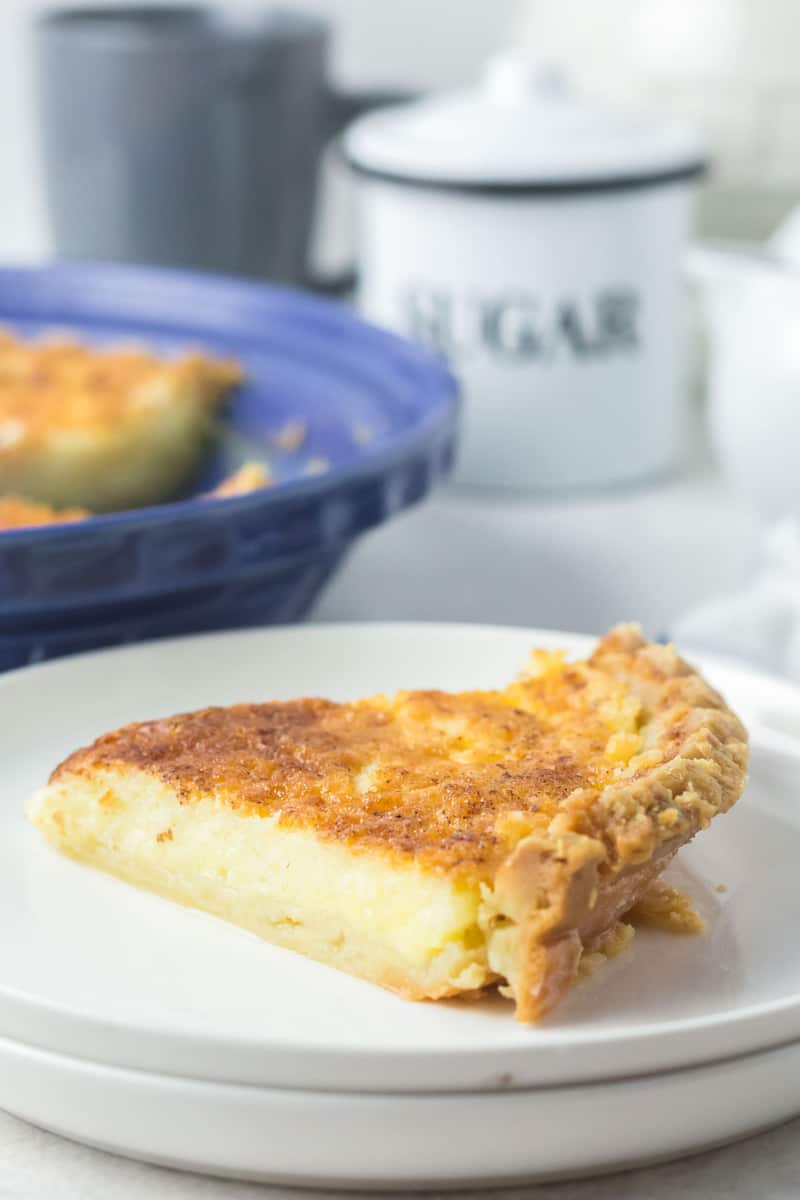 Frequently Asked Questions
What is the difference between chess pie and buttermilk pie?
These two old-school staples may be similar (and delicious), but some important things set buttermilk pie apart from chess pie.
The most significant difference comes down to a single word: cornmeal. It's nearly always used as the primary thickener for chess pie, creating its distinctive texture. You won't find it in buttermilk pie, however. This recipe uses flour to stabilize the filling instead.
Another obvious difference is that buttermilk pie contains buttermilk, which isn't usually included in chess pie recipes. This produces a creamier and tangier flavor.
Finally, buttermilk pies are usually prepared simply, without any additional flavors. That's not always the case with chess pies, which can be made in chocolate, lemon, caramel, or other varieties.
What does buttermilk pie taste like?
Don't worry if you're not the biggest fan of buttermilk on its own. The tangy flavor isn't overwhelming and helps keep the filling from becoming too cloying, too. This rich, creamy, subtly acidic filling is like a less-sweet cousin to the chess pie and a perfect alternative.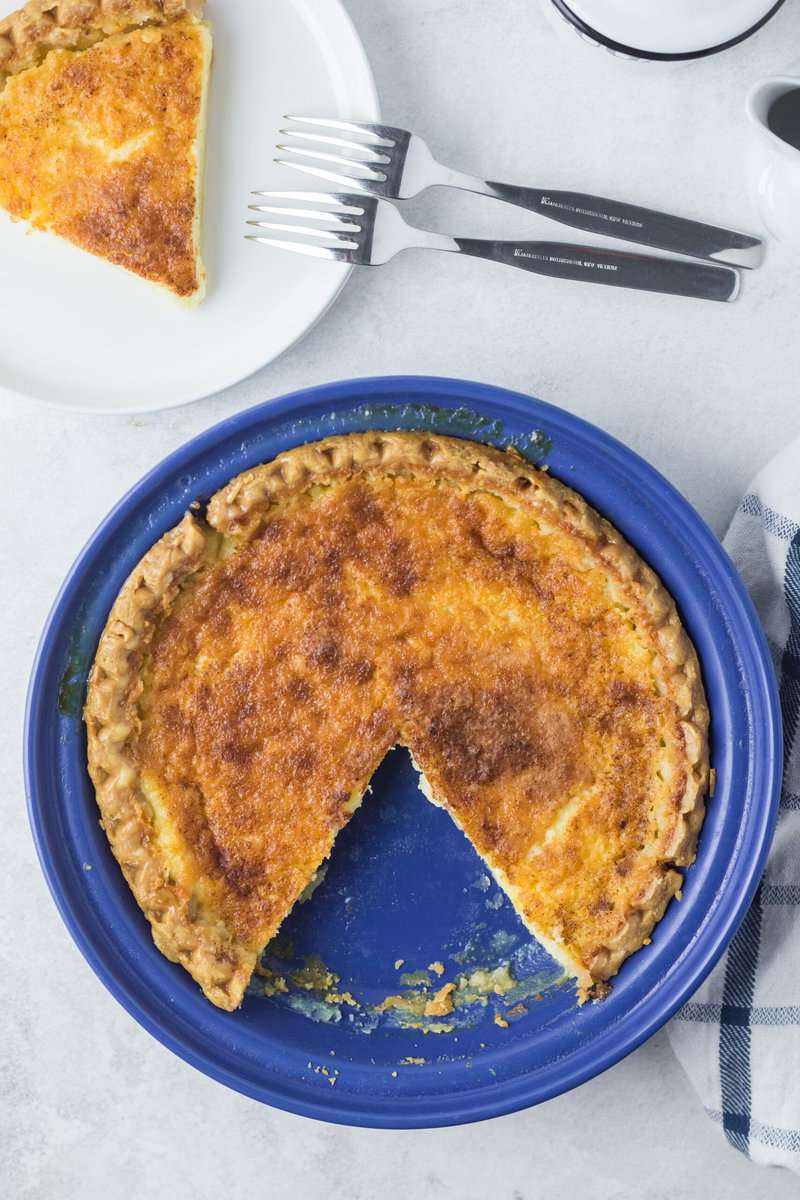 Love Creamy Homemade Pies? Try These Recipes
Popular Recipes with Buttermilk
In case you want ideas for using any leftover buttermilk after making this pie:
Check out more of my easy pie recipes and the best holiday dessert recipes here on CopyKat!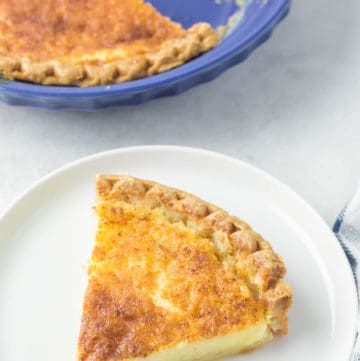 Ingredients
2

eggs

1

cup

sugar

3/4

cup

butter

melted

1/4

teaspoon

salt

1

tablespoon

all-purpose flour

1

cup

buttermilk

2

teaspoons

vanilla extract

1

9-inch

pastry pie shell

1/4

teaspoon

ground nutmeg
Instructions
Preheat the oven to 350°F.

Crack the eggs into a medium bowl and beat well using a whisk or

mixer

.

Gradually add the sugar while continuing to beat.

Add the melted butter, salt, flour, buttermilk, and vanilla extract. Beat until smooth.

Pour the filling into the pie shell, sprinkle with nutmeg.

Bake for 50 minutes.

Reduce the oven temperature to 325°F and bake for an additional 10 minutes. The pie is done when a toothpick inserted in center comes out clean.
Notes
Tips for Making Buttermilk Pie
Have all ingredients at room temperature. So that means to take eggs out about 30 minutes before I need to use them. Baking is better when the temperatures of the ingredients are as close as possible.
I recommend purchasing commercial buttermilk for this recipe. Your results will be more consistent than making homemade buttermilk.
You should store this pie in the refrigerator. Custard pies should always be stored in the refrigerator.
Warm this pie before serving. This pie is best eaten while still warm. 
Nutrition
Calories:
387
kcal
|
Carbohydrates:
37
g
|
Protein:
3
g
|
Fat:
24
g
|
Saturated Fat:
13
g
|
Cholesterol:
89
mg
|
Sodium:
359
mg
|
Potassium:
81
mg
|
Fiber:
0
g
|
Sugar:
26
g
|
Vitamin A:
640
IU
|
Calcium:
50
mg
|
Iron:
0.8
mg