Pecan pie is one of my favorite pies my grandmother used to make. This is her recipe for the best classic Karo syrup pecan pie.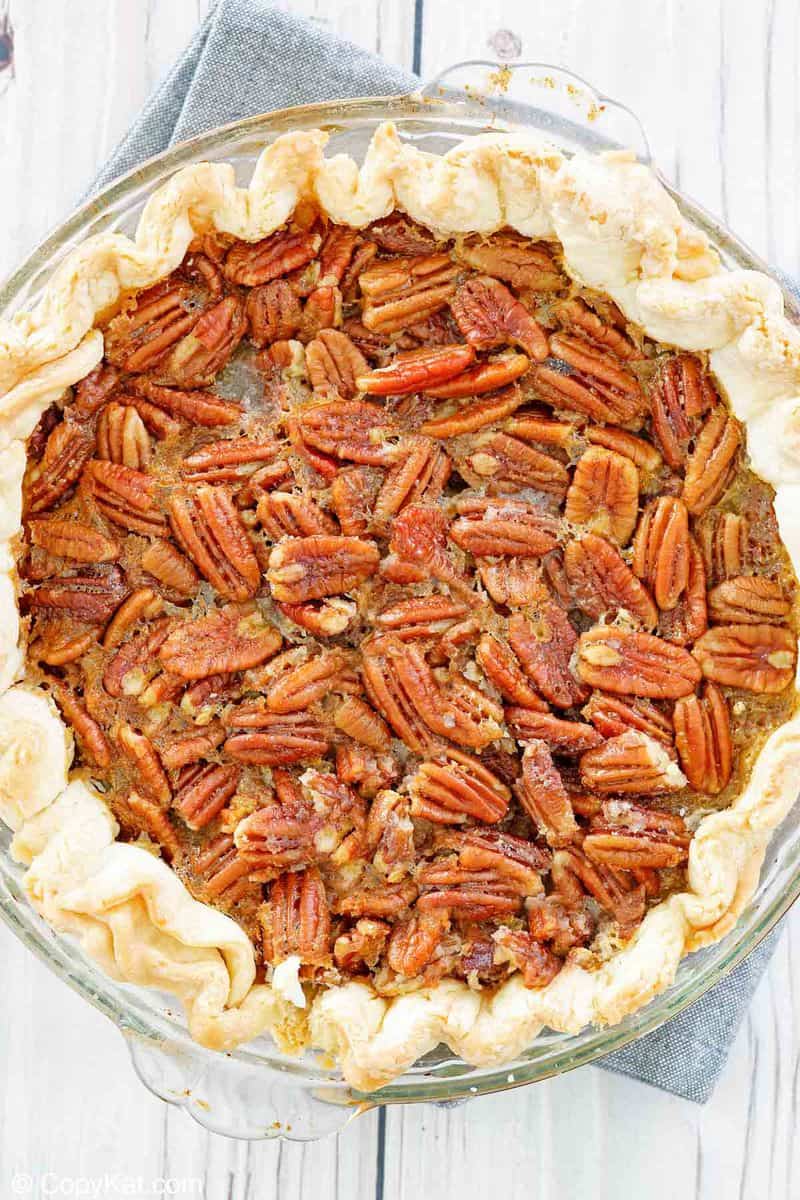 Why is This Karo Syrup Pecan Pie the Best?
The Karo syrup classic pecan pie recipe has always been a favorite of mine. It has the perfect amount of butter to sugar ratio, which allows the pie to set perfectly and has a rich, delicious, nutty, sweet flavor.
It is hard to describe why this is my favorite pie, besides the fact that it is truly the perfect old fashioned pecan pie recipe. You cannot find a better one. So make sure you save this recipe to make for your family and friends.
Karo Pecan Pie Ingredients
This is quite a simple recipe that produces an extraordinary pecan pie. As such, you will most likely have all of the ingredients at home if you are an avid baker. But just in case, here's a list of what you need:
Large eggs
Sugar
Karo corn syrup
Salt
Vanilla extract
Butter
Pecans
Unbaked pie crust (pastry shell)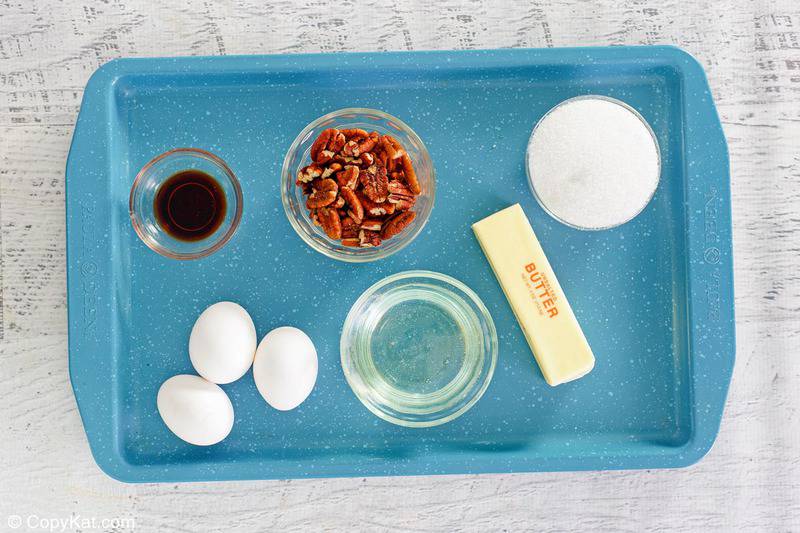 Store Bought Pie Crust or Homemade?
I think you know the answer to this one, but either will do! But, of course, using a homemade pie shell will add an extra flair to the already amazing pie recipe. If you want to try making your own pie crust, try this homemade pie crust recipe.
However, if you aren't up for making your own crust, don't worry. Using a store-bought shell will still make an outstanding pecan pie. Use refrigerated pie crust if you want to shape the edges.
Is Light or Dark Karo Syrup Better For Pecan Pie?
There really is no right or wrong answer to this. It comes down to what you want your pie to taste like or even what you might already have in your pantry.
Light Karo Syrup will give the pecan pie more of a vanilla flavor, which is of course scrumptious, so you cannot go wrong there.
If you choose to use dark Karo Syrup, then the pie will have a slightly toasted flavor along with a little bit more robust amber color.
How to Make Karo Pecan Pie
Beat the eggs in a medium bowl.
Add sugar, corn syrup, salt, vanilla, and melted butter. Whisk to combine.
Place the pecans in the pie shell. Pour in the filling mixture.
Bake in a 350°F oven for 50 to 60 minutes. The nuts will rise to top and form a crusted layer.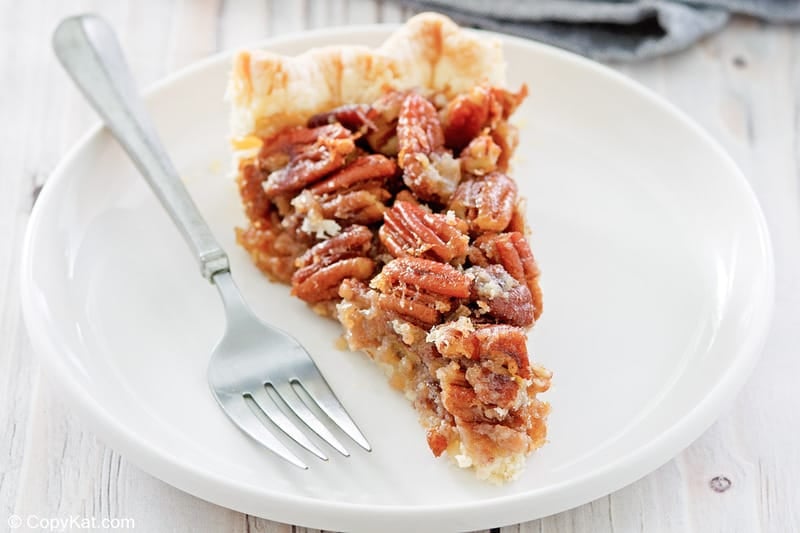 Can I Use Pancake Syrup Instead of Karo Syrup?
When it comes to finding a substitute for Karo syrup, pancake syrup will not cut it. It is too thin so it will not have the same effect.
Good things to substitute Karo syrup with would be either honey, golden syrup, or a sugar-water mixture.
To make the sugar-water mixture, combine 1 cup of sugar and ¼ cup of water. Just be sure to thoroughly stir the sugar into the water to create a sugary paste.
How to Store Karo Pecan Pie
This pie must be stored in the refrigerator since it has an egg base.
First, allow the pie to cool completely, which will prevent it from cracking from the cold. Then, cover the pie with Press'n Seal, Saran Wrap, or the lid to your pie pan, and place it in the refrigerator.
How Long Will Karo Syrup Pecan Pie Last?
Assuming you have not eaten the whole pie already, the pie can last for 4 to 5 days if stored properly in the fridge.
What to Serve with Pecan Pie
You can serve this pie with a lot of whipped cream or a dollop of vanilla ice cream.
I love to serve this homemade pecan pie with my creamy homemade vanilla ice cream. I always heat the pie up a little first to make sure it's nice and warm to melt the ice cream just slightly.
Love homemade pies? Try these recipes!
Favorite Thanksgiving Dessert Recipes
Check out more of my easy pie recipes and the best Thanksgiving dessert recipes here on CopyKat!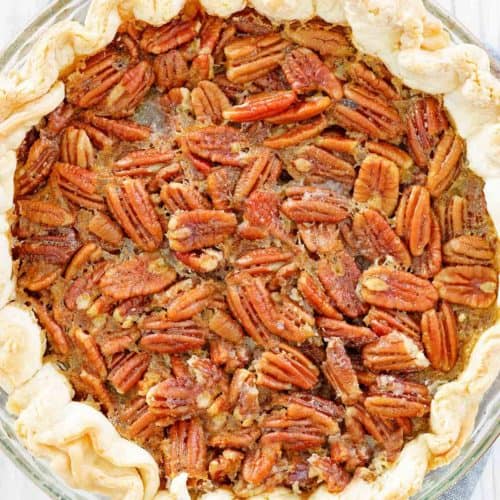 Ingredients
3

eggs

1/2

cup

sugar

1

cup

Karo corn syrup

1/2

teaspoon

salt

1

teaspoon

vanilla extract

1/4

cup

melted butter

1

cup

pecans

1

unbaked pie crust (pastry shell)
Instructions
Preheat the oven to 350°F.

In a medium bowl, beat the eggs.

Add the sugar, corn syrup, salt, vanilla, and butter. Mix in the corn syrup mixture with an electric mixer or whisk the batter. 

Place the pecans in the pie shell, add the egg mixture, and bake for 50 to 60 minutes. The nuts will rise to top and form a crusted layer.
Nutrition
Calories:
427
kcal
|
Carbohydrates:
57
g
|
Protein:
4
g
|
Fat:
21
g
|
Saturated Fat:
6
g
|
Cholesterol:
76
mg
|
Sodium:
332
mg
|
Potassium:
94
mg
|
Fiber:
1
g
|
Sugar:
45
g
|
Vitamin A:
275
IU
|
Vitamin C:
0.2
mg
|
Calcium:
29
mg
|
Iron:
1.2
mg