Lemon Meringue Pie is a light and refreshing pie. A creamy lemon filling is topped with a light and airy meringue. Classic lemon meringue pie is perfect for when you want a tart and sweet dessert. This recipe is easy enough for the first-time pie baker.
Homemade Lemon Meringue Pie
If you aren't an expert pie maker, this style of custard pie is the perfect way to begin, and who doesn't need a slice of delicious pie? So, try your hand at this recipe for lemon meringue pie.
This lemon meringue pie recipe is so good because the filling is homemade and much better than instant pudding. It's a lemon pie filling packed full of flavor that isn't too sweet or too tart. As well as the lemon pie filling, you also get an airy meringue topping.
What's in lemon meringue pie?
I love this recipe for the best lemon meringue pie because you can make it with ingredients you probably have on hand. You don't need anything exotic, but you do need some fresh lemons. Fresh lemons taste better than bottled lemon juice, but in a pinch, that will work too. Soon you will be preparing the perfect lemon meringue pie.
You will need a baked pie shell and for the filling egg yolks, sugar, cornstarch, butter, lemon juice, and lemon zest. The meringue recipe for pie calls for egg whites, sugar, and cream of tartar.
Here's a list of what you will need:
Pie crust – you only need a single shell pie crust
Eggs – I use large sized eggs
Salt – table salt or kosher salt will work
Cornstarch
Fresh lemons – the fresher the better! Fresh lemon juice really makes a difference. You can make this with Meyer lemons if you desire.
Butter – I have used both salt and unsalted butter with good results.
Sugar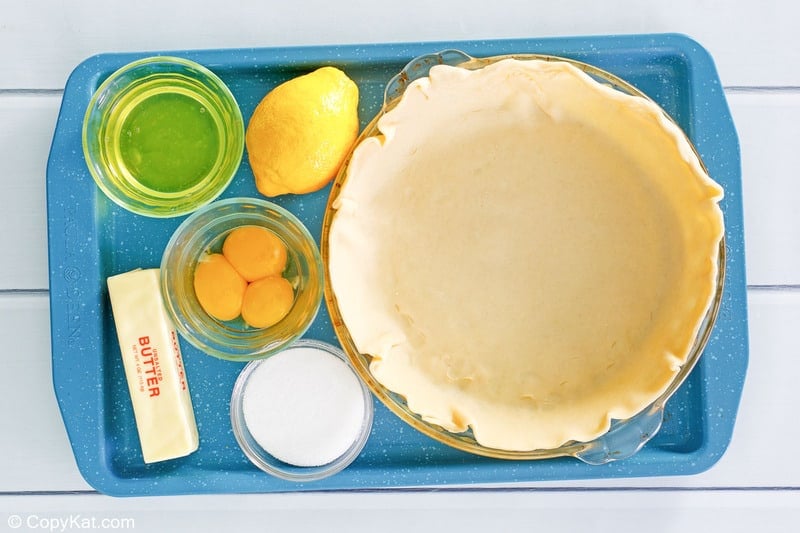 How to Make Lemon Meringue Pie
If you are looking for an easy-to-prepare pie, this pie is for you! Not into rolling out a homemade pie crust? That's ok, just grab one of those refrigerated pie shells and put it into your own pie pan – no one will be the wiser.
A lemon meringue pie is made on the stovetop to start and then placed in the oven. Lemon meringue pie filling is made on the stovetop. The tart lemon filling is poured into a pie shell, covered with meringue, and briefly baked in the oven until lightly browned. Here are the recipe steps:
Blind bake the pie shell because it needs to be cooked before you add the filling.
Make a creamy lemon filling.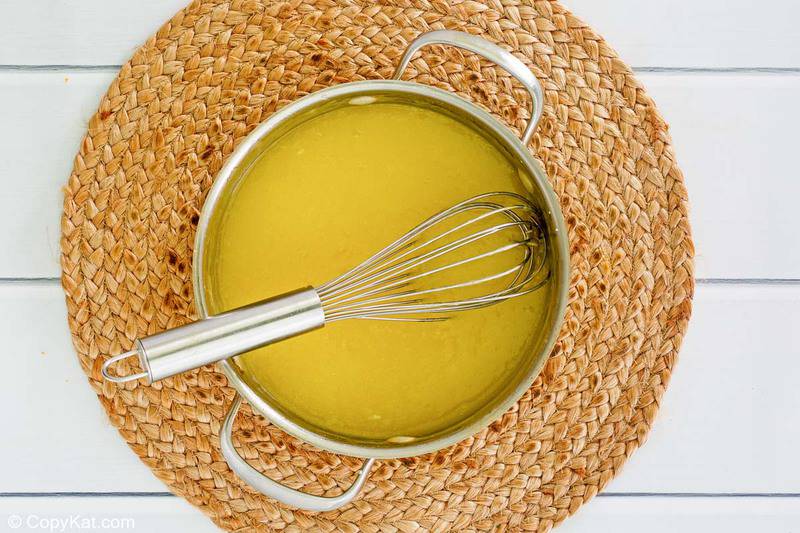 Pour the filling into the baked pie crust.
Make a light and airy meringue.
Spread the meringue over the lemon filling.
Bake the pie until the meringue begins to turn golden brown.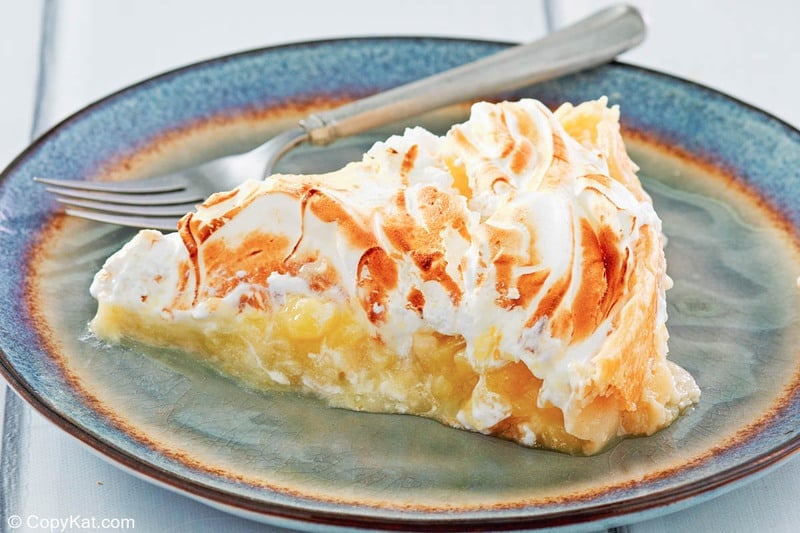 How to Make the Perfect Meringue
Let's face it, meringues can look intimidating. You may have heard that they are difficult to make, and you have to wait until there is low humidity. You can prepare this on a humid day, but the results maybe a little less optimal. Just follow these simple guidelines and you can make light and hairy meringue.
Start with room temperature eggs – a golden rule in baking is to start with ingredients that are at room temperature. You must have eggs at room temperature when you separate them; yolks for the filling and whites for the meringue.
Start with super clean bakeware – make sure your bowl and the beaters are very clean. Any residue oil can give you inferior results.
Tip: Use an egg seperator to seperate the eggs straight from the fridge.
No egg yolks allowed! – even a tiny smidgeon of egg yolk can keep your egg whites from whipping up to perfection. Therefore, each time you separate an egg, let the white drain into a small bowl. Then (if it is yolk-free) transfer it to the mixing bowl you'll use to beat the whites. This procedure keeps the whites in the mixing bowl from getting contaminated if a yolk breaks.
How to Beat Egg Whites to Stiff Peaks
Use an electric mixer to beat the egg whites. On medium speed, beat until soft peaks form, then change to high until you get stiff, glossy peaks standing straight up. Here are some tips for creating stiff egg whites.
Recipes often involve adding cream of tartar to the egg whites to stabilize them. Use as directed.
When making a meringue that calls for adding sugar to the egg whites, beat the whites with an electric mixer on medium speed for about 1 minute or until soft, curling peaks form. Then begin adding the sugar as directed (usually a tablespoon at a time) and continue beating on high speed until you get stiff peaks. (Once you start adding the sugar, it will take about 4 minutes on high speed.)
How to Prevent Your Egg Whites From Weeping
"Weeping" refers to the layer of moisture that forms between the meringue and the filling after chilling, and no one wants a slice of sad, watery pie! Here's how to keep your meringue from weeping.
Don't overbake the meringue! Overbaking makes the egg whites shrink and squeeze out droplets of moisture.
Undissolved sugar in the egg whites may also lead to weeping. Mix the egg whites and sugar at a low speed until the mixture feels perfectly smooth (check for graininess by rubbing a little between your thumb and fingers).
Tip: Use superfine caster sugar – it dissolves more quickly than regular sugar.
Prepare the meringue before the pie filling, so it's ready to spread while the filling is still hot. Heat from the filling will "cook" the meringue onto the filling, making it less likely to shrink or leak.
Make sure the meringue is completely sealed to the edge of the pie (it should touch the crust).
How to Blind Bake a Pie Crust
Blind baking a pie crust simply means pre-baking a crust then adding the filling once the crust is baked.
Why is it necessary to pre-bake a pie crust? Can't you just pour whatever filling you're using into the crust and bake everything all at once? No, not always. Some pies have delicate fillings and baking this type of pie for the time required to fully bake the crust would overcook the filling.
However, blind baking a crust isn't quite as simple as it sounds. You don't just make the crust, pat it into the pie pan, and stick it in the oven. Because? You will get a slumped mess!
There are two simple ways to successfully blind bake a pie crust.
Method 1: Bake With Pie Weights
This choice is perfect when you want a tall crust and/or a fancy crimped edge. Here's what to do:
Place your crust in the pan, and crimp the edge. Line the crust with a parchment round (9″, for a 9″ pie).
Add weights sufficient to fill the pan 2/3 full. These can be dry rice, dried beans, or dry wheat berries.
Chill the crust for 30 minutes. This will solidify the fat, which helps prevent shrinkage.
Bake in a preheated 375°F oven for 20 minutes.
Remove the crust from the oven, and lift out the paper and weights. Prick the bottom of the crust all over with a fork to prevent bubbles. Return the crust to the oven and bake for an additional 15 to 20 minutes, until the crust is golden all over.
Note: If you make your crust with half or more butter, the crimp won't hold up as well as one on an all-shortening crust.
Method 2: Sandwich Between Two Pans and Bake Upside Down
This approach is ideal for pies where the edge of the pie takes a back seat to the top – greetings, lemon meringue! It's also an eye-opening strategy if you've struggled with crusts that slump – particularly all-butter crusts. Here are the steps:
Place your crust in one pan and flatten the edge. Spray the outside of the second pan with non-stick spray, and nestle it into the crust. If you're concerned that the crust might stick to the second pan, line it with a parchment round first.
Chill your crust for 30 minutes. This will solidify fats and prevent shrinking.
Place on a baking sheet so that the empty pan is on the bottom. Bake for 20 minutes in a preheated 375°F oven.
Remove the crust from the oven and remove the second pan and any parchment. Prick the bottom of the crust all over with a fork.
Return the crust to the oven, and bake for an additional 15 to 20 minutes until it's golden brown all over.
You will only need one pie shell for this lemon meringue pie recipe. If you want to make a homemade pie shell, most recipes make two shells, so just halve the ingredients.
You may want to blind bake your pie shell before you start the lemon filling. Tempering eggs takes a bit of time, and you will want to give that portion of the preparation your undivided attention.
How to Serve a Lemon Meringue Pie
The lemon pie filling may stay slightly runny for some time after baking. Therefore, allow the pie to cool on a cake rack for about two hours before slicing. If you prefer to serve your lemon curd pie chilled, allow it to cool to room temperature, then refrigerate for one hour.
Use a sharp, thin-bladed knife to slice your pie into six or eight pieces, cutting all the way through the crust. If your filling isn't slicing cleanly, your pie may need to be cooled longer.
Tip: For a clean cut, dip your knife into a glass of warm water and wipe it with a clean cloth before each slice. This wll help the knife slide through the meringue more easiy and neatly.
Slide a wedge-shaped pie server under the crust of a cut piece and transfer it to a plate.
How to Store Lemon Meringue Pie
There is always a debate going on about how to store pies. A good rule of thumb is that if a pie contains eggs, you must store it in the refrigerator. Coconut cream pies, chocolate pies, cheesecake, and lemon meringue pies that contain eggs must all be stored in the fridge. Fruit pies made without eggs, like apple, cherry, and blueberry, can be safely stored at room temperature.
A delicate meringue easily absorbs the flavors and odors of more pungent foods. Therefore, refrigerate your pie in a covered pie dish to maintain maximum freshness and flavor. Freshly baked lemon meringue pie will keep for up to 3 days in the fridge. Lemon meringue is a type of pie that does not freeze well. Therefore, freezing is not recommended because of quality issues.
Love lemon desserts? Try these recipes!
More Tasty Pie Recipes
Be sure to check out more of my easy pie recipes and family favorites.
Ingredients
1 1/2

cups

sugar

1/3

cup

cornstarch

1 1/2

cups

water

3

egg yolks, beaten

3

tablespoons

butter

1/4

cup

lemon juice

1 1/3

tablespoons

grated lemon zest

1

9-inch pie shell, baked and cooled
Meringue
3

egg whites

1/4

teaspoon

cream of tartar

6

tablespoons

sugar
Instructions
Preheat the oven to 400°F.

Mix the sugar and cornstarch in a medium saucepan. Slowly stir in the water and cook the mixture over moderate heat, stirring constantly until it thickens and boils for 1 minute. Remove the saucepan from the heat.

To temper the eggs, slowly add half of the hot mixture to the egg yolks in a mixing bowl, whisking constantly until incorporated. Then return the egg mixture to the saucepan and whisk again to incorporate.

Place the saucepan back on the heat and cook until the mixture thickens about 1 minute. Remove the saucepan from the heat.

Add the butter, lemon juice, and lemon zest, stir until incorporated, and pour the hot filling into the baked pie shell.

To make the meringue: In a large bowl, beat the egg whites with an electric mixer using the whisk attachment until stiff peaks form. Add the cream of tartar and sugar to the meringue mixture.

Spread the meringue over the lemon filling, sealing to the edge, and bake for 8 to 10 minutes, until delicately browned. Let cool at room temperature away from drafts.
Notes
You will need just one pie shell for this recipe if you want to make a homemade pie shell, most recipes make two shells. So you can half the recipe if desired. 
You may want to blind bake your pie shell before you start the lemon filling. Tempering eggs takes a bit of time and you will want to give that portion of the cooking your undivided attention. 
This is my Grandmother's recipe. She was known for being a wonderful pie maker.  I dearly miss her pies. This recipe is by Ethel Eynard. Jefferson City, MO. 1998.
Nutrition
Calories:
365
kcal
|
Carbohydrates:
62
g
|
Protein:
3
g
|
Fat:
11
g
|
Saturated Fat:
5
g
|
Cholesterol:
84
mg
|
Sodium:
149
mg
|
Potassium:
69
mg
|
Fiber:
0
g
|
Sugar:
46
g
|
Vitamin A:
230
IU
|
Vitamin C:
4.2
mg
|
Calcium:
17
mg
|
Iron:
0.8
mg