Coconut Custard Pie is an old-fashioned dessert enjoyed for generations. It is also called Impossible Coconut Custard Pie with a magic crust that forms as it bakes. Yes, the pie makes its own crust!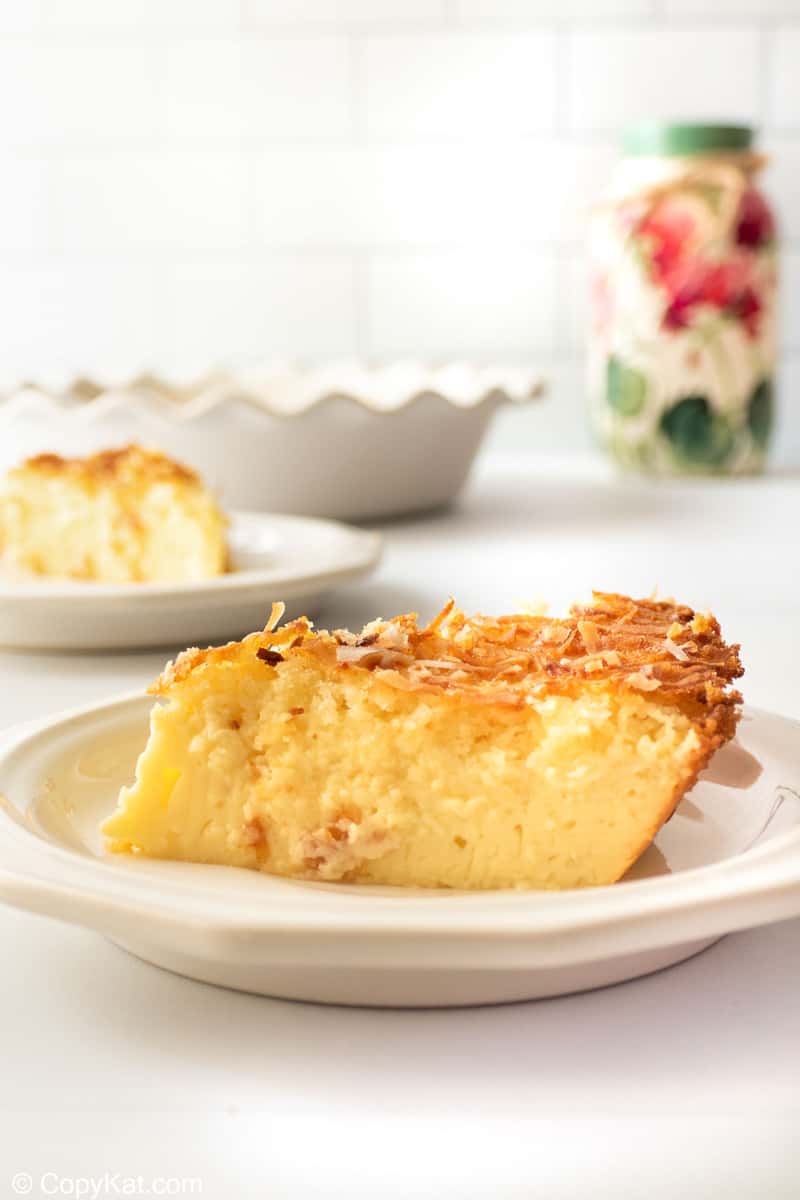 Easy Coconut Custard Pie
This coconut custard pie recipe is out of this world. It has a delicious custard texture with the refreshing coconut flavor that everyone loves. It is the perfect spring dessert!
Are Coconut Custard Pie and Coconut Cream Pie the Same Thing?
While both coconut cream and coconut custard pie have a wonderful coconut flavor, they are not the same thing.
The biggest difference between the two is how the filling is prepared. The custard pie uses an egg and milk or cream base that is baked in the oven until it has thickened in the oven to form the custard.
As for the cream pie recipe, the filling is cooked on the stovetop and then put in the fridge to chill and let the filling set up.
Nonetheless, both are delicious! So make sure to try a coconut cream pie after this coconut custard pie!
Ingredients
Here's a list of what you need:
Whole milk
Butter
Eggs
Vanilla extract
Bisquick
Sugar
Flaked unsweetened coconut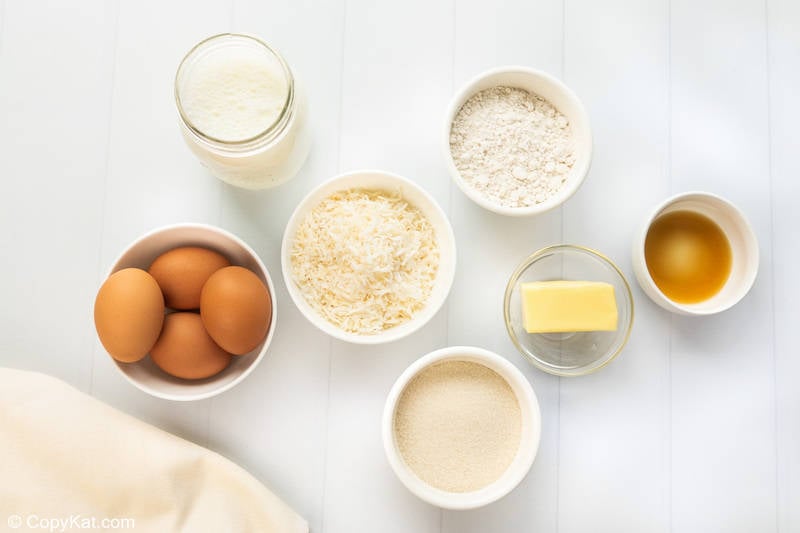 How to Make Coconut Custard Pie
Place the milk, butter, eggs, and vanilla in a blender.
Add Bisquick, sugar, and coconut to the blender.
Blend on low speed for 3 minutes.
Pour the mixture into a lightly greased pie plate.
Let stand for 5 minutes then sprinkle coconut flakes on top.
Bake at 350 degrees for 40 minutes.
Allow the pie to cool to room temperature before slicing and serving.
Key Things to Know About When Making Coconut Custard Pie
To get the perfect coconut pie you will want to follow the instructions perfectly. But here are a few things you will want to know in addition:
You will know the custard pie is done when you gently shake the pie and the middle jiggles slightly.
Toasted coconut tastes best! Don't just add the flakes straight out of the package.
Make Sure to Toast the Coconut Flakes
You will need to toast the coconut flakes. Toasting the coconut flakes adds an even deeper flavor profile, and it's super simple. If you want to know how to toast coconut flakes, here are 3 ways:
Skillet Instructions
All you have to do is put the coconut in the skillet, turn on the heat to medium-low heat, and constantly stir the coconut until it has reached the desired golden brown color. Sweetened coconut tends to brown faster so make sure to keep an eye on it.
Microwave Instructions
Place the coconut in a microwave-safe bowl and heat it for 30 seconds. After it is done, stir it and return it to the microwave for another 30 seconds. Continue doing this until the coconut flakes have reached your desired toastiness.
Then, once they are done, set them aside for them to cool until you are ready to use them.
Oven Instructions
Spread out the flakes on a baking sheet. Bake at 325°F for about 5 minutes. Stir the coconut flakes after a few minutes to ensure even color.
Best Ways to Serve Coconut Pie
Since this is an easy coconut custard pie recipe, you can always use the extra time to whip up some tasty toppings to push this recipe over the edge!
You can thinly chop up some fresh strawberries and decorate the top of the egg custard pie. The strawberries will add a great refreshing crisp flavor.
Or, if you are looking for a little bit easier and lighter addition you can just put some whipped cream or ice cream on top! Both taste amazing with the coconut cream pie!
You could even combine the two and serve it with strawberry ice cream.
Drizzle some chocolate syrup or sauce over a slice for the delightful chocolate coconut flavor combo.
Honestly, it would all be good, just have some fun with it.
How to Store Coconut Custard Pie
This coconut custard pie recipe does need to be refrigerated. You will want to cover the pie and keep it in the refrigerator when you are not serving it.
This coconut custard pie tastes better at room temperature so just set it out on the counter for about an hour prior to serving.
Eat this pie quick as it will only last for about 2 to 3 days in the fridge before it starts to go bad.
Love Coconut? Try these recipes!
Favorite Homemade Pie Recipes
Check out more of my easy pie recipes and the best Easter recipes and Thanksgiving dessert recipes here on CopyKat!
Ingredients
2

cups

whole milk

¼

cup

butter

softened

4

eggs

2

teaspoons

vanilla extract

½

cup

Bisquick

⅔

cup

granulated sugar

1⅓

cups

unsweetened coconut flakes

divided use
Instructions
Preheat oven to 350 degrees F.

Place milk, butter, eggs, and vanilla in a blender.

Add Bisquick, sugar, and 1 cup coconut flakes.

Blend on low speed for 3 minutes.

Pour the filling mixture into a lightly greased pie plate.

Let the filling stand for 5 minutes.

Sprinkle remaining ⅓ cup coconut flakes on top of the filling.

Bake at 350 degrees for 40 minutes.
Nutrition
Calories:
313
kcal
|
Carbohydrates:
28
g
|
Protein:
6
g
|
Fat:
20
g
|
Saturated Fat:
14
g
|
Trans Fat:
1
g
|
Cholesterol:
103
mg
|
Sodium:
209
mg
|
Potassium:
204
mg
|
Fiber:
2
g
|
Sugar:
22
g
|
Vitamin A:
395
IU
|
Vitamin C:
1
mg
|
Calcium:
100
mg
|
Iron:
1
mg