Have you ever taken a bite of homemade chocolate cream pie? Rich chocolate flavor, a creamy light pie can be so fulfilling, and now you can make one at home.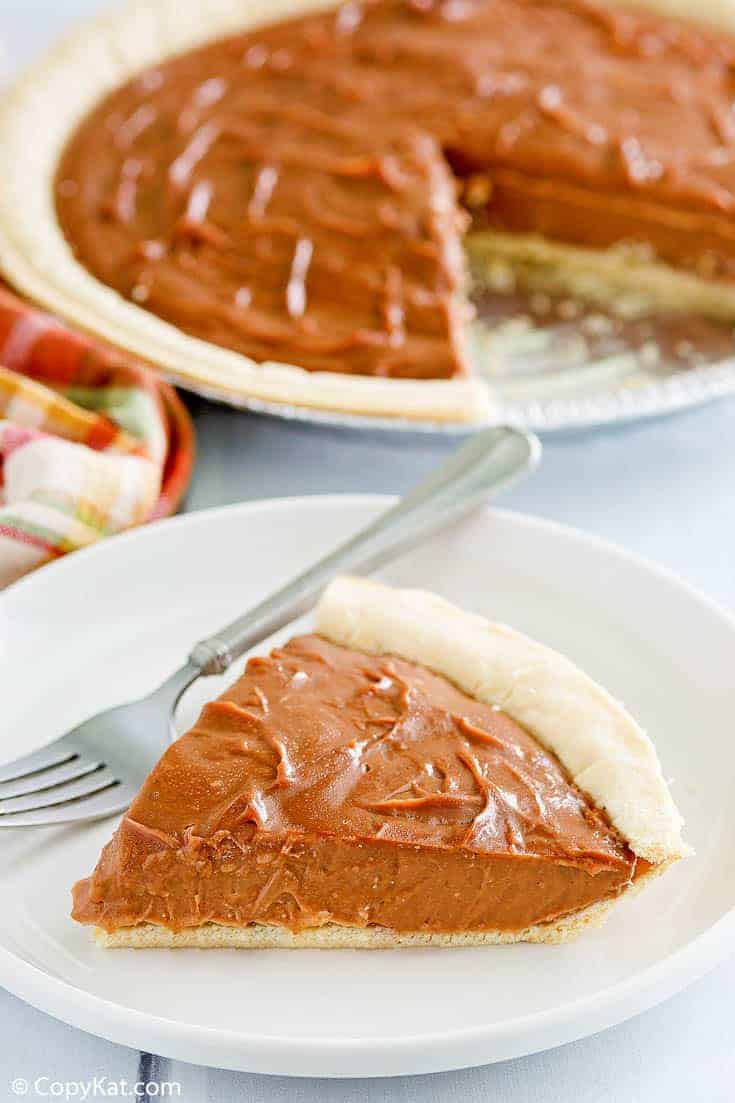 More about the pie.
My mother is known for her chocolate cream pie, and here is her secret recipe. This is probably the reason why this is the best chocolate cream pie ever! This easy chocolate cream pie is a homemade chocolate pudding inside a pie crust. This no-bake chocolate cream pie is what every chocolate lover dreams about!
I love homemade pies! Making a pie from scratch means that you know exactly what is going into it. You don't have to scratch your head over anything chemical-sounding in the ingredients list of store-bought frozen pies. In fact, you won't need to buy Edwards or Marie Callender's pies anymore.
This no-bake chocolate cream pie is smooth and creamy because the ingredient list includes milk, egg yolks, butter, and cream cheese. Add the most over-the-top rich chocolate flavor, and you've got a real winner. To make this easy chocolate cream pie even more special, you can top it with whipped cream and chocolate curls.
How to Make Chocolate Curls
Chocolate curls take a simple dessert from ordinary to extraordinary. You can use them to garnish cupcakes, cakes, or whipped cream on a fancy drink! What's more, they're fun to make. Here's what you do:
Melt 1 cup of good quality chocolate. I suggest Ghirardelli premium baking chips or a bar of Baker's premium chocolate, chopped. If you don't have a double boiler to melt the chocolate, it's very easy to make one. Alternatively, click here to see how to melt chocolate in the microwave.
Pour the melted chocolate onto the back of a cold baking sheet and smooth it into a thin layer with an offset spatula. Then use a metal scraper to scrape the chocolate into curls. Click here for a helpful video.
Homemade chocolate cream pie ingredients
Here is what you need to make the pie:
Sugar
Flour
Salt
Milk
Unsweetened chocolate squares
Egg yolks
Butter
Vanilla
Cream cheese
Baked pie crust – try my copycat Martha Stewarts Pie Crust recipe.
How to Make a Chocolate Cream Pie
Place sugar, flour, and salt into a saucepan.
Over medium heat, gradually stir in milk and chocolate.
Cook until bubbly then for two minutes.
Remove from heat.
Stir a small amount of the mixture into the egg yolks. Add yolk mixture into the filling.
Stir constantly while cooking the mixture for 2 minutes.
Stir in butter and vanilla.
Add cream cheese and mix well.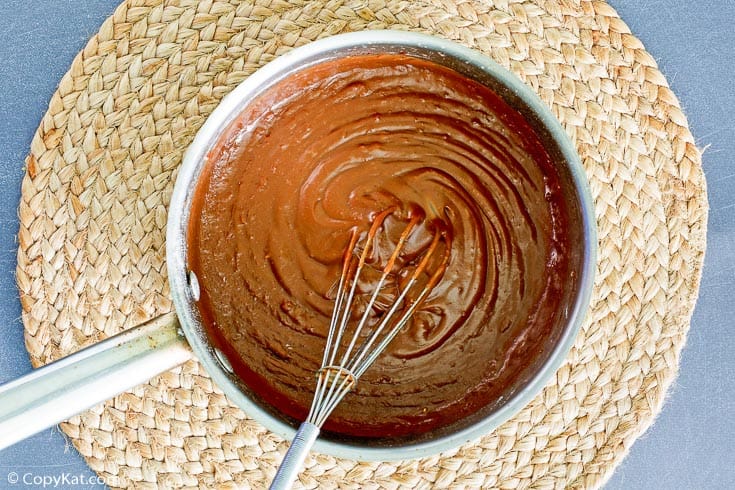 Remove filling from heat and pour into the baked pie shell.
Allow pie to cool before serving.
Slice and enjoy!
Love homemade pies? Try these recipes
Best Chocolate Desserts
Be sure to check out more of my easy pie recipes and copycat restaurant desserts.
Ingredients
1

cup

sugar

1/2

cup

all-purpose flour

1/4

teaspoon

salt

2

cup

milk

2

ounces

unsweetened chocolate squares

3

beaten egg yolks

2

tablespoon

butter

1

teaspoon

vanilla

3

ounces

cream cheese

1

baked pie shell
Instructions
In a saucepan, combine sugar, flour, and salt; gradually stir in milk and chocolate squares. Cook and stir over medium heat till bubbly. Continue cooking and stirring for 2 minutes. 

Remove from heat. Stir small amount hot mixture into yolks; immediately return to burner cook 2 minutes, stirring constantly. Remove from heat. Add butter and vanilla, and before you remove the mixture from the stove stir in the cream cheese, and mix well. Pour into a cooled baked pie shell.
Nutrition
Calories:
248
kcal
|
Carbohydrates:
34
g
|
Protein:
4
g
|
Fat:
10
g
|
Saturated Fat:
5
g
|
Cholesterol:
98
mg
|
Sodium:
162
mg
|
Potassium:
110
mg
|
Fiber:
0
g
|
Sugar:
28
g
|
Vitamin A:
425
IU
|
Calcium:
88
mg
|
Iron:
0.6
mg