Indulge in one of your favorite treats without having to leave the house. This copycat Baker's Square Coconut Cream Pie recipe is a dessert masterpiece.
Baker's Square is famous for its pies, especially in the Midwest. This is one of their best pies and I recreated the recipe for you right here. Now, you can make homemade pie at home, it isn't too hard!
What do you think of when you think of coconut pie? Is it the slightly-nutty flavor? Or maybe it transports you to a tropical vacation. For me, I think of a thick slice of homemade pie from Baker's Square, with fluffy whipped cream on top. This is the perfect way to finish a meal and it pairs perfectly with a hot cup of coffee.
How To Make Coconut Cream Pie
There are two ways to make a coconut cream pie. There is a regular pie and a black-bottomed version. If you are making the black bottom version this will add about 1 hour to the pie-making process. You will want to add your chocolate layer before you add the coconut cream layer. I recommend using dark chocolate, or bittersweet chocolate for this. You may find milk chocolate to be too sweet.
What's in coconut cream pie?
Here are the ingredients I used in my coconut cream pie filling.
Half and Half – you can use heavy whipping cream if you have it on hand, it will just alter the flavor a little bit.
Eggs
White Sugar
All-Purpose Flour
Coconut Flakes
Vanilla Extract
What is the blackened bottom of coconut cream pie?
This is my favorite way to make this pie. It's basically melted chocolate with some milk mixed in. Be careful when you melt the chocolate for this layer. You don't want to scald it.
Can You Freeze Coconut Cream Pie?
Fresh-baked coconut cream pie will last about 4-days in the refrigerator. Cream pies do not freeze well. Since this is a no-bake pie when you go to thaw it, the texture changes. I recommend just eating it as soon as you make it.
Homemade Coconut Cream Pie
Here's my recipe for homemade coconut pie. You are going to love it!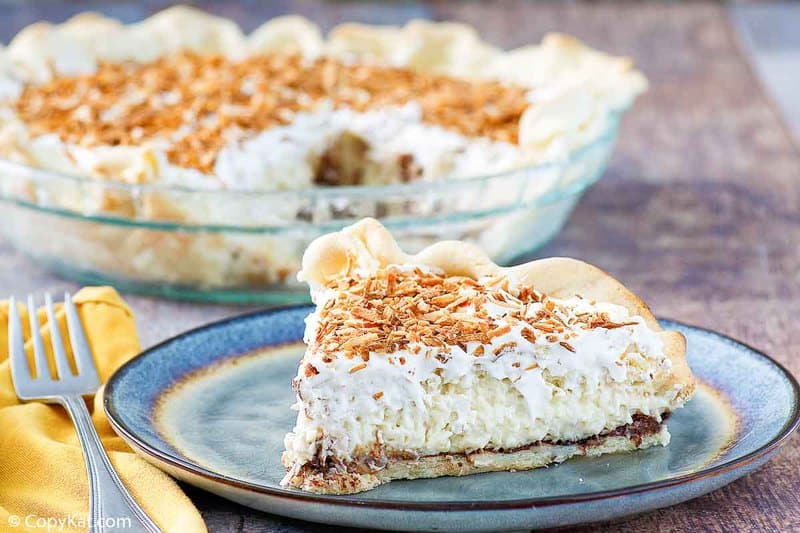 Can't get enough delicious pie? Try these reader-approved pie recipes.
Here are some savory pies you don't want to miss
Reader's just like you can't get enough of these comfort dinner recipes and these easy budget meals.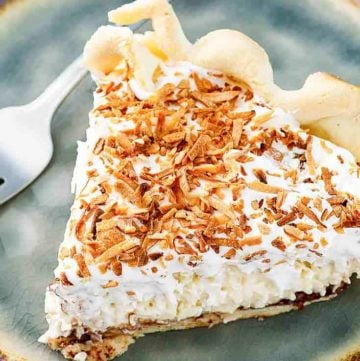 Ingredients
3

cups

half-and-half

2

eggs

3/4

cup

white sugar

1/2

cup

all-purpose flour

1/4

teaspoon

salt

1

cup

flaked coconut, toasted

1

teaspoon

vanilla extract

1

9 inch

baked pie shell

b

1

cup

frozen whipped topping, thawed
Optional Variation
6

ounces

bittersweet or dark chocolate

2

tablespoons

milk
Instructions
Optional Variation If you are making the black bottomed version, heat milk to scalding in a pan on the stove, remove the pan, and add chocolate. Stir the chocolate into the milk until it has melted completely. 

Pour chocolate into pie shell and allow to set for 60 minutes before adding the coconut cream layer.

In a medium saucepan, combine half-and-half, eggs, sugar, flour, and salt. Bring to a boil over low heat, stirring constantly. R

Remove from heat, and stir in 3/4 cup of the coconut and the vanilla extract.

Pour into the pie shell and chill 2 to 4 hours, or until firm.

After pie is chilled add 1 cup of frozen topping and sprinkle with the remaining 1/4 cup flaked coconut.
Nutrition
Calories:
430
kcal
|
Carbohydrates:
44
g
|
Protein:
5
g
|
Fat:
26
g
|
Saturated Fat:
17
g
|
Cholesterol:
36
mg
|
Sodium:
125
mg
|
Potassium:
319
mg
|
Fiber:
3
g
|
Sugar:
29
g
|
Vitamin A:
350
IU
|
Vitamin C:
1
mg
|
Calcium:
126
mg
|
Iron:
2.1
mg