Love the KFC Chicken Pot Pie? You can make this comfort dish at home, and it's going to be the Best Ever KFC Chicken Pot Pie you will ever eat.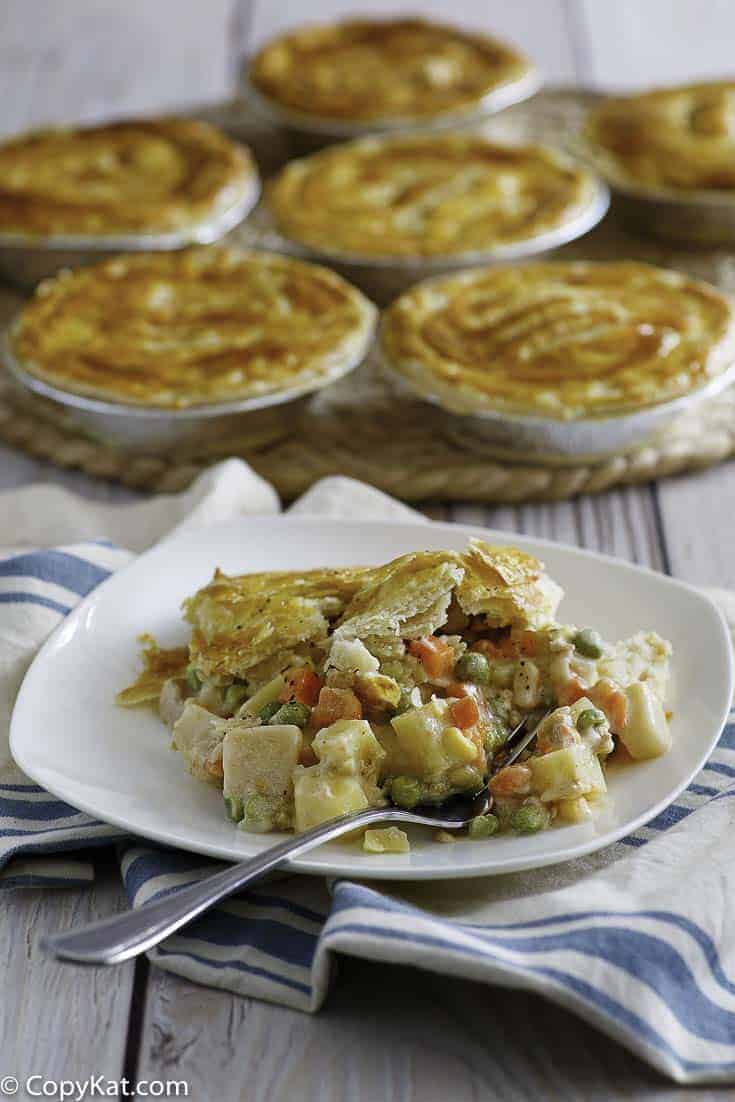 KFC markets its chicken pot pie as a "classic." The pie is served in an individual size and delivers a scrumptious blend of tastes and textures. Thanks to KFC's skill, the individual ingredients manage to retain their distinct flavors. The chicken is tender and slightly salty and the carrots and green peas retain their unique sweetness. The chunks of potatoes are cooked just right and the cream sauce does not drown out all of these individual tastes.
What Makes the KFC Chicken Pot Pie so good?
The KFC Chicken Pot Pie is a genuine classic dish. It is made with vegetables we all love. Tender shreds of chicken are combined with diced potatoes, carrots, and peas all smothered in a savory sauce and crowned with a flaky, golden-brown crust. Now you can make this classic pot pie at home.
What About the Crust?
The crust is the pie's crowning glory that extends beyond the edge of the small baking tin. It's 6-1/2-inches of flaky buttery goodness. When you crumble it into the filling, it adds yet another delicious element of flavor and texture. And, KFC gives you a spork with which to enjoy this savory delight – you can keep your fingers clean – no need for any lickin'!
The Hard Life of Colonel Harland Sanders
Everyone knows that KFC is a very successful fast-food chain, but did you know that it's famous founder, Colonel Sanders, had to overcome many failures before he found fame and fortune. Here's a short resume.
He was a seventh-grade school dropout and went to work as a farmhand.
At sixteen he lied about his age and enlisted in the army – he was honorably discharged after one year.
He worked for the railway but got fired for fighting (twice).
He moved back in with his mom, got a job selling life insurance and was fired for insubordination.
In 1920, he started a ferry boat company. He cashed in this business in order to manufacture lamps. Unfortunately, he discovered that another company was already selling a better version of his lamp.
At age 40 he began making and selling chicken dishes in a service station.
A dispute with a competitor ended in a shootout.
At age 44 he acquired a motel and restaurant which were destroyed in a fire.
After the war, he had a booming restaurant featuring his secret recipe for fried chicken. However, this restaurant was crippled when a new interstate took away most of his business.
He never gave up and pursued his dream of spreading KFC franchises all across the country. And today his smiling face, goatee, and string tie are recognized worldwide as symbolic of the best-fried chicken you can get.
To read about the inspiring history of Colonel Sanders in more detail, click here.
More CopyKat Chicken Pot Pie Recipes
Love KFC? Try these KFC CopyKat recipes.
Can You Reheat a Pot Pie?
Preheat oven to 300 degrees. Cover the edges of the pie with foil to avoid burning the crust. Heat pie for 15 minutes and then rotate and heat for an additional 15 minutes or until heated through. A large pot pie may take a few minutes longer to reheat.
Copycat KFC Pot Pie
Make your own homemade CopyKat KFC Pot Pie at home with this easy copycat recipe. You can substitute a refrigerated pie crust instead of making the one listed here.
Print
Pin
Rate
Add to Collection
Go to Collections
Ingredients
Pastry
250

grams

flour

5

grams

salt

125

grams

butter

1

egg yolk

50

mls

water
Pot Pie Filling
2

medium sized carrots

chopped into small pieces (about ¾ of a cup)

3

cans

cream of chicken soup

3

cups

milk

1/2

cup

frozen peas

1/2

pound

cooked chicken breast

1

teaspoon

salt

1/2

teaspoon

ground black pepper

1/2

cup

diced potato
Instructions
Preheat oven to 400 degrees.
Pastry
Measure out all of your ingredients. Sift together your salt and flour. Make a well in the pasta. Place butter in small knobs all of the way around the dough. Pour water and egg in the well. Swirl the dough together. Start to incorporate the flour.

Use a bench scraper or a pastry fork to fold in the flour. Cut the butter into the flour. OR, you can combine all of these ingredients into a food processor, and process until a soft dough is made.
Pot Pie Filling
Make the filling, by first by placing the cut carrots, and the potatoes into a small pot, covering with water. Cook over medium heat for about 8 to 10 minutes or until the vegetables are just tender.

In a medium sized pot combine the cans of chicken soup mix, and milk. Heat through, and stir until the soup is heated through. Add cooked chicken, carrots, potatoes, frozen peas. Season with salt and pepper.

Fill each pie plate with about 1 cup of filling. Roll out dough, and drape over the pie plate edge. With a knife gently cut a slit into the pie dough, so steam will escape. Bake for about 20 - 25 minutes or until the tops are just turning golden brown.

Remove from oven, and allow to cool several minutes before serving.
Nutrition
Calories:
603
kcal
|
Carbohydrates:
52
g
|
Protein:
25
g
|
Fat:
32
g
|
Saturated Fat:
16
g
|
Cholesterol:
133
mg
|
Sodium:
2027
mg
|
Potassium:
471
mg
|
Fiber:
2
g
|
Sugar:
8
g
|
Vitamin A:
4530
IU
|
Vitamin C:
6.2
mg
|
Calcium:
190
mg
|
Iron:
4.3
mg