Recreate the smooth, creamy texture and the rich, buttery taste of KFC Mashed Potatoes at home and find out how to make this well-loved side dish with instant potatoes. These velvety mashed potatoes offer a perfect balance of flavors that melt in your mouth.
Whip up this comforting classic to accompany any meal. Whether it's a side for a weeknight fried chicken dinner or in your Thanksgiving spread, delicious homemade KFC Mashed Potatoes are bound to steal the show.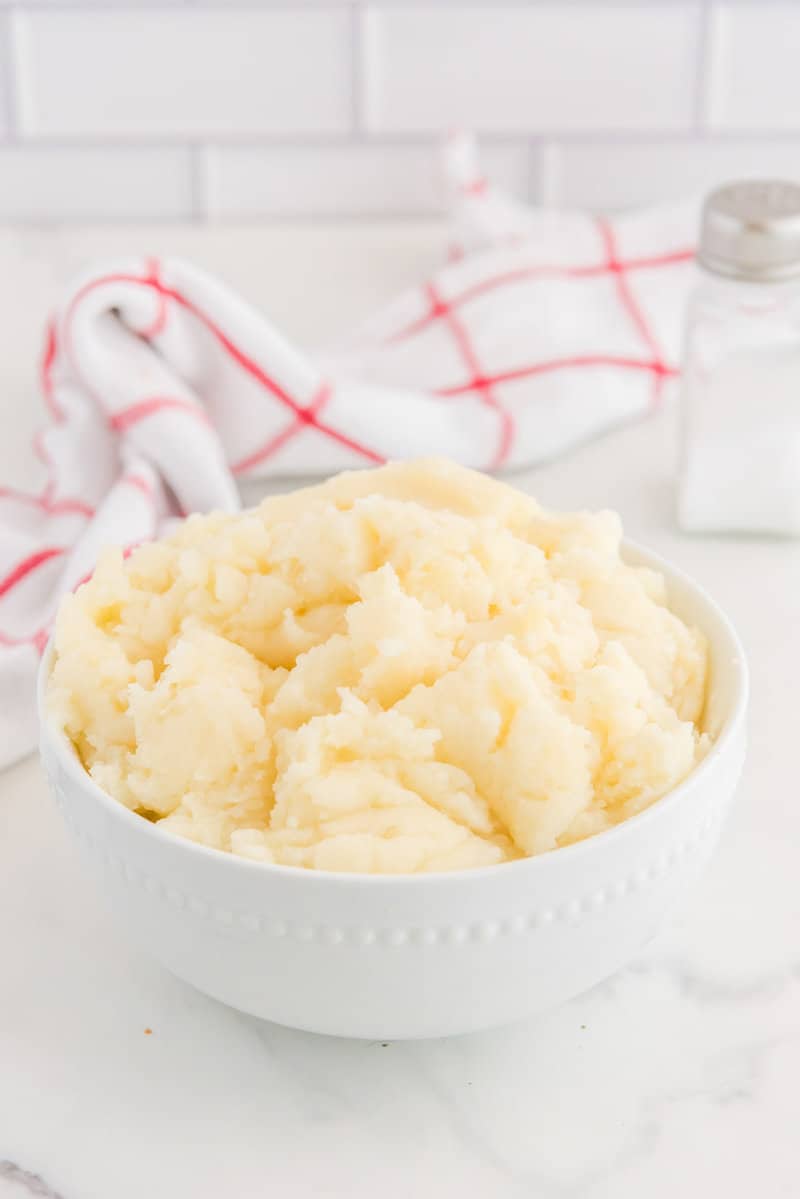 This post contains affiliate links. As an Amazon Associate, I earn from qualifying purchases.
What Makes the KFC Mashed Potatoes So Iconic?
There's just one problem with the mashed potatoes you get at KFC. There never seems to be enough of it to go around! When the mash is as light and creamy as the chain's most famous side dish, everyone wants a second helping.
Don't worry. You can now satisfy all your cravings with this KFC Mashed Potatoes recipe. Make an extra big batch so you'll never run out.
Why You Should Try This Recipe
You may scoff at the thought of using instant mashed potato flakes, but they are the secret to recreating the authentic KFC flavor in your own kitchen. This KFC Mashed Potatoes recipe not only delivers when it comes to taste, but it comes together in a matter of minutes.
Make your own copycat KFC potatoes to save time and money while still giving your family what they want. These mashed potatoes are going to become one of the most requested sides!
Ingredients For KFC's Mashed Potatoes
To prepare this dish, you'll need:
Unsalted butter
Instant mashed potato flakes
Water
Salt
Whole milk
Heavy whipping cream
Look for a brand of instant mashed potato flakes that require adding butter and milk. For this recipe, you do not want the variety that already has powdered milk and butter flavoring in it since you will be adding it.
You can replace the heavy whipping cream with milk or half & half if you want.
How to Make KFC Mashed Potatoes
To prepare mashed potatoes in the style of KFC original recipe:
Remove the unsalted butter from the refrigerator and set on the counter to soften.
Pour the instant mashed potato flakes into a large microwave-safe bowl.
Whisk the salt and water together and pour over the top of the potato flakes. Stir until the flakes absorb all the water.
Add the rest of the ingredients and stir the mixture together.
Cover the bowl with a damp paper towel and microwave on HIGH for 3 minutes. Stir well. Reheat in 30-second increments if the mashed potatoes are not hot enough.
What to Serve With KFC Mashed Potatoes
This mash is good as it is, but once you drizzle on a bit of gravy, it becomes irresistible. Use your favorite gravy recipe, or check out this traditional-style chicken gravy.
Mashed potatoes go with almost everything, but it is particularly good when served with fried chicken and mac and cheese, just like they do at KFC.
Make mashed potato bowls with chicken nuggets or popcorn chicken and brown gravy.
How to Store Mashed Potatoes
If somehow you don't finish all the mashed potatoes, don't worry, they will keep well!
Let the mashed potatoes come down to room temperature, and then transfer them to an airtight container. You can put them in the refrigerator or freezer.
If you freeze the mashed potatoes, defrost them in the fridge before reheating. Do not refreeze after defrosting.
How Long Do KFC Mashed Potatoes Last in the Fridge?
Copycat KFC Mashed Potatoes should last up to three days in the fridge or a month in the freezer.
How to Reheat KFC Mashed Potatoes
Mashed potatoes reheat well, so don't be worried about making them in advance. The quickest way to warm up leftover mashed potatoes is in the microwave:
Transfer the mashed potatoes to a microwave-safe bowl.
Stir a tablespoon or two of milk into the mashed potatoes.
Cover the bowl with a damp paper towel and heat on HIGH for one minute. Stir, and reheat in 30-second increments until hot.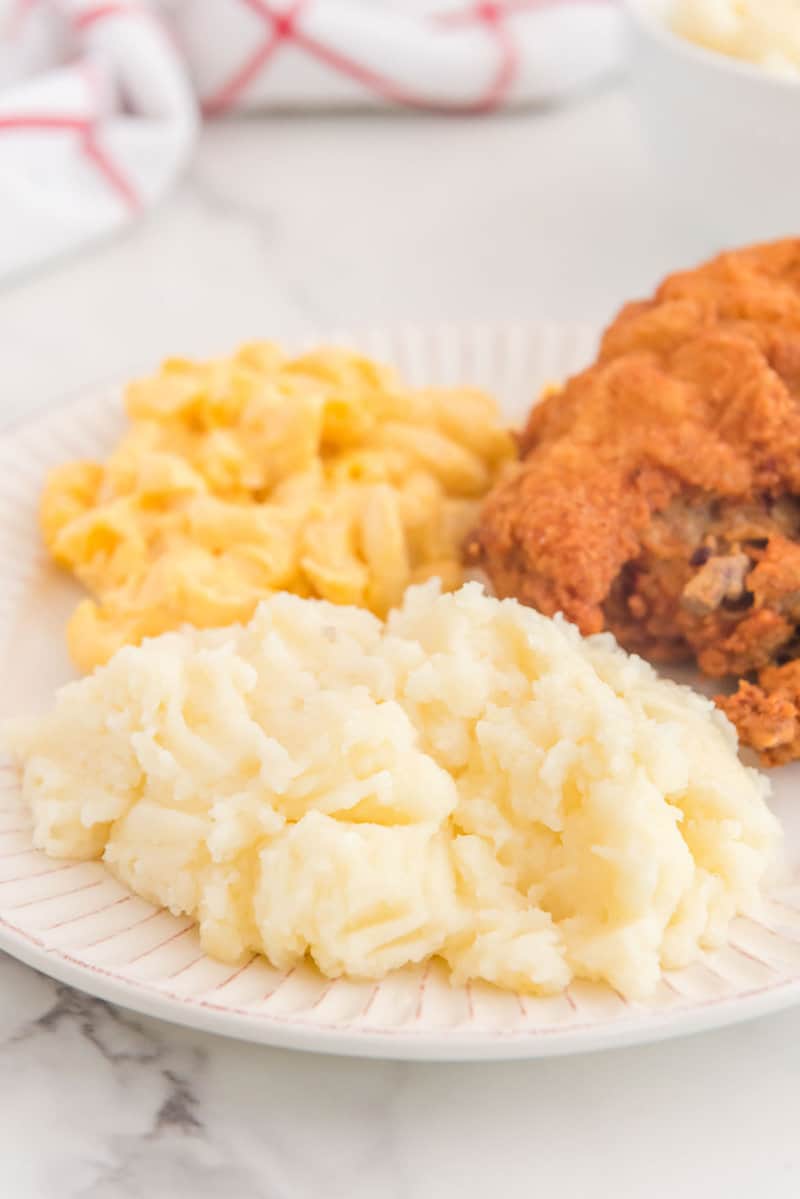 Love KFC? Try These Copycat Recipes
Favorite Mashed Potato Recipes
Check out more of my easy side dish recipes and the best copycat fast food recipes on CopyKat!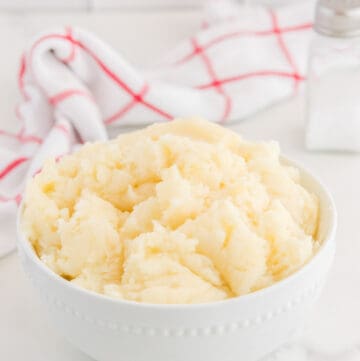 Ingredients
1 ⅓

cup

instant mashed potatoes

1 ¼

cup

water

¼

teaspoon

salt

2

tablespoons

unsalted butter

softened at room temperature

½

cup

whole milk

⅓

cup

heavy whipping cream
Instructions
Add all ingredients to a medium, microwave safe mixing bowl.

Mix together slightly, it will be thick.

Place the bowl in the microwave, cover with a paper towel and microwave for 3 to 3½ minutes.

When done, stir well with a fork and serve immediately.
Nutrition
Calories:
207
kcal
|
Carbohydrates:
18
g
|
Protein:
3
g
|
Fat:
14
g
|
Saturated Fat:
9
g
|
Polyunsaturated Fat:
1
g
|
Monounsaturated Fat:
3
g
|
Trans Fat:
0.2
g
|
Cholesterol:
41
mg
|
Sodium:
188
mg
|
Potassium:
286
mg
|
Fiber:
1
g
|
Sugar:
3
g
|
Vitamin A:
518
IU
|
Vitamin C:
16
mg
|
Calcium:
60
mg
|
Iron:
0.3
mg