Cracker Barrel mashed potatoes are some of the best tasting homestyle mashed potatoes you can get in a restaurant.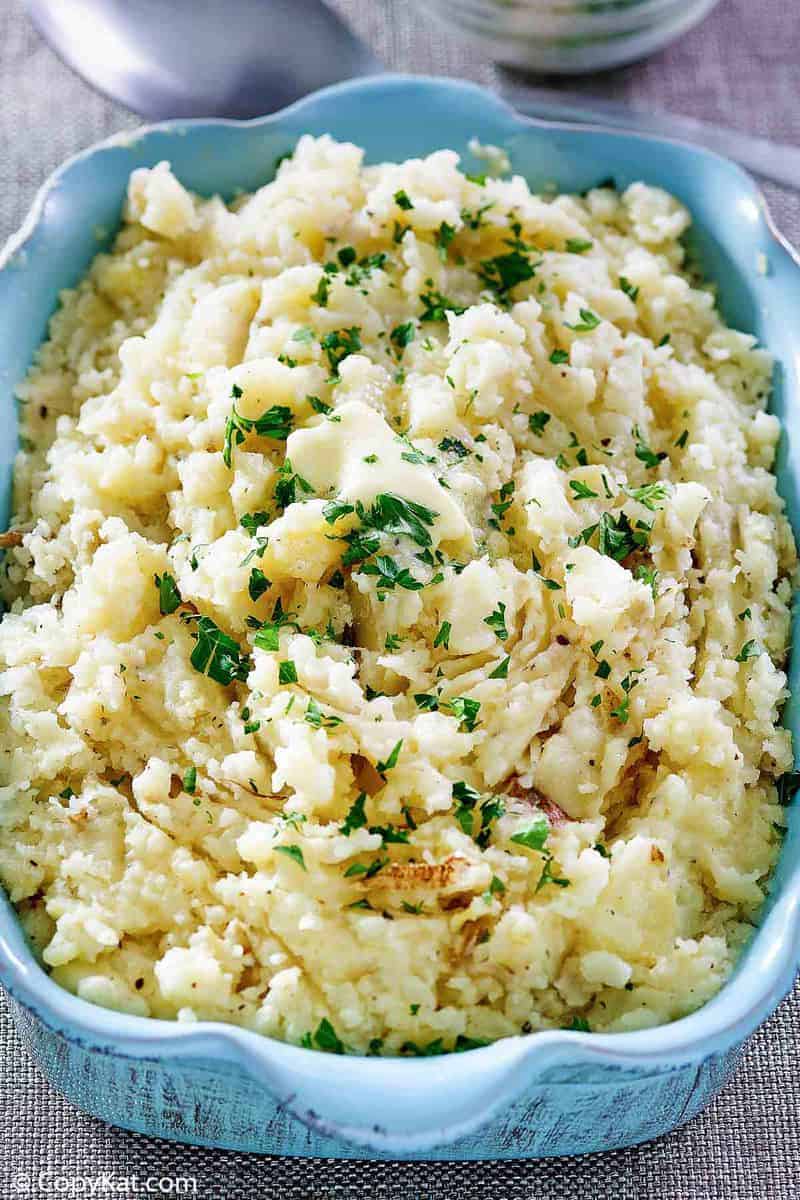 This post contains affiliate links. As an Amazon Associate, I earn from qualifying purchases.
Southern Homestyle Mashed Potatoes
Good mashed potatoes are delicious, but bad mashed potatoes are disgusting. Ditch the boxed potato flakes and learn how to make fresh homestyle mashed potatoes from scratch.
This Cracker Barrel Mashed Potatoes recipe is as basic as you can get, yet the potatoes always turn out light and fluffy. You know you want a big bowl of mashed potatoes and gravy, so why are you waiting? Make this recipe for dinner tonight!
Cook Your Potatoes the Right Way
Poor potato-cooking technique is the number one reason mashed potatoes turn out gummy and inedible. With a few tricks, you will never have to apologize for your potatoes again.
Peel and cut your potatoes into pieces. The shape doesn't really matter as long as they are all about even in size. Uneven potatoes cook will never be finished cooking at the same time. Smaller pieces cook faster, so you need to adjust the timing accordingly.
Place the cut potatoes into a pot with just enough cold water in it to come to about half an inch over the potatoes. Always start cooking root vegetables like potatoes and carrots in cold water to help ensure more even cooking.
Start checking on your potatoes at around seven minutes to see if they are cooked through. Overcooking potatoes become gummy, so don't get distracted. You can tell the potatoes are ready when a knife can easily pierce the potato to the center.
Drain the potatoes and then return them to the same pot over low heat. Gently shake the pot back and forth for around a minute. Doing this will help drive out any remaining moisture from the potatoes and help keep your mashed potatoes from becoming soggy and dense.
Let's Do the Mash
Now that you have perfectly cooked potatoes, the only thing standing between you and fresh homestyle mashed potatoes is mashing them. Most people use a standard potato masher to do the deed, while others swear you get the best results only when you use a potato ricer or food mill. But if you don't have any of these tools in your cupboard, you can still make darn good mashed potatoes.
An excellent substitute for a potato masher is a large stainless steel whisk. You can use it in very much the same way as a potato masher, but the one major drawback is that the potatoes usually get stuck in the space inside the whisk.
Don't even have a whisk? Well, you certainly have a large fork, the kind you use for carving turkey or serving. You can use it to make potato smash. While the potatoes are still warm from the stove, combine with the other ingredients, start mashing. Hold the fork in your hand and press the back of the tines against the potatoes. Try to mash evenly, but don't expect perfectly smooth potatoes using this method.
Ingredients
Here's a list of what you need:
Russet potatoes
Margarine
Milk
Salt
Black pepper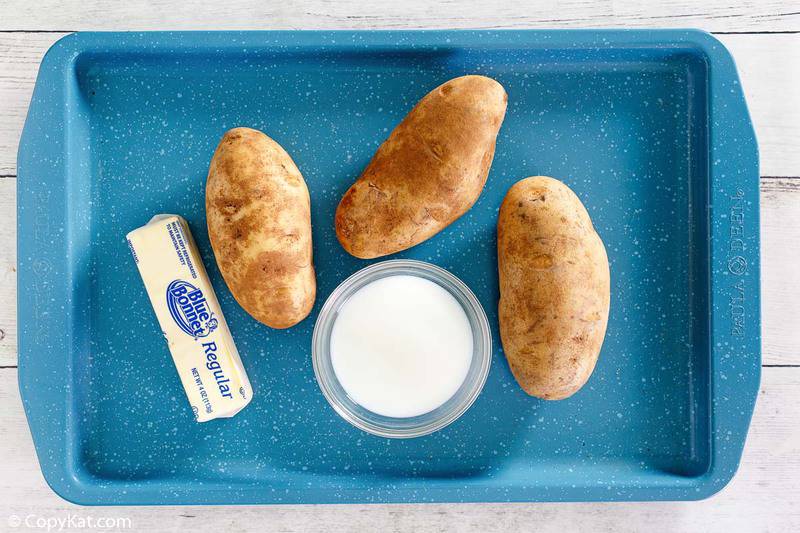 CopyKat tip – if you do not have fresh milk, evaporated milk can be substituted.
How to Make Cracker Barrel Mashed Potatoes
Wash potatoes thoroughly, peel them, cut them into small pieces, and place them into a pot.
Fill the pot with just enough water to cover the potatoes plus about 1/2 an inch more.
Cook potatoes until they are fork-tender.
Take potatoes out of the water and drain.

Place potatoes into a bowl with the other ingredients and mash the potatoes with a masher. Do not use an electric mixer because you want there to be lumps, or if you use a mixer, be sure to leave a few lumps in them.
Transfer the mashed potatoes to a serving dish.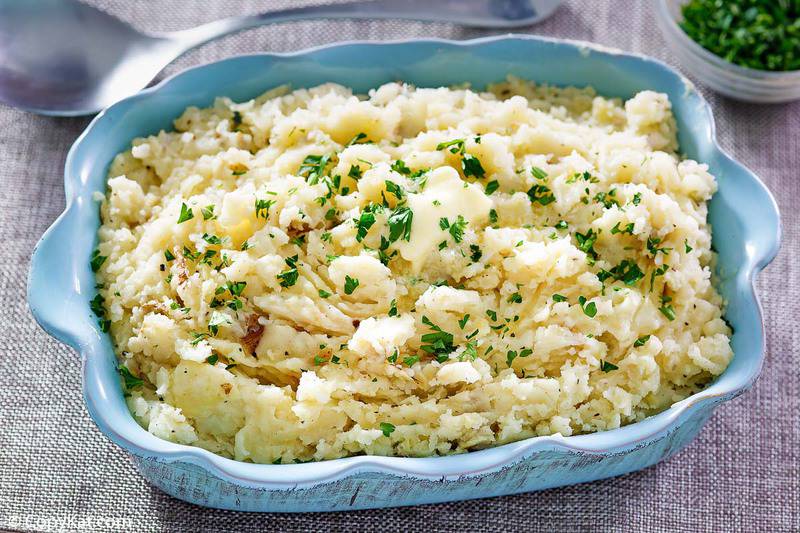 Recipe Variation
I suggest baking the potatoes to make the Cracker Barrel Mashed Potatoes, as the roasting gives these mashed potatoes a really hearty flavor.
Tips For Serving, Storing, and Reheating Cracker Barrel Mashed Potatoes
Butter and gravy are great for topping your potatoes, but there is a whole world of options. Check out more than 150 ideas.
Store mashed potatoes in a sealable container or bag. They will stay good for up to two days.
Reheat mashed potatoes in the microwave. Place in a microwave-safe bowl and cover. Heat for 1 minute and stir. Repeat until hot.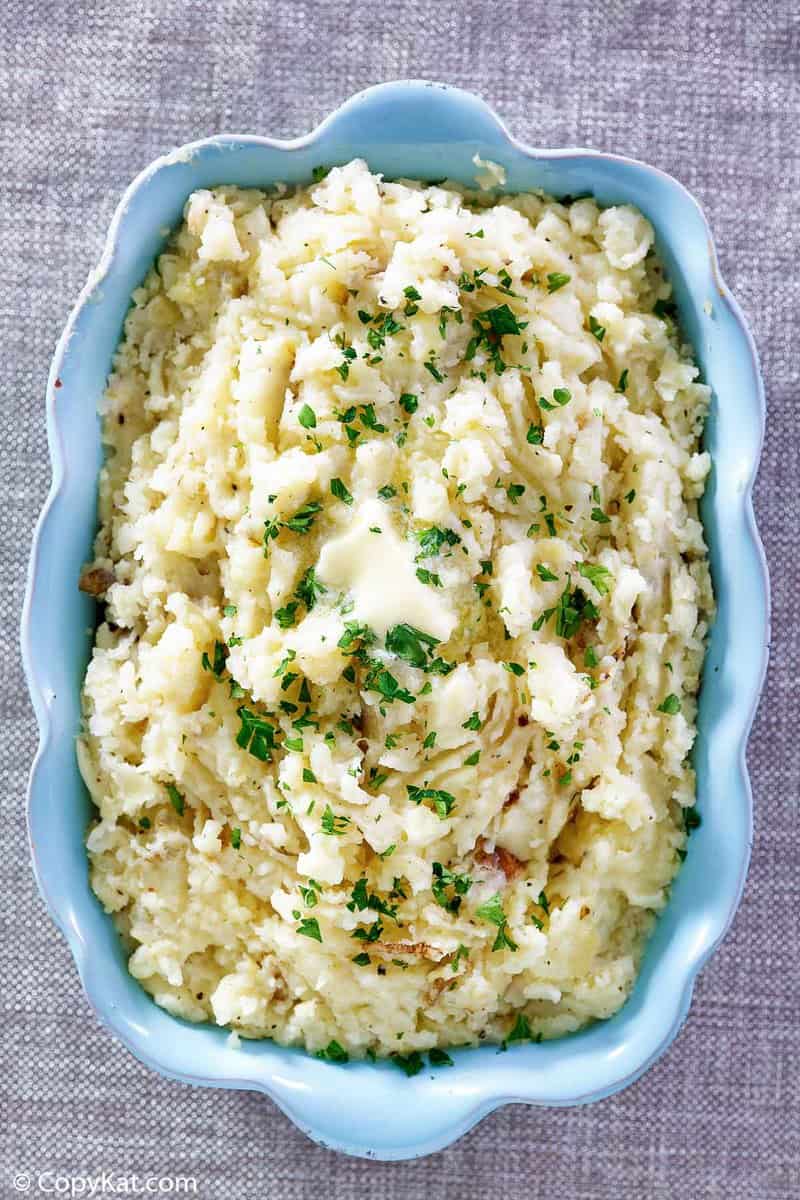 Love Cracker Barrel side dishes? Try these copycat recipes!
Favorite Vegetable Side Dishes
You can find many more vegetable side dish recipes and copycat Cracker Barrel recipes here at CopyKat.com.
See what we are up to on Facebook.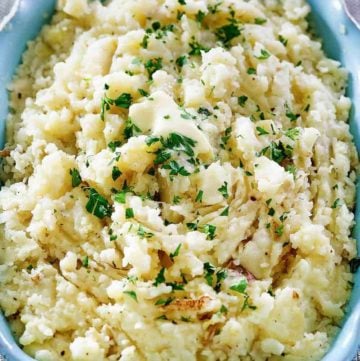 Ingredients
2 1/2

pounds

russet potatoes

4

tablespoons

margarine

butter is ok to use, if you use salted butter you may need to reduce the amount of salt

1/4

cup

milk

1

teaspoon

salt

1/2

teaspoon

black pepper
Instructions
Wash and peel the potatoes. It is not necessary to remove all of the peelings off the potatoes. Cut the potatoes into 1 inch pieces and place into a pot.

Fill the pot with water, add enough to water to cover the potatoes and then add an additional 1/2 inch of water.

Cook the potatoes on medium-high heat for about 7 to 10 minutes or until they are fork tender. Drain the potatoes.

Place potatoes into a bowl with the other ingredients and mash the potatoes with a potato masher. You can use an electric mixer if desired, but be sure to not mix them until they are smooth, leave them with some texture.
Nutrition
Calories:
334
kcal
|
Carbohydrates:
52
g
|
Protein:
6
g
|
Fat:
11
g
|
Saturated Fat:
2
g
|
Cholesterol:
1
mg
|
Sodium:
734
mg
|
Potassium:
1202
mg
|
Fiber:
3
g
|
Sugar:
2
g
|
Vitamin A:
525
IU
|
Vitamin C:
16.2
mg
|
Calcium:
58
mg
|
Iron:
2.4
mg