Cracker Barrel Brussel Sprouts and Kale Salad has to be one of the best ways to enjoy leafy green kale and Brussels sprouts. Sprouts N' Kale salad is like a coleslaw sweetened with a maple dressing, craisins, and crunchy pecans. There is no better salad to get in all of these healthy green vegetables.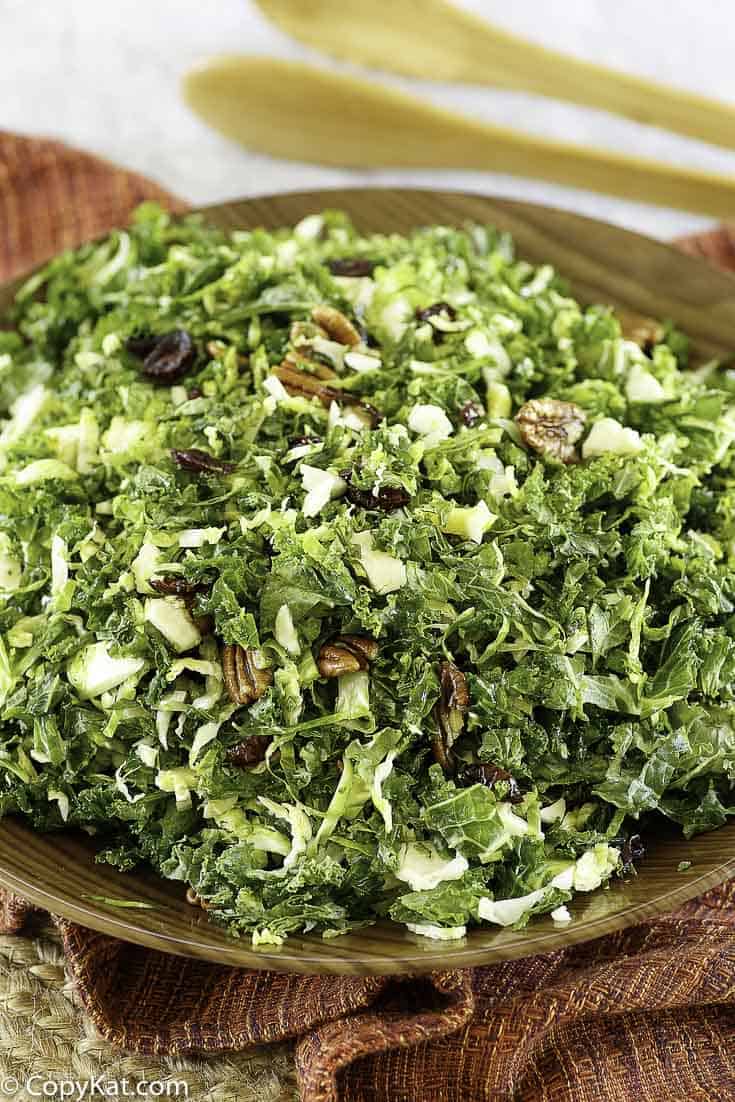 This post contains affiliate links. As an Amazon Associate, I earn from qualifying purchases.
Cracker Barrel Brussels Sprout and Kale Salad
If you have never tried this wonderful side dish option at Cracker Barrel, you have missed out on a delicious fresh vegetable salad. This crunchy and sweet salad is like a coleslaw.
This salad is made with fresh cruciferous vegetables. It is made with fresh kale, chopped Brussels sprouts, sweet Craisins, and has a nutty flavor with crunchy pecans.
The dressing contains maple syrup for a delicious sweet sauce. It's easy to make for a weeknight meal, everyone who tries this salad thinks it will be a big hit! Cracker Barrel Brussel Sprouts and Kale Salad is the perfect recipe for picky eaters.
This kale salad recipe is perfect for those who hate to cook! No heat ever comes into contact with anything. No need to stir fry, bake, saute, or anything. Simply chop everything up, and stir it all together. Who knew a kale recipe could be so easy?
What Makes Cracker Barrel Kale and Brussel Sprout Salad So Good? 
Kale and Brussel sprouts are two vegetables that most people prefer to avoid. But this recipe might just change your opinion of these healthy and much-maligned ingredients.
The secret to the deliciousness of this brussel sprout kale salad is the sweet and slightly acidic maple dressing, along with the pop of flavor from the Craisins and the crunch of the pecans.
It may take some convincing to get your kids (or spouse) to try it the first time you serve it, but chances are they will beg you to make it again.
Making the Salad and Dressing
This recipe has two components: the maple dressing and the main salad.
This maple vinaigrette is both tart and sweet at the same time. It's the perfect addition to this salad. In fact, if you enjoy this dressing you could use it on other salads.
Maple Dressing Ingredients
To make the maple dressing, you will need:
Vegetable oil
White vinegar
Sugar
Maple syrup
Kosher salt
Dijon mustard
This is not the time to reach for that bottle of maple-flavored pancake syrup in your cupboard. You want the real deal for this recipe.
For the best maple taste that will hold up the best against all the other flavors in this dish, try using a Dark Color, sometimes labeled as Grade B or Amber Grade A, maple syrup. If you can find it, late-harvest Escuminac Maple Syrup is just about perfect for this recipe. 
How to Make Maple Dressing
Place all the dressing ingredients in a bowl.
Whisk until thoroughly combined.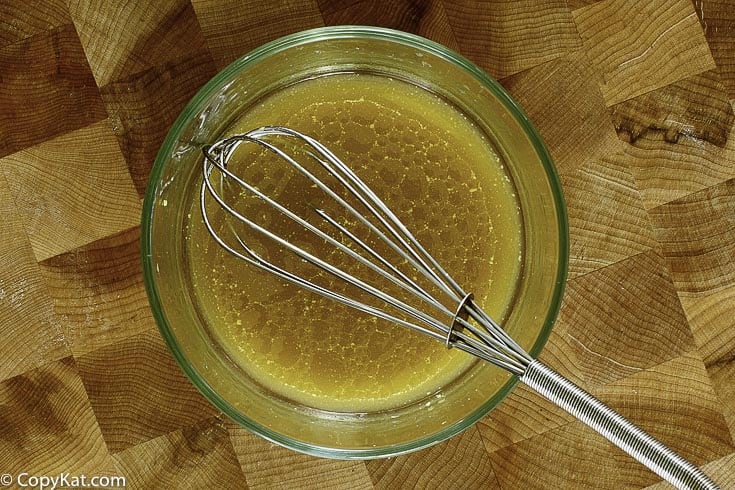 Kale Brussel Sprout Salad Ingredients
To make the salad, you will need:
Kale
Brussel Sprouts
Craisins
Pecans
Don't feel like you have to buy Ocean Spray's Craisins for this recipe. Any brand will work, but it is a good idea to stay away from dried cranberries that don't list sugar as an ingredient.
Natural dried cranberries are extremely tart, and you need the additional sweetness from the sugar to help balance out the bitterness of the vegetables.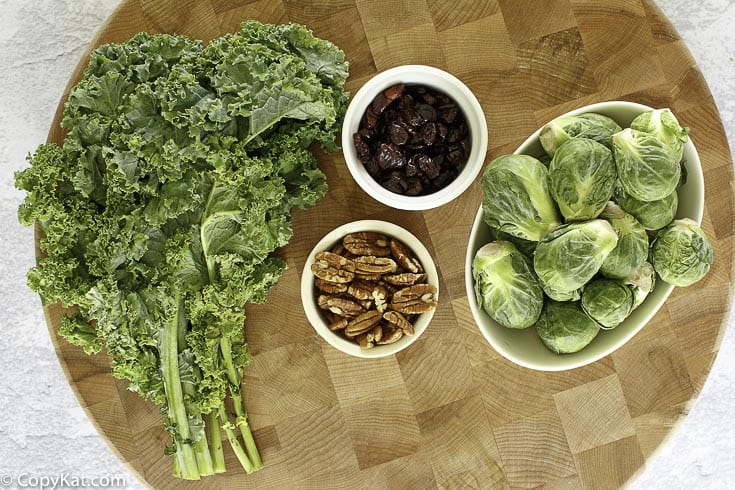 How to Make Brussel Sprout Kale Salad
Wash the kale, and pat it dry with a towel.
Cut and discard the stem from each kale stalk. The stems can be woody and tough.
Roll the kale leaves like a cigar and thinly slice them. Then slice them horizontally break up the long pieces.
Wash the Brussel sprouts and pat them dry.
Slice off the stem end of the sprouts stem. Cut the Brussel sprouts in half (stem end to top). Thinly slice the halved sprouts.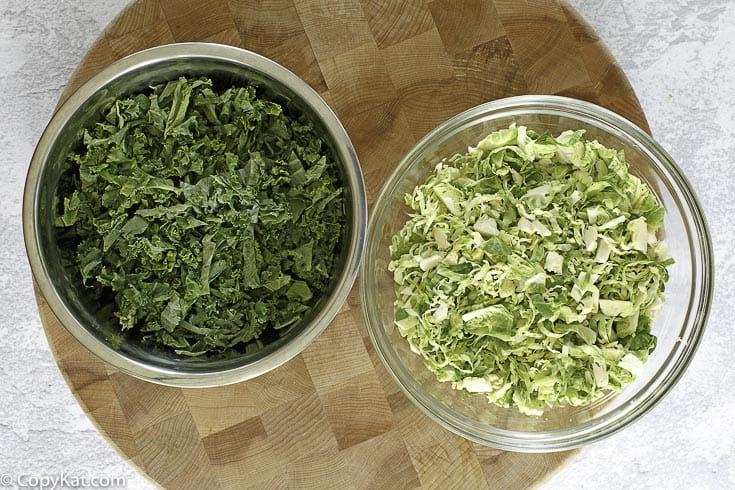 Place the sliced kale, Brussel sprouts, Craisins, and pecans in a large bowl.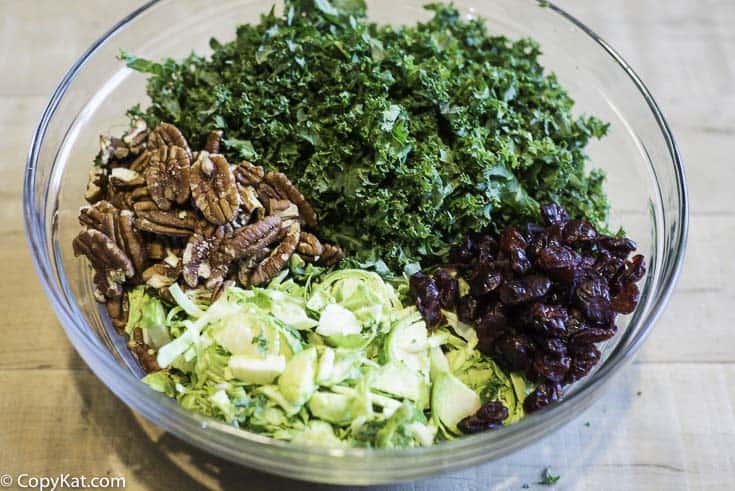 Add the maple vinaigrette and toss to combine.
Cover and refrigerate the salad for 30 minutes.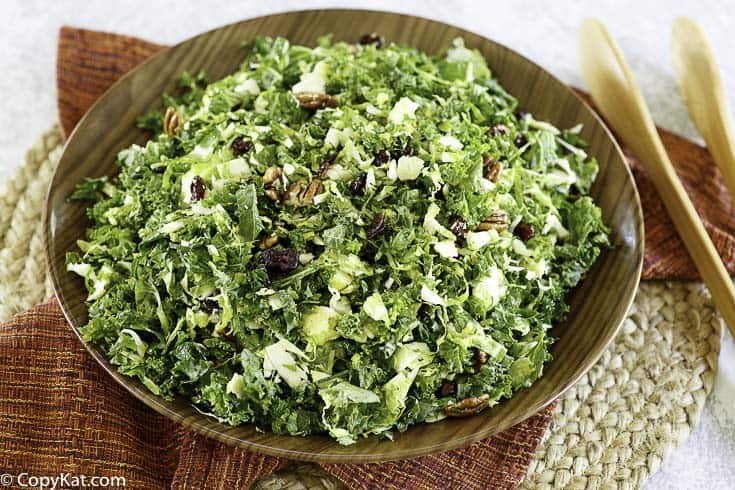 Kale and Brussel Sprout Salad Variations
You could modify this recipe to make it more your own. If you want to reduce the sugar, use flavored vinegar, or make other changes. You can do that when you make it at home. Here are some suggested variations:
Add 1/4 cup sliced green onion tops
Use a Sherry flavored vinegar or apple cider vinegar
If you don't have maple syrup on hand, you could use Mirin instead of maple syrup
A bit of ground black pepper
Want to reduce the amount of sugar? Reduce the number of craisins and reduce the sugar to 1/4 cup of sugar
Swap the pinenuts for pecans
Can You Shred Brussel Sprouts in a Food Processor?
Yes, you can easily slice Brussel sprouts in the food processor. Start by prepping the Brussel sprouts by removing any damaged or wilted outer leaves and trimming the stem-end with a knife. Give them a good rinse and pat them dry before shredding.
How to Shred Brussel Sprouts in a Food Processor
Fit your food processor with an 1/8-inch slicing disc. 
Put on the lid and load the hopper with Brussel sprouts.
Turn on the food processor and gently press the food plunger down to feed the Brussel sprouts into the machine. 
What to Serve Brussel Sprout Kale Salad With?
This salad pairs amazingly well with simply prepared grilled or roasted meat. A lightly seared hangar steak or a roasted or smoked whole chicken is ideal.
If you are looking for something meat-free, think about heartier dishes like grilled marinated portabellas or black bean patties. Consider serving this dish as part of a charcuterie board for a light meal.
How to Store Kale Brussel Sprout Salad
Once you dress the salad, you should eat it as soon as possible. Leftovers don't do well in the refrigerator. However, you can prep each part of the dish earlier in the day and assemble the salad right before serving. You can store the salad dressing in the fridge for up to a week.
I hope you give this recipe a try, it's even better the second day. This is the ideal dish to make ahead for the holidays or bring to a potluck!
Before you go, let me know how you enjoy fresh kale and Brussels sprouts. This salad is a great way to get in your cruciferous vegetables. Did I mention it is so delicious?
Can't get enough of Cracker Barrel? Try these copycat recipes!
More Brussel Sprouts Recipes
Be sure to check out more of my easy salad recipes and the best Cracker Barrel copycat recipes.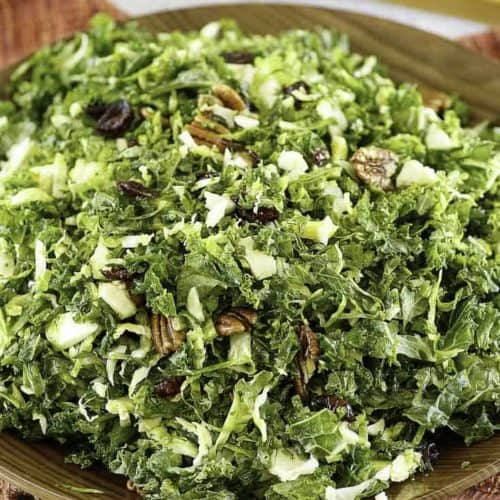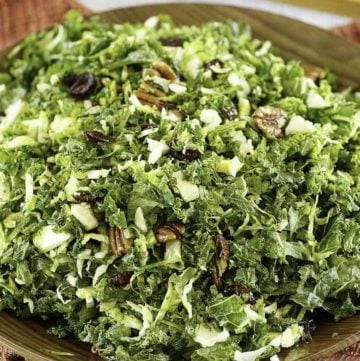 Ingredients
Salad ingredients
5

cups

chopped Brussel sprouts

5

cups

finely sliced kale

1/2

cup

Craisins

3/4

cup

pecans
Maple Vinaigrette
3/4

cup

white vinegar

1/2

cup

sugar

1/2

cup

maple syrup

do not use pancake syrup

1

teaspoon

salt

1 1/2

teaspoons

dijon mustard

1/2

cup

vegetable oil
Instructions
Salad instructions
Wash kale, and pat dry with a towel.

Cut the stem and discard from each stalk of kale. The stems can be woody and tough.

Roll leaves like a cigar, and slice the leaves as fine as you can, then give them a couple of horizontal slices to break up the long pieces.

Wash sprouts, and pat dry. Slice off the stem end. Place the stem end down, and cut Brussel sprouts in half. Lay the flat cut of the sprout on the cutting board, and then slice as small as you can.

In a large bowl add 5 cups of sliced kale, 5 cups of Brussel sprouts, Craisins and pecans.
Vinaigrette Instructions
In a small bowl combine, white vinegar, vegetable oil, sugar, salt, maple syrup, and dijon mustard. Whisk until this is blended well.

Pour well-blended dressing over vegetables, and stir well. Cover and refrigerate for at least 30 minutes before serving.
Notes
Possible variations
addtion of 1/2 cup sliced green onion tops
1/4 teaspoon of liquid smoke to dressing
toast the pecans before adding them to the salad.  The flavor of toasted pecans is simply delicious 
Nutrition
Calories:
357
kcal
|
Carbohydrates:
42
g
|
Protein:
5
g
|
Fat:
21
g
|
Saturated Fat:
12
g
|
Sodium:
334
mg
|
Potassium:
503
mg
|
Fiber:
3
g
|
Sugar:
31
g
|
Vitamin A:
4598
IU
|
Vitamin C:
97
mg
|
Calcium:
116
mg
|
Iron:
2
mg