The Cracker Barrel Meatloaf is one of the dishes that represent a classic American family meal. This is especially true when the meatloaf is served up at one of America's quintessential restaurant, Cracker Barrel. You can prepare this Cracker Barrel Meatloaf recipe from start to finish in under an hour and a half, and your family will thank you and gladly ask for seconds!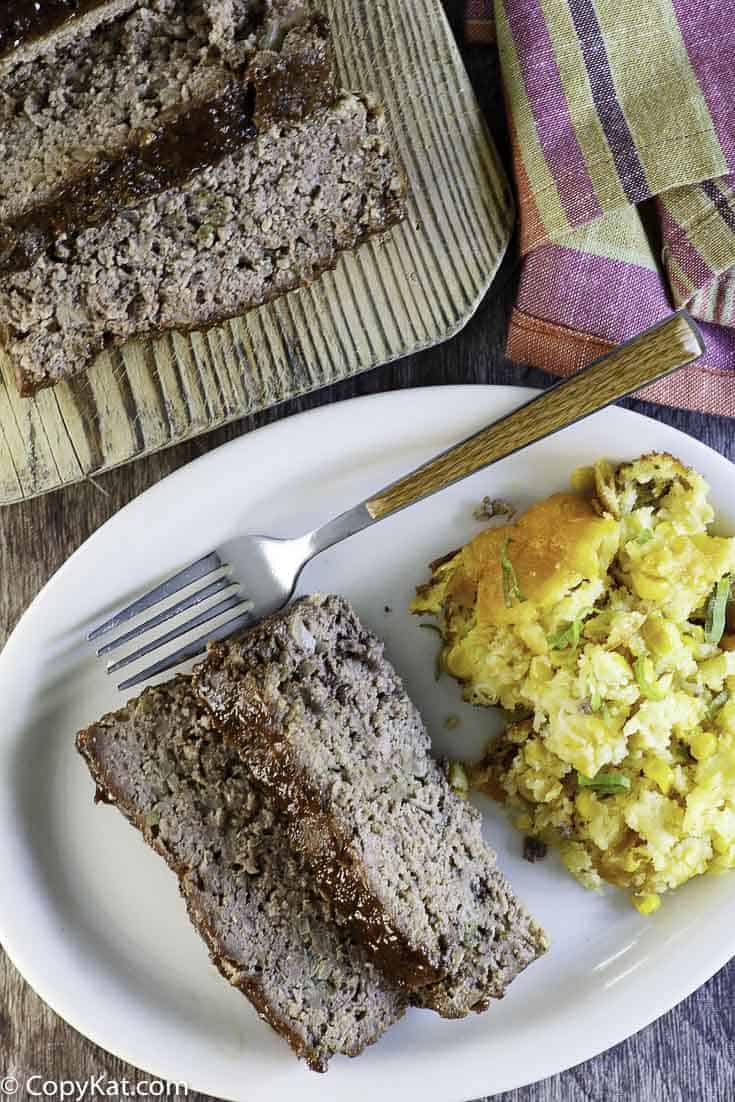 How to make meatloaf
Lots of people simply dismiss a meatloaf as a lump of ground beef. Don't be one of them. A good meatloaf is so much more than just an oversized burger. Make this recipe, and you will prove to yourself that a hot slice of meatloaf is possibly the ultimate comfort food.
Besides quality meat, a great meatloaf requires the correct amount of spices, the right mix of vegetables, a suitable binder, and the perfect glaze. This Southern meatloaf recipe has all that and more.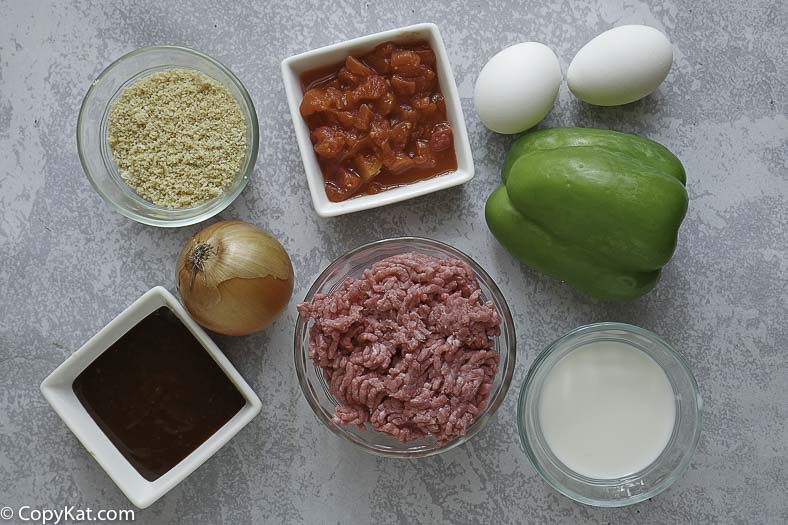 What types of seasonings should you use in meatloaf?
Some meatloaves call for garlic powder or cumin, but they can sometimes wind up being overpowering. But seasoning with just salt and pepper won't overpower the taste of the other ingredients.
The finely diced green peppers, onions, and tomatoes in this Southern Meatloaf recipe add a bit of flavor and texture to each forkful. What really kicks this Cracker Barrel meatloaf up a notch is the substitution of Ritz crackers for the breadcrumbs.
Top it all with a classic brown sugar and ketchup glaze. This glaze contains just enough Worcestershire sauce and yellow mustard to tamper the sweetness. There you have it, a meatloaf no one can resist.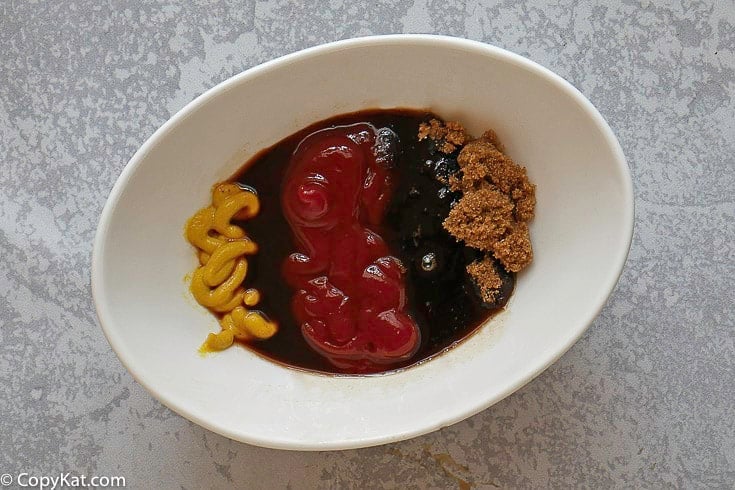 Tips on How to Cook and Serve Cracker barrel meatloaf
Be gentle with the meat. Squeezing ground beef is an excellent way to get rid of tension, but it will also ruin the texture of the meatloaf. Resist the urge to over mix, and use just the tips of your fingers when you combine the ingredients.
Fat is your friend in this Southern meatloaf recipe. Yes, you can make meatloaf with ground turkey or lean beef, but if you do so, you should expect a dry meatloaf. For the best flavor, use 80 percent-lean ground beef. You can sometimes find it labeled as ground chuck on the packaging.
Get the right grind. Most grocery stores selling only one size of ground beef, get it. Don't worry, your meatloaf will turn out just fine. But, if you are lucky enough to buy meat where the butcher will grind it fresh, ask for a coarse grind.
Leftovers make a great sandwich! If for some reason you have a bit of meatloaf leftover, cold meatloaf sandwiches are a must. Serve a cold slice between on toasted bread with lettuce, tomato, and a bit of extra glaze mixture. It is so delicious you will want to make leftovers on purpose!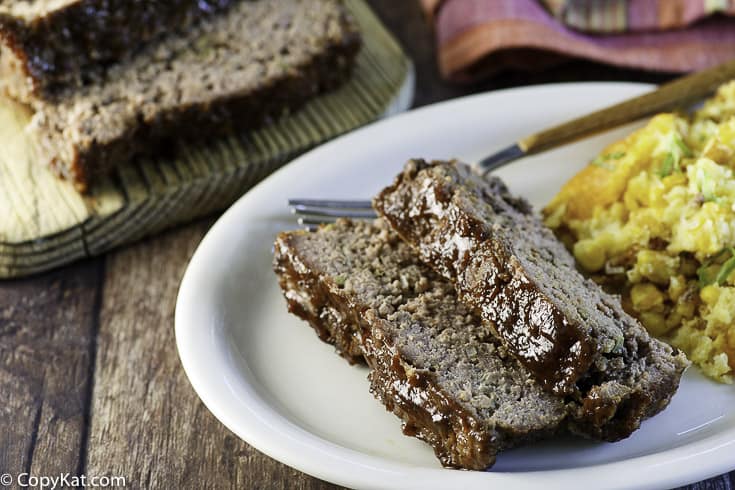 Can't get enough meatloaf? Check out these favorite meatloaf recipes
More Ground Beef Recipes
Take a look at more of my copycat restaurant favorites and easy beef recipes.
Don't miss even one of our fabulous recipes. Follow us on Instagram to stay up-to-date on all of our newest recipes.
Ingredients
Meatloaf Ingredients
1 1/2

pounds

ground chuck

2

eggs

1

cup

crushed Ritz crackers

1/4

cup

milk

1/2

cup

finely chopped white onion

1/4

cup

finely diced green bell pepper

14.1

ounces

diced tomatoes

1 can - drained

1

teaspoon

salt

1/4

teaspoon

ground black pepper
Meatloaf Glaze
1/2

cup

ketchup

2

tablespoons

brown sugar

1

teaspoon

yellow mustard

1

teaspoon

Worcestershire sauce
Instructions
Meatloaf Glaze Preparation
In a small bowl combine ketchup, brown sugar, mustard, and Worcestershire sauce.
Meatloaf Preparation
Preheat oven to 350 ℉. Line a baking sheet with parchment paper or aluminum foil for easy removal if desired.

In a large bowl, beat the eggs well, then add the cracker crumbs, onion, green pepper, milk, salt, drained diced tomatoes, and pepper.  Mix well.

Add the ground beef and mix well. Turn out the meatloaf mixture onto the prepared pan; shape into a loaf.

Bake for 30 minutes then spread topping on top of the meatloaf. Bake for an additional 30 minutes or until the center is 160 ℉.

Let stand for 5-10 minutes to rest, then slice and serve.
Nutrition
Calories:
253
kcal
|
Carbohydrates:
12
g
|
Protein:
14
g
|
Fat:
16
g
|
Saturated Fat:
6
g
|
Cholesterol:
82
mg
|
Sodium:
472
mg
|
Potassium:
347
mg
|
Fiber:
1
g
|
Sugar:
7
g
|
Vitamin A:
180
IU
|
Vitamin C:
8
mg
|
Calcium:
51
mg
|
Iron:
2
mg