Shrimp doesn't get any better than when you combine a better batter with fresh shrimp. Cooking beer battered fried shrimp can be done in less than 30 minutes!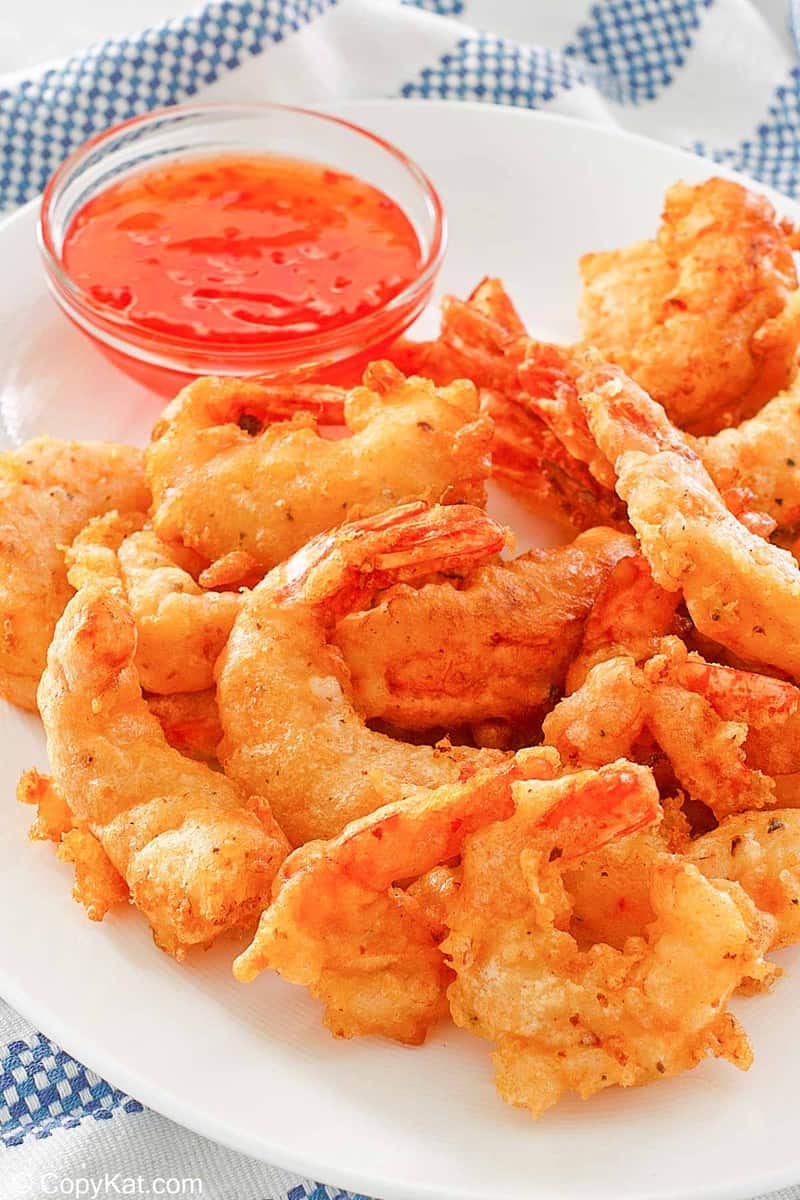 This post contains affiliate links. As an Amazon Associate, I earn from qualifying purchases.
Beer Makes Better Batter
Frying shrimp takes no time at all to do. This beer battered shrimp is super delicious and easy to make.
It's true. Beer makes a better batter. If you've never had beer battered shrimp before, you don't know what you are missing. Don't worry if you are someone who can't particularly appreciate the hoppy goodness of a brew, very little of the beer's actual flavor comes through.
But what you are left with is a crispy and airy breading that is to die for. The next time you get your hands on fresh, large shrimp, you owe it yourself to try this awesome fried shrimp recipe.
Is Beer Batter the Same as a Tempura Batter?
No. Tempura batter, a traditional Japanese-style batter, the type you find in your favorite sushi restaurant, is nothing like beer batter. Real tempura batter is only rice flour and icy water. The confusion that tempura and beer batter are similar may come from the popular tempura cooking hack of substituting seltzer for the tap water. It is not just the carbonation factor that is the only difference between the two types of batters. There are others.
Without getting overly technical, the alcohol in the beer batter for this fried shrimp recipe not only helps to break up the gluten in the flour but evaporates quicker than water. This chemical reaction means that you end up with crisper breading and faster cooking shrimp.
Breading the Shrimp Like a Pro
The trouble most cooks have with beer battered shrimp is that the breading keeps falling off. There is one simple reason for that: Your shrimp are too wet! To get the batter to stay on your shrimp, you need to start with dry shrimp. It's time to break out a fresh roll of paper towels and use it.
In addition to starting with dry shrimp, when you put the shrimp in the fryer, hold the end of the shrimp for a few seconds to help set the batter before dropping it gently into the oil. Make sure the oil is at the proper temperature to ensure the shrimp cooks through in 2–3 minutes. This will help stop the batter from soaking up extra oil and becoming heavy.
Ingredients
Here's a list of what you need:
Shrimp
Beer
All-purpose flour
Salt
Paprika
Ground red pepper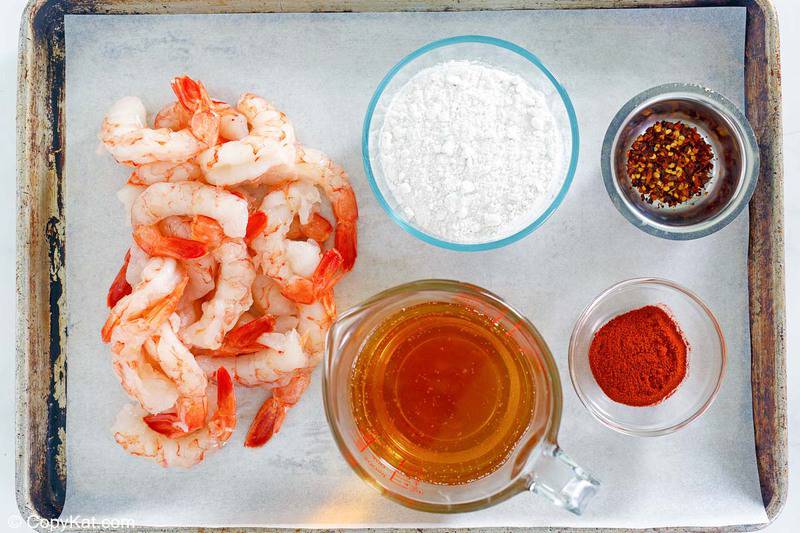 What beer is best for beer batter?
Use a beer that is light in flavor. Beers like a pilsner are great to mix into your batter. Brands that everyone knows would be Budweiser, Coors Light, Miller Light. Are all great beers to use to make beer battered fried shrimp. If you are adventurous for a hoppy beer, an IPA, or a beer that has more character, all will work.
CopyKat Tip: Beer batter can be used immediately or made ahead and stored in the refrigerator for several days.
How to Make Beer Battered Shrimp
Peel the shrimp and devein if desired.
Pat shrimp dry with a paper towel, and lay shrimp out in one layer on a plate.
Heat oil to 350 degrees.
Pour beer into a mixing bowl.
Sift dry ingredients into the beer and whisk until frothy and combined.

Dip shrimp into the batter.

Deep fry for 2 to 3 minutes or until golden and shrimp float to the top.
Lay cooked shrimp on a wire rack resting on a cookie sheet to drain the oil.
Run out of shrimp? Slice up some onion rings or get some whole mushrooms to fry with the leftover batter!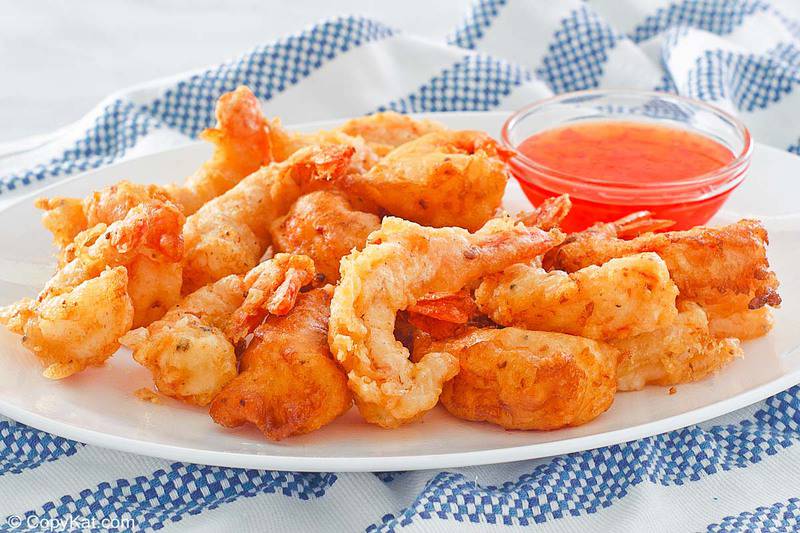 Tips for Making Best Beer Battered Shrimp
Choose the right beer. This is not the time to break out a lambic or stout, even if you love the taste. You will get the best results with a less flavorsome beer like a lager or a pale ale.
Don't overwork the batter. Some lumps are preferable to whipping the batter to death. You are pretty much good to go when all the dried ingredients are fully hydrated and incorporated throughout the batter.
Cold batter and hot oil are the keys to crispy heaven. Keep your beer batter as cold as possible by putting the bowl of batter in a larger bowl filled with ice and water. Make sure the oil is at the right temperature before adding the shrimp. Give enough time for the oil to come back up to the correct temperature between batches.
Use the beer batter as soon as possible. The carbonation from the beer will go flat in a matter of minutes. If you are cooking for a large group, you should remake the shrimp batter recipe several times to keep it as fresh as possible.
See what we are up to by becoming friending us on Facebook!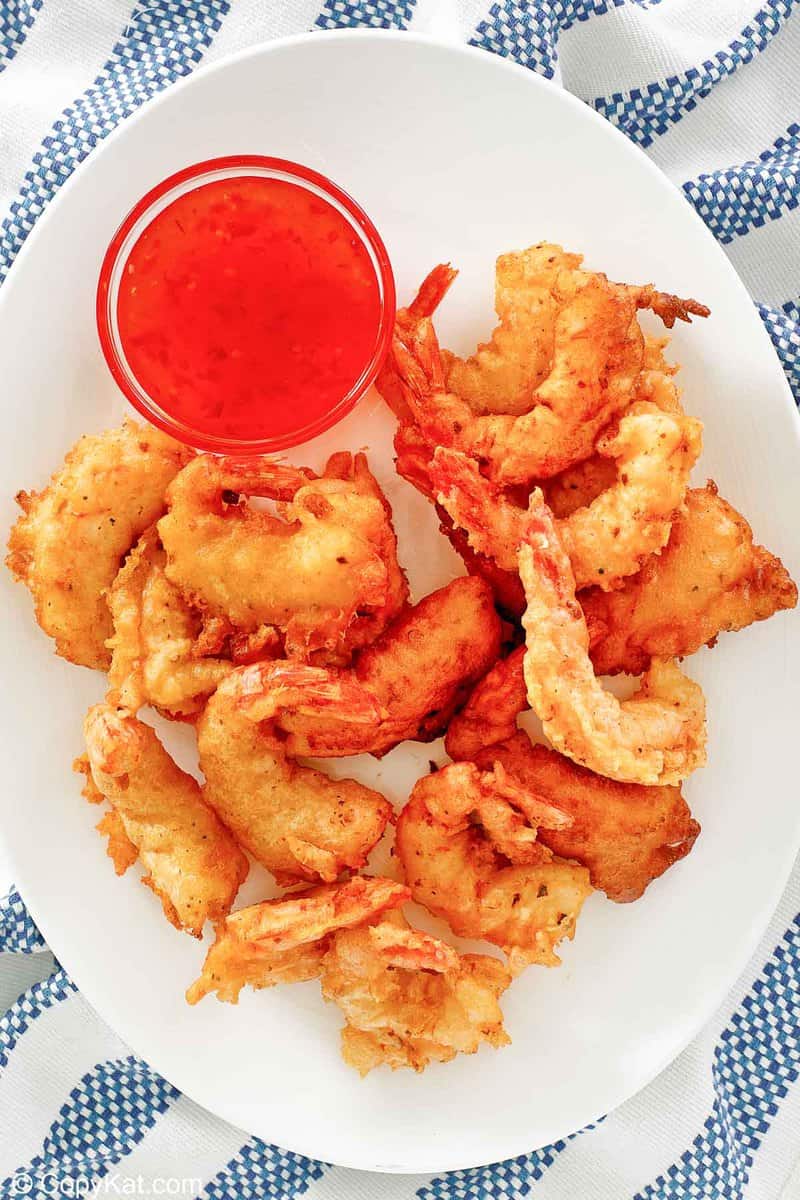 What to Serve with Beer Battered Shrimp
Here are some suggestions for dipping sauces to serve with the shrimp:
Love shrimp? Try these easy recipes!
More Beer Batter Recipes
Check out more of my quick and easy recipes and the best shrimp recipes here on CopyKat!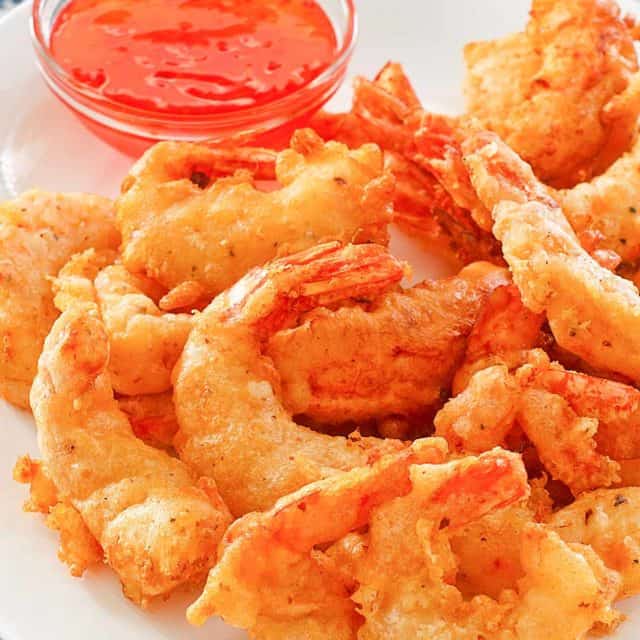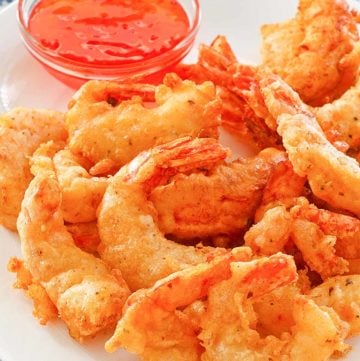 Ingredients
2

pounds

shrimp

peeled

12

ounces

beer

1

cup

all-purpose flour

1

tablespoon

salt

1

tablespoon

paprika

½

teaspoon

ground red pepper
Instructions
Peel the shrimp and devein if desired. Pat shrimp dry with a paper towel and lay shrimp out in one layer on a plate.

Preheat vegetable oil to 350 degrees.

Pour beer into a mixing bowl.

Sift dry ingredients into the beer, and whisk until frothy and combined. While using the batter, whisk lightly from time to time.

Gently dip shrimp into the batter and deep fry for 2 to 3 minutes or until the batter is golden and the shrimp float in the oil.
Notes
 Batter may be used immediately or stored in the refrigerator for several days.
This is also a great light crisp batter for frying vegetables, chicken or game.
Nutrition
Calories:
152
kcal
|
Carbohydrates:
11
g
|
Protein:
20
g
|
Fat:
1
g
|
Saturated Fat:
0
g
|
Cholesterol:
228
mg
|
Sodium:
1404
mg
|
Potassium:
111
mg
|
Fiber:
0
g
|
Sugar:
0
g
|
Vitamin A:
350
IU
|
Vitamin C:
4
mg
|
Calcium:
136
mg
|
Iron:
2.7
mg