Fried shrimp are, without a doubt, one of the best ways to enjoy this tasty crustacean. And when it comes to crispy, crunchy coatings, it doesn't get any tastier or easier than this simple yet mouthwatering beer batter.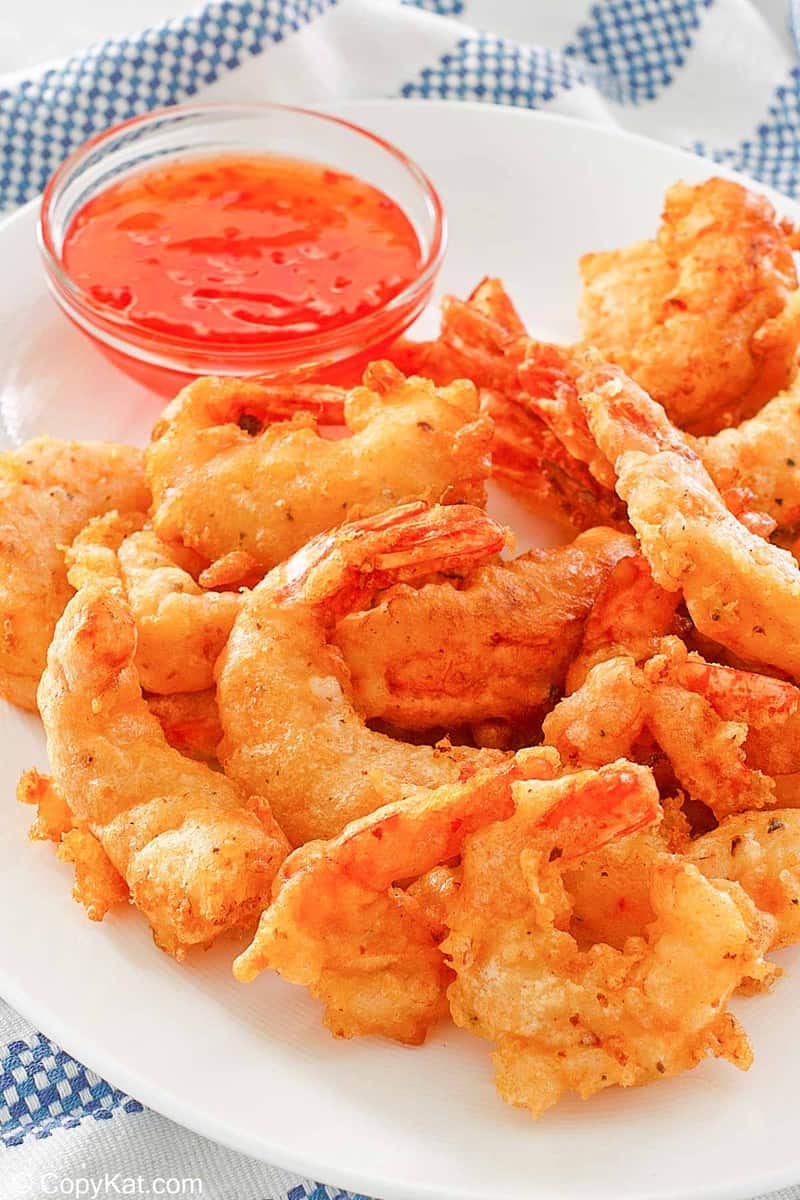 This post contains affiliate links. As an Amazon Associate, I earn from qualifying purchases.
Beer Battered Fried Shrimp
Fried shrimp is a delicious delicacy popular all around the country, from the clam shacks of New England to the soul food restaurants of the South. And luckily for seafood lovers, it's easy to make right in your home kitchen.
One of the best methods involves beer battering, a simple technique that nevertheless produces some of the crispiest fried shrimp possible. The next time you get your hands on some fresh, large shrimp, you owe it to yourself to try this awesome fried shrimp recipe.
What Makes Beer Battered Fried Shrimp So Good?
The answer to this question is obvious as soon as you sink your teeth into the first perfectly fried shrimp. The combination of crispy crunch and soft, flavorful shrimp will keep you coming back again and again. This versatile food can work as a main course or appetizer and pairs with a vast selection of sides and other dishes.
Why You'll Love This Recipe
Before long, this will be your go-to recipe for fried shrimp. First, it's incredibly quick to make. With just a few minutes to make the batter and a few more to fry the shrimp, you can be enjoying this mouthwatering treat.
Plus, with only a light taste from the batter, the flavor and quality of your shrimp can still shine through. And once you've enjoyed the light, airy crust that the beer creates, it'll be hard to go back to any other way to fry.
Beer Makes Better Batter
It's true — beer does make a better batter. And if you've never tried it before, you don't know what you're missing! Don't worry if you prefer a glass of wine or a cocktail to the flavor of a cold brew, as little beer taste translates to the shrimp themselves beyond a subtle maltiness.
Instead, it helps create a crispy, airy breading that's truly to die for. This is a result of a few factors, including the carbonation in the beer, which creates air bubbles that expand during cooking.
In addition, the alcohol in the beer not only breaks up the gluten in the flour but also evaporates at a lower temperature than water, helping create an even crispier coating. This also makes it suitable for kids or anyone avoiding alcohol, as there's no residual booze left.
Breading Shrimp Like a Pro
The biggest problem most cooks have when cooking fried shrimp or other fried food is the breading simply falling off. There's a simple reason for that: your food is too wet! Starting with dry shrimp is vital for helping this beer batter stick to them, so break out the paper towels and pat them until they're as dry as possible.
In addition, your technique for adding the shrimp to the oil is key. As you lower the shrimp into the pot, hold the end above the oil for a few seconds as the batter sets before gently setting it loose to finish frying.
Finally, carefully monitor the temperature of the oil. Keeping it around 350 degrees F will ensure the shrimp cooks quickly enough and the batter doesn't soak up too much grease.
Ingredients
Beer battered shrimp don't require many more ingredients than those listed right in its name:
Shrimp
Beer
All-purpose flour
Salt
Paprika
Red pepper flakes
This mix of spices produces a bit of heat and some sweetness and smokiness but can be adjusted to your taste with additions like garlic powder, cajun or Old Bay seasoning, cayenne pepper, and more.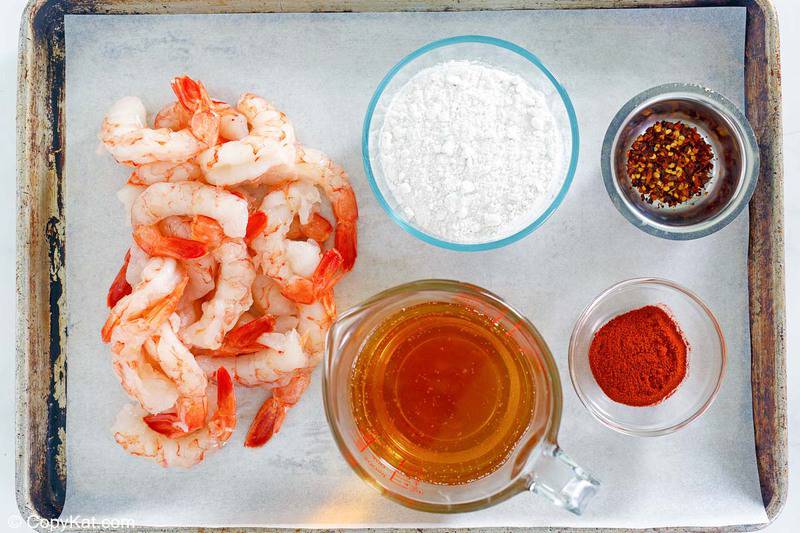 What beer is best for beer batter?
Leave those stouts, lambics, sours, and other offbeat beers in the fridge, no matter how much you enjoy drinking them. You'll get the best results with a lighter, less flavorful variety.
This means sticking to pilsners, lagers, pale ales, blonde ales, and similar styles. Brandwise, this includes familiar names like Budweiser, Coors, and Miller, particularly their light versions. For a bit more flavor, try an IPA for a complex, hoppy element to your fried shrimp.
Equipment Needed
While home cooks can easily fry these up in an everyday pot or saucepan, a dedicated deep fryer can make it simpler to find and maintain the right temperature, as well as quickly add and remove your food. If you're frying in a regular pot, use a deep-fry/candy thermometer to ensure the oil stays at the right temperature.
How to Make Beer Battered Shrimp
Peel the shrimp and devein them, if necessary and desired.
Pat the shrimp dry with a paper towel and lay them on a plate in a single layer.
Heat frying oil to 350 degrees F.
Make your batter: add beer to a large mixing bowl, then sift in dry ingredients. Whisk until frothy and combined.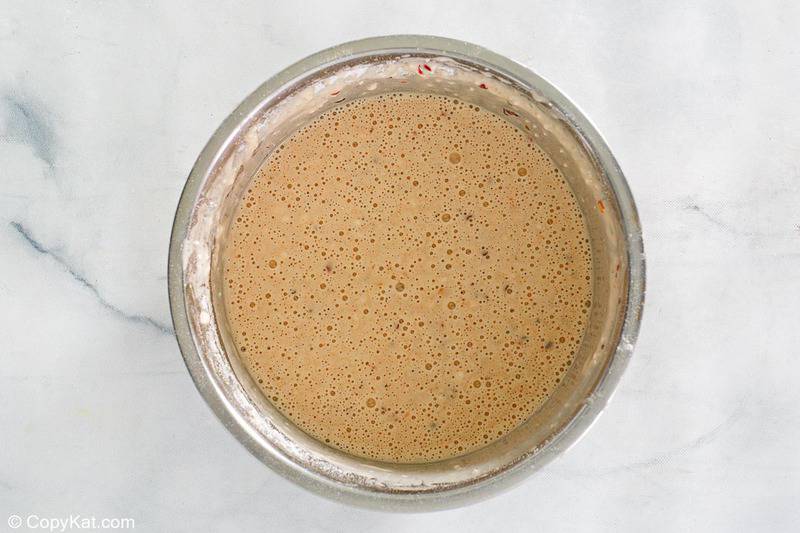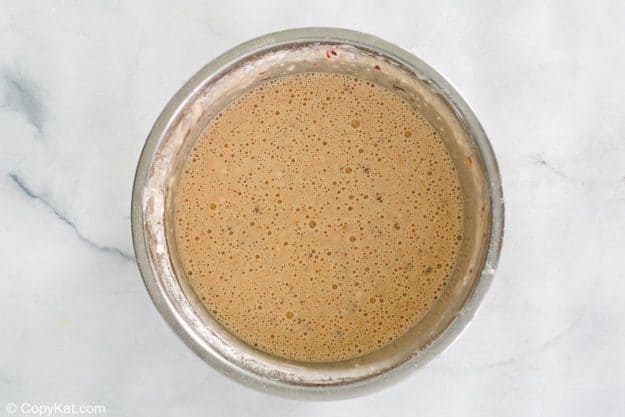 Dip shrimp in the batter. Allow the excess batter to drip off before frying the shrimp.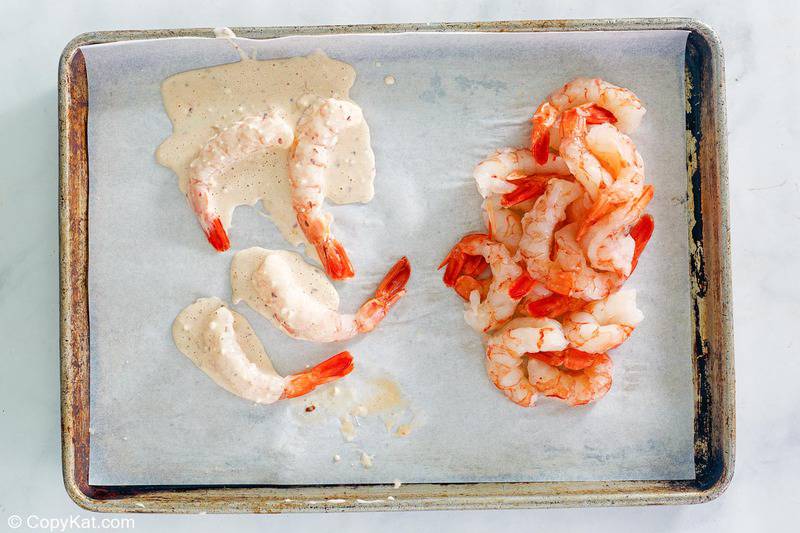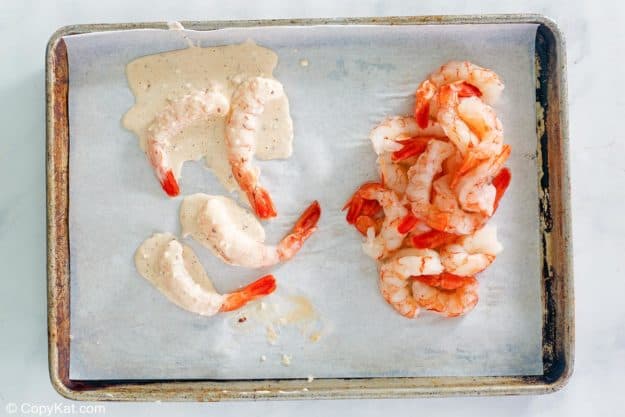 Deep fry in oil until shrimp are golden and float to the top, about two to three minutes.
Drain fried shrimp on a wire rack over a cookie sheet.
Beer battered fried shrimp are best enjoyed hot and fresh from the fryer.
Run out of shrimp? Slice up some onion rings or get some whole mushrooms to fry with the leftover batter!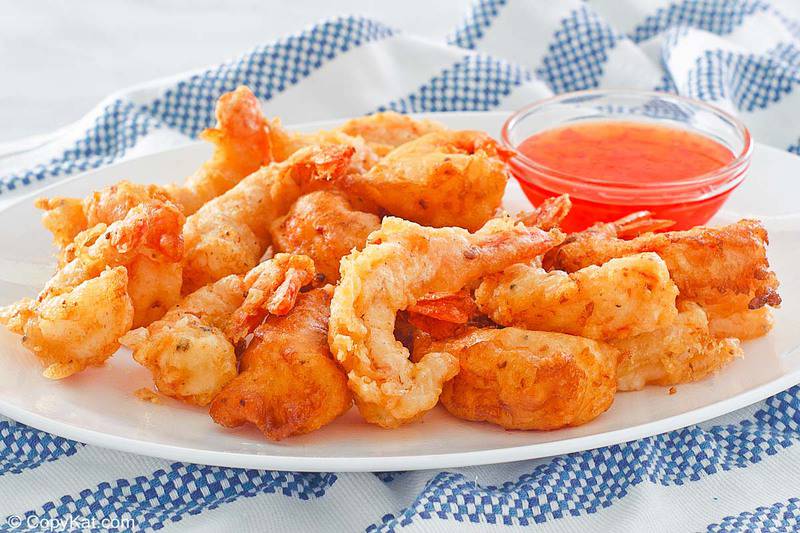 Tips for Making Best Beer Battered Shrimp
Choose the right beer: Use a lighter beer such as a pilsner or lager. See the section above for more information on the best beer for beer batter.
Don't overwork the batter: Your batter is ready to go when all the dried ingredients are fully hydrated and incorporated. It's preferable to leave a few lumps in the mix rather than whipping the mixture to death.
Cold batter and hot oil are key: Keep your beer batter cold by placing the bowl inside a larger one filled with ice and water. Adding your shrimp to the hot oil will naturally lower the temperature, so ensure it has time to heat back up between batches.
Use the beer batter as soon as possible: We mentioned the benefits beer's carbonation provides, but these go flat in just a few minutes. Fry the shrimp quickly, and if you're cooking for a large group, it's worth making several smaller batches of batter as you cook rather than one big one at the start.
What to Serve with Beer Battered Shrimp
Beer battered shrimp pair well with a wide variety of sides and dipping sauces. Some of the best options include:
Meanwhile, make it a full meal by pairing your fried shrimp with sides like french fries, coleslaw, hush puppies, or roasted, steamed, or grilled vegetables.
How to Store Leftovers
It's important to remember that fried shrimp are best right out of the fryer and will naturally lose some of their crunch as time passes. However, those who need to store some leftover fried shrimp can do so in an airtight container in the fridge after allowing the shrimp to cool to room temperature. Enjoy them within two to three days.
Fried shrimp can even be frozen if necessary. Freeze on a baking sheet until completely frozen, then transfer to a freezer bag or freezer-safe container. They'll last up to a month.
How to Reheat
Reheating your beer battered fried shrimp the right way is crucial to restoring the crispy coating that makes them so delightful. In general, avoid the microwave, which will leave the exterior soggy and unappealing. Instead, reheat them in the oven at 350 degrees F for a few minutes until completely heated through and the coating has recrisped.
Is beer batter the same as tempura?
While they can both produce delicious fried shrimp, beer batter and tempura are completely separate recipes and styles. Traditional tempura batter found at Japanese restaurants and sushi spots is just rice flour and ice-cold water. This creates an ultra-light batter that can be used to fry just about anything.
In comparison, beer batter includes a mix of spices and other ingredients that produce a heavier but more flavorful batter. The confusion may be connected to a common tempura tip of substituting seltzer for some water for additional airiness.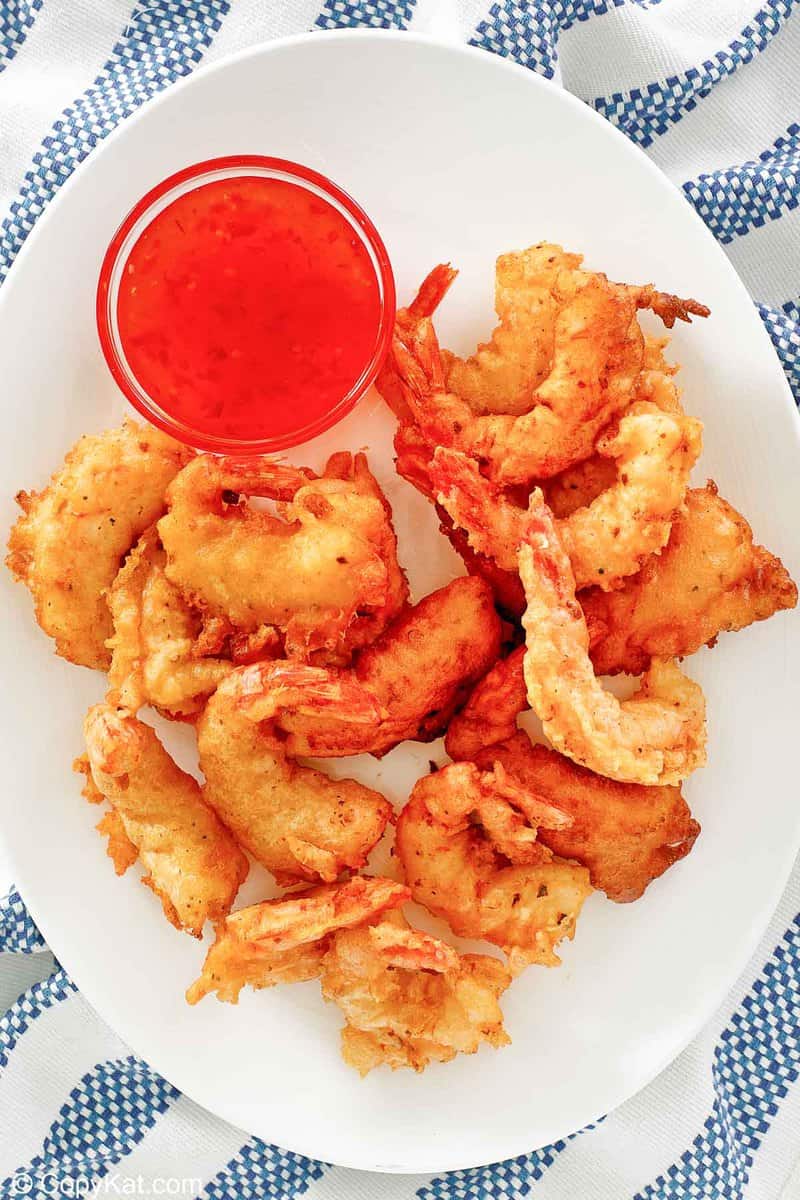 Love shrimp? Try these easy recipes!
More Beer Batter Recipes
Check out more of my quick and easy recipes and the best shrimp recipes here on CopyKat!
See what we are up to by following us on Facebook!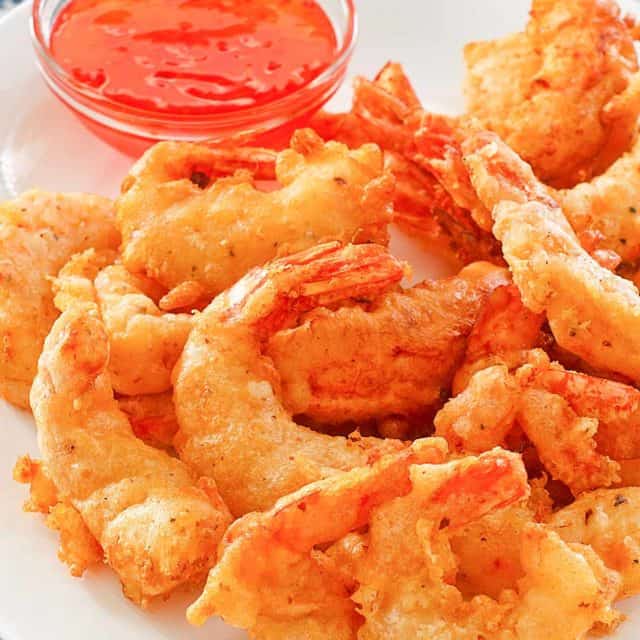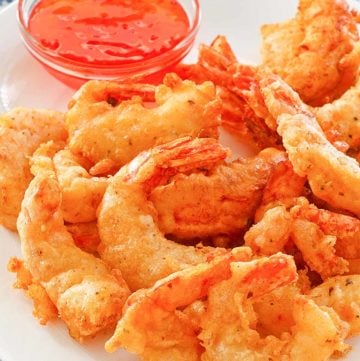 Ingredients
2

pounds

shrimp

peeled

12

ounces

beer

1

cup

all-purpose flour

1

tablespoon

salt

1

tablespoon

paprika

½

teaspoon

ground red pepper
Instructions
Peel the shrimp and devein if desired. Pat shrimp dry with a paper towel and lay shrimp out in one layer on a plate.

Preheat vegetable oil to 350 degrees.

Pour beer into a mixing bowl.

Sift dry ingredients into the beer, and whisk until frothy and combined. While using the batter, whisk lightly from time to time.

Gently dip shrimp into the batter and deep fry for 2 to 3 minutes or until the batter is golden and the shrimp float in the oil.
Notes
 Batter may be used immediately or stored in the refrigerator for several days.
This is also a great light crisp batter for frying vegetables, chicken or game.
Nutrition
Calories:
152
kcal
|
Carbohydrates:
11
g
|
Protein:
20
g
|
Fat:
1
g
|
Saturated Fat:
0
g
|
Cholesterol:
228
mg
|
Sodium:
1404
mg
|
Potassium:
111
mg
|
Fiber:
0
g
|
Sugar:
0
g
|
Vitamin A:
350
IU
|
Vitamin C:
4
mg
|
Calcium:
136
mg
|
Iron:
2.7
mg