Nothing is more satisfying than biting into a crispy, golden hush puppy. This tried, and true hush puppy recipe is not only an easy recipe but one that will come back to again and again.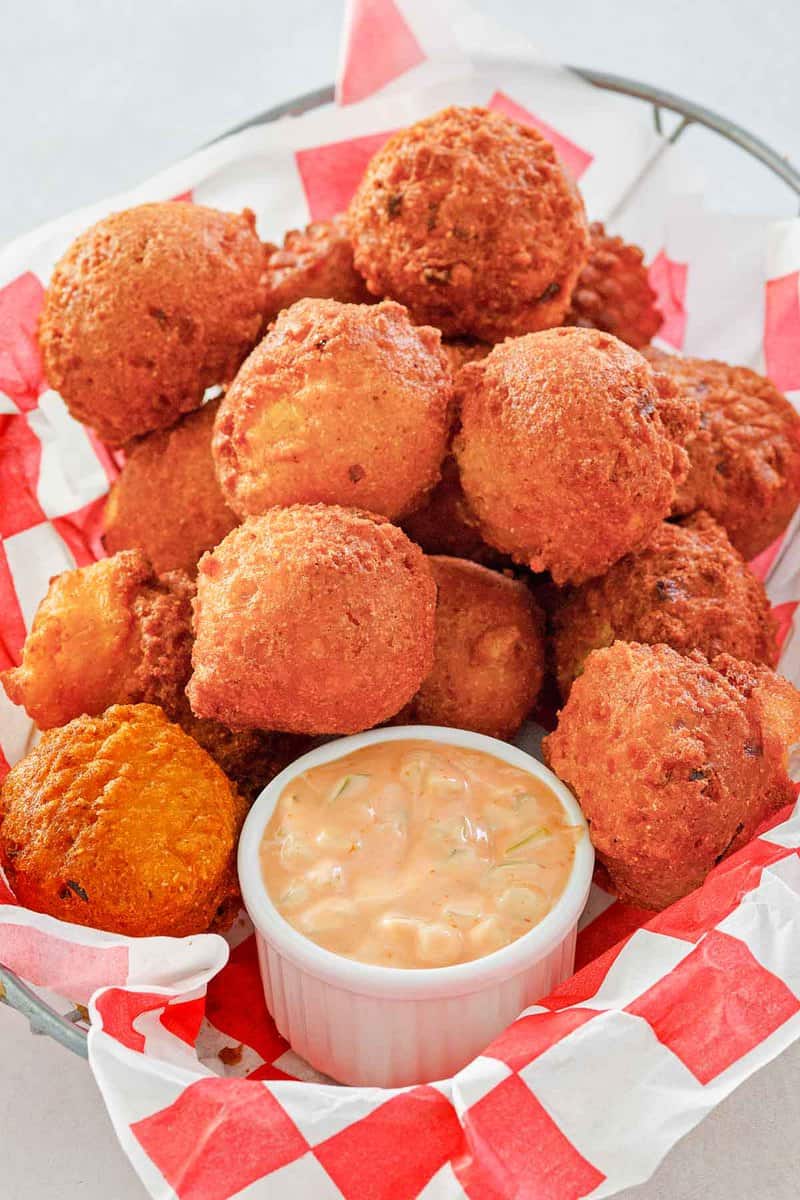 This post contains affiliate links. As an Amazon Associate, I earn from qualifying purchases.
Southern Hush Puppies
These little bites of deep-fried goodness have been a staple of Southern food for generations, and for a good reason. Hush puppies are the ultimate comfort food made from a simple batter of cornmeal, flour, and other ingredients. Served hot and fresh, they're the perfect side dish to accompany everything from seafood to barbecue to fried chicken. With their crispy exterior and tender, flavorful interior, it's no wonder that hush puppies have become one of the classic Southern dishes.
The perfect hush puppy is crisp and crunchy on the outside and soft and chewy in the middle. They're iconic and delicious.
What is a Hushpuppy?
Whether you call them hushpuppies or hush puppies, they are cornmeal fritters made from cornmeal, eggs, and seasoning brought together into a thick batter with a liquid.
Hush puppies are famous in the South, where people serve them as an accompaniment to fried fish or smoked meat. But with their crunchy exterior and lightly airy interior, these cornmeal fritters are a versatile side dish worth trying.
Why This is the Best Recipe for Homemade Hush Puppies
This recipe is in the middle on the hush puppy complexity scale. The formula is not basic and bland but doesn't go over the top with ingredients.
The hushpuppies taste lovely, but you can easily tweak the recipe if you want to get a bit more creative.
Hush Puppies Origin
No one has any idea of their true origin, which hasn't stopped people from coming up with some inventive and entertaining explanations.
Hush Up, Dogs!: Imagine a southern fisherman frying up his catch and his hound dawgs drooling and yapping away at sight. To keep them quiet, the cook fried up strips of dough and tossed them to the "puppies" to hush them up.
It Was Back in the Civil War: The story goes that confederate soldiers cooking their dinners around the campfire thought they heard the enemy coming. So, they threw their barking dogs some fried cornmeal and issued the soldierly command, "hush puppies!"
Fried Salamanders: This bizarre legend has it that Cajuns in Southern Louisiana were fond of digging up mud puppies (salamanders) dipping them in a batter, and deep-frying them. However, dining on salamanders was considered low class, so the eaters kept hush about it.
Is Any of This True?
It has to be asked, was fried cornmeal batter ever thrown to noisy dogs to hush them up? It is a fact that southerners were munching on tasty balls of fried cornmeal batter decades before they were called hush puppies.
It seems that hush puppies might have originated with red horse bread. Red Horse was a common species of fish served at fish fries.
Red Horse Bread
Red Horse bread was part of the repertoire of a famous cook named Romeo Govan, who ran a clubhouse where people came during fishing season. The bread was made by mixing cornmeal with egg, salt, and water. Gobs of this mixture were then dropped into the hot lard in which the fish had been fried.
One reporter wrote:
"This was a new bread to the writer and so delicious that I beg lovers of the finny tribe to try some."
It must be noted that this history still doesn't explain the change of name from red horse bread to hush puppy, so you may prefer to entertain your children with the other stories.
What Are Hush Puppies Made Of?
To make homemade hush puppies, you'll need these ingredients:
Cornmeal
Large egg
All-purpose flour
Baking powder
Onion
Salt
Ground red pepper
Milk
Vegetable oil or canola oil for frying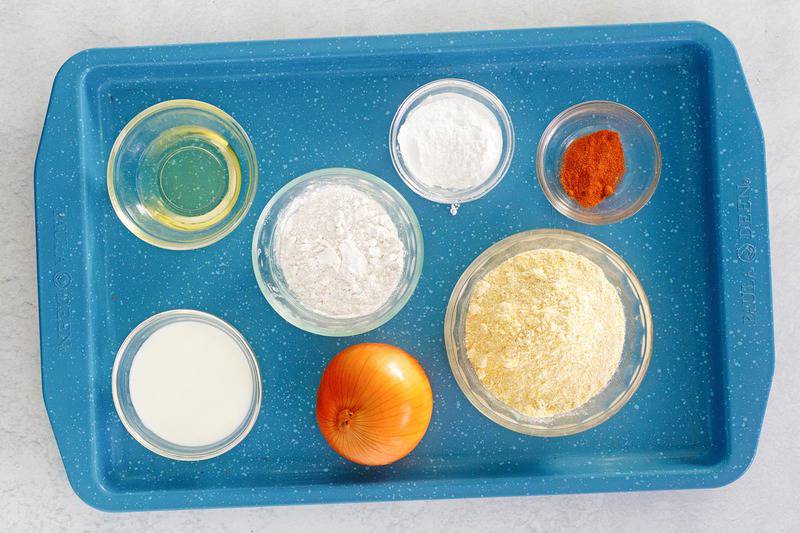 How to Make Hush Puppies
There are only a few simple steps for making this delicious fried bread:
Combine all of the dry ingredients in a mixing bowl.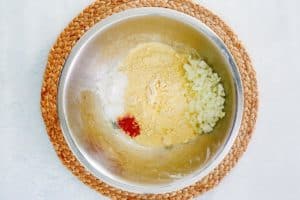 Slowly pour the milk into the large bowl while stirring. Depending on the cornmeal you use, you may need more or less milk than the recipe. Ensure the batter is scoopable but thin enough so the hush puppies won't become too dense. Think Belgian waffle batter.
Let the hush puppy mix sit for about five minutes on the countertop, and then give it a good mix to ensure there aren't any pockets of dry ingredients. It is okay if the batter tightens up slightly.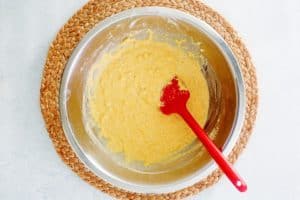 Meanwhile, heat about four inches of oil to 350°F in a deep heavy-bottom pot or a large Dutch oven or a deep fryer if you have one. Using a home deep fryer makes everything much more manageable and is worth purchasing if you deep fry once a week or more. Otherwise, use a deep-fry thermometer to check and monitor the oil temperature.
Use a tablespoon or a small cookie scoop to portion the hush puppy batter and drop it into the hot oil. Fry them in small batches so you don't overcrowd the cooking oil.
Fry for about 45 seconds, then use wooden chopsticks or a slotted spoon to flip the hush puppies over carefully. Continue to cook the hushpuppies until golden brown, another 45 seconds to a minute more.
Use a skimmer or deep fryer basket to remove the fried cornmeal cakes and spread them out on a wire rack to cool. You could use a paper towel-lined plate if you desire.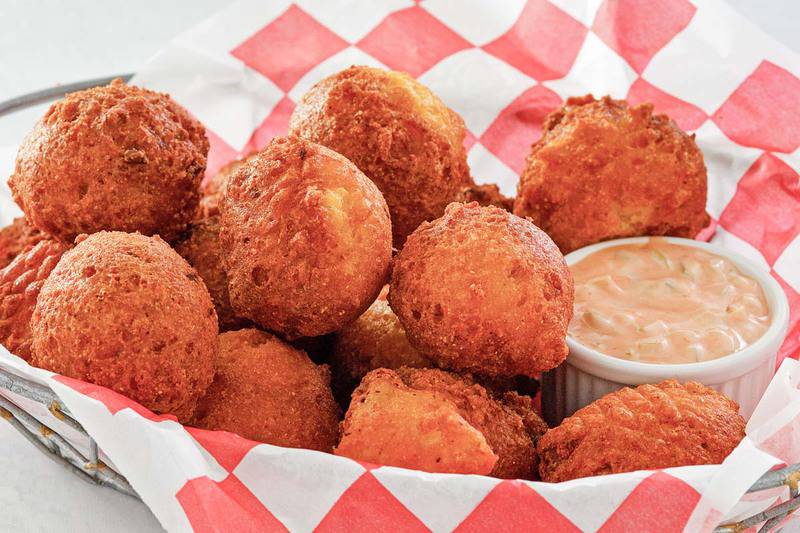 Recipe Variations
You can easily add your spin to this hush puppies recipe. Here are just a few suggestions:
Replace some or all of the onions with sliced green onion or corn kernels.
Sweeten the cornmeal mixture with a tablespoon of white sugar or a tablespoon and a half of honey.
Spice things up by adding a quarter cup of chopped jalapenos to the batter.
Replace the milk with your favorite lager.
You can use self-rising cornmeal; omit the baking powder if you have self-rising cornmeal.
What to Serve Hush Puppies With
You will want a great recipe, like this one for hush puppies. They are perfect for a fish fry but also go well with other types of food. Serve them instead of cornbread with baked beans or chili. Fry up a bunch when you make chicken wings.
Here are some recipes to try:
What to Dip Hush Puppies In
Dip them in any of these sauces for a delicious snack:
Ketchup
Remoulade Sauce
Thai Sweet Chili Sauce
How To Store Hush Puppies
Keep leftover hush puppies in a plastic bag between layers of paper towels in the fridge for up to three days.
To store for longer, lay the room-temperature hush puppies on a baking tray and pop the tray into the freezer until the hush puppies are fully frozen. Transfer them to an airtight container.
Hush puppies will last in the freezer for up to three months.
How to Reheat Hush Puppies
This recipe for hush puppies reheats from either frozen or thawed beautifully in the oven:
Preheat the oven to 350 degrees.
Place the hush puppies on a baking tray in a single layer.
Bake in the oven for four to five minutes if thawed and six to seven minutes if frozen.
Another fantastic way to reheat your hush puppies is in an air fryer.
To reheat hush puppies in the air fryer:
Preheat the air fryer to 325 degrees.
Put the hush puppies in a single layer into the air fryer.
Cook for three to four minutes for thawed hush puppies and five to six minutes for frozen hush puppies.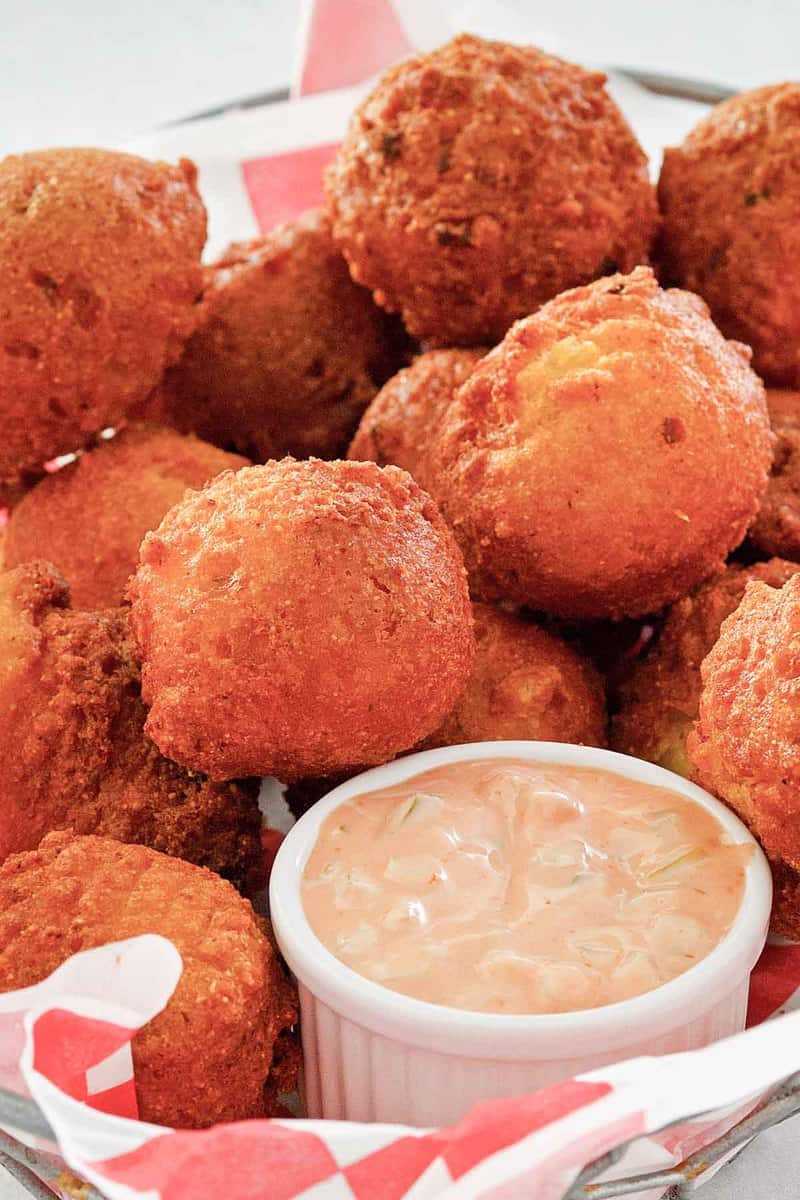 Great Cornmeal and Cornbread Recipes
Check out more of my easy bread recipes and the best budget-friendly recipes here on CopyKat!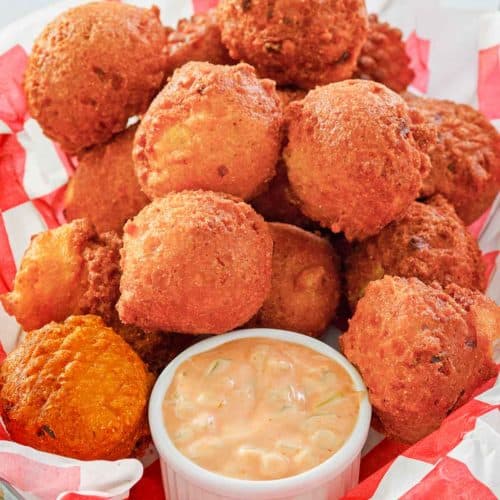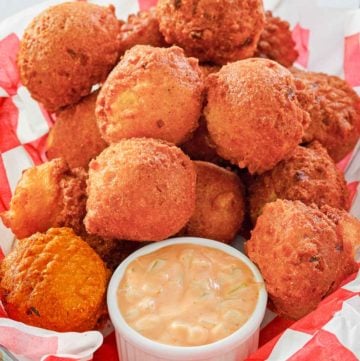 Ingredients
vegetable oil for frying

2

cups

cornmeal

1

tablespoon

all-purpose flour

2

teaspoons

baking powder

9

tablespoons

finely chopped onion

1

teaspoon

salt

1/4

teaspoon

ground red pepper

1

cup

milk

1

Large

egg
Instructions
Pour vegetable oil into a deep fryer or heavy-bottomed pot until the oil is 3 to 4 inches deep.

Heat the oil to 350°F.

In a medium bowl, stir together the cornmeal, flour, baking powder, onion, salt, and ground red pepper.

Add the milk, the egg, and stir to combine.

Drop heaping spoonfuls of the batter into the hot oil. Fry only a few at a time for best results. If you add too many at once the oil temperature may drop and they make not cook well.

Fry the hush puppies for 1 to 2 minutes, until they have browned.

Remove them from the oil, and drain on a

wire rack

.
Notes
Source Virginia McDowell. Jefferson City, Mo. 1959.
Nutrition
Calories:
78
kcal
|
Carbohydrates:
10
g
|
Protein:
1
g
|
Fat:
3
g
|
Saturated Fat:
2
g
|
Cholesterol:
1
mg
|
Sodium:
102
mg
|
Potassium:
89
mg
|
Fiber:
1
g
|
Sugar:
0
g
|
Vitamin A:
15
IU
|
Vitamin C:
0.1
mg
|
Calcium:
27
mg
|
Iron:
0.4
mg