If you are like me, you love the garlic dipping sauce from Papa John's. I love this iconic garlic sauce. It is the perfect dipping sauce for pizza. What is the best part of this Papa John's copycat recipe? I'm not running out of this creamy garlic dipping sauce on homemade pizza night!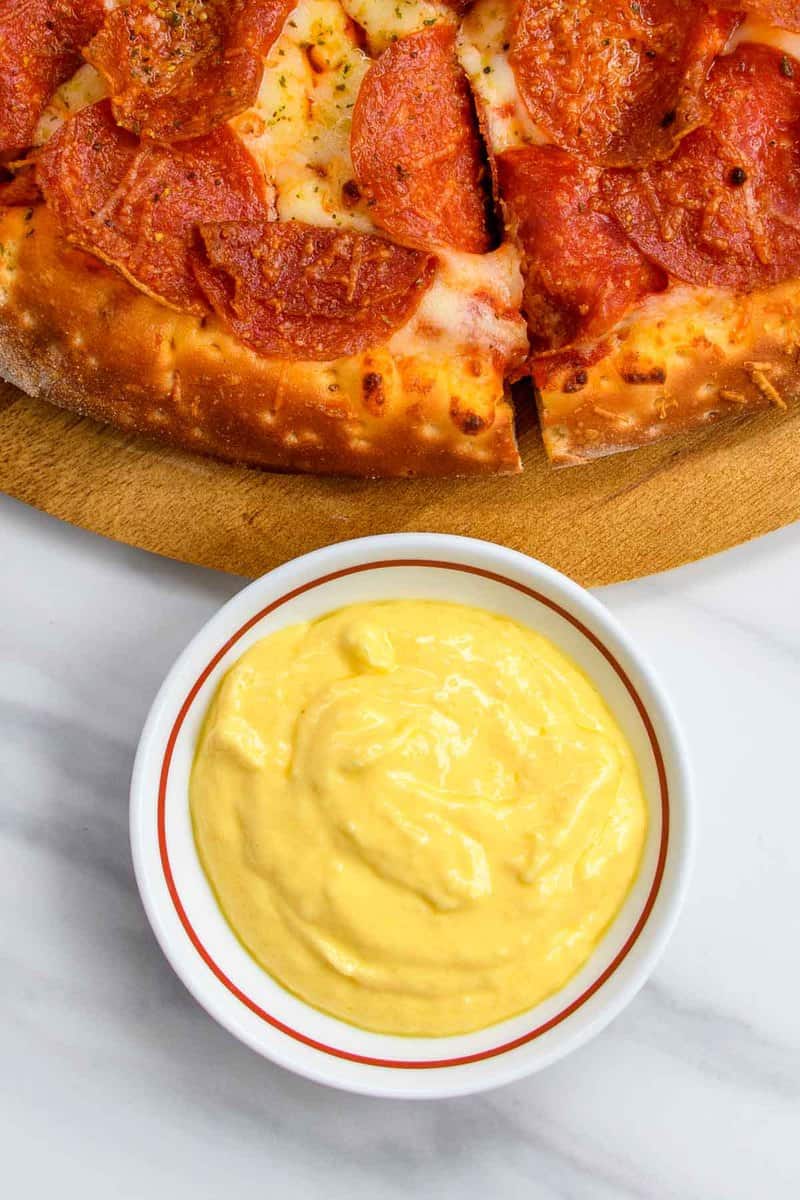 This post contains affiliate links. As an Amazon Associate, I earn from qualifying purchases.
What makes Papa Johns Creamy Garlic Butter Dipping Sauce So good?
You might wonder how to make garlicky dipping sauce pizza like Papa John's. I have a recipe for you. Papa John's buttery garlic sauce is a creamy garlic sauce perfect for dipping those pizza crusts into.
When you make it from scratch, you can use it for many more things. You can spread it on bread for simple garlic bread or even spread some on a steak just before serving. No matter how you use this, your taste buds will be delighted.
Why This is the Best Papa John's Garlic Sauce Recipe
There are a couple of reasons my copycat recipe is better than all the others:
Liquid Margarine – It's the real secret to this recipe. Papa John's doesn't use butter so margarine is the suitable ingredient to use.
Simple recipe ​- you can make this creamy sauce in no time. 
Consistency – My copycat sauce has the same consistency as Papa John's sauce. It's thick and creamy and not melted.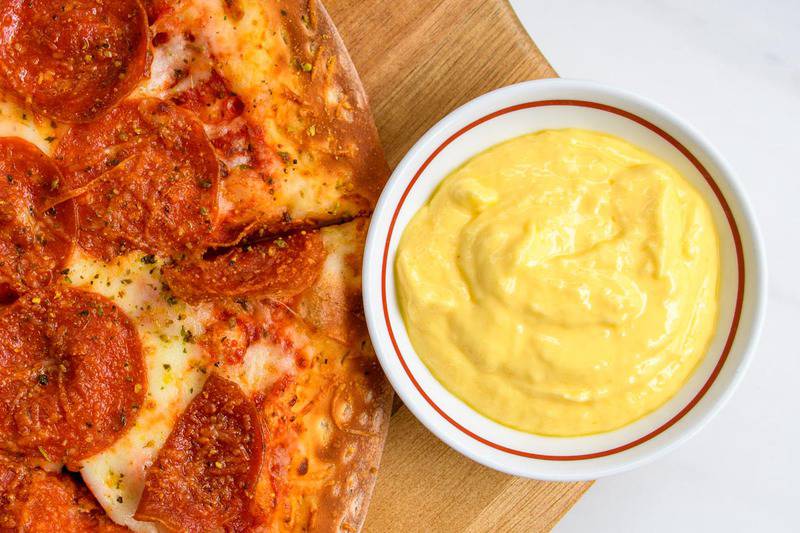 Garlic Sauce Recipe Ingredients
Here's what you need:
Garlic – use fresh garlic cloves
Liquid Margarine
Yes, just two simple ingredients are all you need to create a yummy garlic sauce with classic Papa John's flavor.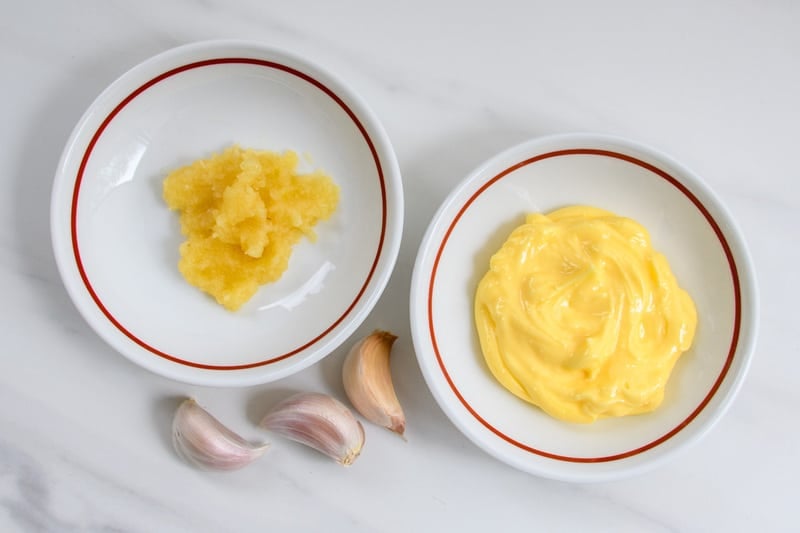 Ingredient Notes about Papa John's Garlic Dipping Sauce
Fresh garlic is key, and grating the garlic cloves brings out the flavor and gives it the right texture. Chopped garlic will make the sauce lumpy, and you want the sauce to be smooth. Use a Microplane grater for best results.
I recommend using Parkay Squeeze Margarine because it is the closest match to the margarine Papa John's uses in the sauce. If you will note, their sauce has a creamy consistency. This recipe will have the closest sauce consistency to any recipe you will try. Many recipes use garlic powder, but it does not dissolve. Because of this I do not recommend using it.
How to Make Garlic Butter Sauce
Peel and grate the garlic.
Place the grated garlic in a small bowl and add the margarine.
Stir to combine.
Let it rest for at least 20 minutes.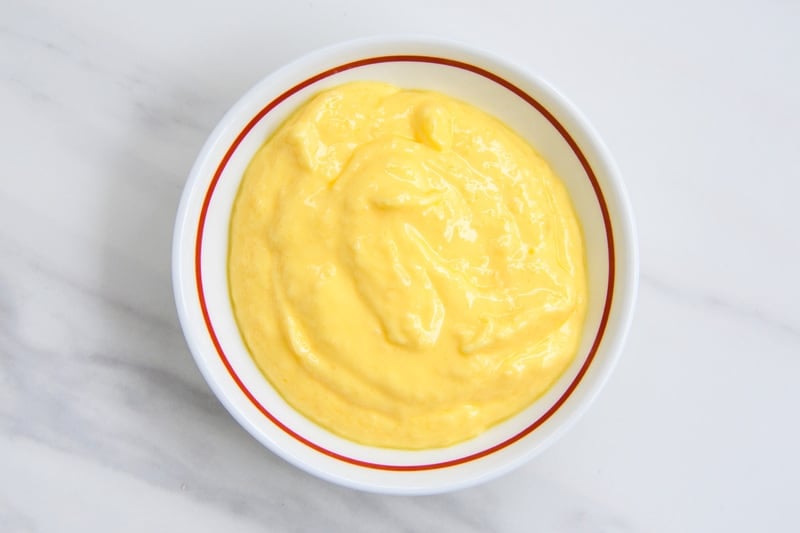 What to Serve with Garlic Sauce
Pizza and breadsticks are the perfect companions to this sauce. You can also use it for:
Baked Potatoes – use it instead of plain butter.
Mashed Potatoes – great for making garlic mashed potatoes.
Pasta – for a simple garlic pasta dish. Top it with grated Parmesan cheese.
Seafood – melt it for dipping lobster or shrimp into it.
Steak – spread it on while the steak is hot.
Vegetables – great for adding flavor to steamed or roasted veggies.
How to Store Garlic Dipping Sauce
Place the sauce in an airtight container and store it in the refrigerator. It will last for 4 to 5 days.
To Freeze: Place it in a freezer-safe container. Or in ice cube trays until frozen, then transfer the cubes to a plastic freezer bag. It will last frozen for up to 4 months. Thaw it in the fridge overnight.
If you love garlic, you should make garlic aioli and garlic wings.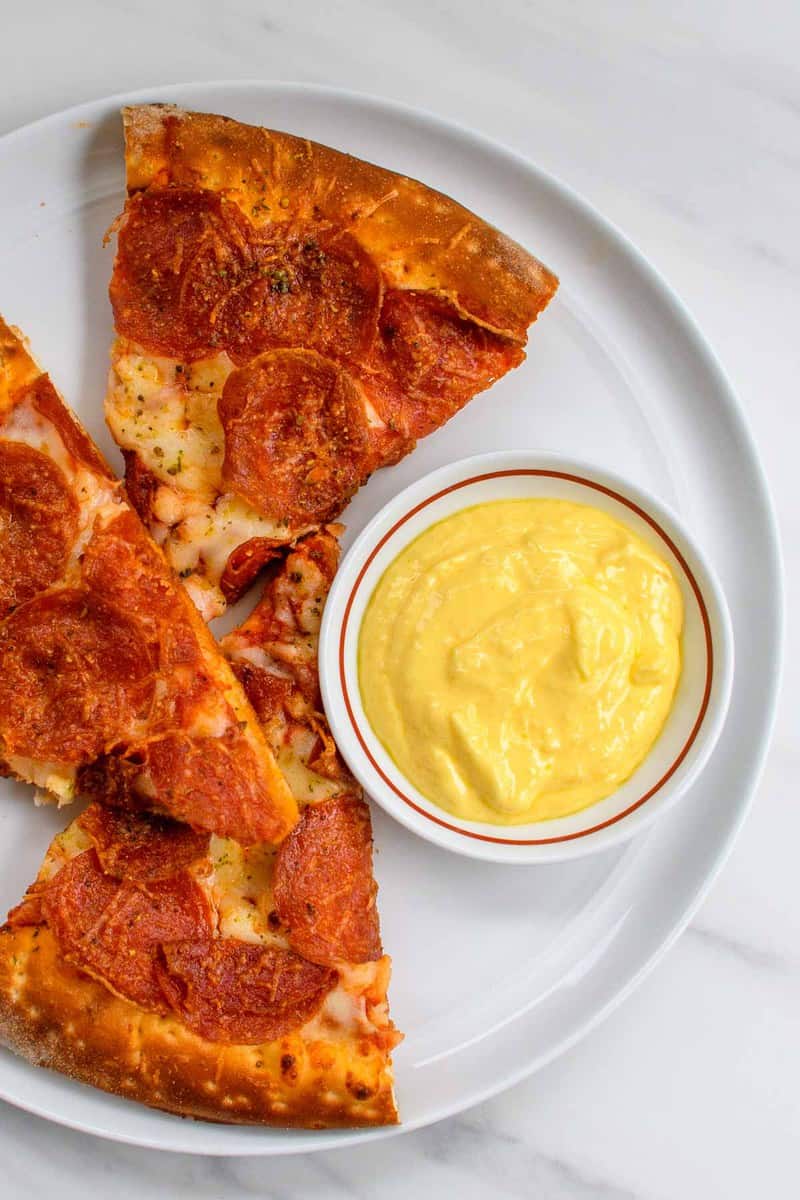 Try These Great Copycat Sauce Recipes
Popular Pizza Recipes
Be sure to check out more of my easy sauce recipes and the best fast food recipes here on CopyKat.com!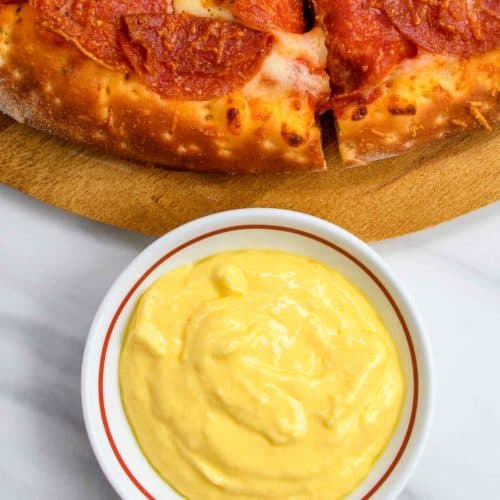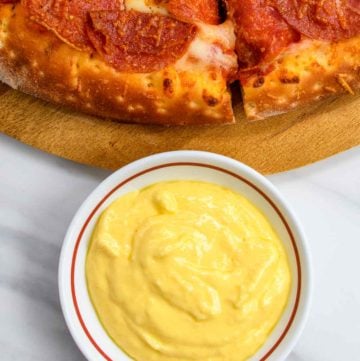 Ingredients
1/4

cup

liquid margarine

Parkay squeeze margarine recommended

2 to 3

teaspoons

grated garlic

about 4 garlic cloves
Instructions
In a small bowl, combine the grated garlic and the liquid margarine, and stir well.

Allow the garlic sauce to rest for about 20 minutes.

Serve with pizza.
Nutrition
Calories:
417
kcal
|
Carbohydrates:
3
g
|
Protein:
1
g
|
Fat:
46
g
|
Saturated Fat:
9
g
|
Polyunsaturated Fat:
12
g
|
Monounsaturated Fat:
22
g
|
Sodium:
536
mg
|
Potassium:
48
mg
|
Fiber:
1
g
|
Sugar:
1
g
|
Vitamin A:
2030
IU
|
Vitamin C:
2
mg
|
Calcium:
28
mg
|
Iron:
1
mg