McDonald's Big Mac sauce isn't a secret anymore. The Big Mac special sauce is easy to make and can be made in a couple of minutes. Although the McDonald's Special Sauce goes well on a Big Mac, it also goes well on a sandwich and so much more.
McDonald's Big Mac Special Flavor
There is no more iconic burger in the world than McDonald's Big Mac. Immortalized with its own jingle and seared into the memories of hundreds of millions of people worldwide, the Big Mac is a symbol of Americana that is equally recognizable whether you are in Philadelphia or The Philippines.
There is no doubt that what elevates the Big Mac from just a double burger with cheese to the ultimate quick-serve burger is the Big Mac secret sauce. The Big Mac sauce is creamy with just a bit of tang and spice that works well with the richness of the meat and cheese.
Believe it or not, you can purchase Big Mac sauce on its own, but it will cost you. McDonald's is making limited quantities available to consumers, but when they are gone, they are gone.
Bottles of the sauce are fetching ridiculous prices of up to 10,000 dollars on sites such as eBay.
The good news is that you don't have to take out a loan to enjoy Big Mac sauce at home. This quick and easy recipe will show you how to make homemade Big Mac sauce just as good as the original.
The Birth of the Big Mac
The Big Mac was first cooked back in 1967 by a franchisee in Pittsburgh named Jim Delligatti. At first, he only served the creation at his restaurants, but the burger's popularity quickly grew.
Within a year, the Big Mac began popping up on McDonald's menu boards across the region and then the country.
In the early days, the Big Mac sauce recipe varied amongst different parts of the US, and it wasn't until 1972 that McDonald's standardized the recipe.
Two years later, the famous jingle was first released, and the rest is the stuff of fast-food legend.
What is Big Mac Sauce?
A common misconception is that the Big Mac special sauce is just Thousand Island dressing in disguise. It isn't. Although Thousand Island dressing is a significant component of the recipe, the Big Mac secret sauce is distinctively different enough to consider as a unique sauce.
The big secret to the special sauce is the addition of Indian relish. The recipe for Indian relish calls for red bell peppers and onions mixed with vinegar and red pepper flakes. This mixture gives the Big Mac sauce a bit of a kick and helps to thicken it up.
Indian relish is available in most larger supermarkets or online, but if you can't find it ready-made, you can always use sweet pickle relish. If you are feeling adventurous you may want to try making a highly rated version of Indian relish from All Recipes.
What makes this copycat recipe different?
I have one main ingredient difference from other copycat recipes. My use of India relish instead of sweet pickle relish or dill pickle relish<. India relish has a complex flavor of white onions, mustard seeds, garlic, and white vinegar, this complex pickle relish is what distinguishes this recipe from others. By using this ingredient you are bringing in a host of consistent flavors to add to your sauce. Other recipes may have you add things like onion powder, garlic powder, turmeric, and distilled vinegar to bring in these flavors individually.
I recommend you go to the grocery store and grab a jar of India relish.
Big Mac Sauce Ingredients
This is all you need to make McDonald's Big Mac sauce:
Mayonnaise – I recommend Hellman's or Duke's
India Relish – Heinz makes a variety found in most grocery stores
Sugar – we need a little sugar to balance the flavors
Thousand Island Dressing – this is giving you color without too much tomato flavor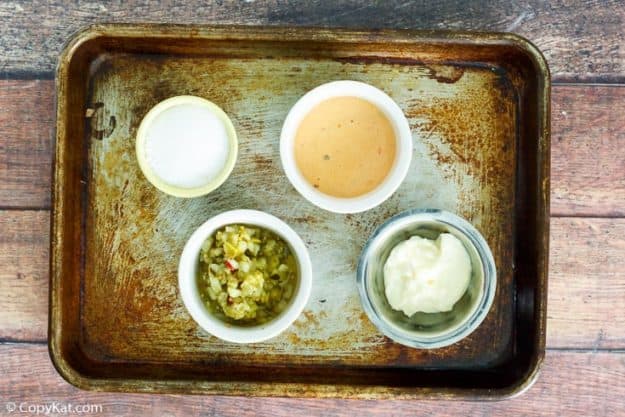 How to make Big Mac Sauce
This recipe is very simple to make. Simply stir all of the ingredients together in a small bowl
Let sauce stand for 20 minutes before using it so all the flavors can come together.
Tips For Making and Storing Homemade Big Mac Sauce
Try to make-ahead for the best taste. Like many sauces, it can take time for all the flavors in a homemade secret sauce to blend. Make the sauce at least a few hours before you plan to use it and keep it covered in the fridge.
Don't use cold sauce. Remove a small portion of the sauce from the refrigerator and let it warm up while you cook. Just remember to throw away any remaining warm sauce to avoid getting sick.
Do you want to know when we release our newest recipes? Follow us on Instagram or follow us on Facebook to stay in the loop!
Use this sauce for the best homemade Big Mac burgers or a tasty sandwich.
I hope you give this recipe a try and be sure to check out my many other copycat recipes, and you can be the judge on how close they taste to what is in the restaurant.
More Tasty Sauces
Popular McDonald's Frozen Drink Copycat Recipes
Be sure to check out all my easy sauce recipes and the best copycat McDonald's recipes.
Ingredients
1

cup

Mayonnaise

2

tablespoons

India relish, drained

Heinz makes India relish

1/2

teaspoons

granulated sugar

2

tablespoons

Thousand Island dressing
Instructions
Mix all ingredients well. Let stand for at least 20 minutes, allowing to sit overnight is desired.
Nutrition
Calories:
104
kcal
|
Carbohydrates:
0
g
|
Protein:
0
g
|
Fat:
11
g
|
Saturated Fat:
1
g
|
Cholesterol:
6
mg
|
Sodium:
126
mg
|
Potassium:
2
mg
|
Fiber:
0
g
|
Sugar:
0
g
|
Vitamin A:
15
IU
|
Calcium:
1
mg
|
Iron:
0.1
mg