Recreate the iconic flavor of Mr. Submarine at home! The ultimate sub sauce, crafted to give your submarine sandwiches that signature tangy and savory kick. A harmonious blend of spices and seasonings, this sauce elevates every bite, making every sandwich an unforgettable culinary experience. Why settle for ordinary when you can have the legendary taste of this sub dressing in your own kitchen?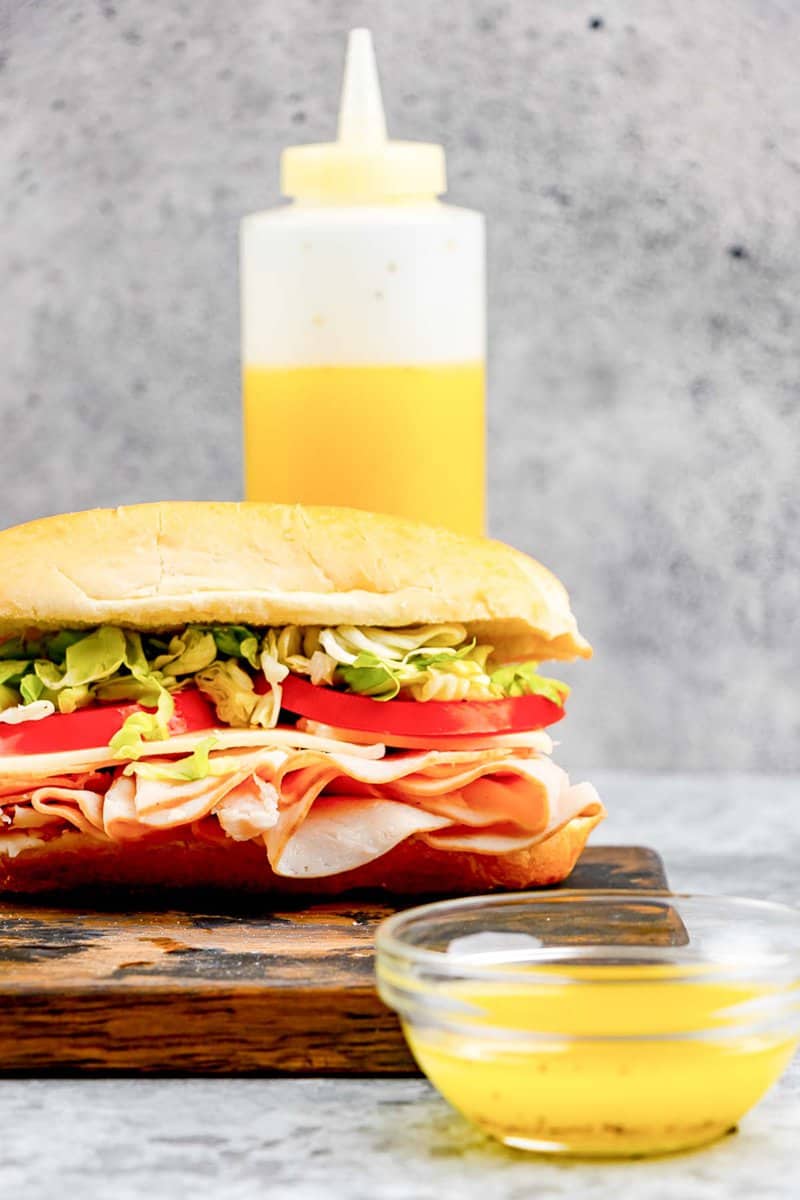 Submarine Sauce
If you live north of the border, you are probably familiar with Mr. Sub! If not, you are about to take your sandwiches and salads to the next level with this Mr. Sub Secret Sauce recipe.
History of Mr. Submarine
Mr. Sub or Mr. Submarine as it was originally called, opened its doors back in 1968 in Toronto, Canada. It started small but has grown to over 200 shops.
Mr. Sub is known for its submarine sandwich featured on a long baguette-type roll. The sandwich is filled with meat, cheese, and veggies. The sub sauce is what put this sandwich on the map.
What Makes Mr. Sub Secret Sauce so Sood
It may be called Mr. Sub's Secret Sauce but it's not so secret thanks to one of my Canadian friends. What gives it a special flavor is the juice from jarred pepperoncini peppers.
Why You Should Try This Sub Sauce Recipe
This sauce tastes identical to Mr. Sub's sauce, so now, when you crave it, you don't need to go into the restaurant to get it! It has a rich base, thanks to the soybean and olive oil, and the garlic provides umami notes.
However, the star ingredient is definitely the hot pepper juice because it gives the sauce its signature flavor. The best part is that you don't need a special blender to make it; just give the ingredients a shake, and you're ready to use it.
Ingredients
Here's what you will need to make this copycat sub dressing recipe:
Soybean Oil
Olive Oil
Hot Pepper Juice (from Pepperoncini)
Oregano
Garlic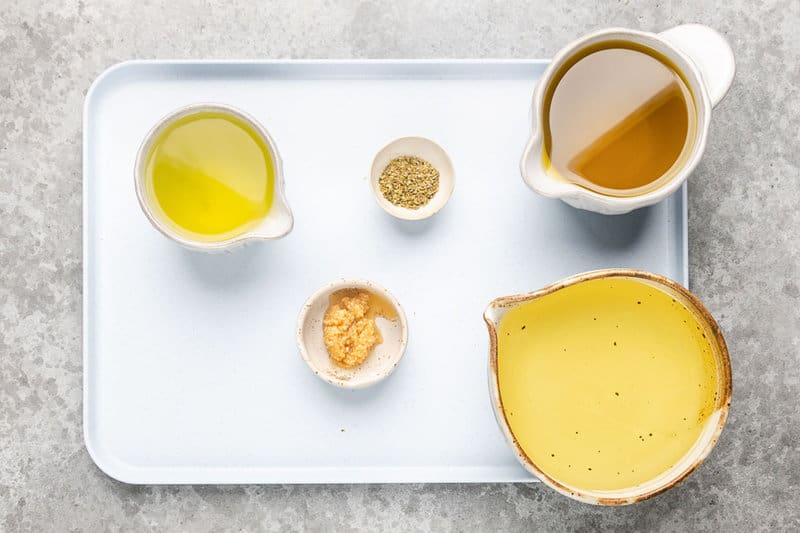 What is a Pepperoncini Pepper and How Hot is It?
Pepperoncini peppers are not that hot at all. The pepper hails from Italy and goes by many different names. It actually looks a little like a banana pepper and can be found in most grocery stores.
If you were to compare it to a jalapeno pepper on the pepper scale, a pepperoncini pepper is 5-80 times milder. The juice that comes from this pepper is perfect for this sub sauce.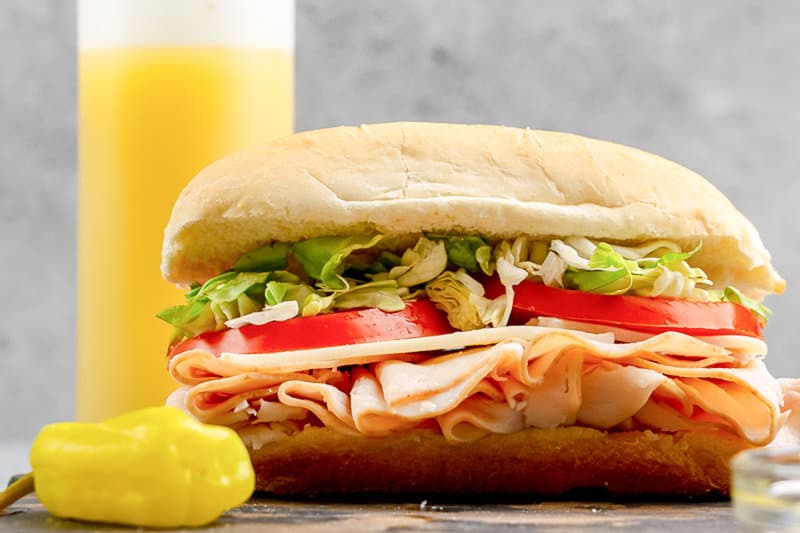 How to Make Sub Sauce
There are only two simple steps to make this copycat recipe:
Combine all the ingredients in a shaker or mason jar.
Close the lid and shake it vigorously until the sauce is well combined.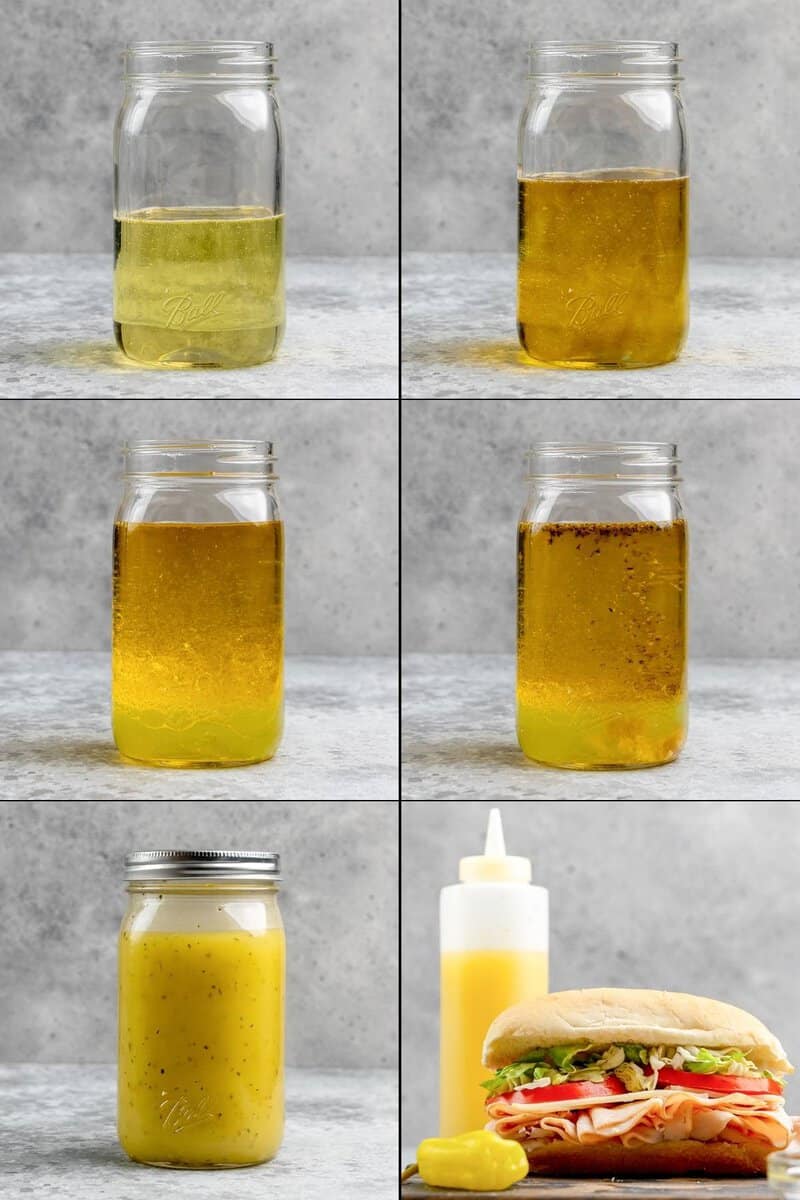 Recipe Tips
If you don't have soybean oil, you can substitute canola oil or saffron oil for it.
A shaker is the best way to combine a salad dressing or sauce. But if you don't have one, you can use a mason jar or anything else with a tight lid. You can also whisk it in a bowl.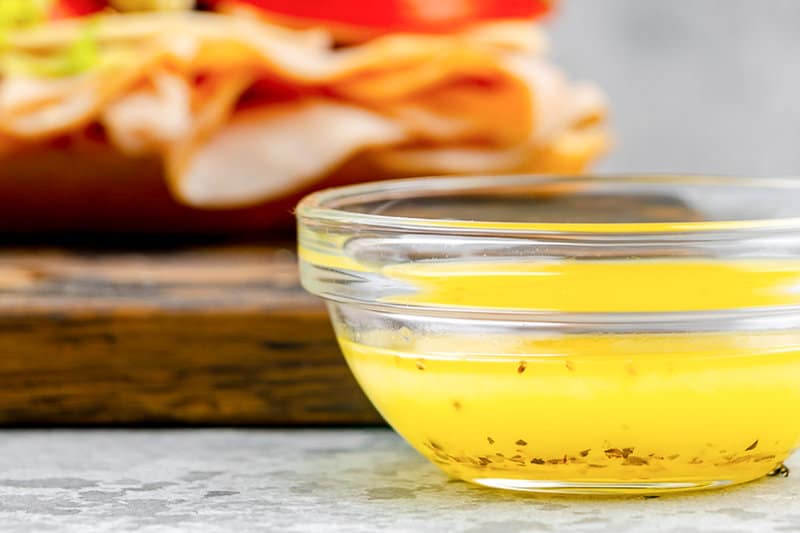 Other Delicious Ways to Serve This Sauce
You don't have to limit this sauce to just homemade subs. Since it is similar to dressing but with a twist, you can use it in all sorts of creative ways.
I suggest using it on a salad to give it a zesty kick. The pepperoncini juice will give any salad a bright flavor. You can also use it on burgers, mix it into pasta salad, or drizzle it over bruschetta as a finishing touch.
What Side Dishes Can You Serve with a Sub Sandwich?
At Mr. Sub, there are plenty of sides you can pair with the sandwiches, such as baked cookies or brownies, pickle spears, or chips.
However, when you make it at home, you can always serve your sub with something else, like Dill Potato Salad or a fresh Cucumber Onion Salad. Lastly, you can't go wrong serving the subs with your favorite soup!
How to Store Sub Sauce
Store this sauce in an airtight container to keep it as fresh as possible. It will last one to two weeks. You can store it in your pantry or the refrigerator. If storing it in the fridge, the oil may solidify so set it out on the counter about an hour before you want to use it.
If the mixture looks separated, don't worry; that might naturally happen. You can simply shake it again to emulsify all of the ingredients together once more!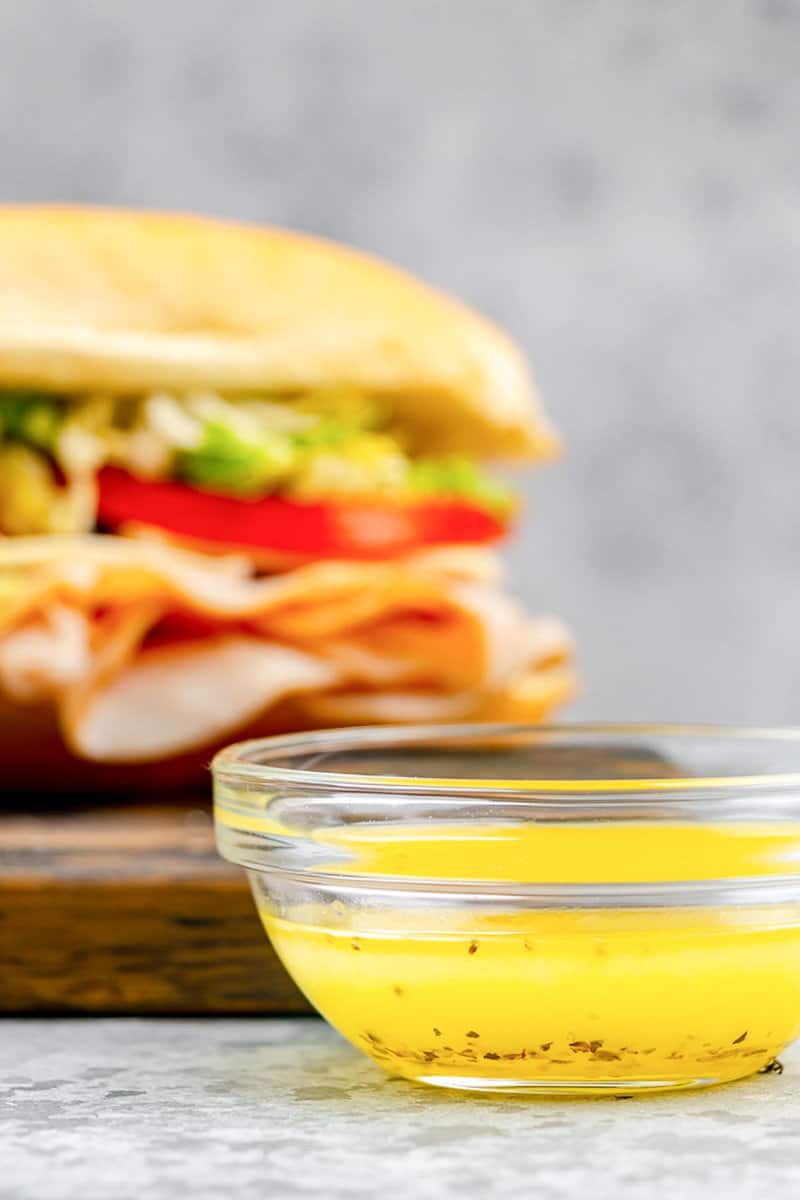 Other Popular Sauce Recipes
Mr. Sub does not have the only lock on unforgettable sauces, here are a few copycat sauces you simply must try!
Popular Fast Food Sandwiches
Be sure to check out more of my easy sauce recipes and the best fast food copycat recipes.
What's your favorite sandwich sauce? Let me know in the comments below. And don't forget to follow me on Facebook or Instagram or subscribe to my mailing list for the latest CopyKat recipes!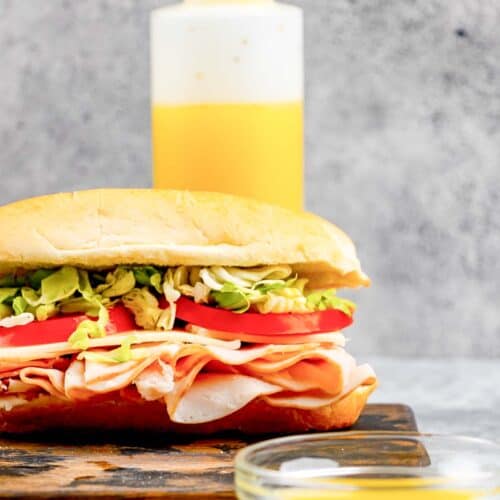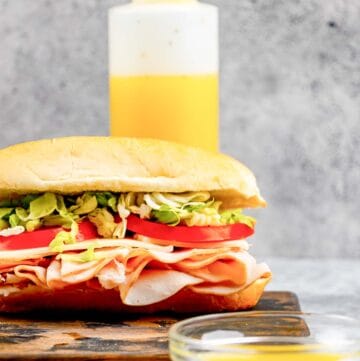 Ingredients
4

cups

soybean oil

1

cup

olive oil

1 1/2

cup

juice from a jar of hot peppers

(such as pepperoncini)

1

teaspoon

oregano

1

teaspoon

garlic
Instructions
Combine all ingredients in a shaker and shake well.
Notes
If you don't have soybean oil, you can substitute canola oil or saffron oil for it.
A shaker is the best way to combine a salad dressing or sauce. But if you don't have one, you can use a mason jar or anything else with a tight lid.
Use Mr. Sub Secret Sauce on your favorite sandwich or for a salad.
Keep refrigerated in an air-tight container when not using.
Nutrition
Calories:
19
kcal
|
Carbohydrates:
0
g
|
Protein:
0
g
|
Fat:
2
g
|
Saturated Fat:
1
g
|
Cholesterol:
0
mg
|
Sodium:
0
mg
|
Fiber:
0
g
|
Sugar:
0
g
|
Vitamin C:
0
mg
|
Calcium:
1
mg
|
Iron:
0
mg