Recreate the magic of Cucina! Cucina! at home with this Italian chopped salad. Bursting with hearty chicken, tangy salami, creamy cheeses, and chickpeas, it's a symphony of flavors enhanced by a special vinaigrette dressing.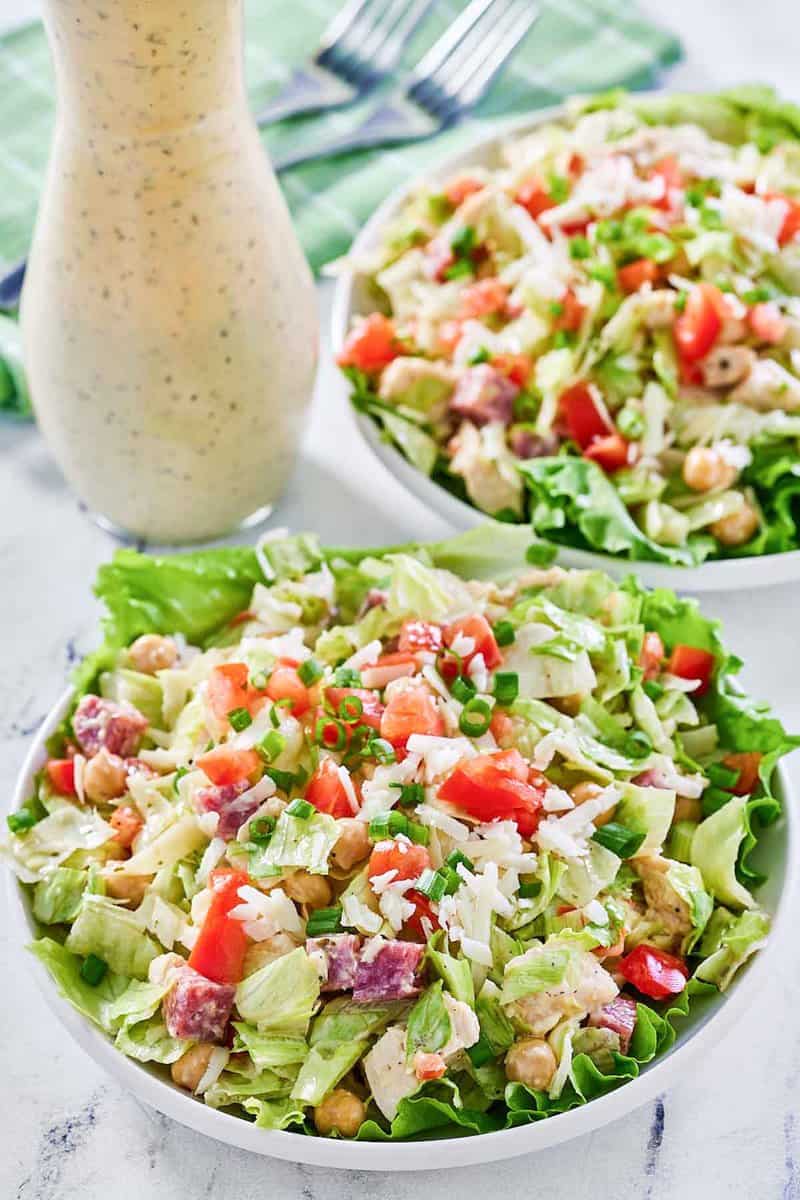 This post contains affiliate links. As an Amazon Associate, I earn from qualifying purchases.
Cucina! Cucina! Italian Chopped Salad
Those who dined out in the Pacific Northwest in the 1990s and early 2000s may have fond memories of the Cucina! Cucina! chain. At its peak, it boasted nearly 20 locations focused on well-known Italian classics like pasta, pizza, and other regional dishes, served in a family-friendly atmosphere.
While many folks loved the classic "red sauce"-style entrees, others still feel their mouth watering when they think of the Cucina Cucina Italian chopped salad.
The bite-sized ingredients, which range from veggies to cheese and meat, make it easy to get the perfect mix of flavor and texture in a single bite. Combined with a deliciously zesty dressing, it's no wonder this dish has lived on long after the final Cucina Cucina closed its doors.
Why This is the Best Recipe for Italian Chopped Salad
There's a lot to love about this Italian chopped salad recipe that earns it the top spot among those looking to enjoy a taste of their Cucina Cucina memories. It offers one of the easiest ways to create the classic chopped salad texture and has enough protein from the meat and cheese to act as both a side and main dish, complemented by the freshness of iceberg lettuce, tomatoes, and chickpeas.
Plus, the Cucina Cucina chopped salad dressing is as delicious as it is easy. You might even find yourself whipping up batches to dress other styles of salad, marinate meat, or other uses.
Ingredients
The ingredients for this tasty Italian chopped salad recipe can be split into two groups: one for the dressing and one for the salad itself.
For the dressing:
Extra-virgin Olive oil
Egg yolk
Red wine vinegar
Dijon mustard
Dry mustard
Dried oregano
Garlic, minced
Lemon juice
Sugar
Salt and pepper
For the salad, the ingredients are more flexible to your taste, but generally include:
Iceberg lettuce, chopped
Chickpeas, precooked
Chicken breast, poached and diced
Mozzarella cheese, shredded
Provolone cheese, grated
Dry wine salami, diced
Plum tomatoes, diced
Thin green onions, chopped
Fresh basil leaves, chopped
In addition, those who'd like to add a bit of flair to their serving style should obtain larger lettuce leaves, which can be placed on the plate with the salad served on top.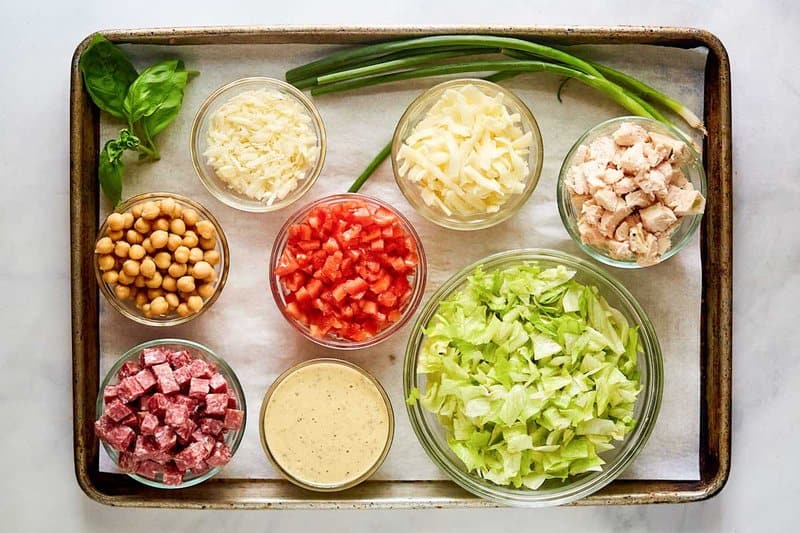 Ingredient Substitutions
With a recipe as simple as this, it's easy to see how cooks with particular tastes or dietary needs can adjust it as needed. Vegetarians can leave out the chicken and salami, while those sensitive to dairy can dial back or remove the cheese.
Feel free to experiment with alternative proteins, whether it's swapping out pepperoni for salami or sausage or steak for chicken.
Olives or chopped red or green peppers are a great addition as well, either replacing an ingredient or working alongside current ones.
While iceberg lettuce provides the optimal crunch, it's also possible to mix in other more nutritious greens like arugula or spinach. Romaine lettuce is another great option.
Those looking for a crunch can supplement the salad with croutons, pine nuts, or almonds.
How to Make Cucina Cucina Chopped Salad
The most involved part of making this Cucina Cucina Chopped Salad recipe is the dressing.
Start by whisking the egg yolk with a bit of water and microwaving for about 20 seconds, whisking again in the middle.
After allowing it to cool, combine egg mixture, dried seasonings, garlic, mustard, sugar, vinegar, lemon juice, and salt and pepper in a food processor.
Blend well, then slowly pour in the olive oil as the processor runs, emulsifying the mixture into the finished dressing.
Refrigerate it until you're ready to dress your salad.
Meanwhile, making the salad is about as easy as it gets.
Chop, dice, grate, or shred the ingredients as noted, and add them to a large bowl.
Toss together to combine, then add the dressing and toss a final time.
This should be done immediately before the salad is served.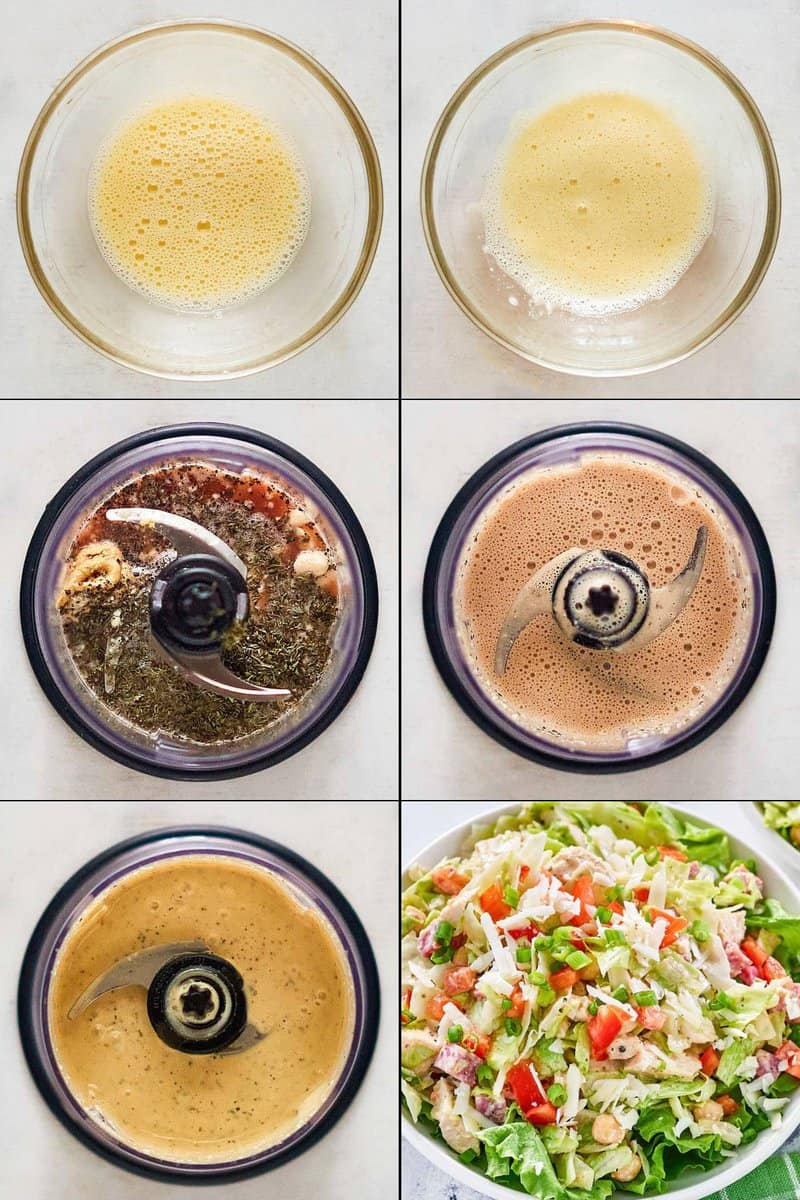 What Goes Well with Cucina Cucina Chopped Salad
Cucina Cucina chopped salad is a great choice to pair with many different types of food, none better than Italian. It's an excellent side for pizza and pasta-focused meals, providing a healthy dose of veggies and protein alongside those carbs.
However, it's also substantial enough to be served as a main course with some garlic cheese bread or polenta on the side. With the crowd-pleasing ingredients, it even works well with other styles of cuisine, including grilled meats and seafood.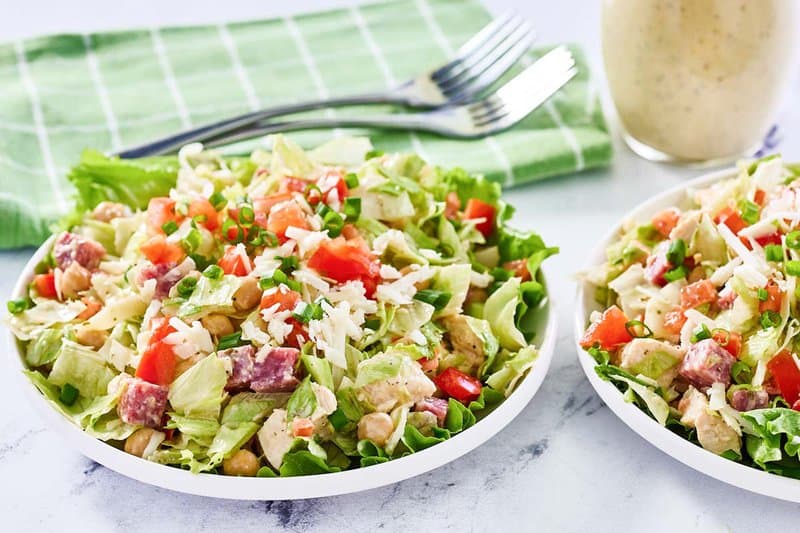 How to Store
Generally, it's not recommended to store the fully dressed chopped Italian salad, as extended exposure to the dressing can make the greens soggy and harm the overall texture.
However, the dressing can be stored in an airtight container in your refrigerator, a convenient feature for making it ahead of time or dressing multiple salads on different days.
Properly stored dressing should be used within five to seven days.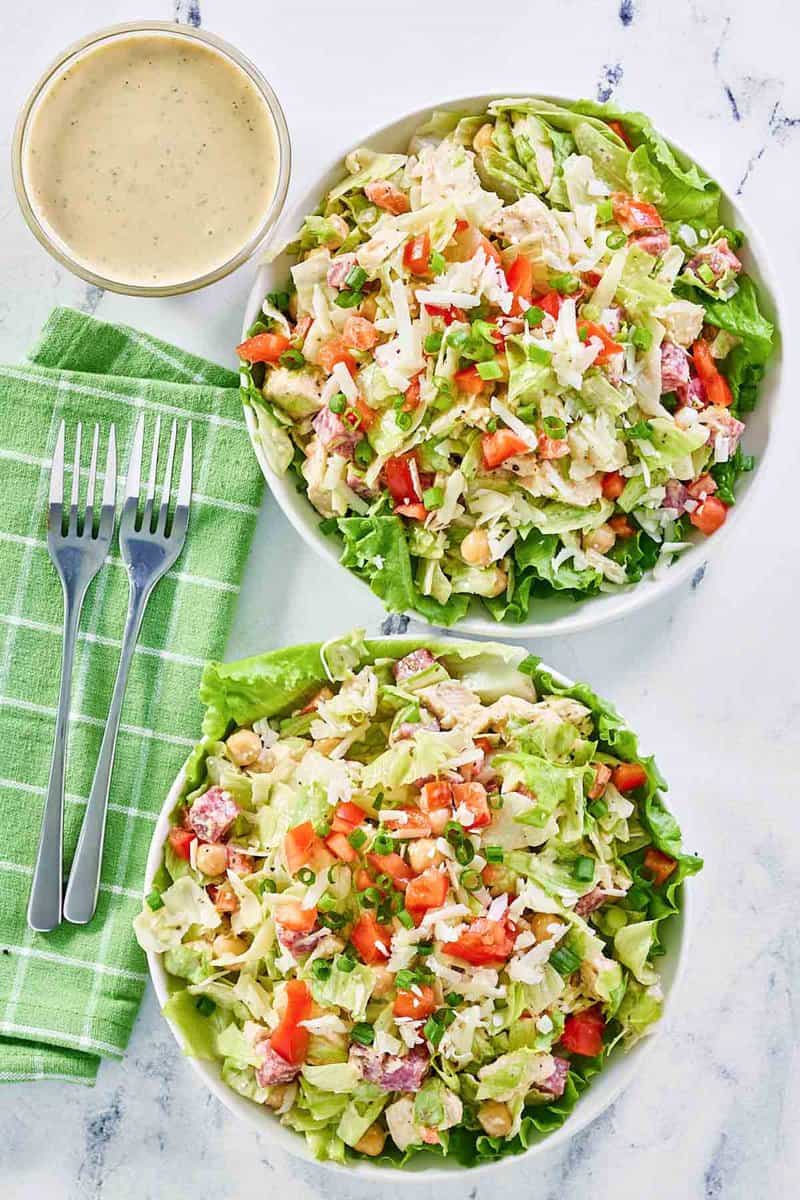 Favorite Salad Recipes
Popular Salad Dressing Recipes
Check out more of my easy salad recipes and the best copycat restaurant recipes on CopyKat!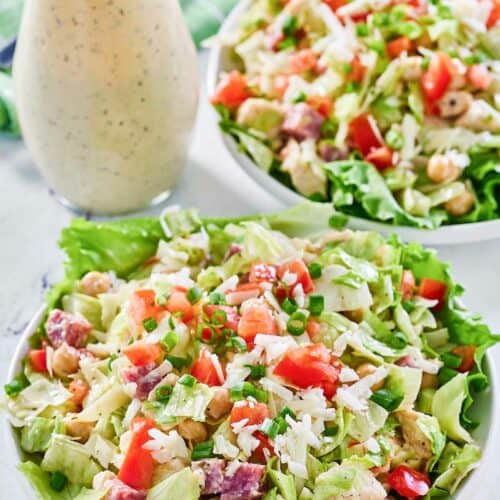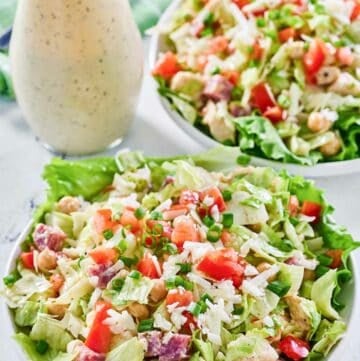 Ingredients
Italian Vinaigrette
1

egg yolk

1

tablespoon

water

1

tablespoon

Dijon mustard

2

tablespoons

minced garlic

1/2

teaspoon

salt

1

teaspoon

coarse black pepper

1/2

teaspoon

dry mustard

2

teaspoons

dry oregano

1/2

teaspoon

sugar

1/3

cup

red wine vinegar

2

tablespoons

lemon juice

1

cup

olive oil
Salad
4

ounces

cooked chickpeas

lightly chopped

1

head

iceberg lettuce

chopped into 1/4- to 1/2-inch pieces

1

cup

basil leaves

chopped

1

cup

shredded mozzarella cheese

12

ounces

poached chicken breast

diced

8

ounces

dry wine salami

diced

8

ounces

plum tomatoes diced

divided use

1/2

cup

grated provolone cheese

divided use

3

green onions

chopped, divided use

8

lettuce leaves
Instructions
To prepare the dressing: Whisk the egg yolk and water in a small bowl. Cover the bowl with a small plate and microwave on high for 10 seconds, or until the mixture starts to expand. Continue to cook for 5 more seconds. Remove from the microwave and whisk with a clean whisk. Cover and return to the microwave 5 more seconds. Remove from the microwave and whisk with a clean whisk. Cover and let sit 1 minute.

In a food processor, combine the egg mixture, Dijon, garlic, salt, pepper, dry mustard, oregano, sugar, vinegar, and lemon juice. Process until well blended. With the motor running, slowly add the olive oil and process until emulsified. Set aside. (This makes about 1 1/2 cups of dressing. Refrigerate any unused dressing.)

To prepare the salad: Combine the chickpeas, iceberg lettuce, basil, mozzarella, chicken, salami and half of the tomatoes, provolone, and green onions. Toss with the dressing. Divide evenly between 8 lettuce-lined plates. Garnish with the remaining tomatoes, provolone, and green onions.
Nutrition
Calories:
617
kcal
|
Carbohydrates:
17
g
|
Protein:
46
g
|
Fat:
39
g
|
Saturated Fat:
15
g
|
Cholesterol:
181
mg
|
Sodium:
2148
mg
|
Potassium:
1102
mg
|
Fiber:
5
g
|
Sugar:
6
g
|
Vitamin A:
5550
IU
|
Vitamin C:
28.1
mg
|
Calcium:
381
mg
|
Iron:
3.8
mg