Elevate your salads with homemade Green Onion Salad Dressing! This delightful vinaigrette combines the fresh, tangy flavors of green onions with other simple ingredients, all blended together to create a dressing that is both flavorful and easy to make. Just pop everything into your blender, and in minutes you'll have a gourmet dressing that's perfect for salads, marinades, or even a unique dip. Taste the difference that homemade makes and bring your salads to life!
This post contains affiliate links. As an Amazon Associate, I earn from qualifying purchases.
Green Onion Dressing
Green onions make a wonderful salad dressing. This is a super yummy salad dressing recipe! And, if you were wondering what to do with those slightly wilted green onions, this onion salad dressing is the perfect solution.
What's the Difference Between Green Onions, Scallions, and Spring Onions?
Green onions and scallions are the same thing. Green onions/scallions are either harvested at the very young stage of regular bulb-forming onions or come from other varieties that never form bulbs.
Green onions/scallions are long, with a white stem end that does not bulge out. Their taste is onion-y but not as intense as regular onions – the white part contains the most intense flavor. They are used raw or cooked, and while some cooks don't use the darker green tops, the whole vegetable can be eaten, which is how it is often used in Asian cooking.
Spring onions look similar to green onions and scallions but have small onion bulbs at the base. These onions come from varietals that produce bulbs and are basically more mature versions of green onions/scallions. They are called spring onions because they get planted as seedlings in late fall and are harvested the following spring.
Spring onions are mellower and sweeter than regular onions, but the green part has a more intense flavor than green onions/scallions. The bulbs may be white or red, and while they can be used in much the same way as regular bulb onions, they are great roasted whole, grilled, or used like pearl onions.
Why You Should Try This Recipe for Green Onion Dressing
This blender salad dressing is ridiculously easy to make and super delicious! Its zippy, tangy, and slightly sweet taste is perfect for livening up all your favorite summer salads.
A fresh homemade onion vinaigrette will take your salad to the next level! Because you know exactly what's in your homemade salad dressing, you'll enjoy a more nutritious salad. (The labels on store-bought dressings often include a long list of chemical-sounding ingredients, many of which may be artificial or thought to be unhealthy.) In addition, making your own salad dressing will also help you save a few bucks!
Green Onion Dressing Ingredients
You're only a few ingredients and a short time away from creating this delicious green onion vinaigrette! To make this delicious onion salad dressing, you'll need:
Green onions
Vegetable oil
Red wine vinegar
Worcestershire sauce
Dry mustard
Sugar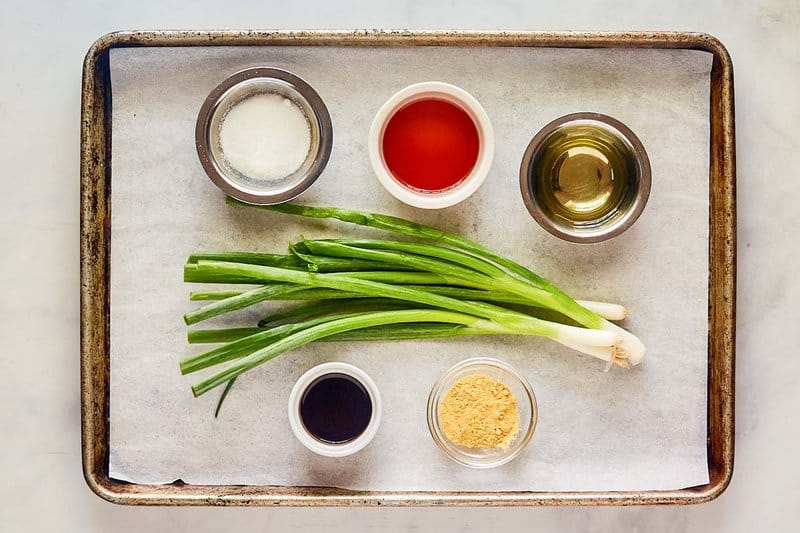 Ingredient Notes – Additions and Substitutions
You can substitute vegetable oil with canola oil or extra-light olive oil.
You can add a pinch of salt and pepper if desired.
You can add up to 1 teaspoon of fresh garlic.
You can add up to 1 tablespoon of fresh parsley.
How to Make This Blender Salad Dressing
If you have a blender, this onion salad dressing couldn't be simpler to make. Here's all you need to do:
Use a knife to slice the onions into 1-inch pieces.
Put all the dressing ingredients in a blender.
Pulse until the onions are finely minced.
Pour the dressing into an airtight container (a mason jar works great!).
Refrigerate for a few hours before serving.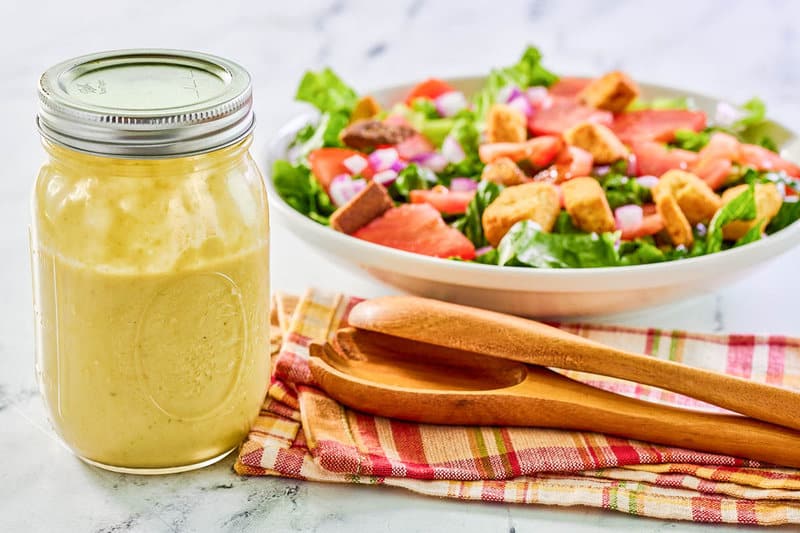 What Types of Salad Is This Green Onion Salad Dressing Good on?
This dressing is great on a salad that includes fresh lettuce from the farmers' market. Here are some other salads that this dressing will work well with:
Other Ways to Use Green Onion Dressing
Apart from using your green onion salad dressing on salads, here are some other ideas:
Drizzle some over grilled chicken, baked fish, or boiled shrimp.
Use it as a marinade for grilled meats.
Use it in lettuce wraps or regular sandwich wraps.
Use it as a sub sandwich dressing.
How to Store Homemade Onion Vinaigrette
Homemade vinaigrette dressing should be stored in an airtight container. It keeps well in the refrigerator for up to 2 weeks.
Tip: If you find that your vinaigrette has solidified in the refrigerator, just put it out at room temperature for 5 to 10 minutes. Alternatively, microwave for about 10 seconds to re-liquefy. Give it a stir or shake and serve over your favorite salad.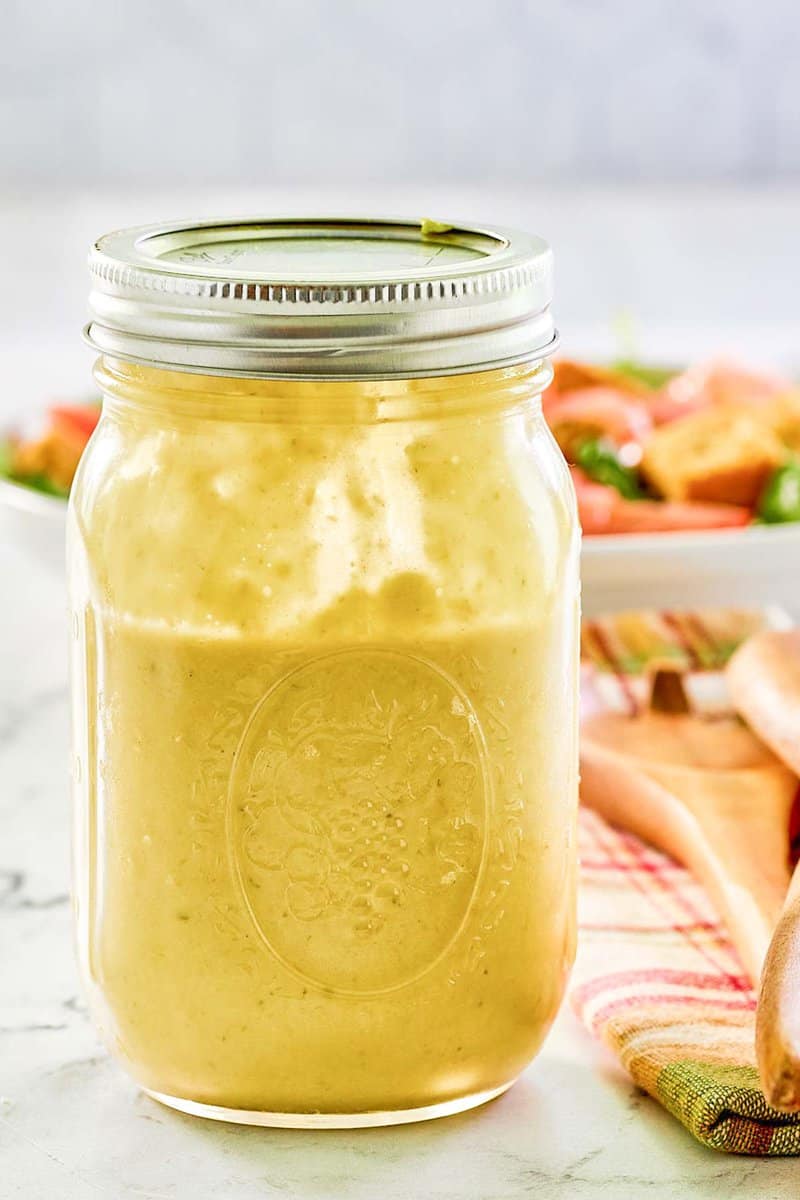 Favorite Salad Dressing Recipes
Popular Salad Recipes
Check out more of my easy salad dressing recipes and the best recipes for salads on CopyKat!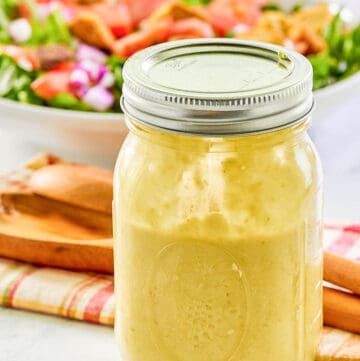 Ingredients
4

green onions

cut into 1-inch pieces

1

cup

vegetable oil

1/2

cup

red wine vinegar

2

tablespoons

sugar

3/4

teaspoon

Worcestershire sauce

1/2

teaspoon

dry mustard
Instructions
Combine all the ingredients in an electric blender or food processor and pulse until the onions are very finely minced.

Refrigerate for a few hours before serving.
Nutrition
Calories:
40
kcal
|
Carbohydrates:
3
g
|
Protein:
0
g
|
Fat:
2
g
|
Saturated Fat:
2
g
|
Cholesterol:
0
mg
|
Sodium:
7
mg
|
Potassium:
26
mg
|
Fiber:
0
g
|
Sugar:
3
g
|
Vitamin A:
60
IU
|
Vitamin C:
1.2
mg
|
Calcium:
4
mg
|
Iron:
0.2
mg