Are you looking for a rich and creamy dressing to take your salads to the next level? Try this easy Maytag buttermilk blue cheese dressing recipe! Made with tangy buttermilk and flavorful Maytag blue cheese, this homemade dressing is perfect for adding a savory and indulgent touch to any salad.
Whether you're a fan of salads or simply love the taste of blue cheese, this chunky and creamy Maytag buttermilk blue cheese dressing is sure to become a favorite!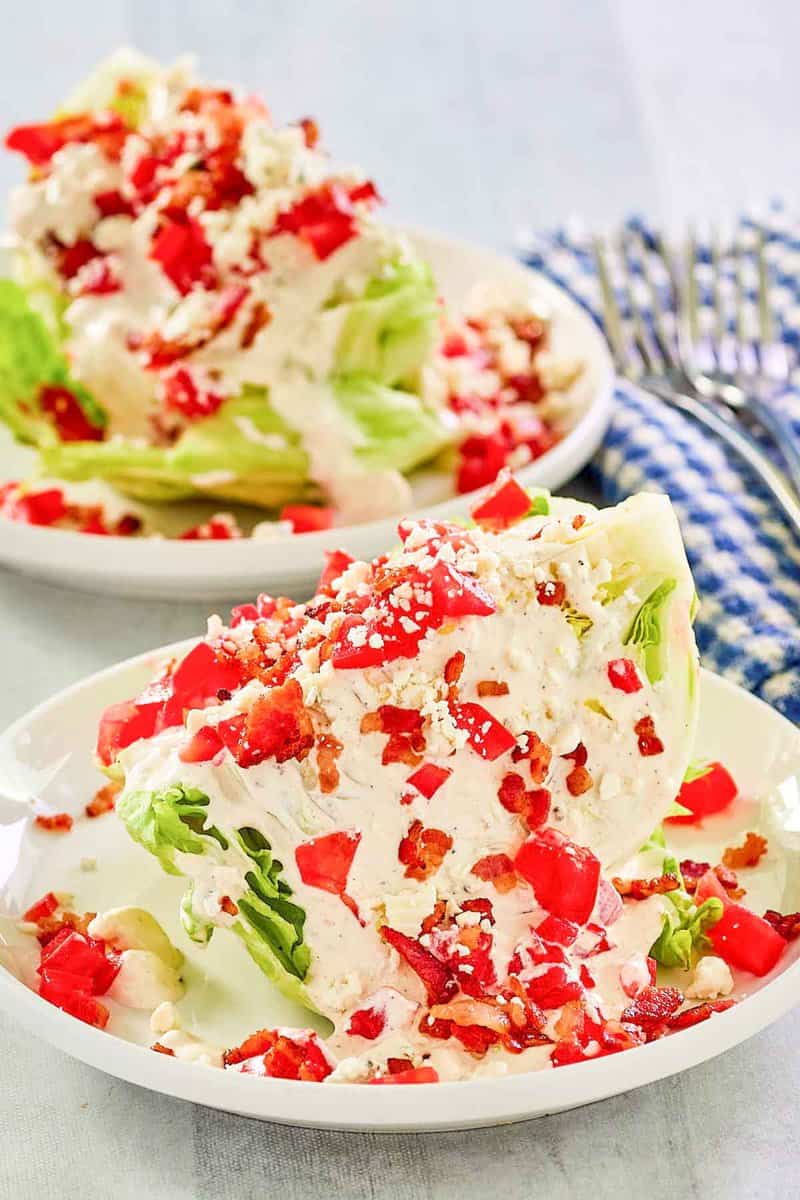 This post contains affiliate links. As an Amazon Associate, I earn from qualifying purchases.
Maytag Blue Cheese Dressing
Whether on a salad or served with buffalo wings, this garlicky homemade blue cheese dressing with buttermilk will please everyone. In fact, it's hard to beat this salad dressing because it's so creamy and rich with sour cream, buttermilk, and mayonnaise.
Blue cheese dressing is traditionally used on a classic wedge salad, a recipe for which is given below.
What Is Maytag Blue Cheese?
Maytag blue cheese is arguably the most celebrated American blue cheese. Maytag Blue comes from the Maytag dairy farm in Newton, Iowa, and is cave-aged for six months to produce its signature full, rich flavor.
It's made from homogenized cow's milk instead of traditional sheep's milk. This results in Maytag Blue not being as strong tasting as some blue cheeses; it is mild, creamy, sweet, and absolutely delicious.
Why You Should Try This Maytag Blue Cheese Dressing Recipe
This chunky blue cheese dressing with buttermilk is the best salad dressing ever! And when it comes to blue cheese, Maytag blue cheese is the best – it's so creamy and delicious!
Once you try this homemade blue cheese dressing, you'll never buy it in a bottle again! You will notice the very fresh taste because it does not contain the preservatives generally found in bottled dressing.
Ingredients for Maytag Blue Cheese Salad Dressing
This rich homemade Maytag blue cheese dressing recipe has a nicely balanced flavor and a deliciously creamy, chunky texture. Here is your shopping list:
Maytag blue cheese crumbles
Sour cream
Mayonnaise
Buttermilk
Red wine vinegar
Worcestershire sauce
Tabasco sauce
Dry mustard
Garlic
Onion salt
Black and white pepper
Ingredients for Wedge Salad
This Maytag blue cheese dressing recipe is perfect for a wedge salad. Here are the ingredients you will need:
Iceberg lettuce
Large tomato
Toasted slivered almonds
Maytag blue cheese crumbles
Salad Options: Add crispy bacon, chopped red onions, fresh herbs, toasted croutons.
How to Make Buttermilk Blue Cheese Dressing
Here's how to make the best chunky blue cheese dressing:
Combine the spices, garlic, vinegar, Worcestershire, and Tabasco sauces.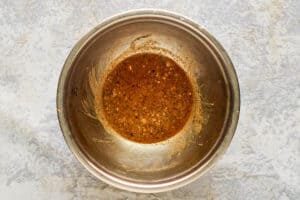 Add the sour cream, mayonnaise, and buttermilk.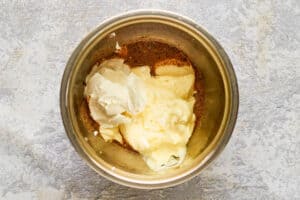 Stir until smooth and well combined.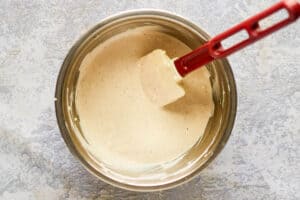 Fold in the blue cheese crumbles.
Cover or place in an airtight container and refrigerate overnight.
How to Make a Wedge Salad
A wedge salad pairs perfectly with this buttermilk blue cheese dressing. Here are the simple steps for making this salad:
Cut iceberg lettuce into wedges.
Drizzle the dressing over the iceberg wedge.
Garnish with tomatoes, toasted almonds, and blue cheese crumbles.
Best Way to Clean the Lettuce
Before you cut your lettuce, take out the small hard piece of stem and run some water through that end of the lettuce. Then turn the lettuce right side up and let it drain. Best to clean with enough time before making your salad to ensure that your lettuce isn't wet.
How to Cut a Lettuce When Making a Wedge Salad
To prevent browning, cut just before planning to make your wedge salad.
Remove any outer leaves that don't look appealing.
Slice the head of lettuce into two halves.
Cut each half into two more halves to make wedges. Note that if you have an extra large head of lettuce, you may have to cut it into thirds.
Other Ways to Use Maytag Blue Cheese Dressing
Maytag blue cheese salad dressing can be used in a variety of ways, so it's a good idea to keep a jar of it in your fridge. Here are some ideas:
Place it at the center of your raw vegetable charcuterie board as the most wonderful dip.
It's especially delicious with cooked vegetables and can transform them into things that even kids will like to eat – kale, brussels sprouts, cabbage, carrots, bell peppers, cauliflower, and broccoli.
It also works well with salads where you add fruit, such as grapes, apples, or pears.
Swap out the traditional dressing on coleslaw and use this blue cheese dressing instead.
It's terrific over baked potatoes.
Makes a potato salad taste out of this world.
Spread some as a condiment on sandwiches or burgers.
This blue cheese dressing is the perfect condiment for spicy chicken wings.
How to Store Blue Cheese Dressing
This easy homemade blue cheese dressing with buttermilk will last for about a week when stored in the fridge.
Freezing blue cheese dressing is not recommended because the ingredients will separate when thawed. Even though you can extend its shelf life by freezing, the texture, once thawed, will probably be too unappetizing and unappealing to eat.
Favorite Salad Dressing Recipes
Popular Salad Recipes
Check out more of my easy salad dressing recipes and the best low-carb recipes on CopyKat!
Michael Bartulis of Simon and Seafort's Restaurant generously donated this recipe.
Ingredients
1 1/3

tablespoons

red wine vinegar

1/3

teaspoon

Worcestershire sauce

1/4

teaspoon

Tabasco sauce

1

teaspoon

minced garlic

1/4

teaspoon

dry mustard powder

1/4

teaspoon

ground black pepper

1

pinch

white pepper

1/4

teaspoon

onion salt

1/3

cup

sour cream

1

cup

mayonnaise

1 1/2

ounces

buttermilk

3

ounces

Maytag blue cheese

crumbled
Instructions
In a mixing bowl, combine the red wine vinegar, Worcestershire sauce, and Tabasco sauce.

Add the garlic, mustard powder, black pepper, white pepper, and onion salt and stir to combine.

Add the sour cream and mayonnaise and mix well.

Thin the dressing with buttermilk until it reaches your desired consistency.

Add Maytag blue cheese and chill the dressing overnight in the refrigerator.
Notes
You can also serve this dressing on romaine greens, garnished with toasted slivered almonds and additional crumbled Maytag blue cheese.
Nutrition
Calories:
71
kcal
|
Carbohydrates:
0.4
g
|
Protein:
0.2
g
|
Fat:
8
g
|
Saturated Fat:
1
g
|
Polyunsaturated Fat:
4
g
|
Monounsaturated Fat:
2
g
|
Trans Fat:
0.02
g
|
Cholesterol:
6
mg
|
Sodium:
89
mg
|
Potassium:
10
mg
|
Fiber:
0.01
g
|
Sugar:
0.3
g
|
Vitamin A:
29
IU
|
Vitamin C:
0.1
mg
|
Calcium:
7
mg
|
Iron:
0.04
mg