Did you know you can make slow cooker baked potatoes? Sometimes your oven may be full, or maybe you don't want to heat up your oven to make a baked potato. There is a solution for you, you can make baked potatoes in a slow cooker.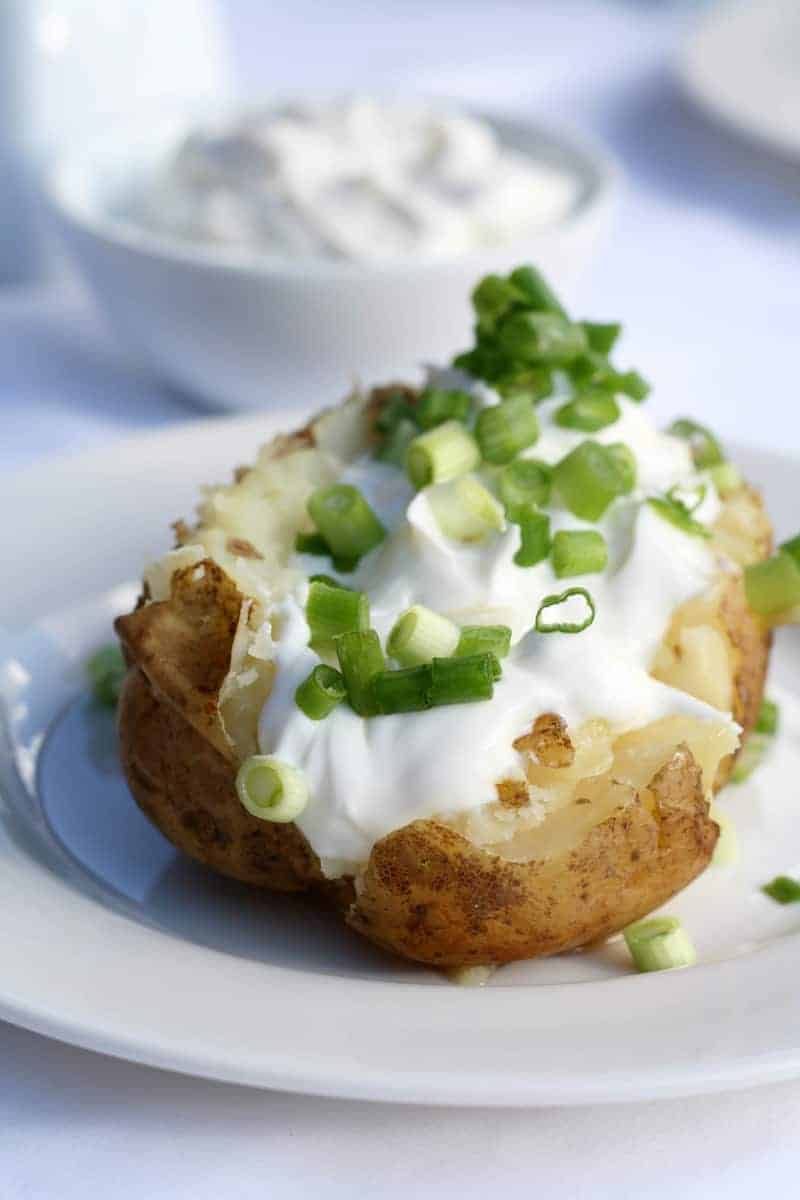 Why Make Crock Pot Baked Potatoes?
You might wonder why you should make baked potatoes in a crock pot. There are times when you don't want to heat up your kitchen, or perhaps it's the holidays, and the oven is already full. What do you do when you still want baked potatoes? You can grab the crock pot and make them in the slow cooker. It is easy to make them outside of the oven. I must confess, sometimes when my kitchen is full of cooking up a holiday meal, I have even used the slow cooker to cook up potatoes for mashed potatoes. This way I saved room on my stove/oven, and still had cooked potatoes.
I would urge you to do one thing when trying to determine how long to cook your potatoes. Potatoes come in all sorts of sizes and weights. When I bake potatoes in my slow cooker I like to pick uniformly sized potatoes. We all know you can get them in tiny bite-sized chunks or you can get them all of the ways up to potatoes that are as big as a football. When I bake potatoes in the slow cooker I like to use a smaller potato, I like to use potatoes that are about 6 ounces. Those are as long as your palm is wide. I have even been known to weigh the potatoes to make sure they weigh close to each other. I like to cook them when they are about 6 to 8 ounces.
How long to cook potatoes in the slow cooker?
When using the slow cooker, you have two options. You can cook the potatoes on high, or you can cook them on low.
On High – 4 to 4 1/2 hours
On Low – 6 to 6 1/2 hours
It will take some time to cook your potatoes, but all food takes a while in your slow cooker, so it is best to plan ahead when cooking these in the slow cooker. I hope you give this a try soon!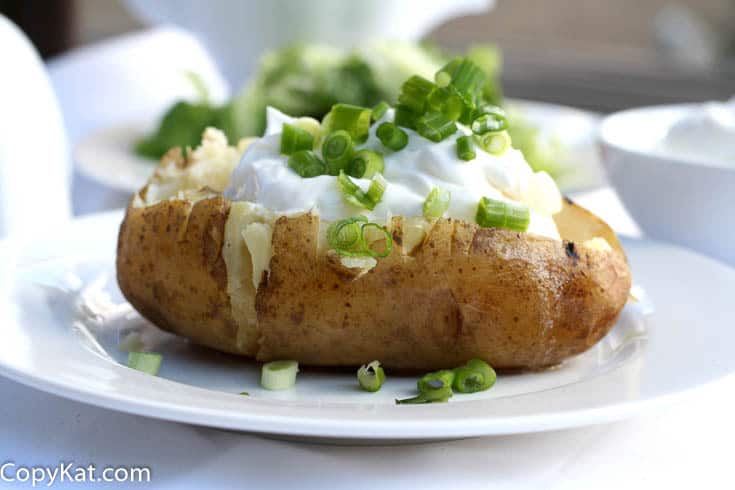 Want to try more potato recipes?
Easy Crock Pot Sweet Potatoes
Parmesan Roasted Potatoes
Easy Oven Roasted Potatoes
Outback Steakhouse Baked Potato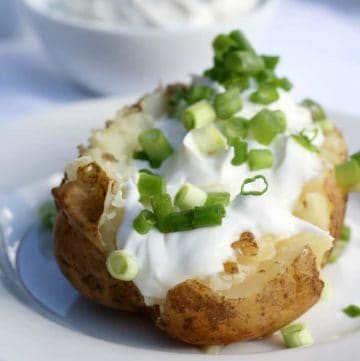 Ingredients
4

potatoes

1

tablespoon

olive oil

kosher salt
Instructions
Wash the potatoes and pat them dry. Do not poke the potatoes. (Only when potatoes are overcooked do they explode). Drizzle olive oil over the potatoes. Sprinkle Kosher salt over the potatoes. Determine if you are going to cook on low or high. High temperature the cooking time is 4 to 4 1/2 hours, Low temperature requires 6 1/2 to 7 hours.
Nutrition
Calories:
154
kcal
|
Carbohydrates:
26
g
|
Protein:
5
g
|
Fat:
3
g
|
Saturated Fat:
0
g
|
Cholesterol:
0
mg
|
Sodium:
21
mg
|
Potassium:
879
mg
|
Fiber:
5
g
|
Sugar:
0
g
|
Vitamin C:
24.3
mg
|
Calcium:
64
mg
|
Iron:
6.9
mg