This Caramel Apple Martini is a delicious cocktail with real apple flavor. No need to get flavored vodka to make this drink. It's perfect for fall or anytime you want a tasty apple cocktail.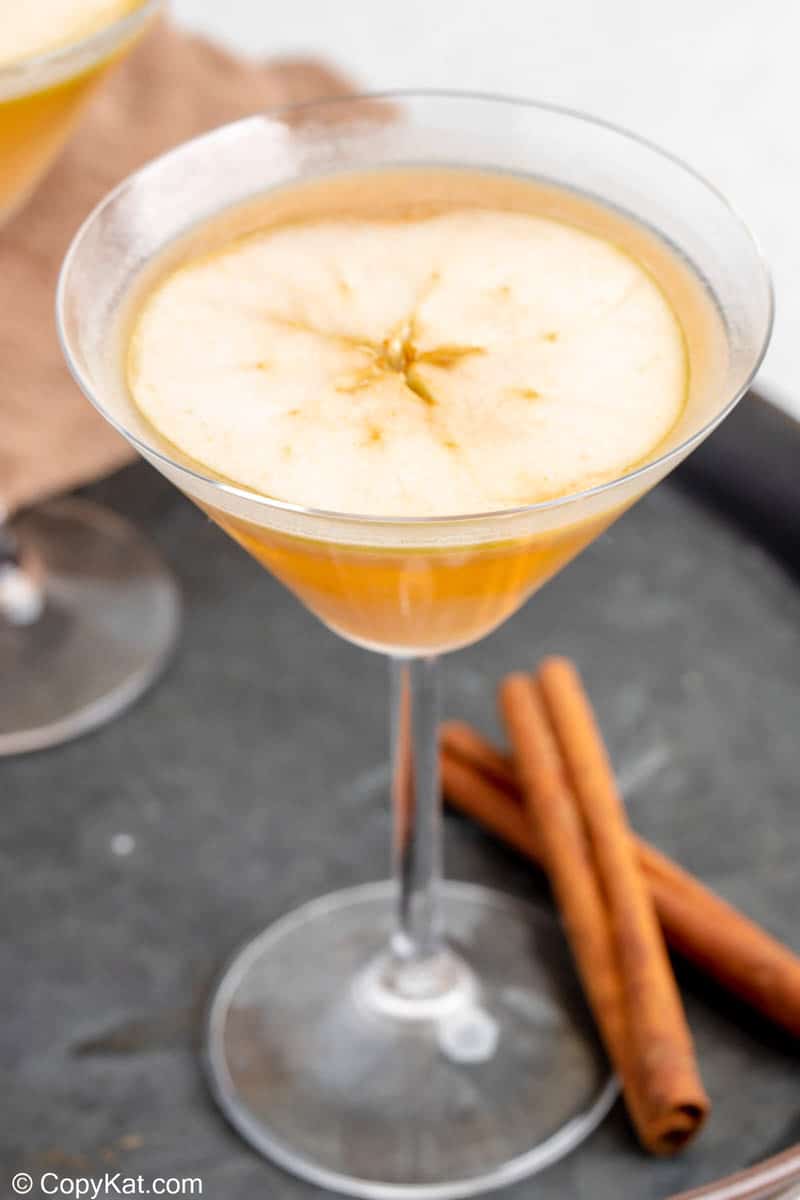 Caramel Apple in a Glass
A giant caramel apple at the county fair was just about the best treat you could imagine when you were a kid. Boy, did they taste amazing! Sure, you would love to have one, but these days, there's no way spending a few hours in the dentist's chair is worth it!
Now you can enjoy the same fantastic taste you remember, with a boozy bonus, when you mix up this Caramel Apple Martini recipe!
Caramel Apple Martini with Apple Juice
I have always loved a good cocktail. Apple martinis aren't something that I particularly enjoy going out for. So often they are made with a liquor that is bright green.
That isn't a color that comes naturally from apples and it doesn't really seem to capture the flavor of a nice crisp apple.
So for this recipe, I juiced my apples. An apple yields about 4 ounces of juice. The juice has a beautiful yellow hue to it and makes a colorful drink. Plus you are looking at the lovely color nature gave your apple.
Caramel Apple Martini without Flavored Vodka
Maybe you already tried a Caramel Apple Martini at a bar and were disappointed with the overly sweet taste and the artificial-tasting apple flavor. That's probably because the bartender made it with low-quality apple-flavored vodka and cheap caramel syrup.
I also didn't want to use flavored vodka because that meant I would have to buy vodka and I may not like the flavor.
What Makes This Caramel Apple Martini Recipe So Special
This Caramel Apple Martini recipe uses real apple juice. Not only will you be able to use the vodka you already have (no spending money on a flavored vodka that will sit in your cupboard for months), but real apple juice makes this cocktail taste so much fresher.
Caramel Apple Martini Ingredients
Don't pass on this recipe because the ingredient list is so short. This cocktail is simple yet sophisticated and definitely worth trying out.
Vodka
Because you're mixing it, you won't need premium vodka for this cocktail. However, it deserves something better than a bottom-shelf brand. If you don't have something suitable, check out Finlandia or Stolichnaya for something drinkable but won't break the bank.
For my caramel apple martini, I like to use potato Vodka. I personally love Chopin vodka. It has a nice flavor that mixes so well in a cocktail. I think potato vodkas can be smoother, and I didn't want to take away from the fresh apple flavor with a harsh liquor.
Apple Juice
For the most flavor, opt for apple juice that is not from concentrate and without any added sugar. If you want a beautiful cocktail, select a filtered juice that is as clear as possible. Martinelli's Gold Medal 100% Pure Apple Juice is a great choice.
And if you have a juicer, then I recommend juicing apples for fresh flavor.
Love apple cider? Use it instead of apple juice. Just remember your martini won't be as clear as it is with juice.
Caramel Syrup
Most of the ingredients in this drink you probably have at home, but this one is the exception. You can find caramel syrup in cafes and some supermarkets, but don't mistakenly buy caramel sauce.
Monin's sells various caramel syrups, and the all-natural and sugar-free Monin Zero Calorie Natural Caramel goes beautifully with this recipe.
How to Make Caramel Apple Martini
Chill a martini glass by either placing it into the freezer or by filling your glass with water and ice for a few minutes then pour out the water and ice.
Place ice in a cocktail shaker.
Add apple juice.
Add vodka.
Add caramel syrup.
Place the lid on the cocktail shaker and shake it vigorously for about 30 seconds.
Strain mixture into the chilled martini glass.
Garnish with an apple slice if desired.
Get Creative with Caramel Syrup and Apple Juice
Here are a couple of recipe variations for related cocktails you can try:
Caramel Appletini – Substitute apple schnapps for the vodka and follow the recipe as written below.
Sparkling Apple Martini – Reduce the apple juice by half, keeping all the other ingredients the same. Strain the cocktail into a martini glass and top with sparkling apple juice.
Do you like apples? Well, check out my apple recipes on YouTube!
Tips for Making and Serving Caramel Apple Martini
Shake in a Boston cocktail shaker for 10 – 15 seconds. Serve in a traditional martini glass.
Garnish with a caramel-dipped apple slice. Cut an apple into rounds and dip half of it into thick caramel sauce.
Don't let that delicious caramel syrup go to waste. Add it to hot coffee or make a caramel frappuccino by blending a cup of cold coffee, a cup of milk, 2 cups of ice, and 1 1/2 ounces of caramel syrup.
More Apple Recipes to Try
Popular Fruity Cocktail Recipes
Check out more of my easy cocktail recipes and the best fall recipes here on CopyKat!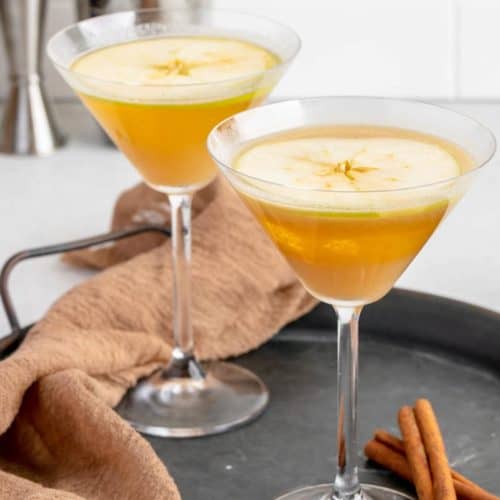 Ingredients
1

cup

ice 

4

ounces

apple juice 

1 1/2

ounces

vodka

3/4

ounces

caramel syrup 

1

slice

apple

for garnish 
Instructions
Chill a martini glass by either placing into the freezer or by filling your glass with water and ice for a few minutes then pour out the water and ice.

Place 1 cup of ice, apple juice, vodka, and caramel syrup in a cocktail shaker.

Place lid on cocktail shaker and shake vigorously for about 30 seconds.

Strain the shaken mixture into a chilled martini glass.

Garnish with an apple slice if desired.
Nutrition
Calories:
210
kcal
|
Carbohydrates:
28
g
|
Protein:
1
g
|
Fat:
1
g
|
Saturated Fat:
1
g
|
Polyunsaturated Fat:
1
g
|
Monounsaturated Fat:
1
g
|
Cholesterol:
1
mg
|
Sodium:
91
mg
|
Potassium:
146
mg
|
Fiber:
1
g
|
Sugar:
12
g
|
Vitamin A:
27
IU
|
Vitamin C:
2
mg
|
Calcium:
28
mg
|
Iron:
1
mg