Lemon Drop Martini is sweet, tart, and oh so good! This classic cocktail is made with vodka, orange liqueur, fresh lemon juice, and simple syrup. It's a light and refreshing drink perfect for summer or any fun occasion.
Classic Lemon Drop Cocktail
Who didn't love the sweet and sour taste of lemon drops growing up? This Lemon Drop Martini recipe makes a vodka cocktail that brings back all the memories of those penny candies, with a bit of booze thrown in. The next time the temperature rises, try shaking up a few of these drinks to cool yourself down.
Please don't confuse this recipe with a Lemon Drop shot. They are not the same drink. To make a Lemon Drop shot:
Stir 3/4 ounces of lemon juice with two teaspoons of sugar.
Pour into the bottom of a shot glass.
Top with 3/4 ounces of vodka.
Serve.
What Goes in a Lemon Drop Martini?
There isn't much in a Lemon Drop Martini, so you need to ensure all ingredients are the best.
A great vodka. After all, this is a vodka cocktail, so you will want to use a good one here. People say that vodka lacks flavor, but that isn't absolutely true. For this drink, you want minimal interference from your vodka; therefore, select one as neutral as possible. A fantastic choice is VDKA 6100, a New Zealand vodka that is incredibly smooth with just a hint of sweetness.
Cointreau. Many Lemon Drop Martini recipes call for triple sec, but using Cointreau in this one elevates this version to a new level of taste and sophistication. Cointreau, the French classic orange-flavored liqueur, adds sweetness and a slight bitterness that helps balance some of the more sour components of the cocktail.
That's it when it comes to alcohol, but there are a few other ingredients that are worth mentioning.
Agave syrup. This is the sweetener for this cocktail. Some bartenders prefer to use simple syrup (an equal amount of sugar and water) or even maple syrup, but agave syrup is arguably better for this drink. Potential health benefits aside, agave syrup, sometimes marketed as agave nectar, is thicker than simple syrup and won't dilute the drink like simple syrup.
Lemon. Look for organic lemons. No one wants pesticides in his cocktail, but buying organic doesn't mean you can skip cleaning your citrus. Believe it or not, even organic lemons most likely have a wax coating. Give your lemons a spray with a vegetable and fruit cleaning solution before cutting to prevent pushing surface coating into the lemon.
Giving a Lemon Drop Martini a Good Shake
Unlike the classic martini that, despite Bond's preference, should never be shaken, you need to shake this one. The reason is the lemon juice. Traditional bartender wisdom is that any drink containing fruit juice needs to go into the shaker. In addition, shaking both dilutes and tempers the sourness of the drink, making it even more delicious.
Start by filling a shaker halfway with fresh ice cubes. Add the vodka, Cointreau, lemon juice, and agave syrup. Shake vigorously for at least 10 seconds and pour into a lemon-sugar-rimmed glass. Garnish with a lemon wedge, a peel twist, or even an edible flower.
No Cointreau, try triple sec. Your drink will be considerably sweeter, so you may want to cut back on the agave syrup.
Try yellow-colored sugar or powered lemon candy. A sugar rimmer keeps things from getting messy and convenient for storage.
See what we are up to by friending us on Facebook.
Lemon Drop Martini Recipe Ingredients
Here's a list of what you need:
Lemons
Sugar
Vodka
Cointreau
Agave or simple syrup
How to Make a Lemon Drop Martini
Cut a lemon in half and rub the lemon on the rim of martini glasses.

Dip the rim of the glasses in sugar.

Squeeze enough juice from the lemons to make the martini.
Cut a lemon into slices or wedges to use as a garnish.
Place ice in a cocktail shaker.

Add lemon juice.

Add vodka.

Add Cointreau.

Add agave or simple syrup.

Shake the shaker vigorously.

Strain the lemon drop martini into the sugar-rimmed glasses.

Garnish with lemon slices or wedges.
You can also garnish the martini with edible flowers such as mums, hibiscus, lavender, or pansies.
How to Make Lemon Sugar
Want to give your martini an extra kick of lemon? Then make lemon sugar for the rim. Here's what to do:
Place sugar on a plate.
Use a microplane grater to zest a lemon over the sugar so the zest falls onto the sugar. You want grated zest and not zest strips.
Use your fingers to rub the lemon zest into the sugar.
Lemon sugar is great for rimming cocktail glasses or using in any lemon dessert recipe such as lemon cookies or lemon cake. The lemon flavor is intensified because of the lemon oil released from the zest when rubbed with sugar.
Edible Flower Garnish
Edible flowers are a pretty garnish for cocktails. It's a great way to make a drink a little more festive for a special occasion.
Here are some suggestions for a flower garnish:
Chrysanthemums – the petals have a faint peppery flavor and the base is bitter
Daisy – pretty and do not have much flavor
Elderflower – sweet and even made into a tasty liqueur
Hibiscus – tart and sweet which is great for a lemon drop martini
Lavender – very floral flavor and used in both sweet and savory recipes
Nasturtium – peppery flavor so best for cocktails that aren't sweet
Pansies – sweet flavor and are often sugared for decorating cakes
Violas – same as pansies, just a smaller flower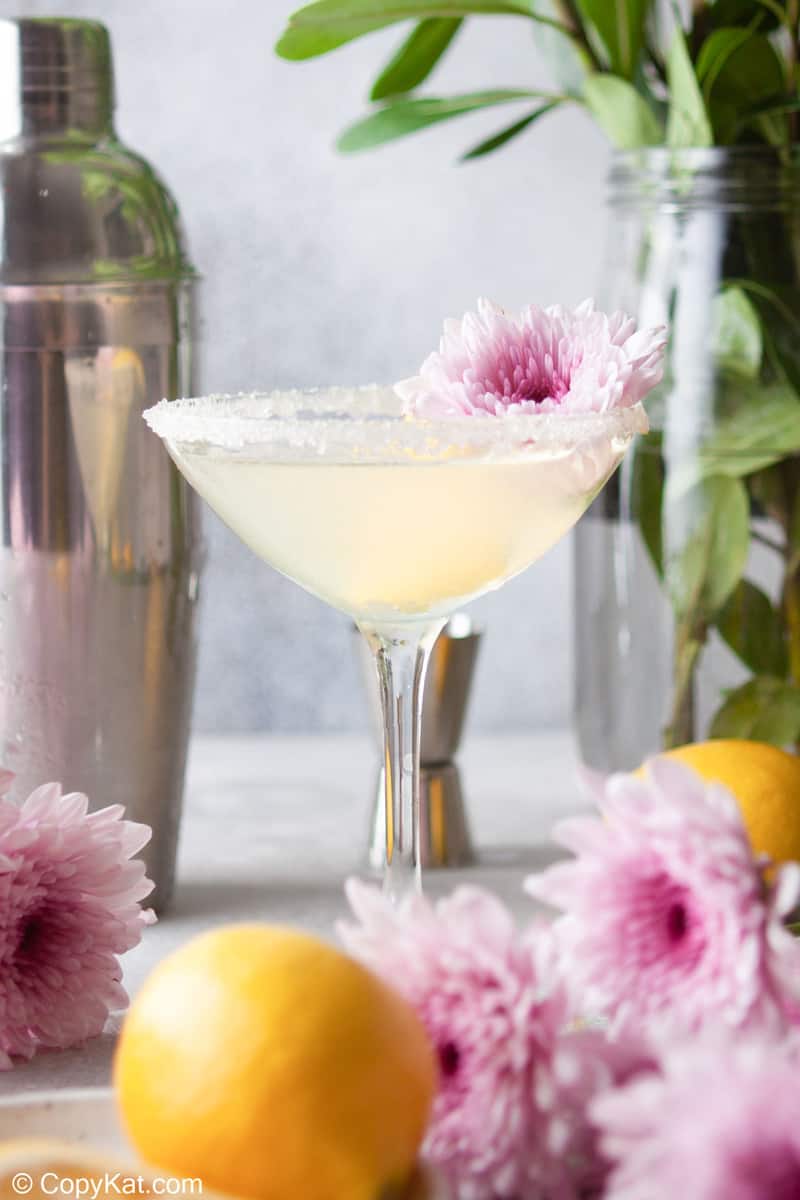 Love fruity cocktails? Try these recipes!
Favorite Lemonade Recipes
Check out more of my easy cocktail recipes and the best drink recipes here on CopyKat!
Ingredients
1/2

cup

granulated sugar

3

ounces

vodka

1 1/2

ounces

Cointreau

3

ounces

fresh squeezed lemon juice

plus a little extra to moisten the rim of the glass

½ – 1

ounce

agave syrup or simple syrup

depending on how sweet you want it

Ice

Lemon wedges or thin lemon slices

for garnish
Instructions
Place the sugar on a plate.

Rub the cut-side of a lemon on the edge of martini glasses to moisten the rims with lemon juice.

Dip the moistened rim of the glasses into the sugar.

Fill a cocktail shaker with ice half way.

Add the vodka, Cointreau, agave syrup, and lemon juice.

Shake the drink for 30 seconds or until the shaker gets very cold.

Strain and pour the drink into the sugar rimmed glasses.

Garnish with the lemon slices or wedges.

You can also garnish with edible flowers such as mums, pansies, lavender, or hibiscus.

Serve immediately.
Nutrition
Calories:
248
kcal
|
Carbohydrates:
29
g
|
Protein:
1
g
|
Fat:
1
g
|
Saturated Fat:
1
g
|
Polyunsaturated Fat:
1
g
|
Monounsaturated Fat:
1
g
|
Sodium:
4
mg
|
Potassium:
76
mg
|
Fiber:
1
g
|
Sugar:
24
g
|
Vitamin A:
7
IU
|
Vitamin C:
26
mg
|
Calcium:
8
mg
|
Iron:
1
mg