Outback Steakhouse Wallaby Darned is a peachy frozen cocktail and one of the most popular drinks at the restaurant.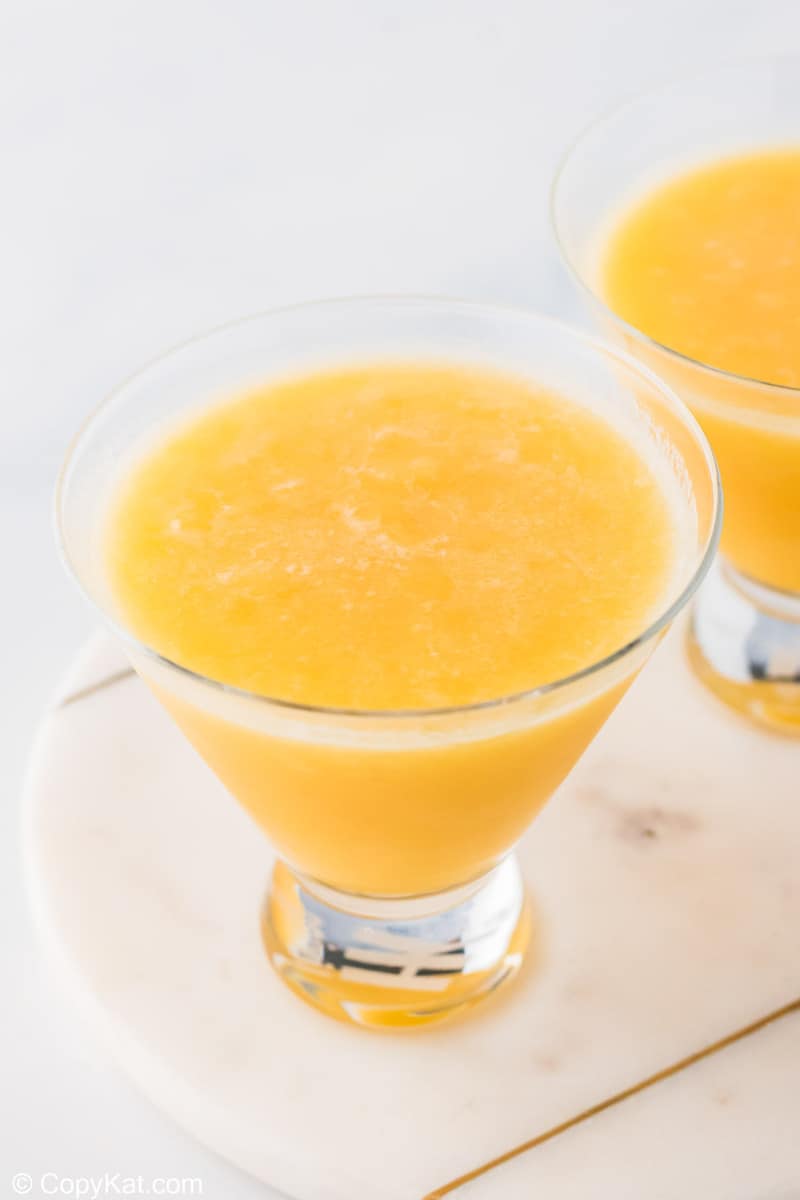 This post contains affiliate links. As an Amazon Associate, I earn from qualifying purchases.
When the weather heats up, you need a cold drink to cool you down. You can't get much colder than Outback Steakhouse's Wallaby Darned. Well, I'll be darned, the Wallaby Darned is more than just a clever pun; it's also a spin on the classic Peach Bellini and only available on the Outback drink menu. But you can make this frozen concoction at home. The Outback Wallaby Darned recipe is simple to throw together for yourself or even a crowd. If you are into fruity, frozen cocktails, there is a good chance that you have just found your favorite new summertime adult beverage.
Bring Out the Blender
To get the best results, you need a blender with the power to crush ice into a smooth consistency. While you don't have to shell out hundreds of bucks for a top-of-the-line blender like a Vitamix, you'll still want to use something with a bit of horsepower behind it. Some other tricks for getting the smoothies frozen cocktail are:
Use the smallest ice cubes you can find. You can find a selection of mini ice cube trays online, and they really do help eliminate chunks of ice in your frozen drink. If you don't have small ice cubes, try crushing regular-sized ice cubes before adding them to the blender.
Layer your ingredients. First, add the peach schnapps and vodka. Doing this will ensure that the blades can run free. Next, add your frozen peaches, and then finally the ice.
Start low and slow. A few quick pulses on the lowest setting help to get things going. Then slowly turn up the intensity until you reach the consistency you want. Avoid over blending to prevent a thin cocktail.
All About the Alcohol
The Wallaby Darned is a frozen peach drink with vodka, peach schnapps, and Prosecco. While you can use just about any brand of alcohol you want, you will probably want to stay away from top-shelf bottles since this is such a peach-forward flavored drink.
A fine choice for the vodka is Reyka. Many people praise Reyka, an Icelandic vodka, for its remarkable lack of taste, which, in this instance, is a positive. The only negative is that it isn't exactly inexpensive. If you are looking for something cheaper, believe it or not, the old stand-by Smirnoff's works well in this Outback Wallaby Darned recipe.
Drinking peach schnapps has never been about enjoying the flavor of a premium spirit, and few brands offer bottles over 20 bucks. Choose the peach schnapps that is already in your liquor cabinet, or if you have to go to the store, pick up something inexpensive like Arrow or Allen's.
Prosecco is a type of Italian sparkling wine made from the Glera grape. It differs from Champagne and other sparkling wines both by its grapes and carbonation process. Prosecco can be a bit on the expensive side, but you don't need to spend big bucks for this cocktail. Look for Cupcake Vineyards Prosecco or Mionetto Prosecco Brut.
Tips for Serving Outback Steakhouse's Wallaby Darned
Serve in a large glass. Forget the champagne flute, and use a frozen margarita or a hurricane glass instead. Garnish the cocktail with a fresh slice of peach.
Don't forget the straw. Wallaby Darned is a sipping cocktail and best with an extra-wide straw.
Check out more of our cocktails on YouTube!
Ingredients
Here's a list of what you need:
Frozen peaches
Ice cubes
Peach schnapps
Vodka
Prosecco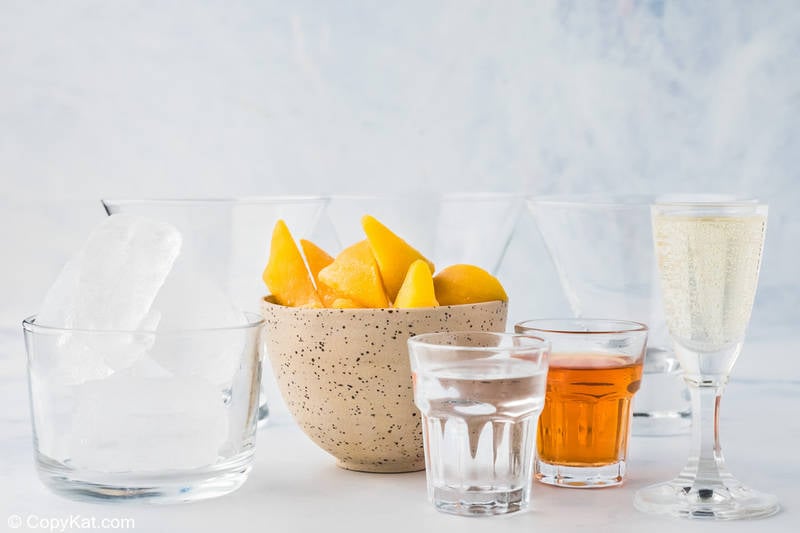 How to Make Outback Wallaby Darned
Combine frozen peaches, ice cubes, peach schnapps, vodka in a blender and puree until smooth.

Add Prosecco and pulse once or twice.

Pour into a glass and serve.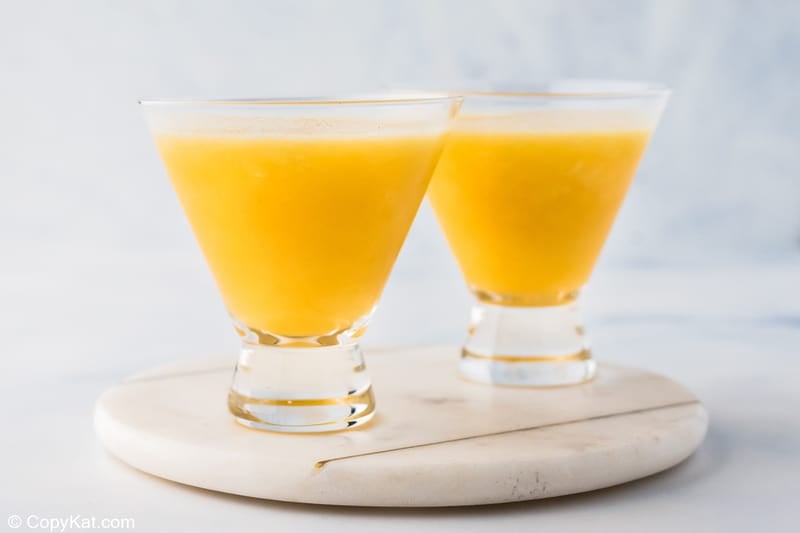 Love Outback Steakhouse? Try these copycat recipes!
Favorite Cocktail Recipes
Check out more of my easy cocktail recipes and the best Outback Steakhouse copycat recipes here on CopyKat!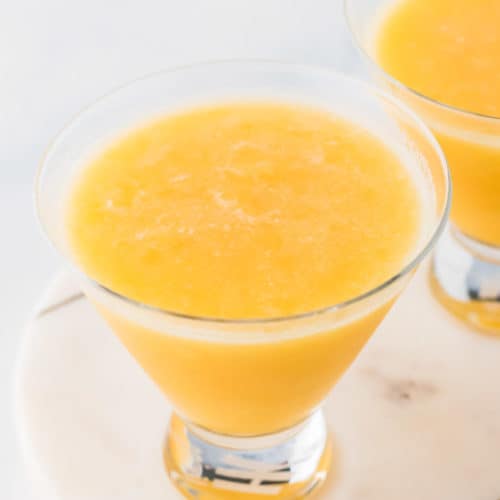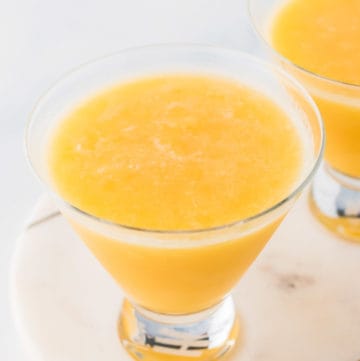 Ingredients
1

cup

Frozen peaches

4

Ice cubes

1 1/4

ounces

Peach schnapps

1

ounce

Vodka

2

ounces

Prosecco
Instructions
Combine frozen peaches, ice cubes, peach schnapps, and vodka in a blender and puree until smooth.

Add Prosecco and pulse once or twice.

Pour into a glass and serve.
Nutrition
Calories:
263
kcal
|
Carbohydrates:
25
g
|
Protein:
1
g
|
Fat:
1
g
|
Saturated Fat:
1
g
|
Sodium:
6
mg
|
Potassium:
333
mg
|
Fiber:
2
g
|
Sugar:
22
g
|
Vitamin A:
502
IU
|
Vitamin C:
10
mg
|
Calcium:
16
mg
|
Iron:
1
mg