Joes Crab Shack Ya Ya Punch is a favorite of our testers. This drink is very fruity and refreshing.
Ya Ya Punch is a tasty tropical cocktail that is slightly tart. Watch out, this is one that will sneak up on you.
Joe's Crab Shack Drink Menu
For a laid-back atmosphere, incredible food, and a killer bar menu, it is tough to beat Joe's Crab Shack. Whether you're visiting a beachfront restaurant during the heat of summer or waiting out a blizzard at an inland location, ordering off of the Joe's Crab Shack drink menu will put you in the right frame of mind.
One of the chain's most popular drinks is the smooth-sipping Ya Ya Punch. Although this rum punch tastes light and fruity, it has some serious power behind it. You have been warned.
Living the Tiki Lifestyle
Decades before the concept of Instagram-worthiness arose, the Tiki culture thrived. Beginning in the 1930s, the Tiki culture created an idealized version of the South Pacific and Hawaiian cultures.
A dish-mash of bamboo decor, Cantonese cooking, outrageous outfits, and fantastical cocktails was the go-to formula for dozens of lounges across the country. Although the theme was incredibly popular for a long time, the idea of a Tiki lifestyle died out mostly as a commercial concept by the late 60s.
But several parts of the Tiki theme remain popular even today. One of the biggest holdovers from the golden era of Tiki are the Tiki drinks like Ya Ya Punch. They remain very popular with their bright color, tropical-inspired ingredients, and "fun" names.
Other popular Tiki drinks you may want to try are the Mai Tai, Pina Colada, Singapore Sling, and the legendary Scorpion Bowl.
What's a Jigger?
There are two ways of adding alcohol to a drink. The first method is by free pouring or pouring the alcohol directly into the drink from the bottle without the aid of any measuring device. Obviously, the amount of alcohol that actually winds up in the glass depends on the ability of the bartender, and it's incredibly easy to under, or over pour.
The preferred method, even by professional bartenders, is to use a measuring cup to get an exact amount.
A jigger is specially designed measuring device for booze and are typically designed as an hourglass shape with a different sized measuring cup on each end. Although jiggers can come with a variety of measuring cup sizes, most contain a standard shot size of 1.5 ounces. Whenever you see the term "jigger" used as a measurement, it means 1.5 ounces of alcohol.
Measuring such a small amount of liquid is difficult without the right tools, so if you are serious about cocktails, get yourself a jigger. In the meantime, it may be worth knowing that an ounce and a half equals three tablespoons.
Ingredients
Here's a list of what you need:
Pineapple Juice
Cranberry or Cranapple Juice
Vodka
Peach Schnapps
Coconut Rum
Grenadine
How to Make Joe's Crab Shack Ya Ya Punch
Simply mix all of the ingredients together in a pitcher and pour over ice.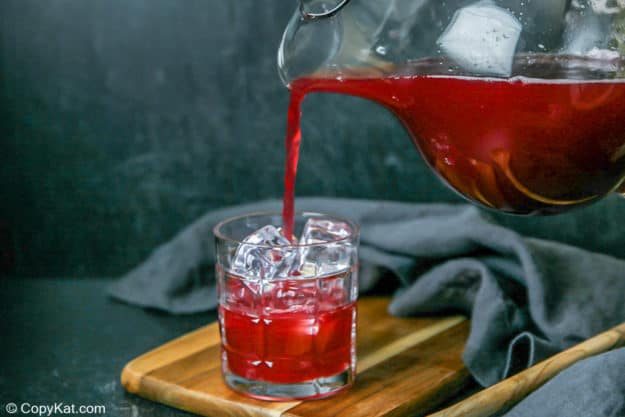 You can garnish the drink with cherries or your favorite tropical fruit.
Tips for Serving Joe's Crab Shack Ya Ya Punch
Serve in a hurricane glass. Add a paper umbrella, a few brightly colored straws, and a slice of pineapple for the classic Tiki drink vibe.
This recipe scales well. If you are hosting a crowd, this is the perfect drink to serve. To keep the punch cold without getting diluted, freeze some of it ahead of time.
Host a Tiki-themed party. Revive the Tiki lifestyle for one night complete with Tiki torches, hula skirts, Hawaiian shirts, and of course plenty of Ya Ya Punch.
Love Joe's Crab Shack? Try these copycat recipes!
Popular Cocktail Recipes
Check out more of my easy cocktail recipes and the best casual dining restaurant recipes here on CopyKat!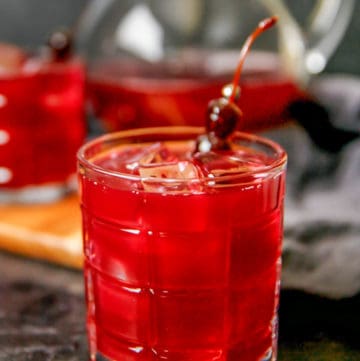 Ingredients
1

cup

Pineapple Juice

1

cup

Cranberry Juice

1

ounce

Vodka

1

ounce

Peach Schnapps

1

ounce

Coconut Rum

Splash

Grenadine
Instructions
Mix all ingredients together in a small pitcher and pour over ice.
Notes
This is also good with cranapple juice instead of cranberry juice.
Nutrition
Calories:
229
kcal
|
Carbohydrates:
32
g
|
Protein:
0
g
|
Fat:
0
g
|
Saturated Fat:
0
g
|
Cholesterol:
0
mg
|
Sodium:
5
mg
|
Potassium:
171
mg
|
Fiber:
0
g
|
Sugar:
26
g
|
Vitamin C:
65.3
mg
|
Calcium:
15
mg
|
Iron:
0.5
mg